Known mostly by her honorific Bi Amman , Abadi Bano Begum didn't let her conservative background stop her from supporting the Independence struggle. She observed strict purdah all her life, and didn't cower behind it when the time came to speak in protest of her jailed freedom fighter son in 1917. She stepped out of her house, and addressed a huge crowd in Lucknow, all from behind her burqa.
Abadi Bano Begum AKA Bi Amma:
The Burqa Clad Freedom Fighter
Abadi Bano Begum, popularly known as 'Bi Amma' set an exemplary precedent for all women in general and Muslim women in particular as she shattered the stereotypes associated with a traditional 'orthodox' Muslim woman. She is a lesser-known freedom fighter who left no stone unturned as she took part in the nation's freedom struggle, contributed to ensure Hindu-Muslim unity, and participated in the Khilafat movement. She was also the mother of the great freedom fighters Muhamamd Ali Jauhar and Shaukat Ali popularly known as Ali Brothers.
Image Source:
News Line
Early Life
Bi Amma was born in 1850 into a nationalist family of Rampur. She suffered the trauma of 1857 revolt which ignited a strong desire within her to see her country be free of the British rule. Bi Amma was a courageous and intelligent woman. Widowed at a young age, she shouldered the responsibility of raising her children with utmost sincerity and dignity.
An Advocate For Her Sons' Education
In the book, Eight Lives: A Study of the Hindu-Muslim Encounter, Rajmohan Gandhi writes how the young widow dressed her children in humble material and raised them on simple food and the Prophet's sayings. But she ensured the kids attended English-medium schools. When their uncle refused to shell money for their education stating that he would have no part in turning the boys into infidels, Bi Amma pawned her jewellery with the help of her neighbour's maid.
Despite having no formal education, Bi Amma fought valiantly for her sons' modern English education. Maulana Muhammad Ali, after completing his graduation from Aligarh Muslim University, went to Lincoln College Oxford, England, in 1898 to study Modern History. On his return, he joined the Baroda Civil Service and served there for seven years.
Bi Amma with her sons Maulana Muhammad Ali Johar and Maulana Shaukat Ali. Image Source:
India Times
Her Role In The Freedom Struggle
She played an important part in fundraising for the Khilafat movement and the Indian independence movement. When both her sons were put in jail, she addressed a large gathering on their behalf and gave a moving speech. It was in fact the first time that a Muslim woman was recorded to have addressed a political gathering wearing a burqa. This bold woman toured the country and addressed large gatherings of people.
In 1917, she joined the agitation to help release Annie Besant and her two sons from prison. It was at this time that Mahatma Gandhi spoke to her about gathering the support of women in the freedom movement. Considering Gandhi's advice, Bi Amma took active part in Khilafat movement and the freedom movement and encouraged many women to play greater participatory role in the freedom movement.
Once when the rumour spread that Mohammad Ali would be released from jail after amnesty, she said, "Mohammad Ali can't even think about begging forgiveness from the British. If he does so then my old hands have enough strength to strangle him."
Even as the struggle for Independence continued, the words that she once spoke to her son, Maulana Mohammad Ali, which he later penned, continued to resound across India.
"Boleen Amma Muhammad Ali se
Jaan Baita Khilafat Pai De do"
(So spoke the mother of Muhammad Ali
My son, lay down your life for the sake of Khilafat)
In Rakhahari Chatterji's book, Gandhi and the Ali Brothers: Biography of a Friendship, Maulana Mohammad Jouhar talks about Bi Amma. He said, "Suffice it to say that, although she was practically illiterate, I have, in all experience, of men of all sorts of types, come across none that I could call wiser and certainly that was more truly godly and spiritual than our mother."
Her Role In Khadi And Swadeshi
BI AMMA COLLECTED FUNDS AND ORGANISED MEETINGS OF INDIAN WOMEN TO TELL THEM ABOUT THE STRUGGLE AND THE IMPORTANCE OF SHUNNING THE FOREIGN GOODS.
During the Khilafat and Non-cooperation movement, Bi Amma collected funds and organised meetings of Indian women to tell them about the struggle and the importance of shunning the foreign goods. Along with Begum Hasrat Mohani, the wife of Maulana Hasrat Mohani,
Sarala Devi Chaudhurani
, Basanti Devi, and
Sarojini Naidu
as her main companions she continued contributing to the campaign. She addressed gatherings and encouraged people to donate for Tilak Swaraj Fund which was set up by Bal Gangadhar Tilak for the Indian freedom struggle.
Bi Amma once cautioned, "Countrymen! Give up the way of life of these foreigners. Stick to the traditional way of life of your ancestors. Serve not these foreigners, nor accept honours from them because these people are very crafty and fraudulent."
Alluri Sitarama Raju was an Indian revolutionary involved in the Indian independence movement. After the passing of the 1882 Madras Forest Act, its restrictions on the free movement of tribal peoples in the forest prevented them from engaging in their traditional podu agricultural system, which involved shifting cultivation. Raju led the Rampa Rebellion of 1922–24, during which a band of tribal leaders and other sympathisers fought against the British Raj, which had passed the law. He was referred to as "Manyam Veerudu" ("Hero of the Jungles") by the local people. Raju led a protest movement in the border areas of the East Godavari and Visakhapatnam regions of Madras Presidency, in present-day Andhra Pradesh.
Inspired by the patriotic zeal of revolutionaries in Bengal, Raju raided police stations in and around Chintapalle, Rampachodavaram, Dammanapalli, Krishna Devi Peta, Rajavommangi, Addateegala, Narsipatnam and Annavaram. With his followers, he stole guns and ammunition and killed several British army officers, including Scott Coward near Dammanapalli. Raju was eventually trapped by the British in the forests of Chintapalli, then tied to a tree and was executed by gunfire in Kayyuru village. His tomb is in Krishna Devi Peta village.
Life
Details of Alluri Sitarama Raju's early life vary. An official report suggests that he was born in 1898 in Bhimunipatnam taluk, Visakhapatnam district. The young Raju lived mainly in Mogallu.
Rampa Rebellion of 1922
After the passing of the 1882 Madras Forest Act, its restrictions on the free movement of tribal peoples in the forest prevented them from engaging in their traditional podu agricultural system, which involved shifting cultivation. Raju led a protest movement in the border areas of the East Godavari and Visakhapatnam districts of Andhra Pradesh. Inspired by the patriotic zeal of revolutionaries in Bengal, Raju raided police stations in and around Chintapalle, Rampachodavaram, Dammanapalli, Krishna Devi Peta, Rajavommangi, Addateegala, Narsipatnam and Annavaram. Raju and his followers stole guns and ammunition and killed several British army officers, including Scott Coward near Dammanapalli.
In December 1922, the British deployed a company of Assam Rifles, near Pegadapalle under the leadership of Saunders. Raju, who had by then gone underground, resurfaced after about four months and continued the fight, strengthened by tribal volunteers using bows and arrows under the leadership of Gam Mallu Dora and Gantam Dora.
Death
Following a raid led by Raju on the Annavaram police outpost on 18 September 1923, Gam Mallu Dora was arrested. The Government entrusted the task of containing Raju's activities to the District Collector of Visakhapatnam district, Rutherford, who fired the first salvo when his forces arrested Surya Narayana Raju Pericherla, popularly known as Aggiraju, a devoted follower of Raju. The British campaign lasted for nearly a year from December 1922.
Raju was eventually trapped by the British in the forests of Chintapalli then tied to a tree and shot dead in Kayyuru village.
Raju's tomb is in Krishna Devi Peta village.
In popular culture
Alluri Statue at Beach road in Visakhapatnam
In 1986 the Indian Postal Department issued a commemorative stamp featuring Raju in the series 'India's struggle for freedom'.
The Telugu-language movie Alluri Seetharama Raju, featuring actor Krishna, depicted Raju's life
Andhra Pradesh is to celebrate his birthday, 4 July, annually as a state festival.
Alluri Sitarama Raju Cricket Stadium in Eluru is named after him.
On 9 October 2017, at the request of Members of Parliament, Thota Narasimham and V. Vijayasai Reddy, the Government of India decided to install a statue of Raju at the precincts of the Parliament of India in recognition of his work as a freedom fighter, and for the welfare of the tribal people.
Wikipedia from the free encyclopedia
Ajijanbai was originally a professional dancer who was full of patriotic spirit. He had removed Ghungru to break the shackles of slavery . The palaces of the Rasikas started sitting with the decorating Ajijan revolutionaries.
Introduction
On June 1, 1857, the revolutionaries held a meeting in Kanpur , attended by Subedar Tika Singh, Shamsuddin Khan and Azimullah Khan along with Nana Saheb , Tatya Tope , and Ajijan Bai. Here, taking Gangajal as a witness, they all resolved to uproot the British rule.
It was only in June 1857 that these people won a fierce battle against the British and declared Nana Saheb as the independent ruler of Bithoor . But this happiness did not last long. On 16 August, there was another fierce battle with the British at Bithoor in which the revolutionaries were defeated.
In both these wars, Ajijan's role was very important. He formed a group of young women who were masculine. They all rode horses and took swords in their hands and invited the youth to participate in this war of independence. She would treat the wounded soldiers, dressing their wounds. Used to distribute fruits, confectionery and food and try to overcome their suffering with her charming smile.
The milder they were for the patriots, the more disgusted they would be with the harshness of those who ran away from war. The heroes would get the prize of love, while the cowards would get shunned. Instead of being humiliated by the sharp words of such beauties and the daggers of neglected eyes, soldiers thought it better to give up fighting while fighting in the battlefield.
While praising Ajijan, Savarkar wrote, 'Ajijan was a dancer but the soldiers loved him a lot. Ajijan's love did not sell for money in the ordinary market. His love award was given to a person who loved the country. The smile of Ajijan's beautiful face filled the warring soldiers with inspiration. Bhukruti's tension on his face used to send the coward soldiers who had fled from the war to the battlefield again.
During the wars, Ajijan proved that he was not a Varangana but a Veerangana. After being defeated in the battle at Bithoor, Nana Saheb and Tatya Tope had to run away but Ajijan was caught. According to historians, he was presented to General Havlak as a war bandini.
British officers were enchanted by her unmatched beauty. The General proposes to her that if she accepts her mistakes and apologizes to the British, she will be forgiven and she can again punish the world of Ras-Rang. Otherwise, be prepared to face severe punishment. Ajijan refused to apologize.
Not only this, the lioness also shouted and said that the British should apologize, who have done so much oppression on the Indians. She will never forgive him for his inhuman act. He also knew the consequences of saying this, but the freedom addict did not care.
On hearing such an answer from a dancer, the British officer went to Tillamila and was ordered to die. British soldiers riddled his body with bullets.
अजीजन बाई :1857 के संग्राम की एक नायिका
तबला बोला बोली मृदंग,बोले सितार के तार-तार,
महफिल में कितने लोग मरे,कुछ मिला नहीं इसका शुमार।
रंग गई रक्त से रंगभूमि,हाथों में राज फिरंगी के,
इसलिए भैरवी गाते थे,स्वर आज अजीजन बाई के।
(कवि सुदर्शन चक्र की कविता से..)
संदीप कुमार मिश्र : कानपुर की मशहूर खूबसूरत तबायफ (नर्तकी) अजीजन बाई ने सन 1857 की पहली जंगे आजादी में हिस्सा लेकर अपने प्यारे वतन के लिए अपनी जान की कुर्बानी दी थी, और अपने बदनाम पेशे (तबायफ) के दाग को अपनी शहादत के खून से धो डाला था ।
दरअसल अजीजन कुलीन क्षत्रीय खानदान की लड़की थी । बचपन में अजीजन अपनी सहेलियों के साथ मेला देखने गई थी । मेले से वापस लौटते वक्त रास्ते में अंग्रेज सैनिकों के चंगुल में फंस गई । शराब के नशे में चूर अंग्रेज अजीजन और उसकी सहेली को जबरन बैलगाड़ी में बैठाकर अपने डेरे पर ले जा रहे थे । मौका मिलते ही दोनों पुल के ऊपर से यमुना जी में कूंद पड़ती हैं । साथ की लड़की मर जाती है लेकिन भाग्य की धनी अजीजन बच जाती हैं।मुसलमान पहलवान इस लड़की को उठा ले जाता है और 500 रूपए में कानपुर के एक तबायफ खाने में बेच देता है । यहीं पर उस लड़की का नामकरण होता है और एक क्षत्राणी अजीजन बाई बन जाती है । समय अपनी गति से आगे बढ़ता है । अजीजन की खूबसूरती , नृत्य और गायन की ख्याती दूर दूर तक फैलती है और अम्मीजान की दुकान (तवायफ खाना) पर चहल-पहल बढ़ जाती है ।
अम्मीजान ने कानपुर के रईस नवाब शमशुद्दीन से अजीजन की मिस्सी (सगाई) करा दी । बड़ी धूमधाम से मिस्सी की रस्म मनाई गई । पूरे कानपुर को इस मिस्सी रस्म में आमंत्रित किया गया । दूर दूर की तवायफें इस महफिल में शरीक हुईं । अजीजन की नवाब शमशुद्दीन के साथ सिर्फ मिस्सी हुई थी और निकाह बाकी था । लेकिन दोनों एक दूसरे से सच्ची मोहब्बत करते थे ।
नाना साहब , तात्या टोपे, टीका सिंह, अजीमुल्ला खां और नवाब शमशुद्दीन की एक क्रान्तिकारी पार्टी थी जो विद्रोह कर अंग्रेजी शासन से भारत को मुक्त करा लेने के लिेए गठित की गई थीं । नाना साहब बिठुर तथा कानपुर के राजा थे । नवाब शमशुद्दीन ने अपने साथियों की सलाह से अजीजन को भी अपने क्रांतीकारी पार्टी में शामिल कर लिया । अजीजन के सुपुर्द ये काम किया गया कि वो गाना गाकर, अपना नाच दिखाकर अंग्रेजी पक्ष के भारतीय सैनिकों को बहला फुसलाकर नाना साहब के पक्ष में करे, अंग्रेजी सेना की तैयारी और इरादों की गुप्त जानकारी प्राप्त करे और भारतीय मूल के सैनिकों में देशभक्ति की भावना भरें।
अजीजन ने इस चुनौती को सहर्ष स्वीकार किया । सेनापति तात्या टोपे ,अजीमुल्ला खां , टीका सिंह , नाना साहब भी अजीजन से मिलकर बड़े प्रभावित हुए । जब नाना साहब को पता चलता है कि अजीजन मजबूरी में नर्तकी बनी वैसे वो कुलीन क्षत्रीय जाती की लड़की है तो उन्होंने उसे अपनी बहन बना लिया ।उसे एक तलवार भेंट की और उससे अपने हाथ में बंधवा ली । अजीजन अंग्रेजों से अपने अपमान का बदला लेना चाहती थी। जब उसे क्रांतिकारी पार्टी का सहयोग मिल गया तो उसका उत्साह उसके मन में चल रही प्रतिशोध की आग और भड़क उठी ।
नवाब शमशुद्दीन की मदद और नाना साहब के आशिर्वाद से अजीजन ने अपनी एक टोली बना ली, जिसमें 25 नर्तियों ( तवायफ) थी । इस टोली का नाम मस्तानी टोली रखा जाता है । इस टोली को विधवत शस्त्र शिक्षा,घुड़सवारी,दरिया में तैरने व अन्य सभी प्रकार के लड़कू तरीकों से अवगत कराया गया और प्रशिक्षण दिया गया ।इस मस्तानी टोली ने कानपुर में तहलका मचा दिया । इस टोली में बड़े बड़े बहादुरी के कार्य किए । इस टोली के कारण ही अंग्रेजी फौज के बहुत से सिपाही नाना साहब की फौज में आ मिले और अंग्रेजी सेना विद्रोही बन गई । अजीजन की मस्तानी टोली ने हजारों अंग्रेजों को मौत के घाट उतार दिया । इस मस्तानी टोली ने वीवी घर ( लाल बंगला) में रहने वाले तमाम अंग्रेजों को कत्ल कर दिया ।
इन क्रांतिकारियों के शोर्य और पराक्रम से एक बार तो पूरे कानपुर से ही अंग्रेजों को भगा दिया गया था । इस घटना से अंग्रेज बौखला गए थे । फिरंगी अपनी इस हार को सहर्ष स्वीकार करने वाले न थे । अंग्रेज एक बड़ी फौज लेकर आए और चारों तरफ से कानपुर को घेर लिया और कानपुर के किले पर कब्जा कर लिया । भयानक लड़ाई हुई । विजय अंग्रेजों को मिली । क्रूर अंग्रेजों ने सैकड़ो भारतीयों को फांसी पर लटका दिया था और अनगिनत को गोली से उड़ा दिया था । इस भयंकर लड़ाई में अंग्रेज जीत तो गए लेकिन वीर क्रांतिकारियों ने स्वतंत्रता पाने की जो ललक,आम भारतियों के दिलो मे जो आग लगा दी वो निरंतर चलती रही ।
अंतत: एक बदनाम पेश में रहते हुए भी अजीजन बाई ने एक ऐसी मिसाल बना दी कि हर भारतीय नारी में देशभक्ति की भावना भर गई । और आजादी की तरफ अग्रसर बढ़ते कदम आखिरकार हमें आज़ादी पाने से नही रोक पाए । निश्चित ही वीरांगना, नृत्यांगना वीरगति को प्राप्त अजीजन बाई की शहादत को स्वतंत्र भारत के लोग कभी नही भुला पाएंगे और उनकी शहादत को शीश झुकाकर नमन करते रहेंगे ।
पुजारी है वही जो राष्ट्र का गुणगान करते हैं,
जलाकर देह औरों के लिए दिनमान करते है।
वहां पर टेकने मत्था स्वंय भगवान नित आते,
जहां पर वीर माता के लिए बलिदान करते हैं।
From Wikipedia, the free encyclopedia
Annie Mascarene (6 June 1902 - 19 July 1963) was an Indian freedom fighter and Member of Parliament from Thiruvananthapuram, Kerala.
Member, Travancore State Assembly (1948)
Travancore State old kerala
Political party Indian National Congress
Education Maharajas College, Ernakulam
Family and education
Mascarene was born into a Latin Catholic family. Her father Gabriel Mascarene was a government official of the Travancore State. She did a double MA in history and economics in 1925 from Maharaja'S College Travancore and then went on to earn a degree in law following her return from a teaching stint in Ceylon at the Maharaja's Colleges for Arts and Law, Trivandrum.
Role as freedom fighter
Mascarene was one of the first women to join the Travancore State Congress and became the first woman to be part of the Travancore State Congress Working Committee. Along with Akkamma Cherian and Pattom Thanu Pillai, she was one of the leaders of the movements for independence and integration with the Indian nation in the Travancore State. For her political activism she was imprisoned for various periods from 1939—47. Annie Mascarene: Freedom fighter, nation builder, guardian of democracy and Kerala's first MP
GenderAnd: Annie Mascarene's experiences in the politics of her state, and her fight to push Travancore to become a part of Independent India helped shape her views.
Written by Priya Ravichandran
Popular narratives of history have led us to believe that men alone were architects of the Indian Constitution. Among the 299 members of the Constituent Assembly, 15 were women. Very little is known about them. They came from different walks of life—lawyers, freedom fighters, politicians, and suffragettes. Led by Bhimrao Ramji Ambedkar they discussed, debated and put forth their opinions while defining the principles that would guide the then recently Independent India. Annie Mascarene was in many ways a singular character amongst the women in the Constituent Assembly.
On February 21, 1946 Mahatma Gandhi wrote to a political worker regarding a speech the person had delivered in Bombay. Gandhi wrote, "Even otherwise, I know that you have no control over your tongue and when you stand up to speak, you blab anything that comes to your mind. This speech also is quite a specimen, if the newspaper report is correct. I have sent the report to Bhai Thanu Pillai. You can read it. Such indiscreet talk can do good neither to you nor to the poor people of Travancore. Besides, by your act you put the whole fair sex to shame."
The letter was addressed to Annie Mascarene. Gandhi had also written to Pattom Thanu Pillai, member of the Travancore State Congress and colleague of Annie, asking him to reconsider her role as co-minister in the Kerala Legislative Assembly.
Annie Mascarene, GenderAnd, Women Constituent Assembly members, Annie Mascarene biography, Express Gender Series, Gender And series Indian Express, Women in Constituent Assembly Popular narratives of history have led us to believe that men alone were architects of the Indian Constitution. Among the 299 members of the Constituent Assembly, 15 were women. Very little is known about them. Gandhi's admonishment notwithstanding, Annie Mascarene had already established herself as an intrepid fighter and leader in Travancore's emerging political scene. She along with Accamma Cherian and Rosamma Punnose were the first women to join the Travancore State Congress. A brilliant orator, she went on to lead Travancore's prolonged fight against its dewan to seek a place as a state in newly independent India. She was repeatedly arrested for her activities. Her record includes 18 months in 1938 on charges of sedition; two years in 1942 for inflammatory speech, and six months in 1946 for spreading rumors that incite people to acts of violence.
Born in 1902 in Trivandrum, Annie graduated with a double MA in history and economics from Maharaja's College in Thiruvananthapuram before moving to Sri Lanka to serve as a lecturer. She also completed her LLB degree from Thiruvananthapuram on her return.
Travancore, as a princely state, was undergoing a metamorphosis aided by movements calling for greater participation of people from across castes and religions, and for a more responsible government representative. In 1932, the Travancore regent signed a legislative reform bringing to life its first bicameral legislative assembly. It did not go far enough in establishing a just participation for all communities. This alongside the repeated undermining of minority communities in the princely state led to a coming together of various religious and caste organisations. The joint political conference went a long way in giving a platform for those opposed to government policies. It eventually led to the formation of the Travancore State Congress in 1938 with the idea of establishing a responsible government on the basis of universal adult franchise.
P.T. Haridas, in his paper "Genesis of the Travancore State Congress", points out that this party ran on the platform of accession to Independent India. Annie Mascarene went on to become one of its more vocal presidents'. The dewan C. P. Ramaswamy Iyer was determined to see Travancore established as an independent state post 1947. Mascarene's appetite for politics, politicking and policy making were honed during her time in the state congress. The dewan and the ruling government saw her as a threat and her work amongst the Travancore citizens as an impediment to his ambitions for the princely state. M. Sumathy in her work "Emergence of Travancore State Congress and Early Activities of the Party" points out that in April 1938, there were repeated attacks on her life and property, and assaults on other members. Continual complaints yielded very little results. Mascarene went on to publish a pamphlet detailing the assaults much to the chagrin of the local police.
Annie Mascarene, GenderAnd, Women Constituent Assembly members, Annie Mascarene biography, Express Gender Series, Gender And series Indian Express, Women in Constituent Assembly Annie Mascarene's arguments in the Constitution Hall were based on her beliefs that while centralisation of power was necessary for a successful democracy, too much centralisation could alter the very nature of democratic institutions. Annie Mascarene went on to serve as a member of the Travancore-Cochin Legislative Assembly from 1948-1952, and briefly from 1949-1950 as a Minister in charge of Health and Power, the first time a woman had held a ministerial post in the Travancore legislative assembly. She also earned the distinction of being the first and only women amongst 10 people elected to the first Lok Sabha as an independent candidate from Thiruvananthapuram in India's first general election in 1951. She went on to represent Travancore-Cochin in the constituent assembly.
Annie Mascarene's arguments in the Constitution Hall were tinted with the same principles and fervour that coloured her career in the princely state of Travancore. She firmly believed that while centralisation of power was necessary for a successful democracy, too much centralisation could alter the very nature of democratic institutions. She argued that provincial autonomy and more importantly provincial elections, and legislatures need to maintain their independence, and the Centre cannot assume the role of "custodian of justice". She struck down K.M. Munshi's argument of expediency and reality as reasons for Article 289 – the appointment of an election commission by pointing, "We are here laying down principles – rudimentary principles – of democracy, not for the coming election but for days to come, for generations, for the nation. Therefore principles of ethics are more suitable to be considered now than principles of expediency. I am a believer in politics as nothing but ethics writ large."
Parliamentary career
Mascarene was elected to the First Lok Sabha as an independent candidate from the Thiruvananthapuram Lok Sabha constituency in the 1951 Indian general election. She was the first woman MP from Kerala and one of only 10 elected to Parliament in those elections. Prior to her election to Parliament, Mascarene had been member of the Travancore-Cochin Legislative Assembly from 1948—52 and had served briefly as Minister in Charge of Health and Power in the Parur T K Narayana Pillai Ministry during 1949-1950. She was also one of the members of the Constituent Assembly of India and served on its select committee that looked into the Hindu Code Bill. In the second General Elections of 1957, she was defeated in Thiruvananthapuram by S Easwaran, coming fourth in a contest that also featured her erstwhile colleague in the Travancore Congress, Pattom Thanu Pillai.
Death
Annie Mascarene died in 1963 and her grave lies at the Pattoor cemetery in Thiruvananthapuram.
Asaf ali
Wikipedia from the free encyclopedia
18 July 1951 - 6 June 1952
21 June 1948 - 5 May 1951
Asaf Ali ; Asaf Ali: (11 May 1888 - 1 April 1953) was an Indian freedom fighter and famous Indian lawyer. He was the first ambassador of the United States from India . He also served as the Governor of Odisha, Asaf Ali was born on 11 May 1888 AD in Sihara, Uttar Pradesh , British India
Indian National Movement
In 1914, the Indian Muslim community had a major impact on the British Empire. Asaf Ali supported the Turkish Khilafat side and resigned from the Privy Council. He saw this as an act of non-cooperation and returned to India in December 1914. After returning to India, Asaf Ali joined the nationalist movement as an agitator. Opposed the British Government by joining the Khilafat Movement of 1919. Played an active role in the non-cooperation movement run by Gandhiji during 1920-21. On 8 April 1928, Bhagat Singh and Batukeshwar Dutt were arrested for throwing a bomb in the Delhi Central Assembly, their defense lawyer Asif Ali became and advocated their case. He was elected to the Central Legislative Assembly in 1935 as a member of the Muslim Nationalist Party. The Muslim LeagueWas re-elected as a Congress candidate against the candidate of K and was elected as the Vice-President. In 1942, joined the Quit India movement on Gandhiji's call.
Marriage
In 1928, he married Aruna Asaf Ali , aged 21 , (Asaf Ali was a Muslim, while Aruna was a Hindu). He is widely remembered for hoisting the Indian National Congress flag at the Gowalia Tank Grounds in Mumbai during the Quit India Movement, 1942.
Political career
Asaf Ali was in charge of Railways and Transport in the Interim Government of India headed by Jawaharlal Nehru from 2 September 1946. He served as India's first ambassador to the United States from February 1947 to February 1949 to 1949.
Death
On 1 April 1953 AD, at the age of 64 , while serving as Ambassador of India to Switzerland , Bern died in the Embassy office. In 1989, India Post issued a stamp in his honor. His wife Aruna Asaf Ali was awarded India's highest civilian award - Bharat Ratna.
Death : 29 September 1942 (Mahishadal)
Childhood and educational life Ashutosh Quila was born in Madhabpur in East Midnapore district. His father's name is Jeevan Chandra Quila. He was member of revotulanary group called Bidyut Bahini. He joined the Quit India Movement (1942) while studying in tenth grade at the Kalyan Gauramohan Institution. He was martyred when he was just eighteen. He participated in the attack on the Mahishadal police station on 29 Sep 1942. He received bullet wound in firing and died on the same day.
Ashfaq Ullah Khan
Khamoosh Hazrat Khamoosh Hasmat (pen name of A-U Khan)
22 October 1900 – 19 December 1927
Agar Hai Jajba Wattan Ka Dil Main ,
Saza Ko Pohnchain Ge Apni Beshak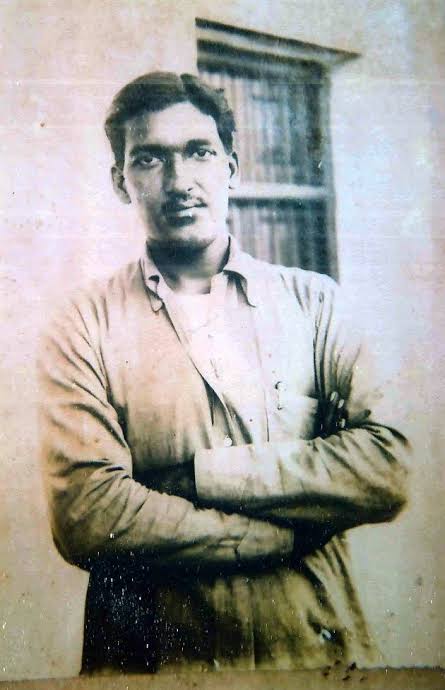 Zo aaj Hamko Mitta Rhe Hain,
Bujdiloon Hi Ko Sada Moyt Se Darte Dekha
Goo Ke Soo Bar Unhain Roz Hi Marte Dekha,
Wattan Hamara Rahe Saj Kam Aur Azad
Hamara Kaya Hai Agar Hum Rahe Na Rahe Na Rahe ,
Kass Lee Hai Kamar Ab To Kush Kar Ke Dekhain Ge
Azad Hee Hoo Leinge Ya Sar hee Kata Deinge.
This is the Urdu poem composed by Ashfaq Ullal Khan, who earned the supreme distinction of being the first Muslim youth to be hanged for the cause of the freedom of Mother India. Ashfaq Ullal Khan imbibed the spirit of Patriotism, Unity, Communal Harmony & supreme sacrifice for the country. He falls in the of great revolutionaries & martyrs like Amar Sheed Bhagat singh, sukhdev,Rajguru , Jatinder Nath Dass, Veerangini Jalkari Bhai, Virsa Munda,Mangle Panday,Dulia Dhobi,Mangal Mochi, Kammon kesri Khushi Ram ,Jatra Bhagat , Udham singh , Abdul Gafar Khan, Guru Ram Singh Kuka, Begum Hazrat Mahal,Arun Asaf AlimChander Sekhar Azad ,Neta ji subash chander bose, Veeragini Mahaveeri Devi& lakhs other unknown heroes of Indian Independence Movement.
A very handsome revolutionary son of Mother India, Ashfaq Ulla Khan, was born on October 22nd , 1900 at Shahjahanpur (U.P) in a respectable & well known Muslim family. He was son of revered zenab Shafiq Ullah Khan and Begam Mazhoor-Un-Nisa.His father was teacher by profession . Ashfaq Ulla Khan was the youngest of his six children of his father. His elder brother's was Zenab Riyasat Ullah Khan who was advocate by profession. His birth was celebrated with a great pump & show. He was a student of the Mission High school at Shahjahanpur, one class junior to another great revolutionary Pandit Ram Parshad Bismil., a staunch Arya Samaji Hindu. From his childhood Ashfaq Ullal Khan started taking interest in the Freedom Movement & the activities of the freedom fighters moved his tender mind. Both he and Ram Prasad Bismil made unparallel sacrifices for the Indian Freedom Movement from the British yoke.
Ashfaq Ulla Khan left school during Khilafat Movement in 1920 to devote himself fully to educate his countrymen for the Freedom Movement. Many of his near friends advised him not to jump into freedom movement, which was full of difficulties & sufferings including jailed life & even death sentence. But Ashfaq Ullal Khan was made of different stuff, who had decided to sacrifice for the freedom of his Motherland.
To raise money for purchasing weapons for the revolutionaries it was decided (although Ashfaq Ullal Khan differed initially, but agreed with the majority decision) to loot a train carrying Govt. Treasury The train was successfully looted on August 8, 1925 between Alamnagar & Kakoi stations. Among the train robbers were Sachinder Nath Bakshi; Rajinder Nath Lahiri; Pandit Ram Parshad Bismil & Ashfaq ullah Khan. The train robbery sent shock waves to the British administration & praises for the revolutionaries. Two close confidents of Pt. RPBismil leaked the information & got arrested some revolutionaries, but Ashfaq ullah Khan escaped to Daltonganj in Bihar, where he succeeded in getting employment in a school posing as a Hindu of Mathura. Now he wanted to go abroad to study engineering which would further help him in the freedom struggle. He went to Delhi for this purpose.. But alas again a close confident Pathan friend of Ashfaq ullah Khan betrayed & got Ashfaq ullah Khan arrested. Ashfaq ullah Khan was brought to Lahore, tried along with Sachinder Nath Bakshi in Kakori railway station case & sentenced to death. His advocate brother Zenab Riyasat Ullah Khan was his defense councilor.
In an Urdu poem written from his prison cell by Ashfaq ullah Khan with Ram Prasad Bismil on the night of 18 December, 1928 (They were executed on 19th December 1927), he expressed his wish that despite the fact as a Muslim he did not believed in rebirth after death, but if he meets "Khudda" ( God Almighty) after death, he shall make an express request to Him to grant him another births in lieu of "Jannat" so that he could come again and again to liberate his mother land. In this hand written Urdu poem opening lines he said he will go empty hands with the pains that he did not know when his country shall be liberated. A day before his death he told, to his friends who came to see him in the cell, jokily that he was getting married next day.
Ashfaq ullah Khan's love for his motherland and his commitment for its freedom from the foreign yoke can be made out from the letter written by him from his Jail cell to his nephews.
Translation of the Urdu letter written by Asfaq Ullah Khan to his nephews from the Jail.
"I have been accused of loving my country and for that crime ,I have been given the death sentence. The only wish I have from you both is that after my death you must read the proceedings of my case, then you will come to know to what extent I loved my motherland as a true Muslim".
On Monday the19th December, 1927, the day of his execution Ashfaq ullah Khan got up early in the morning, took bath offered Namaz & read verses from the Holy Quran. At 6 in the morning he was taken to the altar platform for execution. He was walking carrying a Quran in a bag hanging from his shoulder & was reciting its verses. After kissing the noose he put it around his neck as if it was a garland of flowers. He said "I have never stained my hands with the blood of any man. I will get justice before God. All the charges leveled against me are wrong." After kissing the noose he put it around his neck as if it was a garland of flowers and was hanged Faizabad Jail British India. His body was taken by his relatives to Shahjahanpur to perform his last rights
Amar Shaheed Ashfaq ullah Khan was a true freedom fighter & a great secular. He saved an Arya Samaji temple from being burnt by rioters. He said "All places of worship, irrespective of the religion, they belong to, are dear to life more than his life." In his last prayer he prayed to God to bless Hindus & Muslims with better sense so that they don't fight among themselves and work untidily for the Freedom Movement of the country .
Accamma Cherian
"Shoot me first": Accamma Cherian's bold voice of freedom
In 1951, when she married Varkey Mannamplakkal—another freedom fighter and member of the Travancore Legislative Assembly—Accamma was proving the spirit of nationalism and freedom ingrained in every Christian of India.
By Joe Palathunkal
"Not hundreds but tens of thousands wearing white Khaddar Jubbahs and still whiter Gandhi caps were surging forward in massive waves… Akkamma Cherian was leading that white sea, standing in an open jeep, dressed in khaddar and a Gandhi cap, like Goddess Durga crushing beneath her feet evil and injustice; her hair played in the wind like black flags hoisted against autocracy…"
I don't know whether there is a better description of India's most vocal, woman freedom fighter Accamma Cherian's first march towards freedom in 1938, against the oppressive rule of the King and Dewan of Travancore. This imagery from the great story teller of Malayalam, E. M. Kovoor (Iype Mathew) from Thiruvalla, says all about our bold voice of freedom born into the Karippapparambil Catholic family of Kanjirappally, Kerala, on February 14, 1909, to Thomman Cherian and Annamma.
After completing her education in Catholic schools and colleges, Accamma became a teacher for a period of six years and when the State Congress was formed in 1938, she gave up her teaching and plunged into the turbulent waters of freedom struggle. But the protest march against the king to Kowadiyar Palace did cost the Congress dearly and the organization was banned on August 26, 1938, India's freedom month.
Prominent Congress leaders like Pattom Thanu Pillai and others were arrested and put in prison which forced the organization to change its method of protest, and they even chose a new name, 'Strikers' Union', and Accamma was nominated its autonomous, all powerful president, about which she wrote later: "I was aware of the seriousness of the assignment and knew what the consequences could be, yet I volunteered to do the job."
Taking upon herself the mandate given by Jesus in Luke 4: 18, "He has sent me to proclaim liberty to the captives", when she marched with 20,000 people to remove the yoke of suppression, the British ordered to fire at the crowd and then came the boldest roar from this 29 year old lioness of Kerala: "I am the leader; shoot me first before you kill others".
When the news reached Mahatma Gandhi, he called Accamma Cherian 'the Jhansi Rani of Travancore', an epithet she proved correct through the later events. In October 1938, she formed the women's organization, 'Desasevika Sangh', to instil the spirit of nationalism and freedom, in the women of India. And this was a powerful invitation for the women to come out of the confines of kitchen to the public domain.
When the first annual conference of the State Congress was held at Vattiyurkavu on 22nd and 23rd of December 1938, Accamma and other Congress leaders were arrested on the next day, and they were imprisoned for a year for violating the ban orders. In jail, they were insulted and abused which Dewan C. P. Ramaswamy Aiyar later denied.
After the release from jail, in 1942, Accamma Cherian became the Acting President of State Congress and welcomed the Quit India Resolution, passed at the Bombay session of the Indian National Congress on August 8, 1942. She was arrested and imprisoned for revolting against the government.
When C. P. Ramaswamy Aiyar demanded independent statehood for Tranvancore, Accamma sensed it as a ploy against the Indian nationalistic spirit, and she raised her bold voice for which she was again arrested in 1947. After Independence, she was elected unopposed to the Travancore Legislative Assembly.
In 1951, when she married Varkey Mannamplakkal—another freedom fighter and member of the Travancore Legislative Assembly—Accamma was proving the spirit of nationalism and freedom ingrained in every Christian of India. When she died on May 5, 1982, India not only lost a freedom fighter but also a powerful icon of Indian women's liberation from every shackle they are chained to, and Christianity in India lost a dynamic witness of nationalism which is doubted by some people for political motives.
When Dr. Ambrose Pinto SJ wrote as a response to such people the following, he was indeed reminding us about Accamma Cherian: "The Church of course was as nationalist as any other progressive groups and had aligned with all progressive elements. They were surely not a part of the colonial conspiracy. In fact, right from the beginning Christianity did not take the believers out of their national moorings but the religion provided the followers an altruistic philosophy to work for the poor and the deprived."
(Joe Palathunkal is Associate Editor, Living in Faith)
https://www.livingfaith.in/news/shoot-me-first-accamma-cherians-bold-voice-of-freedom/2074/
Abdul Qaiyum Ansari
Died 18 January 1973
Abdul Qaiyum Ansari (1 July 1905 – 18 January 1973) was a participant in the freedom struggle of India. He was known for his commitment to national integration, secularism and communal harmony. He was a leader who worked against the demand of Muslim league for creation of a separate Muslim nation from India as an independent state.
Birth and education
He was born on 1 July 1905 at Dehri-on-Sone, Bihar. He was born in a wealthy Momin/Ansari family. After studying at Sasaram and Dehri-on-Sone High Schools, he went on to attend Aligarh Muslim University, Calcutta University, and Allahabad University, though his education was interrupted from time to time due to his active involvement in the struggle for India's freedom.
Participation in freedom struggle of India and pre-independence period works
He was involved in the freedom struggle of India at a very early age and as a part of the same he left the government run school at his home town. He established a national school for the students who had boycotted government schools in response to the call of the Indian National Congress. For this he was arrested and imprisoned at the young age of 16 since it amounted to participation in Non-Cooperation and Khilafat Movements.
He worked closely with the Indian National Congress throughout as a youth leader and even took part in the students' agitation against the Simon Commission during its visit to Calcutta in 1928.
Abdul Qaiyum Ansari was also an accomplished journalist, writer and poet. He was editor of Urdu weekly "Al-Islah" (The Reform) and an Urdu monthly "Musawat" (Equality) in the preindependence days.
Opposition to Muslim League and formation of Momin Movement
He opposed the communal policies of the Muslim League. Abdul Ansari was against the demand of Muslim League for creation of Pakistan by dividing India. To counter the demand of the Muslim League for a separate Muslim nation he started the Momin Movement. Under this banner he worked for the social, political, and also economic emancipation and upliftment of the backward Momin community which was at least half of India's Muslim population then. Abdul Qaiyum Ansari remained President of All India Momin conference throughout his life.
Momin movement supported the Indian National Congress Party which he perceived to be fighting for freedom for a united India, and for the establishment and development of social equality, secularism and democracy. He also worked for the welfare of artisan and weavers communities, and for the development of the handloom sector in the textile industry of the country.
His party fought the general elections of 1946 held on the basis of separate electorates and managed to win six seats in the Bihar Provincial Assembly against the Muslim League. Thus he became the first Momin to become a Minister of Bihar in the cabinet of Bihar Kesari Sri Krishna Singh and as a young minister earned the praise of both stalwarts Bihar Kesari Shri Babu and Bihar Vibhuti Anugraha Babu. Eventually he dissolved the Momin Conference as a political body, and made it a social and economic organization. He was a Minister in the Bihar Cabinet for about seventeen years and held various important portfolios and discharged his responsibilities most ably, building up a reputation for selfless service and integrity.
Post-independence efforts
During the aggression of Pakistan on Kashmir in October 1947, he came forward as the first Muslim Leader of India to condemn the same and strenuously worked to rouse the Muslim masses to counter such aggressions as true citizens of India. As an aftermath of this he founded the Indian Muslim Youth Kashmir Front in 1957 to "liberate" Azad Kashmir. Later on, he exhorted the Indian Muslims to support the Government of India in the anti-Indian uprising of the Razakars in Hyderabad during September 1948.
A champion of the poor and downtrodden, Abdul Qaiyum Ansari worked for the spread of education and literacy and the first All India Backward Classes Commission was appointed by the Government of India in 1953 largely at his initiative.
Death
Abdul Qaiyum Ansari died on 18 January 1973, at village Amiawar of Bihar, while inspecting damages caused to the village by the collapse of the Dehri-Arrah canal and organizing relief to its homeless people.
Praised by government
On 1 July 2005, the Government of India (Or India Post) released a Postage Stamp to commemorate him.
From Wikipedia, the free encyclopedia
At his age and for one who had never known hardships of life it was no joke to suffer imprisonments. But his faith conquered every obstacle… He was a rare servant of humanity. He was a servant of India because he was a servant of humanity. He believed in God as Daridranarayana. He believed that God was to be found in the humblest cottages and among the depressed of the earth. Abbas Mian is not dead, though his body rests in the grave. His life is an inspiration for us all.
Baji Rout
From Wikipedia, the free encyclopedia
Baji Rout
Portrait of Saheed Baji Rout
Native name
ବାଜି ରାଉତ
Born 5 October 1926
Nilakanthapur, Dhenkanal, Odisha
Died 11 October 1938 (aged 11–12)
Nilakanthapur, Dhenkanal
Nationality Indian
Other names Bajia
Known for Youngest Freedom Fighter
Youngest Martyr of India
Baji Rout (Odia:
ବାଜି ରାଉତ
) is the youngest Indian martyr, having been killed at the age of twelve. He was born on 5 October, 1926. Rout, who was a boat boy, was shot by British police when he refused to ferry them across the Brahmani River on the night of 11 October 1938 at Nila kanthapur Ghat, Bhuban, Dhenkanal district.
Baji Rout was the youngest son of a boatman on the Brahmani river. As an active member of the Banar Sena of Prajamandal (Party of People), He had volunteered to keep watch by the river at night. The British Police force ordered him to cross the river by his boat which he denied. The police force then fired upon Baji Rout along with Laxman Mallik and Fagu Sahoo.
Baji Rout Samman
In memory of the youngest martyr of India, Utkala Cultural Association at IIT Bombay honors one Odia youth with 'Baji Rout Samman' each year on Utkala Divasa (Odisha Day) as an emerging talent in different fields like arts, science, social work, entrepreneurship etc. Miss. Sniti Mishra was honored with 'Baji Rout Samman' for the year 2016 for her achievements in music industry.
List of recipients
2016: Miss Sniti Mishra, Bollywood Singer
2017: Mr. Shakti Prashana Mishra, Music Composer
2018: Mr. Asit Tripathy, Bollywood Singer
2019: Miss Rajasmita Kar, Dancer, Dance India Dance (DID) Season 3 winner
Bibliography
Famous Poet Sachidananda Routray, Jnanpith Award winner has written a poem "Baji Rout" . The poem starts like this :-
" ନୁହେଁ ବନ୍ଧୁ, ନୁହେଁ ଏହା ଚିତା , ଏ ଦେଶ ତିମିର ତଳେ ଏ ଅଲିଭା ମୁକତି ସଳିତା। "
Which in English means :-
"It is not a pyre, O Friends! When the country is in dark despair, it is the light of our liberty. It is our freedom-fire."
Films
Baji Rout India's youngest freedom fighter - a documentary which portrays Baji Rout's entire journey as a freedom fighter and ultimately his encounter with the British
This Hindi short film on Baji Rout titled : "Baji Rout:India's youngest freedom fighter", has been made by a group of students, directed by Riyyan Farooq and Diksha Nayak, produced by Candid Cinema. 15 September 2018.
Begum Royeka
"Had God Himself intended women to be inferior, He would have ordained it so that mothers would have given birth to daughters at the end of the fifth month of pregnancy. The supply of mother's milk would naturally have been half of that in case of a son. But that is not the case. How can it be? Is not God just and most merciful?"
Born: 9 December 1880, Rangpur District, Bangladesh
Died: 9 December 1932, Kolkata
This great lady was perhaps the first amongst the other female freedom fighters, who fiercely fought for the gender equality, back in that time when the freedom was only a dream. She wrote novels, poems, short stories, science fiction, satires, treatises, and essays where she advocated that both men and women should be treated equally. She also emphasized the lack of education and claimed it, being the main reason for women's lagging behind.
ब्रिगेडियर मोहम्मद उस्मान
ब्रिगेडियर मोहम्मद उस्मान जंग में शहीद होने वाले आज़ाद भारत के पहले सेना अधिकारी थे जो ब्रिगेडियर की पोस्ट पर रहते हुए इसी महीने 3 जुलाई 1948 को कश्मीर के नोशेरा में शहीद हुए थे। इतनी ऊंचे ओहदे पर उस वक़्त तक कोई अधिकारी शहीद नही हुआ था। लेकिन आज मीडिया और न ही कोई नेता उनकी शहादत पर उन्हें याद करता है।
ब्रिगेडियर उस्मान आजमगढ़ में पैदा हुए और बनारस के हरिश्चन्द्र कॉलेज से पढ़ाई पूरी की। रॉयल मिलिट्री एकेडमी का एग्जाम क़वालीफाई कर के सेना में बलूच रेजिमेंट के अधिकारी बने। भारत पाकिस्तान बंटवारे के बाद बलूच रेजिमेंट पाकिस्तान के हिस्से में गयी जिस वजह से जिन्ना ने ब्रिगेडियर उस्मान को पाकिस्तान सेना में सेना प्रमुख का पद ऑफर किया लेकिन उस्मान ने जिन्ना के ऑफर को ठुकरा कर भारत की सेना को चुना।
1948 को भारत पाकिस्तान की जंग में कश्मीर में नोशेरा की हिफाज़त करते हुए शहीद हो गए। उन्हें जामिया मिल्लिया के परिसर में उन्हें सुपुर्द ए खाक़ किया गया। बाद में उन्हें महावीर चक्र से नवाज़ा गया। मऊ के मुख़्तार अंसारी परिवार ब्रिगेडियर उस्मान को अपना रिश्तेदार बताते है।
From Wikipedia, the free encyclopedia
Banda Singh Bahadur
Birth name Lachman Das
Other name(s) Madho Das
Born 27 October 1670
Died 9 June 1716 (aged 45)
Allegiance
Years of service 1708-1716
Spouse(s) Susheel Kaur
Children Ajay Singh
Personal
Religious career
Banda Singh Bahadur (born Lachman Dev Or Lakshman Das) (27 October 1670 – 9 June 1716,
Delhi
), was a Sikh warrior and a commander of
Khalsa
army. At age 15 he left home to become a
Hindu
ascetic
, and was given the name ''Madho Das''. He established a monastery at
Nānded
, on the bank of the river
Godāvarī
, where in September 1708 he was visited by, and became a disciple of,
Guru Gobind Singh
, who came to Nanded to collect forces and live last years of his life, he gave Lachman Das the new name of Banda Singh Bahadur, after the Baptism Ceremony. He was given five arrows by the Guru as a blessing for the battles ahead. He came to
Khanda
in
Sonipat
and assembled a fighting force and led the struggle against the
Mughal Empire
. His first major action was the sacking of the Mughal provincial capital,
Samana
, in November 1709. After establishing his authority and
Khalsa rule
in
Punjab
, Banda Singh Bahadur abolished the
zamindari
system, and granted property rights to the tillers of the land. Banda Singh was captured by the Mughals and tortured to death in 1715–1716.
Early life
Banda Singh was born in a
Hindu
family to farmer Ram Dev, at
Rajouri
(now in
Jammu and Kashmir
). Sources variously describe his father as a
Rajput
of Bhardwaj gotra or a
Dogra
Rajput. Hakim Rai's Ahwāl-i-Lachhmaṇ Dās urf Bandā Sāhib ("Ballad of Banda Bahadur") claims that his family belonged to the
Sodhi
sub-caste of the
Khatris
.However, this claim appears to have been an attempt to portray him as Guru Gobind's successor, since the preceding
Sikh Gurus
were Sodhi's.
Early conquests
On 12 May 1710 in the
Battle of Chappar Chiri
the Sikhs killed
Wazir Khan
, the Governor of
Sirhind
and Dewan Suchanand, who were responsible for the martyrdom of the two youngest sons of Guru Gobind Singh. Two days later the Sikhs captured
Sirhind
. Banda Singh was now in control of territory from the
Sutlej
to the
Yamuna
and ordered that ownership of the land be given to the farmers, to let them live in dignity and self-respect.
Military Invasions
Revolutionary
Banda Singh Bahadur is known to have halted the
Zamindari
and
Taluqdari
system in the time he was active and gave the farmers
proprietorship
of their own land. It seems that all classes of government officers were addicted to extortion and corruption and the whole system of regulatory and order was subverted.
Local tradition recalls that the people from the neighborhood of
Sadaura
came to Banda Singh complaining of the iniquities practices by their landlords. Banda Singh ordered Baj Singh to open fire on them. The people were astonished at the strange reply to their representation and asked him what he meant. He told them that they deserved no better treatment when being thousands in number they still allowed themselves to be cowed down by a handful of Zamindars. He defeated the Sayyids and Shaikhs in the
Battle of Sadhaura
.
Persecution from the Mughals
The entire
Imperial
force was organized to defeat and kill Banda Singh Bahadur. All the generals were directed to join the Emperor's army. To ensure that there were no Sikh agents in the army camps, an order was issued on 29 August 1710 to all Hindus to shave off their beards.
Banda Singh was in Uttar Pradesh when the Moghal army under the orders of Munim Khan marched to Sirhind and before the return of Banda Singh, they had already taken Sirhind and the areas around it. The Sikhs therefore moved to Lohgarh for their final battle. The Sikhs defeated the army but reinforcements were called and they laid siege on the fort with 60,000 troops.Gulab Singh dressed himself in the garments of Banda Singh and seated himself in his place.
Banda Singh left the fort at night and went to a secret place in the hills and
Chamba
forests. The failure of the army to kill or catch Banda Singh shocked Emperor, Bahadur Shah and on 10 December 1710 he ordered that wherever a Sikh was found, he should be murdered.
Banda Singh Bahadur wrote
Hukamnamas
to the Sikhs to reorganize and join him at once. In 1712, the Sikhs gathered near
Kiratpur Sahib
and defeated Raja Ajmer Chand, who was responsible for organizing all the Hill Rajas against Guru Gobind Singh and instigating battles with him. After Bhim Chand's dead the other Hill Rajas accepted their subordinate status and paid revenues to Banda Singh. While Bahadur Shah's four sons were killing themselves for the throne of the Mughal Emperor, Banda Singh Bahadur recaptured Sadhaura and Lohgarh.
Farrukh Siyar
, the next Mughal Emperor, appointed Abdus Samad Khan as the governor of Lahore and Zakaria Khan, Abdus Samad Khan's son, the
Faujdar
of Jammu.
Banda Singh came out and captured Kalanaur and Batala which rebuked Farrukh Siyar to issue Mughal and Hindu officials and chiefs to proceed with their troops to Lahore to reinforce his army.
Indian Prime Minister
Narendra Modi
and Indian Punjab Chief Minister
Parkash Singh Badal
at the commemorative event to mark the 300th anniversary of the martyrdom of Baba Banda Singh Bahadur.
Siege in Gurdas Nangal
In March 1715, the army under the rule of
Abd al-Samad Khan
, the Mughal governor of Lahore, drove Banda Bahadur and the Sikh forces into the village of Gurdas Nangal,
Gurdaspur
,
Punjab
and laid siege to the village. The Sikhs defended the small fort for eight months under conditions of great hardship, but on 7 December 1715 the Mughals broke into the starving garrison and captured Banda Singh and his companions.
Execution
Banda Singh Bahadur was put into an iron cage and the remaining Sikhs were chained. The Sikhs were brought to Delhi in a procession with the 780 Sikh prisoners, 2,000 Sikh heads hung on spears, and 700 cartloads of heads of slaughtered Sikhs used to terrorise the population. They were put in the
Delhi fort
and pressured to give up their faith and become Muslims.
The prisoners remained unmoved. On their firm refusal these non-converters were ordered to be executed. Every day 100 Sikh soldiers were brought out of the fort and murdered in public. This continued for approximately seven days. He was told to kill his four-year-old son, Ajai Singh, which he refused to do. So, Ajai Singh was murdered, his heart was cut out, and thrusted into Banda Bahdur's mouth. However, his resolution did not break under torture, and so was he was martyred. After three months of confinement, on 9 June 1716, Banda Singh's eyes were
gouged
out, his limbs were severed, his skin removed, and then he was killed.
Battles fought by Banda Singh
Banda Singh Bahadur Memorial in Khanda, Sonipat.
Baba Banda Singh Bahadur War Memorial
A war memorial was built where
Battle of Chappar Chiri
was fought, to glorify heroic Sikh soldiers. The 328 feet tall
Fateh Burj
was dedicated to Banda Singh Bahadur who led the army and defeated the
Mughal
forces. The
Fateh Burj
is taller than
Qutab Minar
and is an octagonal structure. There is a dome at the top of the tower with Khanda made of stainless steel.
In popular culture
Sarbans Dani Guru Gobind Singh, a 1998 Indian
Punjabi
-language drama film directed by Ram Maheshwari. The film follows the Guru and Banda Singh Bahadur's struggle against the Mughal Empire.
Banda Bahadur
The next struggle in that part of India would be led by Banda Bahadur, another "mysterious Vairagi", and the leader of the Sikhs after the Tenth Guru.
Banda arrived at Narnaul in 1709. There he saw the complete destruction of he Satnamis with his own eyes. His blood boiled on learning that the entire sect of the Satnami men, women and childern, one and all, had been wiped out of existence. It was here that Banda made up his mind to retaliate upon Muslims.
Banda of course had many untouchables and other so-called low-castes in his army.
The Satnami movement did not die without leaving a trace. It was revived again, but in a different form, by one Jagjivan Das of Barabanki District in the United Provinces in 1682. Satnamis in the Chattisgarh district in the Central Provinces trace their origins to Jagjivan Das and Ravi Das or Rohi Das as they call him.
Perhaps the struggle of the Satnamis can still be useful in educating and mentally training the Dalit masses in their militant tradition.
Bhogeswari Phukanani
Bhogeswari Phukanani was a simple housewife whose love for her country earned her the title of the '60-year-old martyr'. She was the mother of 8 children who not only led several rebellions but also encouraged her children to do the same
The story of Indian freedom struggle is a saga of repression, of a common cause uniting people of diversities, of countless sacrifices and of lost lives. It is a tale of bravery, of leadership, of endurance, of collective strength and of people from all walks of life including children and housewives coming together to fight for a cause they believed in – the Independence of their country.
While the rebellion at the centre was led by prominent names like Mahatma Gandhi, Raj Guru, and Bhagat Singh, it was leaders in the small towns and cities who ensured that the nation was united against the Britishers and that every nook and corner of the country participated in the rebellions against the British Raj.
One such name in the Indian freedom struggle was that of Bhogeswari Phukanani who led the rebellion from the north-eastern state of Assam.
A revolutionary housewife
Bhogeswari Phukanani, renowned as the '60-year-old martyr', was born in 1885 in Barhampur area of Assam's Nagoan district. She was a simple housewife and had a family of eight children — six sons and two daughters, besides her husband Bhogeswar Phukan. She was a Phoenix whose love for her country prompted her to lead massive rebellions in an area that was afire with the nationwide movements and reform movements. At a time when women were supposed to be caretakers of the family, Phukanani actively participated in the local protests against the British authorities as well as in women organisations in the area. She even encouraged her children to participate in the freedom movement.
Bhogeswari Phukkani (Photo: Facebook)
A fearless leader
The Berhampur office of the Indian National Congress (INC) had been seized by the Britisher authorities. In September 1942, the revolutionaries took back control of the office and decided to celebrate their feat with a feast. This, however, did not go down well with the authorities who sent military forces under Captain Finish to take revenge. The joyous atmosphere of the feast soon turned grim and the echo of 'Vande Mataram' spread all throughout the area.
Bhogeswari Phukanani along with Ratanmala led the mob. As soon as they confronted Captain Finish, he snatched the flag from Ratanmala's hand, who fell down on earth. Furious by the disrespect to the national flag, Phukanani snatched the flag from his hand and hit his head with the pole of the flag.
Enraged by her actions, Captain Finish pulled out his revolver and fired at Bhogeswari Phukanani, who fell down to the ground. She succumbed to her injuries and died on September 20, 1942.
As India celebrates 70 years of independence, we bring you stories of women who were part of the Indian Independence Struggle. You might have heard about some of them but most do not find a mention in our history books or popular memory. These were ordinary women from all walks of life who managed to make extraordinary contributions to the cause of freedom. This series is our tribute to these women and their exemplary work. We bring you 70 stories of courage and valour over the next one week leading up to 15th August 2017.
Write to us, if you have any names to add to this list. Email: inuthsocial@indianexpress.com
SHAHEED BHOGESWARI PHUKANANI
RARE PHOTO OF SHAHEED BHOGESWARI PHUKANANI
Bhogeswari was born on December, 1885 and got married to Bhogeswar Phukan. He was also severely wounded by police firing while participating in a peace rally at Barhampur on 19 September'1942. For the lack of aid, she died next day on 20 September
The Revolt of 1857 was a turning point in the history of India, shaking the foundation of British rule on the sub-continent. The tinderbox of the Revolt was Meerut, where in 10th May 1857, Indian sepoys in the British-India Army violently and openly rebelled against the British East India Company.
The rebellion spread, and in time, martyrs and leaders of the Revolt came to be revered as pioneers of India's struggle for freedom. While names like Rani Lakshmibai of Jhansi, Nanasaheb Peshwa, Tatya Tope and Begum Hazrat Mahal are celebrated across India, there were others whose names have slipped into obscurity.
The truth is that while we think of North India as the theatre of the Revolt, the uprising reached the remotest of tribal areas in Maharashtra and Chhatisgarh.
This is the story of Baburao Sedmake, who led the revolt of the Gonds in 1857, in present-day Chandrapur and Gadchiroli districts of Maharashtra. Then known as 'Chanda' district in the British-ruled Central Province, the region was brought under the British in 1854, through Lord Dalhousie's infamous 'Doctrine of Lapse', when the Raja of Nagpur died without an heir.
The British assumed charge of Chanda in March 1854 and R S Ellis of the Madras Civil Service became the first District Collector of Chanda. There were several zamindaris (a grouping of villages under the Zamindari System) in the district that were owned by Raj-Gond families. These even predated the arrival of the Marathas in the 18th century. Naturally, these families greatly resented the British, especially the usurping of their land.
Map of the Central Provinces
One such zamindari was that of Molampalli, which comprised 24 villages in present-day Chandrapur district. Baburao Sedmake, the Zamindar of Mollampalli, was a young man of 25. He was born in Kishtapur village in Aheri tehsil of Gadchiroli district on 12th March 1833 but not much is known about his family or his early life.
In early March 1858, Sedmake assembled a force of 500 tribal youth, from the Gond, Maria and Rohilla (formerly in the Nizam's service) tribes in adjoining regions and prepared an exceptionally fearless army. With this force, he was able to capture the entire Rajgad parganaof Chanda district.
When news reached Chandrapur, the District Collector, Mr Chrichton, deputed a unit of the British army to quell the rebellion. British forces met Sedmake's army near Nandgaon-Ghosari on 13th March 1858. A decisive battle was fought between them, where Sedmake emerged victorious. He completely routed the British army, while inflicting serious losses of men and equipment.
Sedmake was soon joined by Vyankat Rao, Zamindar of Adpalli and Ghot. The two leaders then openly declared war against the British and, collecting a mixed force of over 1,200 Rohillas and Gonds, faced off against the troops sent to counter them.
Their combined forces marched northward towards Gadhi Surla fortress and brought the area under their direct control.
When Chrichton learnt of this, he sent another unit, which surrounded the hillock. But Sedmake's army was not fazed. His men pelted stones at the troops, and didn't let up till the troops retreated with heavy losses!
Chandrapur fort |British Library
Crichton then sent in reinforcements which were commanded by Lieutenant John Nuttall, Commanding Detachment (Adjutant) of the 2nd Regiment Nagpur Irregular Infantry. Both these forces clashed again, first at Saganapur on 19th April 1858 and then at Bamanpet on 27th April 1858. The two sides battled it out bitterly and, again, Sedmake and his men emerged victorious.
Buoyed by his success, Sedmake, on the night of the 29th April 1858, attacked the telegraph camp at Chinchgundi on the Pranhita River in the Aheri zamindari. To the tribals of the region, these endless telegraph wires running across the countryside appeared to be a diabolical device to bind the people in slavery. The British force pursued them but suffered defeat for the third consecutive time, on 10th May 1858.
Crichton then decided to switch tactics. He told Rani Lakshmibai, the Zamindarini of Aheri, that if she failed to apprehend Sedmake, she would be prosecuted for harbouring and assisting the rebels, and her zamindari would also be usurped.
The threat had the desired effect and Lakshmibai readily offered her help.
In July 1858, Lakshmibai's troops succeeded in capturing Sedmake at Bhopalpatnam
Representation of the revolt at the memorial |Amit Bhagat
But while he was being taken to Aheri in fetters, he managed to escape, assisted by his guards, who were Rohillas. Thereafter, Sedmake continuously plundered territories under British control and posed a formidable threat to them. Lakshmibai's forces were able to recapture Sedmake, on 18th September 1858, and handed him over to Crichton.
Sedmake was arrested and brought to Chanda. A case was filed against him and serious charges levelled. On 21st October 1858, the following verdict was announced:
1. From the evidence produced, the prisoner (Baburao) is found guilty of the rebellion against the British Govt, of having collected armed men and opposed the troops of the Government at the villages of Ghot on the 10th of May 1858 and at Bamanpeth on the 27th of April 1858, of having caused his armed followers to make prisoners of two troopers in the service of the British Government, and after they were brought before him, robbing and keeping them as prisoners for about 12 days, of having caused his armed followers to attack the camp of Mr Gartland & Hall at Chunchgundi on the 29th of April 1858 and receiving the stolen property of the above Gartland & Hall, well knowing that it had been acquired by the murders of both Gartland & Hall.
2. The court, having found the prisoner guilty as above and taking into consideration he was the leader of the disturbances in the district and that he had no cause for acting as he did, proceeds to trap in him the following sentence.
3. That you, Baboorao, son of Poolaisur Bapu, be hanged by the noose until you are dead and the execution thereof is ordered to take place this afternoon at 4 o'clock in the gallows, in front of the jail at Chandah.
4. The whole of his estates or property of whatever description is hereby ordered to be confiscated by W H Chrichton off. Dy Commissioner & Commissioner of the District, Chandah, under Act XIV of 1857.
Pipal tree on which Baburao is believed to have been hanged |Amit Bhagat
On the same day, at 4.30 pm, Sedmake was hanged in Chandrapur Jail. His fellow companions had also been tried by the court and various verdicts pronounced against them. Some were hanged to death, while others were sentenced to life imprisonment.
According to local folklore, Sedmake had shamanic powers, due to which when hanged, he managed to break the noose four times.
Therefore, he was finally immersed in quick lime and killed. Another popular and widely accepted belief claims that Sedmake was tortured and hanged from a pipal tree in the open space outside Chandrapur Jail.
Meanwhile, Sedmake's associate, Vyankat Rao, escaped and sought asylum in the Kingdom of Bastar, where he tried to assemble a force against the British. He was captured by the Raja of Bastar and handed over to the British. He was tried at Chandrapur and sentenced to life imprisonment with forfeiture of all property, due to the successful mediation of his mother Nagabai in 1860. This marked the end of the revolt in the region.
Lakshmibai of Aheri was splendidly rewarded for her timely help. The Zamindari of Adpalli and Ghot, consisting of 67 villages, was handed over to her. Crichton, for the services he rendered, was given the title 'Companion of the Bath'.
Today, a small memorial stands at the site where Baburao Sedmake was hanged in Chandrapur. While the Revolt of 1857 in Chandrapur and surrounding regions has been all but forgotten in the rest of India, it lives on through tribal folktales and songs among the locals, who proudly recount the bravery of Baburao Sedmake.
Stamp issued in honour of Baburao Sedmake
Amit Bhagat is an independent researcher. He is currently working on the Megalithic and Stone Age culture of the Vidarbha region in Maharastra
From Wikipedia, the free encyclopedia
Medhi on a 1989 stamp of India
24 January 1958 – 4 May 1964
9 August 1950 – 27 December 1957
Born 24 April 1888
Died 21 January 1981 (aged 92)
Bishnuram Medhi (24 April 1888 – 21 January 1981) was an Indian politician and freedom-fighter who served as the Chief Minister of Assam from 1950 to 1957 and Governor of
Madras State
from January 1958 till May 1964.
Early life
Bishnuram Medhi was born to poor Assamese peasants, Sonaram and Alehi, of Hajo, near
Gauhati
, on 24 April 1888. He was a very bright student. Bishnuram studied at Cotton Collegiate School in Gauhati (now Guwahati) and completed his matriculation in 1905. Forefathers of Bishnuram settled in Hajo in early eighteenth century from the erstwhile Koch Kingdom, Cooch Beher via Barpeta and was given the charge of "Medhi" in the famous Hayagreeva Madhav Temple of Hajo. One prominent person of Hajo, late Holiram Medhi, became an Extra Assistant Commissioner under British Rule after studying at Gauripur, in the English School run by the Jaminder of Gauripur as there was no other school in Assam, at that time, imparting modern English education. Perseverance for education of Late Holiram Medhi perhaps enthused child Bishnuram to dream big and pursue for higher studies himself which was very uncommon in those days. On completion of his schooling, he joined
Presidency College
, then affiliated with the
University of Calcutta
, and completed his post graduation in organic chemistry from
Dhaka University
in 1911. His close friend was famous Bengali industrialist, founder of Power Tools And Appliances Co. Ltd.
Nagendra Nath Das
. Bishnuram pursued his studies in law and was called to the bar in 1914.
Indian Independence Movement
Bishnuram joined the Indian National Congress in the 1920s and participated in the Non-Cooperation Movement. In 1926, he was appointed Joint-Secretary of the Reception Committee of the Pandu session of the Indian National Congress. In 1930, Bishnuram was elected President of the Assam Provincial Congress.
Bishnuram Medhi assisted and played crucial role with Gopinath Bordoloi in securing Assam for India and preventing from being a part of East Pakistan under grouping during India's Independence.
Post-independence politics
When provincial autonomy was introduced in 1935, Bishnuram served as a minister in
Gopinath Bordoloi
's cabinet. In 1950, Bishnuram was elected Chief Minister of Assam and served from 1950 to 1957. As the Chief Minister, Medhi understood the gravity of the illegal influx from Bangladesh posing serious threat to the local population. He took stern action against illegal settlers which made him unpopular amongst few powerful members of his own party who considered the settlers as prominent vote bank.
Medhi also advocated for strong action against the rebelling Nagas. He was a Teetotaller and strict disciplinarian as an individual and also in public life. During his time, Naga insurgency was gaining momentum under Angami Zapu Phizo. It is believed that initiative to divide the Naga leaders by the Government machineries led to the killing of another charismatic Naga leader Sakhrie in 1956 by Phizo group. It was also rumoured that Bishnuram's personal dislike for some of the tribal customs added fuel to the rebellion in the hilly areas of Assam. Certainly, Bishnuram disapproved activities of the communists, publicly deplored them and announced award of Ten Thousand on Bishnu Prasad Rabha, another legendary son of Assam and rebel leader of the communist movement in Assam. He was equally suspicious on the activities of the Christian Missionaries and their role in fermenting secessionist activities in the hill districts of undivided Assam.
Bishnuram's political adversaries, including many luminaries of Assam, labelled charges against him to the High Command anticipating erosion of political support for his hard measures against illegal settlers and Naga Rebellion. His relation with late Fakhruddin Ali Ahmed and other leaders slowly turned sour and eventually Bishnuram Medhi was taken out from Assam as the Governor of Madras in spite of being a popular public leader. His dedication, simplicity, honesty and love for Assam and India was legendary. He is known as the Iron Man of Assam.
Its no wonder that after departure of Bishnuram from the political scenario of Assam, rampant illegal influx from Bangladesh took place on political patronage for which Bishnuram was a stumbling block. It took considerable time for the successor of Bishnuram, Late B P Chaliha, to appreciate the influx problem and take some steps during his third stint as Chief Minister. After his return from Madras, Bishnuram again became member of Legislative Assembly, yet he was not considered by his party for any sensitive post. Perhaps his love for his state and no nonsense approach became a misfit in the changed political equation.
[6]
From 1958 to 1964, Bishnuram served as the Governor of Madras.
Death
Bishnuram Medhi had a long eventful life which came to an end on 21 January 1981 at the age of 92. He did not have any children. As per his wish, his home at Hajo was converted into Shishu Kalyan Kendra (children welfare centre) while the other house in Latasil, Guwahati, was made a children library under Bishnu Nirmala Trust. His wife, Nirmala Medhi, was a devoted and pious lady. It is said that Nirmala Medhi, an expert weaver herself, took hand weaving tools to Madras Rajbhawan. One Tamil gentleman saw the Late Nirmala Medhi weaving the traditional Assamese Gamocha and appreciating the tremendous business potential, started producing Gamocha in Madras in large scale and thus Gamocha from Madras (Tamil Nadu) started selling in Assam.
Bhima Nayak
Known for Role in Indian freedom struggle
A government scheme, Shaheed Bhima Nayak Pariyojna in Madhya Pradesh is named after him. CM Shivraj Singh Chauhan dedicated a Bhima Nayak Memorial at village Dhaba Bawdi of Badwani district on January 21, 2017.
Birsa Munda
From Wikipedia, the free encyclopedia
Bhai Balmukund
भाई बालमुकुन्द (१८८९ - ११ मई १९१५) भारत के स्वतंत्रता संग्राम के क्रांतिकारी थे। सन 1912 में दिल्ली के चांदनी चौक में हुए लॉर्ड हार्डिग बम कांड में मास्टर अमीरचंद, भाई बालमुकुंद और मास्टर अवध बिहारी को 8 मई 1915 को ही फांसी पर लटका दिया गया, जबकि अगले दिन यानी 9 मई को अंबाला में वसंत कुमार विश्वास को फांसी दी गई। वे महान क्रान्तिकारी भाई परमानन्द के चचेरे भाई थे।
सभी पर आरोप था कि इन्होंने 1912 में चांदनी चौक में लार्ड हार्डिग पर बम फेंका था। हालांकि इनके खिलाफ जुर्म साबित नहीं हुआ, लेकिन अंग्रेज हुकूमत ने शक के आधार पर इन्हें फांसी की सजा सुना दी। जिस स्थान पर इन्हें फांसी दी गई, वहां शहीद स्मारक बना दिया गया है जो दिल्ली गेट स्थित
भाई बालमुकुंद का विवाह एक साल पहले ही हुआ था। आजादी की लड़ाई में जुटे होने के कारण वे कुछ समय ही पत्नी के साथ रह सके। उनकी पत्नी का नाम रामरखी था। उनकी इच्छा थी कि भाई बालमुकुंद का शव उन्हें सौंप दिया जाए, लेकिन अंग्रेज हुकूमत ने उन्हें शव नहीं दिया। उसी दिन से रामरखी ने भोजन व पानी त्याग दिया और अठारहवें दिन उनकी भी मृत्यु हो गई।
बाबा तपसीराम का प्रभाव
बचपन से ही बालमुकुंद की रुची व्यापक थी। भाई परमानंद और वह, दोनों गाँव के अन्य बालकों से भिन्न थे। पास ही एक नाला था, जिसे बनह्वा कहते थे। वर्षा के दिनों में यह नदी का रूप धारण कर लेता था और उसको पार करना कुशल तैराक का ही काम होता था। उसी नाले के किनारे तपसीराम नाम के साधु रहते थे, जो आम साधुओं से भिन्न थे। तपसीराम अच्छे ज़मींदार घराने के थे। वह उसी नाले के किनारे पर गुफा में रहते थे। गाँव में जब कभी कोई झगड़ा होता, वह फौरन वहाँ पहुंचते और न्यायपक्ष में बोलते। इससे वह 'महाराज' नाम से मशहूर हो गये थे। महाराज अंग्रेज़ी राज्य के विरुद्ध थे। उन्होंने एक अखाड़ा खोल रखा था, जहाँ शारीरिक क्षमता बढ़ाने के लिए व्यायाम और खेलकूदों का बाकायदा अभ्यास चलता था। इस वातावरण में अग्रेंज़ी-विरोधी महाराज का दोनों भाइयों पर काफ़ी प्रभाव पड़ा।
बाद में इस प्रभाव को गाढ़ा होने का मौका तब मिला, जब भाई बालमुकुंद की भेंट मास्टर अमीरचंद, लाला हरदयाल और रासबिहारी बोस से हुई और वह क्रांतिकारी बन गये। इस बीच उन्होंने नौकरी कर ली थी, पर उन्होंने नौकरी छोड़ दी। तब उनके बड़े भाई जयरामदास को चिंता हुई और उन्होंने बालमुकुंद विवाह करवा दिया। विवाह हो जाने पर भाई बालमुकुंद का मन क्रांति से नहीं फिरा, बल्कि अवधबिहारी और भाई बालमुकुंद ने क्रांतिकारी साहित्य डट कर तैयार किया और सर्वत्र बांटा। साथ ही वह बम बनाने की भी शिक्षा लेते रहे।
पहले जीवन
भाई बालमुकुंड का जन्म 18 9 8 में झेलम जिले के गांव करियाला में (अब पाकिस्तान में) एक सिख परिवार में हुआ था। उनके पिता का नाम भाई मथुरा दास था। उनके परिवार ने सिख इतिहास के एक प्रसिद्ध शहीद भाई मती दास से स्वागत किया, जिनसे उन्होंने अपने नाम के भाई भाई को नाम दिया। राष्ट्रीय छात्रवृत्ति में बाल्मुकुंड की दिलचस्पी जब छात्र थी स्नातक स्तर की पढ़ाई के बाद, उन्होंने शिक्षण का व्यवसाय किया, लेकिन राष्ट्रीय आंदोलन के लिए उनके अनुलग्नक ने उन्हें एक प्रबल राष्ट्रवादी बना दिया.
क्रांतिकारी गतिविधियों
23 दिसंबर 1 9 12 को, जब भगवान हार्डिंगी एक राज्य में चांदनी चौक, दिल्ली के माध्यम से चल रहे थे, उस पर एक बम फेंका गया था। वाइसरॉय ने केवल मामूली चोट लगीं, लेकिन उनके परिचर को मार दिया गया। एक और बम लॉरेंस गार्डन, लाहौर में कुछ माह में 17 मई 1 9 13 को कुछ महीने बाद फेंक दिया गया। जांच के बाद, बाल्मुकुंड को जोधपुर से गिरफ्तार किया गया था, जहां वह जोधपुर महाराज के पुत्रों के शिक्षक के रूप में काम कर रहे थे
वीरांगना पत्नी 'रामरखी'
भाई बालमुकुंद की कहानी कई दृष्टियों से बड़ी रोमांचकारी है। वह स्वयं तो वीर थे ही, उनकी पत्नी भी आदर्श वीरांगना थीं। पति के गिरफ्तार होने के दिन से ही श्रीमती रामरखी दुबली होने लगीं। उनको कुछ आभास-सा हो गया था कि बस अब सब कुछ समाप्त होने को है। उन्हें बड़ी मुश्किल से जेल में पति से मिलने की इजाजत मिली। रामरखी ने पति से पूछा था- "खाना कैसा मिलता है?" भाई बालमुकुंद ने हँसकर कहा- "मिट्टी मिली रोटी।" रामरखी अपने आटे में भी मिट्टी मिलाने लगीं। दुबारा जब वह मिलने गयीं तो पूछा कि सोते कहाँ हैं। इसके उत्तर में भाई बालमुकुंद ने बताया कि- "अधेंरी कोठरी में दो कंबलों पर"। बस, उस दिन से श्रीमती रामरखी ग्रीष्म ऋतु में भी कंबल पर लेटने लगीं। जिस दिन भाई जी को फ़ाँसी हुई, उस दिन सवेरे उठकर रामरखी ने वस्त्र-आभूषण धारण किये और जाकर एक चबूतरे पर बैठ गयीं। उनके चेहरे पर दु:ख का कोई चिह्न था। किंतु वह जो बैठ गयीं तो फिर उठी नहीं। श्रीमती रामरखी ने न तो ज़हर खाया था और ना ही कोई ऐसी अन्य बात की थी। पती-पत्नी दोनों की चिता एक साथ जलायी गयी
मौत
बम विस्फोटों की जांच के बाद दिल्ली में एक परीक्षण किया गया और 5 अक्टूबर 1 9 14 को उनके साथी मास्टर अमीर चंद, अवध बिहारी और बसंत कुमार बिस्वास के साथ बाल्मुकुंड की सजा सुनाई गई। उन्हें 8 मई 1 9 15 को अंबाला केंद्रीय जेल में फांसी दी गई थी। 32 वर्ष की उम्र में
Bhai Balmukund (1889 – 11 May 1915) was an Indian revolutionary freedom fighter. He was sentenced to death and hanged by the British Raj for his role in Delhi conspiracy case. He was a cousin of another revolutionary Bhai Parmanand, who was a founder member of Ghadar Party.
Earlier life
Bhai Balmukund was born in a Sikh family on 1889 at village Kariala in Jhelum district (now in Pakistan). His father's name was Bhai Mathura Das. His family hailed from a famous martyr of Sikh history Bhai Mati Das from whom they attached the epithet Bhai to their names. Balmukund's interest in national movement aroused when he was a student. After graduation, he took the profession of teaching, but his attachments to the national movement made him an ardent nationalist.
Revolutionary activities
On 23 December 1912, when Lord Hardinge was marching in a state through the Chandni Chowk, Delhi, a bomb was thrown on him. The Viceroy received minor injuries only, but his attendant was killed. Another bomb was thrown at some Europeans at Lawrence Garden, Lahore five months later on 17 May 1913. Following investigations, Balmukund was arrested from Jodhpur, where he was working as a tutor of the Jodhpur Maharaja's sons.
Death
A trial was held at Delhi after the investigations of the bombings and Balmukund was sentenced to death along with his companions Master Amir Chand, Awadh Behari, and Basant Kumar Biswas on 5 October 1914. He was hanged in the Ambala Central Jail on 8 May 1915 at the age of 32.
Bhura Singh Valmiki
From Wikipedia, the free encyclopedia
Bhura Singh Valmiki was an Indian freedom fighter and commander-in-chief of the army of princely state of Ballabhgarh. He led the army of Ballabhgarh state in the Indian Rebellion of 1857 and was hanged on 9 January 1858 in Delhi's Chandni Chowk along with two other leaders of the mutiny.
9 जनवरी 1858 को राजा नहर सिंह जी के साथ उनके अज़ीज़ साथी भूरा सिंह वाल्मीकि, गुलाब सिंह सैनी व खुशहाल सिंह को एक साथ फाँसी दी गयी थी।
गुजरात कच्छ-माली समाज के भूरा बापा परमार
आज के समाज के लिए संदेश हमारे पूर्वज जिनके लिए हमें स्वयं पर गर्व है भुराभाई सवरामभाई सणवा माली समाज में, पूर्वजों ने ऐसा जीवन जीया है। यदि हम बड़ों से उनकी बातें सुनते हैं, तो हमें गर्व होता है। ई,स,1960 से पहले का समय बहुत कठिन था। जीवन बारिश पर आधारित था मेहनत से कुओं के पानी से खेती की जाती थी उस समय, बंदूक और घोड़े के साथ घोड़े पर कोई और नहीं आ रहा था भूराभाई सवरामभाई परमार हैं भूरा बापा, जिन्होंने माली समाज को गर्व दिया, वट से लेकर मरने तक जीवित रहे "यदि आप साहस के साथ मरते हैं, तो भगवान आपकी मदद करेगा" उसका आदर्श वाक्य था .. यदि आप सुनने के लिए बाजार गए थे, तो आपको एक बहदुर आदमी की छाप मिलेगी।हम उसे माली समाज का सेवक कह सकते हैं। उनकी हिम्मत,गंभीर, बड़प्पन और वीरता को हमेशा याद रखा जाएगा..मर्द की कोमलता मन के रूप में मजबूत होती है..हम सभी के दुख में भाग लेने के लिए हमेशा तैयार रहें..हमारे समाज के महान व्यक्ति को धन्यवाद दें याद करें इन शब्दों को हमारे कवि श्री शामजीभाई गोपालभाई चौहान ने व्यवस्थित किया हैअखिल माली समाज ट्रस्ट प्रमुख श्री नानजीभाई खिमजीभाई चौहान महासचिव पेथाभाई भूराभाई चौहान ये माली समाज के फोलादी यौधा थे ईनके जीवन की विचार धारा अपने अंदर जागृत करें तो जीवन में कभी भी दुख की छाया नहीं पड़ती है माली आदि युग से कमजोर नहीं था आज भी कमजोर नहीं हैं पर एकता की कमी एक जुटता की कमी एक विचार मिलाने की जरूरत है पैसा है एजुकेशन है कमी आध्यात्मिक विचारों की है एकता आध्यात्मिक विचारों में होती है समाज के गुरु जी के चरणो में अपने मन बुद्धि को समर्पित करने से एक त्याग की भावना जीवन में उभरती है तभी से समाज के प्रति सद्भावना विचारधारा जागरूकता होने की उम्मीदें बढ़ जाती है जय लिखमा जी री ये मेसेज भेजने के लिए परमार परीवार आभार व्यक्त करता है जीससे माली समाज गर्व पाये, वेसे विर सपुत परमार परिवार के अनमोल रत्न भुराबापा के कुल में हमारा जन्म हुआ वो हमारा सौभाग्य है, मनुष्य जन्म से ही विरोध, सपुत, खानदानी,या दातार नहीं होता, नाही किसी के बना ने से बनते हैं,वो उनके कर्म और खुद से होतें है महापुरुष, बहादुर, खानदानी सपुत ऐसे हमारे वंसज भुराबापा सवरामभाई परमार को परमार सहपरिवार लाख लाख वंदन करता है उनके चरणों में पुष्पांजलि अर्पित करते हैं परमार परिवार मानसंगभाई भुराभाई परमार।मोहनभाई गोपालभाई परमार निलेशभाई देवशीभाइ परमार निलेशभाई रामजीभाई परमार अशोकभाई देवशीभाई परमार कच्छ गुजरात
सब जानते हैं की आज़ादी की लड़ाई की शुरुआत 1857 में मंगल पाण्डे से शुरू हुई । हालांकी मंगल पाण्डे को अंग्रेजो से बगावत करने की प्रेरणा मातादीन वाल्मीकि से मिली।
यहां आपको मैं बताऊंगा की आज़ादी की प्रथम लड़ाई 1857 में मंगल पाण्डे द्वारा नहीं लड़ी गई थी ,बल्कि, आज़ादी की लड़ाई 1804 में ही शुरू हो गई थी । और यह लड़ाई लड़ी गई थी छतरी के नबाब द्वारा, छतरी के नबाब का अंग्रेजो से लड़ने वाला परमवीर योद्धा था "ऊदैया चमार" ,जिसने सैंकड़ो अंग्रेजो को मौत के घाट उतार दिया था । उसकी वीरता के चर्चे अलीगढ़ के आस-पास के क्षेत्रो में आज भी सुनाई देते हैं, उसको 1807 में अंग्रेजो द्वारा फाँसी दे दी गई थी ।
उसके बाद आता है बाँके चमार, बाँके जौनपुर जिले के मछली तहसील के गाँव कुँवरपुर के निवासी थे , उनकी अंग्रेजो में इतनी दहशत थी की सन 1857 के समय उनके ऊपर 50 हजार का इनाम रखा था अंग्रेजो ने ।
अब आप सोचिये कि, जब "2 पैसे" की इतनी कीमत थी की उस से बैल ख़रीदा जा सकता था तो उस समय "50 हजार" का इनाम कितना बड़ा होगा ।
Banke Chamar
.Banke Chamar was a freedom fighter who died for his actions in the Indian Rebellion of 1857. He was from Kuarpur village, Machhali Shahar, Jaunpur Janpad. After the failure of the rebellion, Chamar and his 18 associates were declared baghis. Chamar was hanged after being arrested. This Brave Revolutionary laid down his life for the country and was hanged by britishers for his active role in freedom struggle of 1857.
भवान सिंह धानक
आजादी की लड़ाई में धानक का अहम योगदान
जैंती (अल्मोड़ा)। स्वतंत्रता संग्राम सेनानी भवान सिंह धानक का जन्म दिन उनके पैतृक गांव बरम चौकुना में धूमधाम से मनाया गया। इस मौके पर वक्ताओं ने कहा कि आजादी की लड़ाई में स्व. धानक का अहम योगदान रहा है। उन्होंने कहा कि उनके बताए मार्ग पर चलना ही उन्हें सच्ची श्रद्धांजलि होगी।
वक्ताओं ने कहा कि आजादी के छह दशक बाद भी स्वतंत्रता संग्राम सेनानी भवान सिंह धानक का गांव बरम चौकुना मोटर मार्ग से नहीं जुड़ सका है। एक तरफ सरकार शहीदों के गांवों को सम्मान देने की बात कहती हैं वही दूसरी तरफ स्वतंत्रता संग्राम सेनानियों के गावों की उपेक्षा की जा रही है। बरम चौकुना में सड़क नहीं पहुंचने से ग्रामीणों को आज भी पांच किमी पैदल चलना पड़ता है। उन्होंने कहा कि आजादी की लड़ाई में स्व. धानक का अहम योगदान रहा है। उनके गांव को शीघ्र सड़क से जोड़ा जाना चाहिए।
इससे पूर्व स्व. धानक के चित्र पर माल्यार्पण पर उन्हें याद किया गया। अध्यक्षता धरम सिंह ने तथा संचालन गंगा सिंह ने किया। इस मौके पर जीत सिंह धानक, नैन सिंह, खड़क सिंह, मोहन सिंह, पान सिंह, देव सिंह, जगत सिंह, राम सिंह, बची राम, चंदन राम, केशर सिंह, जीत सिंह आदि मौजूद थे।
The Dhanakas were always respectable Kshatrias and fighters as Dhanushdhari since ancient times upto Chandergupt Maurya period, after that Dhanakas fought many wars for Kings and Princes in Gupta period – Harshwardhana – Vikramaditya, Shakas, Kanishkas and Rajpoot kings. 100s of wars were fought. During this period countless of Dhanak warriors lost their lives – their houses properties were ruined.
Dhanaka warriors migrated from one place to another to save their lives. The Dhanakas migrated from Rajasthan to other parts, from Punjab to Jammu and Kashmir and from Haryana to Delhi and from Central India to Bihar and from Madhya Bharat (Central India) to West India (Gujrat – Maharashtra) etc. The Dhanakas suffered untold sufferings during this period. Dhanak Kshatria warrior lost everything and they came to be known as suppressed and depressed.
Dhanaka lost their ancient identity during the period of 2000 years of turmoil. They suffered inhumane treatment from the victor and the high society. The Dhanakas were financialy ruined and they became homeless with no livelihood. Therefore during this period the Dhanakas were Degraded to lower castes and were known as Shudras - Harijans later on. The Dhanakas to make their both ends meet and to maintain their livelihood adopted different profession at different places, hence they were known by different names in different states.
Present
The Dhanak samaj in the present day forms major group of the scheduled castes. The estimated population of the Dhanak castes is more then 500 lacs, spread over in the 18 states of India – Jammu & Kashmir, Himachal Pardesh, Chandigarh , Punjab, Haryana, Rajasthan, Delhi, Uttranchal, Uttar Pardesh, Madhaya Pradesh, Chhatisgarh, Jharkhand, Bihar, West Bengal, Assam, Andhara Pradesh, Maharastra and Gujrat etc. The Dhanak communities are known by different names in various states, such as Dhanak, Dhanuk, Dhanaka, Dhanakia , Julaha, Kabeerpanthi, Bhagat, Barar, Banskar, Bhasod, Bansfod, Bargi, Bagri, Sais, Bunkar, Vankar , Raut, Tadavi, Tateria , Katheria, Halpati etc. The Dhanak castes and communities always had clean and noble occupation. The Dhanak samaj are known as 52 roopi castes. Their occupations have been such as weaving of clothes, rearing of sheeps-goats-camels-horses, masonary works, shelling of food grains, band-baja, making of durries, jute and cane furniture, chatai, art and craft, bamboo art works, musical arts and classical instruments, interior decorators, flower making , flower decorations, auto workshops and agriculture and agriculture related jobs etc. and it is now changing by the times and making inroads in to the modern engineering, technological and in the professional courses.
Your future is now in your hands , if you want to Fight for your rights and want your lost share and want happiness in your family life. You will have to fight & Unite all together and raise your voice in front of the Indian Governments. One of the other SC community got all our share from the Government and now they are enjoying all the benefits of schedule castes. They are now Ministers in Central Govt.
Banta Singh
Great Freedom Fighter from Punjab
He was born in 1890 at village Sanghowal, District Jalandhar and was an important leader of the Ghadar Party. His father, Buta Singh, was a prosperous and respected man in the village. After passing his matriculation he decided to go abroad. On reaching Canada he found his countrymen deeply involved in a national movement aimed at expulsion of the British from India.
He started working for the Ghadar Party. He returned to India in December,1912 and started working on a well-thought-out programme of winning over Indian soldiers in military cantonments to the national cause. His house was visited by important revolutionaries like Harnam Singh Tundilat, Kartar Singh Sarabha, Munsha Singh Dukhi and Rash Bihari Bose. He was involved in tempering with railway lines and cutting telephone wires near the Suranasi Railway Station and committed a political dacoity in village Alawalpur.He escaped arrest but his father Buta Singh, his brother Santa Singh and two close relatives of his were detained.
Later on, his father was released but his brother was sentenced to 14 years and the two relatives to 7 years imprisonment each. He once went to Lahore to forcibly get hold of some arms where he was detected and two policemen attempted to arrest him and his companion Sajjan Singh. He hit back and killed one of them. He boarded a train and again escaped. Soon after, with the help of a few other revolutionaries he made a raid on the police post at Mananwala and seized all their firearms. On being chased all but Banta Singh were arrested. Undaunted by what had happened, Banta Singh continued his work as usual. He was declared an absconder and a prize of two squares of land and two thousand rupees was announced for anyone catching him. His own close relative betrayed him into the hands of the authorities on 15th June, 1915. He was tried under Martial Law in the Central Jail Lahore and sentenced to death. He was hanged on 12th August, 1915.
Biswambhar Parida
From Wikipedia, the free encyclopedia
He was quite active in literary circles also. His collection of short poems, Shatabdira Dyani (Oriya)-- translation in English - Voice of the Century is widely acclaimed in Oriya literary sphere.
He ascended to the top ranks of the state-level and national level freedom fighters' organisation. He remained President of All Odisha Freedom fighters' Samiti for more than 15 years and also became Vice - President of All India Freedom Fighters' Samiti.
During later stages of his life, Parida was active in several social and cultural organisations in cities of Cuttack & Bhubaneswar and district of Jagatsinghpur and was regarded as one of the most prominent social personality in the region. He died in Cuttack on 25 November 1999. He was awarded Utkal Jyoti posthumously.
Basanta Kumar Biswas
From Wikipedia, the free encyclopedia
File photo of Basanta Kumar Biswas
Born 6 February 1895
Died 11 May 1915 (aged 20)
Early life: 1895-1915
Basanta Kumar Biswas was born on 6 February 1895 at Poragacha in Nadia district of West Bengal, to Matilal and Kunjabala Biswas. He belongs to the family of freedom fighter Digamabar Biswas, an active leader of the Indigo revolt(or Nil Bidroha) and freedom fighter Manmathnath Biswas. He started his schooling at his village and then he moved to M. I. School in nearby village Madhavpur with his cousin Manmathnath Biswas. M. I school was established by social reformer and freedom fighter Gagan Chadra Biswas. In 1906, Basanta was moved to Muragacha school. Khirodh Chandra Ganguly was principal in Muragacha school. Under his guidance Basanta started his journey of freedom fight. Later he was recruited by Rash Behari Bose and trained in arms and bombs. Rash Behari Bose often called him Bishe Das.
1912 assassination attempt on Lord Hardinge
On 23 December 1912, Biswas, disguised as a woman, threw a bomb at Charles Hardinge, who was riding with his wife on an elephant during a procession at Chandni Chawak, Delhi. Hardinge escaped with flesh wounds, but the servant behind him holding his parasol was killed. The authors of the deed remained obscure for many months despite the state's intense investigation, and lucrative reward. Biswas was arrested on 26 February 1914 in Poragachha, Nadia while he went to perform the last rites for his father. The trial, which came to be called the Delhi-Lahore Conspiracy Case, began on 23 May 1914 in Delhi, and Basanta was found guilty on 5 October and sentenced to life imprisonment. Three other men were condemned to death at the same trial: Amir Charid, Abadh Behari, and Balmokand.
Basanta Kumar Biswas was hanged on 11 May 1915 at Ambala Central Jail in Punjab aged twenty and became one of the youngest people to be executed during the Indian revolutionary struggles during the 20th century.
Legacy
There is a statue of Basanta Biswas established by Rasbihari Basu in a park of Tokyo, Japan. Another statue is situated in front of Rabindra Bhawan, Krishnanagar, Nadia. A school in civil lines, Delhi was named "Shaheed Basant Kumar Biswas Sarvodaya Vidhyalaya" in his memory. Although it was later renamed to Rajkiya Pratibha Vikas Vidhyalaya. On the request of Sankariswar Dutta of Gobrapota Subhendu Memorial Seva Pratisthan the Loka Sabha Speaker Meera Kumar has installed a photo of Basanta Kumar at the Museum of the Indian Parliament. Ujjal Biswas, an Indian politician and the present Minister for Technical Education in the Government of West Bengal belongs to the family of Basanta Biswas.
Basanti Devi
Basanti Devi
Born 23 March 1880
Died 7 May 1974 (aged 94)
Known for Independence activist
Basanti Devi (23 March 1880 – 7 May 1974) was an Indian independence activist during the British rule in India. She was the wife of activist Chittaranjan Das. After Das' arrest in 1921 and death in 1925, she took an active part in various political and social movements and continued with social work post-independence. She was awarded the Padma Vibhushan in 1973.
Life and activities
Basanti Devi was born on 23 March 1880 to Baradanath Haldar, the diwan of a large zamindary in Assam during the British colonial rule. Basanti studied at the Loreto House, Kolkata, where she met and married Chittaranjan Das at the age of seventeen. The two had three children born between 1898 and 1901.
Following her husband, Basanti Devi took part in various movements like the Civil disobedience movement and the Khilafat Movement and also participated in the Nagpur session of the Indian National Congress in 1920. The following year, she joined Das' sisters Urmila Devi and Sunita Devi to establish the "Nari Karma Mandir", a training center for women activists. In 1920–21, she was instrumental in collecting gold ornaments and 2000 gold coins from Jalpaiguri towards the Tilak Swaraj Fund. During the Non-cooperation movement in 1921, the Indian National Congress called for strikes and ban on foreign goods. In Kolkata, small groups of five volunteers were employed to sell khadi, the hand spun clothes, on the streets of Kolkata. Das, who was the leading figure of the local movement decided to make his wife Basanti Devi lead one such group. Devi went on streets despite warnings from Subhash Chandra Bose that it would provoke the British to arrest her. Although she was released by midnight, her arrest provided impetus to widespread agitation. Two prisons in Kolkata were filled with revolutionary volunteers and detention camps were hastily constructed to detain more suspects. On 10 December 1921 police arrested Das and Bose.
After Das' arrest, Basanti Devi took charge of his weekly publication Bangalar Katha (The story of Bengal). She was the president of Bengal Provincial Congress in 1921–22. Through her speech at the April 1922 Chittagong conference,[clarification needed] she encouraged grassroot agitation. Travelling around India, she supported cultural development of arts in order to oppose colonialism.
As Das was the political mentor of Subhash Chandra Bose, Bose had great regard for Basanti Devi. After Das's death in 1925, Bose is reported to have discussed his personal and political doubts with Devi. Bose considered Basanti Devi to be his "adopted mother" and she is considered to be amongst the four prominent women in Bose's life, the other three being his mother Prabhabati, his sister-in-law Bibhabati (wife of Sarat Chandra Bose) and his wife Emilie Schenkl.
Like her husband, Basanti Devi too was sympathetic towards the revolutionary activists in the Indian independence movement. In 1928, Indian freedom fighter Lala Lajpat Rai died days after being injured by the police in a baton charge against his peaceful protest march. Following this, Basanti Devi exhorted the Indian youth to avenge Lajpat Rai's death.
Post India's independence in 1947, Basanti Devi continued with social work. Basanti Devi College, the first women's college in Kolkata to have been funded by Government was established in 1959 and named after her. In 1973, she was honoured with the Padma Vibhushan, India's second highest civilian award.
बुधु भगत
जन्म
बुधु भगत का जन्म 17 फरवरी 1792 में रांची, झारखंड में हुआ.
शिक्षा
उनके शिक्षा के बारे में ज्यादा जानकारी नहीं मिल पाई है लेकिन वह घंटों अकेले बैठकर तलवार चलाने और धनुर्विद्या में निपुणता हासिल किया करते थे. कुछ लोग तो उन्हें देवी शक्तियों के स्वामी के नाम से भी बुलाते थे क्योंकि उनके प्रतीक स्वरूप वह कुल्हाड़ी अपने साथ सदा रखा करते थे.
योगदान
बुधु भगत के द्वारा अंग्रेजों और साहूकारों के विरूद्ध उनके अन्याय के लिए कई आंदोलन किए गए थे. जिसमें से लरका आंदोलन एक ऐतिहासिक आंदोलन है. छोटा नागपुर के आदिवासी इलाकों में अंग्रेज हुकूमत के दौरान बहुत ही निर्दयता से लोगों की हत्या कर दिया करते थे, जिसकी वजह से मुंडा जाति ने जमीदार और साहूकारों के विरुद्ध अपना विद्रोह शुरू कर दिया था. इसके अलावा उरांव जनजाति ने भी अपने बागी तेवर अपना लिए थे.
बुधु भगत बचपन से ही जमीदारों और अंग्रेजी सेना की निर्दयता को देखते आ रहे थे, जिसकी वजह से बुधु भगत कोयल नदी के पास बैठकर घंटों तक अंग्रेजों और जमींदारों को भगाने के बारे में सोचते रहते थे. बुधु भगत को देवदूत समझ कर आदिवासियों ने उनको अन्याय के विरुद्ध लड़ने के लिए आह्वान किया, और सभी लोग उनके साथ तीर, धनुष, तलवार, कुल्हाड़ी इत्यादि लेकर खड़े हो गए. इस दौरान कैप्टन द्वारा बंदी बनाए गए सैकड़ों ग्रामीणों को उन्होंने लड़कर छुड़वा लिया और इसके अलावा बुधु भगत ने गुरिल्ला युद्ध के लिए अपने दस्ते को प्रशिक्षित किया
आदिवासियों के सभी नेताओं में बुधू भगत सबसे श्रेष्ठ एव शीर्षथ थे। छोटा नागपुर के प्रथम क्रांतिकारी थे जिन्हें पकड़ने के लिए अंग्रेजों ने ₹1000 पुरस्कार की की घोषणा की थी, परंतु कोई भी इस पुरस्कार के लालच में आकर उन्हें पकड़वाने को तैयार नहीं था। 1828-32 केला का विद्रोह में अपने नेतृत्व का परिचय दिया था। यह विद्रोह है अंग्रेजी हुकूमत और शोषण अत्याचार के विरुद्ध किया गया पहला स्वतंत्रता आंदोलन का हिस्सा था। इस विद्रोह के बाद अंग्रेजों को घुटने टेक देने पड़े ।
मृत्यु
13 फरवरी 1832 में बुधू अपने साथियों के साथ कैप्टन एमपी के द्वारा सिलागांई गांव में घेर लिए गए. उस समय बुधु आत्मसमर्पण करना चाहते थे जिससे कि निर्दोष लोगों की जाने ना जाए. लेकिन बुधू के भक्तों उनके चारों ओर घेरा डालकर खड़े हो गए और कैप्टन के चेतावनी के अनुसार वहां पर अंधाधुंध गोलियां चला दी, जिसकी वजह से करीबन 300 से अधिक ग्रामीण मारे गए. इसके साथ बुधु भगत और उनके बेटे हलधर और गिरधर भी अंग्रेजों के साथ लड़ाई करते हुए शहीद हो गए.
Chakali Ilamma
From Wikipedia, the free encyclopedia
Chakali Illama
Died 10 September 1985 (aged 89)
Chityala Ilamma (c. 1895 – 10 September 1985), better known as Chakali Ilamma, was an Indian revolutionary leader during the Telangana Rebellion. Her act of defiance against Zamindar Ramachandra Reddy, known as Visnoor Deshmukh, to cultivate her land, became an inspiration for many during the rebellion against the feudal lords of the Telangana region.
Early and personal life
Ilamma was married to Chityala Narasimah at the age of 11.The couple had had four sons and a daughter.
Career
Ilamma took the red flag against the anarchy of Deshmukh and Razakar in Visnur between 1940 and 1944.
Ilamma died on 10 September 1985 at Palakurthi due to illness.
From Wikipedia, the free encyclopedia
Chandi Mahto: Resident of v. Chorgaon, p.s. Tarapur, distt. Munger
, Bihar.
He actively participated in the Civil Disobedience movement of 1930.
He was a part of the 4000 strong crowd which had assembled around Tarapur Thana with the object of hoisting the Congress flag over it on 15 February 1932 (since this day was declared the ëJhanda Satyagrah Diwasí by the local Congress Committee). The police first warned the crowd to disperse and then opened indiscriminate fire on it. He was critically injured in the firing and died on the spot on the same day. [Poll/Special (Confd.), F. No. 24 (II)/ 1932, 1932, BSAP; BMSAI, 2, p. 443; WWIM, I, p. 202]
From Wikipedia, the free encyclopedia
Born 9 January 1931
Died 2 June 2007
Occupation Industrialist, Indian freedom fighter, Inventor
Organization Shiva Industries
Spouse(s) Rathna Sadashivaiah
Awards WIPO Gold Medal, Deshasnehi award, Krishi Pandit, NRDC National award
C. P. Sadashivaiah (Chikkanayakanahalli Prabhanna Sadashivaiah) (9 January 1931 – 2 June 2007) was an Indian freedom fighter who later became an industrialist, philanthropist and inventor. He has to his credit several designs of agricultural equipments and implements, some of which he himself designed, while many he improved. His latest invention was Tractor mounted Deep trencher for which he was awarded the NRDC National award and WIPO Gold Medal
Symbolic image: Not real
Chetram Jatav was a freedom fighter who participated in the Indian Rebellion of 1857. He joined the mutiny on 26 May 1857 in the Soro region of Eta district, North-Western Provinces (now Uttar Pradesh). He was tied to a tree and shot.
The circumstances of Jatav's death have been highlighted by Badri Narayan Tiwari, a Subaltern historian from the G. B. Pant Institute of Social Sciences in Allahabad, but his life appears to be lost to history. Other sources have repeated Tiwari's research, which was taken from Swatantrata Sangram Mein Achhuton Ka Yogdan, a 1990 work written by D. C. Dinkar.
The Bahujan Samaj Party has adopted Jatav and some others who died as a result of the 1857 rebellion as icons of Dalit heroism. Tiwari says that:
Dalit intellectuals supported by BSP, which is trying to mobilise grassroot Dalits using local heroes, histories, myths and legends found a wealth of resources in the oral history of the regions of [Uttar Pradesh] centering around the 1857 rebellion. The political strategy of the party is to tell and retell the stories of these heroes, build memorials and organize celebrations around their stories repeatedly to build a collective memory in the psyche of the people. The stories are narrated in such a manner that the Dalits imagine the story of the making of this nation in which they played a significant role.
Chittaranjan Das
दलितों का स्वतंत्रता संग्राम में योगदान
स्पेशलः आजादी की लड़ाई के दलित नायक
चौरी-चौरा का इतिहास
5 फरवरी 1922 को गोरखपुर के गांव चौरी-चौरा में दलित समाज की एक सभा चल रही थी. इस सभा में स्वराज पर ही मंथन चल रहा था. तभी वहां से गुजर रहे एक सिपाही ने जोशीला भाषण कर रहे रामपति (दलित) पर अपमान सूचक शब्दों की बौछार कर दी. सिपाही के दुर्व्यवहार से लोग उत्तेजितहो गए और देखते ही देखते ब्रिटिश हुकूमत के खिलाफ नारे लगाने लगे. पुलिसवालों ने नारेबाजी कर रहे लोगों के साथ दुर्व्यवहार किया जिससे नाराजलोगों ने पुलिस पर हमला बोल दिया और सिपाहियों को भाग कर थाने में छुपना पड़ा. क्रांतिकारियों ने पुलिस चौकी में ही आग लगा दी और जो सिपाही बाहर निकला उसे भी मार डाला और आग के हवाले कर दिया. इस काण्ड में कुल 22 पुलिसवाले मारे गए. दलित समाज के कई लोगों की गिरफ्तारियां हुईं, मुकदमें चले जिसमें से 15 लोगों को फांसी दे दी गई. 14 लोगों को कालापानी की सजा और बाकी लोगों को आठ-आठ साल और पांच-पांच साल के कठोर कारावास की सजा सुनाई गई. इस क्रांति ने ब्रिटिश साम्राज्य की नींव हिला दी थी.
जिस समय चौरी-चौरा काण्ड हुआ उस समय देश में असहयोग आंदोलन चल रहा था. तब मोहनदास गांधी ने 12 फरवरी 1922 को आंदोलन समाप्त करने की घोषणा की थी. इस संबंध में गांधीजी का तर्क था कि चौरी-चौरा काण्ड उनके अहिंसक सिद्धांत के विरुद्ध था. गांधीजी के असहयोग आंदोलन में भी दलित वर्गों के देशभक्तों ने बढ़-चढ़ कर हिस्सा लिया और पूरे देश में अपनी गिरफ्तारियां दी. इन देश भक्तों में गोरखपुर का मिठाई, ठेलू, गजाधर,और कल्लू. सीतापुर के दुर्जन और चौधरी परागी लाल, आजमगढ़ के राम प्रताप, सुल्तानपुर के सूरज नारायण और लखनऊ के सीताराम और जोधा प्रमुख थे.
नमक सत्याग्रह का आंदोलन
स्वतंत्रता संग्राम के नमक सत्याग्रह आंदोलन में दलित वर्ग के लोगों ने अपना महत्वपूर्ण योगदान दिया. यह आंदोलन गांधीजी ने 12 मार्च 1930 को साबरमती आश्रम से शुरू किया था. इस आंदोलन में दलित वर्ग से भी तमाम लोग शामिल हुए. इसमें मुख्य रूप से बलदेव प्रसाद कुरील थे, जिन्होंने कोतवाली में 1932 में धरना दिया. धरना देने पर पुलिस ने उनपर गोली चला दी और वे शहीद हो गए. इसके अलावा लाल कुआं लखनऊ के रहने वाले सुचित राम को भी धरना देने की वजह से पुलिसवालों ने गोली मार कर मौत के घाट उतार दिया. नमक सत्याग्रह आंदोलन में ही 103 दलितों पर सजा के साथ आर्थिक दंड लगाया गया. 8 अगस्त 1942 को अखिल भारतीय कांग्रेस कमेटी ने अंग्रेजों भारत छोड़ों का प्रस्ताव पास किया. 9 अगस्त 1942 की सुबह गांधी समेत कई कांग्रेसी नेताओं को गिरफ्तार कर लिया गया. गिरफ्तार लोगों में जवाहर लाल नेहरू, बाबू जगजीवन राम, जय प्रकाश नारायण भी शामिल रहे. अंग्रेजों की इस दमनकारी नीति से लोगों में आक्रोश पैदा हुआ. आंदोलन उग्ररूप अख्तियार करने लगा. अंग्रेजों ने दमकारी नीति के तहत कई जगह गोलियां और लाठियां चलाईं. इस आंदोलन में अमर शहीद और क्रांतिवीरों में अछूत समाज के लोगों की संख्या सबसे अधिक थी. यूपी के कईजिलों से 93 दलितों ने अपनी कुर्बानी दी. जिनका नाम व पतद्ग आज भी सरकारी अभिलेखों में दर्ज है.
नेता जी के साथ चमार रेजीमेंट
ब्रिटिश सरकार को खदेडऩे के लिए नेता जी सुभाष चंद बोस ने 26 जनवरी 1942 को आजाद हिन्द फौज बनाई. उन्होंने जनता से अपील करते हुए कहा कि तुम मुझे खून दो मैं तुम्हें आजादी दुंगा. इस अपील से हजारों की संख्या में भारतीय सैनिक देश की आजादी के लिए आजाद हिन्द फौज में भर्ती हो गए. इस फौज में कैप्टन मोहन लाल कुरील की अगुवाई में हजारों दलित भी फौज में शामिल हो गए. यहां तक की चमार रेजीमेंट पूरी तरह आजाद हिन्द फौज में विलीन हो गई. चमार रेजीमेंट ब्रिटिश भारतीय सेना की महत्वपूर्ण रेजीमेंट थी. दलित परिवार के हजारों युवा देश की आजादी के लिए इस फौज में शामिल हो कर अंग्रेजों से संघर्ष करते हुए शहीद हुए.
शिड्यूल्ड कॉस्ट फेडरेशन की भूमिका
बाबासाहेब डॉ. भीमराव अंबेडकर की भूमिका का जिक्र करना भी जरूरी होगा. सन 1940 में डॉ. अम्बेडकर ने शिड्यूल्ड कॉस्ट फेडरेशन की स्थापना की थी. इस फेडरेशन का मुख्य उद्देश्य अछूतों की सामाजिक, आर्थिक, धार्मिक और राजनैतिक शोषण, अन्याय व अत्याचार के खिलाफ संघर्ष करना था. यह फेडरेशन अछूतों की सुरक्षा एवं अधिकार मात्र के लिए नहीं थी, बल्कि आजादी के लिए मर मिटने को भी तैयार थी. इस फेडरेशन ने 1946-47में देश व्यापी आंदोलन छेड़ा. इस आंदोलन का नारा था, "अधिकारों के लिए लडऩा होगा…जीना है तो मरना होगा". देश भर की जेलों में लगभग 25हजार दलित सत्याग्रही जेल गए. जिसमें अमर शहीद दोजीराम जाटव भी थे जो हाथरस के निवासी थे. देश की आजादी के लिए हजारों लाखों लोग शहीद हो गए. लेकिन कुछ लोगों का नाम ही इतिहास के पन्नों में प्रमुखता से दर्ज हो पाया बाकी हाशिए पर चले गए. इसी तरह दलित/आदिवासी समाज के तमाम और यक हैं, जिनके बलिदान को इस देश ने भुला दिया. सभी दलित/आदिवासी/मूलनिवासी शहीदों को दलित दस्तक का नमन।
1857 के स्वाधीनता संग्राम में दलितों की भूमिका-बद्रीनारायण
आंदोलनों का एक बेहतर परिणाम यह हुआ है कि साहित्य और संस्कृति में दलितों की भूमिका को हम अब धीरे-धीरे मानने को तैयार हो रहे हैं, लेकिन इतिहास में उनकी भूमिका को स्वीकारने में हमें अभी भी कठिनाई हो रही है। इसका मुख्य कारण है कि हमने अपने अंत:मन और ज्ञान-जगत में दलितों की एक छवि बना रखी है, जिसमें हम उन्हें निरीह, निम्न और निष्क्रिय रूप में देखते हैं। हम मानते रहे हैं कि ये सिर्फ प्रताड़ित होने वाले समुदाय हैं, इनमें प्रतिरोध की चेतना रही ही नहीं है, अगर रही भी है तो अपने मालिकों के साथ प्रतिरोध की नकल करने, उनका अनुसरण करने और उनका साथ देने के रूप में रही है। इस संदर्भ में दीपांकर गुप्ता द्वारा संपादित पुस्तक कास्ट इन क्वेस्ट में प्रकाशित जी. के. कारंत के आलेख 'रिप्लिकेशन ऑर डिसेंट' में देखा जा सकता है जिसमें उन्होंने कर्नाटक की अछूत दलित जातियों के अध्ययन के माध्यम से यह साबित करने की कोशिश की है कि किस प्रकार अनुकृति भी निम्न समुदाय के लिए प्रतिरोध का ही एक रूप है। दलित सेनानियों द्वारा अपने मालिक के उपनिवेशवाद विरोधी संघर्ष में शामिल होना कहीं से भी उनकी लड़ाई को सिर्फ मालिकों के लिए की जाने वाली लड़ाई के रूप में देखना उचित नहीं होगा।
इसका कारण यह है कि हम यह मानते हैं कि इतिहास की गति स्वार्थों की टकराहट से ही संचालित होती है। तभी तो 1857 के संघर्ष को हम सिर्फ सामंतों और राजाओं के व्यक्तिगत हितों के अंगरेजों से हुए टकराव के रूप में देखते हैं। यह एक डिटर्मिनेटिव एप्रोच है जिनमें हम यह भूल जाते हैं कि मानव-मन हितों और स्वार्थों से इतर भी कुछ होता है। अगर दलितों का स्वार्थ अंगरेजों से टकरा रहा था तो उन्हें कुछ नहीं करना था, ऐसा मानते हैं। हम यह भी भूल जाते हैं कि दलितों के दिल में भी भाव होता है, उच्छ्वास होता है। वे अपने से ही नहीं, अपने आसपास से भी संचालित होते हैं।
चूंकि हमने पहले ही मान लिया है कि दलित समाज निरीह रहा है तो वह संघर्ष कैसे कर सकता है। जबकि हम भूल जाते हैं कि इतिहास के विभिन्न कालखंड दलित नायकों के संघर्ष-कालखंड रहे हैं। आठवीं शताब्दी से लगभग बारहवीं, तेरहवीं शताब्दी तक प्राचीन काल का राजत्व कमजोर हो रहा था और मध्यकाल की राजशाही वजूद में पूरी तरह आ नहीं पाई थी, यह एक संक्रमण का दौर था। इस दौर में दलित जाति के अनेक दुस्साहसिक नायक हमारी लोकगाथाओं के नायक बने। कुंवर विजयमल जो जाति का दुसाध माना जाता है, दीनाभद्री मुसहर लड़ाके थे, चुहरमल, सहलेश इत्यादि भी दलित जाति के नायक थे। इन लोकगाथाओं को पढ़ें तो जाहिर होता है कि इन जातियों में वीर और दुस्साहसी लोग थे जिन्होंने अपने राज तक कायम किए। नृतत्ववैज्ञानिक कुमार सुरेश सिंह ने लिखा है कि तेरहवीं शताब्दी में अयोध्या का राजा निम्न जाति का था, शायद डोम जाति का, मध्य उत्तर प्रदेश और अवध के पासी राजाओंडालदेव, बलदेव, बिजली पासी, सुहेलदेव इत्यादि के बारे में अंगरेज नृतत्वशास्त्रियों के लेखन और सेंसस गजेटियर्स में भी जिक्र आते हैं। कर्नल नील जिन्होंने 1857 के विद्रोह के आसपास एक दमनकारी सैन्य अधिकारी के रूप में छवि बनाई थी, ने अपने अत्यंत रोचक संस्मरण में लिखा है कि किस प्रकार उस समय अंगरेजी सेना के लिए पासी वीर एक चुनौती बन गए थे, यह ठीक है कि अंगरेज अधिकारी अपनी शब्दावली में नायक न कहकर अपराधी ही कहेगा, लेकिन हमें ऐसी व्याख्याओं से निकलना ही चाहिए। इस आलेख में यह भूमिका मैं इसलिए बना रहा हूं कि दलितों के बारे में बन गई रूढ़ हो चुकी छवि को तोड़ना चाहता हूं। कोल्फ इच डर्क एक डच इतिहासकार हैं जिन्होंने बताया कि उत्तर भारत में किस प्रकार मध्यकाल और प्रारंभिक उपनिवेशिक काल में सैन्य कर्म न केवल सवर्ण जातियों में बल्कि निम्न जातियों में एक प्रमुख नौकरी के रूप में उभरा था। न केवल यादव, क्षत्रिय जैसी धनी सामंती जातियां बल्कि पासी, दुसाध, डोम, मेहतर, मुसहर, कहार, नीची जातियों के लोग भी खाली समय में सैन्य अभ्यास करके, कुश्ती-पहलवानी करके तत्कालीन बिखरी हुई और केंद्रीयकृत राजसत्ताओं की सेना के लिए अपने को तैयार रखते थे जो पूरे भोजपुर और अवध में नौकरी का महत्वपूर्ण माध्यम था, ऐसा अनेक ऐतिहासिक साक्ष्यों से साबित हुआ है। अगर हम कोल्फ की बात मान लें तो हमें यह मानने में कोई हिचक नहीं होनी चाहिए कि 'नौकरनुमा निरीह जातियों' के मध्य भी एक नौकरीशुदा सैनिक वर्ग था जो 1857 के विद्रोह में शिरकत कर सकता था। एक दूसरे इतिहासकार निकोलस डर्कस ने अपनी नई पुस्तक में जातियों के बारे में लिखा है कि भारत में अंगरेजी सत्ता के मजबूत होने के पहले जातीय स्मृतियां काफी कुछ लचीली थीं। 1861 में 1857 के विद्रोह के बाद जब अंग्रेजों ने महसूस किया कि भारतीय समाज में बड़ा तबका उनके खिलाफ लड़ा है तो उनकी सूची बनाने, उनकी प्रवृत्तियों को जानने व समझने के लिए कोलोनियल डिटरमिनेशन प्रोजेक्ट शुरू किया गया जिसके अंतर्गत सेंसर और गजेटियर का निर्माण हुआ जिसके आधार पर इन जातियों को नियंत्रित करने के लिए अनेक एक्ट बनाए गए। कोलोनियल डिटरमिनेशन प्रोजेक्ट का एक असर यह हुआ है कि अब जातीय स्मृतियां निश्चित हो गईं, वे एक बार लिखित होकर प्रिंट में छप गईं। क्रिमिनल ट्राई पैक्ट इन्हीं प्रक्रियाओं का परिणाम था। इसके तहत 198 दलित जातियों को चिह्नित किया गया, इन्हें तीन नाम दिए गएएक्स क्रिमिनल ट्राइब्स, डीनोटिफाइड ट्राइब्स, नोमेडिक ट्राइब्स। 1860 में इसे इंडियन पैनल कोड में बदल दिया गया 1857 के संघर्ष के बाद जहां ऊंची जातियों के अनेक लोग राय साहब, राय जमींदार, महाराजा, राजा, जागीरदार की उपाधि लेने में व्यस्त थे वहीं दलितों के ऊपर क्रिमिनल ट्राइब एक्ट लगाया जा रहा था। यह एक्ट उपनिवेशिक इतिहास के विभिन्न कालखंडों में लागू किया गया जो इस प्रकार है : 1871, 1896, 1901-02, 1909, 1911, 1913-14, 1919 और 1924। यह जानना बहुत रोचक है कि 1857 के तुरंत बाद क्रिमिनल एक्ट बनाने की क्या आवश्यकता पड़ी और इन दलित जातियों को चिह्नित करने की क्या जरूरत पड़ी? वस्तुत: 1857 के विद्रोह के बाद अंगरेजी शासन ने अपनी गवर्नेंस और कंट्रोल एक्टिविटीस की कमियों को पहचाना था और भारतीय समाज में इस विद्रोह से सबक लेकर इसे नियंत्रित करने के लिए नई रणनीति बनाई और उन्हें क्रिमिनल जाति बना दिया जो उनके प्रशासन के लिए चुनौती थे। ये वे लोग थे जो औपनिवेशिक नियमों को नहीं मानते थे और उन्हें बार-बार तोड़ते थे।
यूं भी 1857 का विद्रोह मात्र सेनाओं, सैनिकों, राजाओं का विद्रोह नहीं था। रुद्रांग्शु मुखर्जी, गौतमभद्र, पिंच जैसे अनेक इतिहासकार मानते हैं कि इस विद्रोह में किसानों ने बड़े पैमाने पर शिरकत की, जिन गांवों के सैनिक जिनकी संख्या लाखों में थी, शहीद हुए थे, वे गांव इस विद्रोह से जुड़ गए। डच इतिहासकार डच कोल्फ की बात मानें तो अनेक निचली जातियों का भी साहसी सैनिकनुमा संवर्ग इस विद्रोह से जुड़ा हुआ था।
आज दलित इतिहासकार अपने नायकों की पहचान कर रहे हैं जिनका संबंध 1857 के स्वतंत्रता संघर्ष से रहा था। इस प्ररिप्रेक्ष्य में मातादीन भंगी का उल्लेख मिलता है जिन्होंने अपने मन-मस्तिष्क में उपजे सवालों से 10 मई 1857 को मेरठ छावनी में सैनिक विद्रोह का बिगुल बजाया। वस्तुत: इतिहास में चर्चित नायकों के प्रेरणास्रोत बने ये दलित नायक। राष्ट्रभक्ति और देशभक्ति की भावना के अतिरिक्त यह ऐसा आंदोलन था जिसमें जनमानस की भागीदारी रही। यह संघर्ष ऐसे समय में हुआ जब तत्कालीन नरेश अपनी सिंहासन रक्षा हेतु संघर्षरत थे। दलित सर्वहारा किसान का किसी नरेश से कोई सरोकार न था, ऐसे में मातादीन भंगी ने पानी पीने के लिए दो नंबर पल्टन के सिपाही मंगल पांडे से पीतल का लोटा मांगा, इस दुस्साहसिक कार्य हेतु मंगल पांडे की फटकार पर मातादीन भंगी ने चिढ़ाते हुए कहा कि 'बहुत जल्द ही तुम्हारी पंडिताई (ब्राह्मणपना) निकल जाएगी, जब तुम दांत से सुअर और गाय की चर्बी से बने कारतूस काटकर बंदूक में भरकर चलाओगे।' इस घटना के बारे में कैप्टन राइट ने एक पत्र मेजर बोन्टीन के नाम 22 जनवरी 1857 को लिखा था। मातादीन नए कारतूस बनाने वाली दमदम की फैक्ट्री में नौकर था इसलिए उसकी बात मान ली गई। यह बात आग की तरह फैल गई। तत्कालीन परिस्थितियों में जब एक अछूत जाति की आवाज भी भोजन करते समय एक ब्राह्मण पसंद नहीं करता था, ऐसे समय में उससे पानी पीने के लिए लोटा मांगना एक साहसिक कार्य था। इस घटना के पश्चात अंगरेज अफसर ने मातादीन भंगी को फांसी पर लटका दिया। 1857 के स्वतंत्रता संग्राम का सेहरा भले ही मंगल पांडेय और रानी लक्ष्मीबाई को दिया गया हो लेकिन उनके पीछे प्रेरणास्रोत बने मातादीन भंगी और झलकारी बाई।
जी.डब्ल्यू. फारेस्ट ने अपनी पुस्तक में लिखा है कि सिपाहियों के स्वैच्छिक विद्रोह और झांसी पर पूर्ण विजय के बाद जब अधिकांश सेना दिल्ली की ओर चली गई तब रानी लक्ष्मीबाई सैनिकों के इस काम में स्वेच्छा से शामिल नहीं थीं। इस दौरान लक्ष्मीबाई अंगरेजों से दूरस्थ संबंध रखती थीं और अपने हक के लिए समझौते का प्रयास कर रही थीं। इस समय विद्रोही सैनिक के रूप में झलकारी बाई के पति पूरन कोरी और भाऊबक्शी कोरियों की सेना लेकर अंगरेजों का संहार कर रहे थे। संघर्ष की विशालता को देखते हुए रानी लक्ष्मीबाई अंगरेजों के संपर्क में आ रही थीं। लेकिन झलकारी बाई और उनके पति चिंतित थे कि कहीं रानी अंगरेजों की गिरफ्त में न आ जाएं। ऐसी नाजुक स्थिति में झलकारी बाई ने सूझबूझ का परिचय देते हुए अपने विश्वसनीय सैनिकों के साथ रानी लक्ष्मीबाई को असुरक्षित किले से बाहर निकालकर सुरक्षित स्थान पर भेजने में मदद की। युध्द के समय में झलकारी बाई ने बड़ी सूझबूझ का परिचय देते हुए स्वयं भंडारी गेट से उन्नाव गेट तक युध्द का संचालन किया। उनके पति पूरन कोरी और भाऊबक्शी भी युध्द में व्यस्त थे। झलकारी बाई का चेहरा और व्यक्तित्व काफी कुछ रानी लक्ष्मीबाई से मिलता था। इसका फायदा उठाकर किले में वह रानी लक्ष्मीबाई बनकर युध्द करती रही ताकि वे दूर सुरक्षित स्थान पर पहुंच जाएं। उनके पति पूरन कोरी अपनी मातृभूति की रक्षा करते हुए शहीद हो गए। यह पता चलते ही झलकारी बाई और भी बहादुरी से लड़ने लगी और अंगरेजों सेना के पैर उखाड़ दिए। महारानी लक्ष्मीबाई के प्रति सच्ची मित्रता, देशप्रेम और प्रथम स्वतंत्रता संग्राम के लिए अपने कर्तव्य का पालन करते हुए वह शहीद हो गई। त्याग और बलिदान के लिए एक अनुकरणीय उदाहरण प्रस्तुत कर अपने को अमर कर गई।
लोचन मल्लाह की कानपुर में 1857 के संग्राम में अहम भूमिका रही। यहां अंग्रेज अफसर नाना साहब को अपनी हितैषी समझते थे। कानपुर के कलेक्टर भी नाना साहब को अपना मित्र ही मानते थे। नाना साहब अपने को भी पत्रों द्वारा अंगरेजी सेना के हितैषी ही साबित कर रहे थे। यहां तक कि माफी मांगते हुए महारानी विक्टोरिया और अंगरेज अफसरों को पत्र भी लिखा था ताकि वे उनके विश्वासपात्र बने रहें। नाना साहब 26 जून 1857 को रातभर उनके घेरे में रहे। रात में 3 बजे अंग्रेज गंगा तट पर लोचन मल्लाह की व्यवस्था देखने गए। लोचन मल्लाह ने 40 नावों की व्यवस्था की थी ताकि अंगेजों को इलाहाबाद पहुंचाया जा सके। नाना साहब की देखरेख में अनेक अफसरों और उनकी पत्नियों को गंगा तट पर लाया गया। ईवार्ट सैन्य अधिकारी पालकी में बैठकर आ रहा था
लेकिन विद्रोही सैनिकों को इसकी भनक लग गई और उन्होंने पालकी से खींचकर उसकी हत्या कर दी। विद्रोही सैनिक इस दौरान कानपुर आ चुके थे। गंगा घाट पर कानुपर क्रांति के सेनानायक टीकासिंह, अजीमुल्लाह और तात्या टोपे सभी खड़े थे। इसी दौरान नाना साहब का एक घुड़सवार आया और उसने व्हीलर को विदाई के लिए नाना साहब का संदेश दिया। इशारा पाकर लोचन मल्लाह ने अपने साथियों से नाव छोड़ देने को कहा। सभी मल्लाह गंगा में कूद गए। अंगरेजों ने उन पर गोलियां चलाईं। पुन: लोचन मल्लाह ने दूसरी नाव पर क्रांतिकारियों को लेकर अंगरेजों का पीछा किया। इस दौरान लोचन की मदद से 80 अंगरेज स्त्री, पुरुष और बच्चे कानपुर लाए गए। बच्चों और स्त्रियों को अलग कर क्रांतिकारियों ने 14 अंगरेजों को फांसी पर लटका दिया।
डी.सी. डिंकर ने अपनी पुस्तक स्वतंत्रता संग्राम में अछूतों का योगदान' में वीरांगना महाबीरी देवी का उल्लेख किया है। यह भंगी जाति की तेज-तर्रार महिला थी। महाबीरी ने अपनी जाति की महिलाओं को एकत्र कर संगठन बनाया और मुजफ्फरनगर में अंग्रेजों से मोर्चा लिया। 22 महिलाओं को टोली में बल्लम-गड़ासों से लैस होकर अंगरेजों पर हमला कर उन्हें मौत के घाट उतार दिया। अपने ऊपर अचानक अनपढ़ और निम्न जाति समाज की महिलाओं द्वारा हमला किए जाने पर अंगरेज अफसर हतप्रभ रहे, क्योंकि यह विद्रोह किसी राजा के नेतृत्व में नहीं था बल्कि यह आम जनता का विद्रोह था। ये सभी महिलाएं आंदोलन में शहीद हो गईं।
नन्हीबाई का योगदान भी स्वतंत्रता आंदोलन में स्मरणीय है, क्योंकि वह जिस समाज से थी उस समाज से हम स्वतंत्रता आंदोलन में संघर्ष के लिए सोच भी नहीं सकते थे। भक्तन जाति के लोग वैष्णव संप्रदाय को मानने वाले थे। पर उनकी कन्याओं की शादी नहीं होती थी। उनकी शादी किसी साधु के साथ करकर उन्हें वेश्यावृत्ति में उतार दिया जाता था। यह समाज भी ब्राह्मणी व्यवस्था का शिकार था। नन्हीबाई ने भी इसी भगतन परिवार में एक वेश्या की कोख से जन्म लिया। महर्षि दयानंद सरस्वती ने भी नन्हीबाई को जोधपुर के राजा के साथ देखकर यह टिप्पणी की कि 'सिहों के सिंहासन पर इन कुतियों से कुत्ते ही पैदा होंगे' सुनकर अपमान और क्रोध का घूंट पीकर रह गई। कालांतर में नन्हीबाई ने समाज-सेवा का व्रत लिया और अपनी अपार धन-संपदा को देश की सेवा में लगा दिया। हालांकि नन्हीबाई पर दयांनद सरस्वती को मारने का आरोप लगा था। नन्हीबाई ने लेडी हार्डिंग मेडिकल कालेज के साथ-साथ अनेक संस्थानों को अपनी संपत्ति बेचकर दान दिया, अंगरेजों से उनकी बहस होती ही रहती थी। वे क्रांतिकारियों को मदद करना अपना धर्म समझती थीं क्योंकि एक वेश्या होने के नाते स्वतंत्रता के मायने बखूबी जानती थीं। यहां उत्तर प्रदेश के जौनपुर जनपद के मछली शहर में रहने वाले बांके चमार का उल्लेख करना भी नितांत आवश्यक है। इन्होंने प्रमुख बागी नेता हरिपाल सिंह के साथ रहकर स्वतंत्रता आंदोलन में अनेक अफसरों को मौत के घाट उतारकर दलित समाज में वीरता और बहादुरी और दलित क्रांतिकारी होने का सबूत पेश किया। इन पर अंगरेजों ने पांच हजार रुपए का पुरस्कार घोषित किया था। अंततोगत्वा इन्हें भी फांसी पर लटकाया गया।
इतिहास की खोज, इतिहास रचना और इतिहास का निर्माण एक सतत विकासमान प्रक्रिया है। अंबेडकर के समय अर्थात 1920 से 1956 तक राष्ट्र की मुक्ति के संग्राम में दलितों की मुक्ति की बात होती थी, यह वहीं तक सीमित नहीं थी। नए शोधों, अभिलेखीय दस्तावेजों के नए पाठ, औपनिवेशक दस्तावेजों के उच्छेदवादी पुनर्पाठ से इतिहास में दलितों का प्रवेश कर दरवाजा चौड़ा ही हुआ है। अंबेडकर के समय सन् 1857 के बाद का जो दलितवादी मूल्यांकन रहा था वह आज काफी कुछ बदल चुका है। अगर अंबेडकर आज जीवित होते तो इतिहास में दलितों की भूमिका पर वैसा ही पाठ करते जैसा कि डी.सी. डिंकर, एम.आर. विद्रोही, एस. संजीवन नाथ, के. नाथ जैसे दलित लेखक कर रहे हैं। न व्यवस्थाएं रुकती हैं न समाज रुका रहता है और न इतिहास। अत: आज जो लोग अंबेडकरवादी आग्रहों से दलितों की भूमिका का मूल्यांकन करना चाह रहे हैं, उन्हें इन नए पाठों को भी देखना चाहिए। और सन 1857 के उस संग्राम में जिसमें उत्तर भारत में अनेक गांव शामिल थे, जिसकी तरफ इशारा अत्यंत पुरानी इतिहास पुस्तक में सुंदरलाल ने किया है और बताया है कि किस प्रकार फूल और चपाती गांव-गांव में घुमाकर यह साबित किया जाता था कि यह गांव स्वतंत्रता संग्राम में शामिल है। उन लोगों में रहने वाले शोषित दलितों के उन स्वतंत्र क्षणों को समझा जाए जहां उन्होंने अनेक बार अपने खुद की पहल पर स्वतंत्रता संग्राम में भाग लिया। ऐसा नहीं था कि राजा विद्रोह करे तभी प्रजा करे, प्रजा विद्रोह में राजा से आगे चली जाती है। इतिहास यूं ही कार्यकारण संबंधों के डिटर्मिनिस्टिक आग्रहों से नहीं चलता। इसमें अनेक स्वर होते हैं, अनेक गतिविधियां, अनेक अनुगूंजें, सिर्फ उन्हें देखने, सुनने, समझने की संवेदनशीलता होनी चाहिए।
दलितों का स्वतंत्रता संग्राम में योगदान
1857 में ही राजा बेनी माधव (खलीलाबाद) अंग्रेजो द्वारा कैद किये जाने पर उन्हें छुड़ाने वाला अछूत वीरा पासी थ।
इसके अलावा कुछ और दलित क्रान्तिकारियो के नाम आप लोगो को बताना चाहता हूँ जो गोरखपुर अभिलेखों में दर्ज हैं ।
1- आज़ादी की लड़ाई में चौरा-चौरी काण्ड एक मील का पत्थर है , इसी चौरा-चौरी कांड के नायक थे "रमापति चमार" , इन्ही की सरपस्ति में हजारो दलितों की भीड़ ने चौरा-चौरी थाने में आग लगा दी थी जिससे 23 अंग्रेज सिपाहियों की जलने से मौत हो गई थी । इतिहासकार श्री. डी सी दिनकर ने अपनी पुस्तक "स्वतंत्रता संग्राम" में 'अछूतों का योगदान' में उल्लेख किया है की- "अंग्रेजो ने इस काण्ड में सैंकड़ो दलितों को गिरफ्तार किया । 228 दलितों पर सेशन सुपुर्द कर अभियोग चला । निचली अदालत ने 172 दलितों को फाँसी की सजा सुनाई।
इस निर्णय की ऊपरी अदालत में अपील की गई , ऊपरी अदालत ने 19 को फाँसी, 14 को आजीवन कारवास , शेष को आठ से पांच साल की जेल हुई ।
2 जुलाई 1923 को 18 अन्य दलितों के साथ चौरा-चौरी कांड के नायक रमापति को फांसी के फंदे पर लटका दिया गया ।
चौरा-चौरी कांड में फाँसी तथा जेल की सजा पाने वाले क्रन्तिकारी दलितों के नाम थे-
1- सम्पति चमार- थाना- चौरा, गोरखपुर, धारा 302 के तहत
2- अयोध्या प्रसाद पुत्र महंगी पासी- ग्राम - मोती पाकड़, जिला
चौरा, गोरखपुर , सजा - फाँसी
3- कल्लू चमार, सुपुत्र सुमन - गाँव गोगरा, थाना-झगहा, जिला
गोरखपुर, सजा - 8 साल की कैद
4- गरीब दास , पुत्र महंगी पासी - सजा धारा 302 के तहत
5- नोहरदास, पुत्र देवीदीन- ग्राम - रेबती बाजार, थाना चौरा-चौरी, गोरखपुर, आजीवन कारवास
6-श्री फलई , पुत्र घासी प्रसाद- गाँव- थाना चौरा-चौरी , 8
7- बिरजा, पुत्र धवल चमार- गाँव - डुमरी, थाना चौरा, धारा 302
के तहत 1924 में आजीवन कारावास
8- श्री. मेढ़ाइ, पुत्र बुधई- थाना चौरा, गोरखपुर, आजीवन कारवास....
इसके अलावा 1942 के भारत छ़ोडो आंदोलन में मारने वाले और भाग लेने वाले दलितों की संख्या हजारो में हैं जिसमें से कुछ प्रमुख हैं -
1-मेंकुलाल ,पुत्र पन्ना लाल, जिला सीतापुर यह बहादुर दलित 1932 के मोतीबाग कांड में शहीद हुआ ।
2- शिवदान ,पुत्र दुबर - निवासी ग्राम - पहाड़ीपुर, मधुबन आजमगढ़ , इन्होंने 1942 के 15 अगस्त को मधुबन थाना के प्रात: 10 बजे अंग्रेजो पर हल्ला बोला , अंग्रेजो की गोली से शहीद हुए ।
इसके अलावा दलित अमर शहिदों का भारत अभिलेख से प्राप्त
मुंडा, मालदेव, सांठे, सिंहराम, सुखराम, सवराउ, आदि बिहार प्रान्त से ।
आंध्र प्रदेश से 100 से ऊपर दलित नेता व् कार्यकर्ता बंदी ।
बंगाल से 45 दलित नेता बलिदान हुए आजादी की लड़ाई में...
ऐसे ही देश के अन्य राज्यो में भी दलितों ने आज़ादी के संग्राम में अपनी क़ुरबानी दी । अरे हाँ.... !! सबसे महत्वपूर्ण नाम लेना तो भूल ही गया , जलियाँवाला बाग का बदला लेने वाले और लन्दन जा के माइकल आडेवयार को गोलियों से भून देने वाले दलित "शहीद ऊधम सिंह...." जिसका नाम सुनते ही अंग्रेजो में डर की लहर दौड़ जाती थी ।
ये सब दलित "स्वतंत्रता सेनानी" और हजारो ऐसे ही गुमनाम शहीद जो 'दलित' होने के नाते कभी भी मुख्य पंक्ति में नहीं आ पाये ।
Avtar , Ayodhya Chamaar,
Ayodhya Babu, Babadin Kori (Mohanlal Ganj), Baiju, Basant Lal, Chhibnu Chamar, Devi, Dulare, Gangadeen, Gaziram Chamar, Gokul Passi, Haria, Chamar - Meerut, Jagnath, Jwahir Chamar -- Hardoi, Jiau, Kallu Chamar, Mahavir, Maikulal - Hazipur, Mazsingh Azad, Magal Mochi, Nandi, Nathu Ram, Ramkhilak, Ram Pati Chamaar, Ramshankar, Sajawar, Sampati Chamar, Santaram Jatav, Medhai Chamar, Sukhdev, Sumer Ram, Teekaram, Tulsi, Baldev Prasad Kureel (Derapur , Kanpur), Suchit Ram Jaiswar- Lal Kua Luckow, Narayan Das Chamar, Maikulal Chamar(Sitapur), Shivdhan Chamar (Azamgarh), Hari Chamar ( Ballia), Inderjit Harijan, Vindeswari -Gorakhpur, Chotu Passi, Ramsaran Passi, Alghu Passi (Chauri-Chaura episode 1923),
Veera Passi, Ramchadra Bhagi (movemet Agaist ,1918 Rowlatt Act)
Nathu Dhobi ( ivolve in Jalliawala bagh 1919 episode)
Duli Dhobi, Govardhan Passi, Keshav, Sadashiv Mehre , Nepal Mallah, Siddu Kanu, Sahid Chamru - Odisha, Sahid Narsingh - Odisha , Maldev, Singh Ram, Sukhram, Savroy
चौरी-चौरा का इतिहास
5 फरवरी 1922 को गोरखपुर के गांव चौरी-चौरा में दलित समाज की एक सभा चल रही थी. इस सभा में स्वराज पर ही मंथन चल रहा था. तभी वहां से गुजर रहे एक सिपाही ने जोशीला भाषण कर रहे रामपति (दलित) पर अपमान सूचक शब्दों की बौछार कर दी. सिपाही के दुर्व्यवहार से लोग उत्तेजितहो गए और देखते ही देखते ब्रिटिश हुकूमत के खिलाफ नारे लगाने लगे. पुलिसवालों ने नारेबाजी कर रहे लोगों के साथ दुर्व्यवहार किया जिससे नाराजलोगों ने पुलिस पर हमला बोल दिया और सिपाहियों को भाग कर थाने में छुपना पड़ा. क्रांतिकारियों ने पुलिस चौकी में ही आग लगा दी और जो सिपाही बाहर निकला उसे भी मार डाला और आग के हवाले कर दिया. इस काण्ड में ल 22 पुलिसवाले मारे गए. दलित समाज के कई लोगों की गिरफ्तारियां हुईं, मुकदमें चले जिसमें से 15 लोगों को फांसी दे दी गई. 14 लोगों को कालापानी की सजा और बाकी लोगों को आठ-आठ साल और पांच-पांच साल के कठोर कारावास की सजा सुनाई गई. इस क्रांति ने ब्रिटिश साम्राज्य की नींव हिला दी थी.
जिस समय चौरी-चौरा काण्ड हुआ उस समय देश में असहयोग आंदोलन चल रहा था. तब मोहनदास गांधी ने 12 फरवरी 1922 को आंदोलन समाप्त करने की घोषणा की थी. इस संबंध में गांधीजी का तर्क था कि चौरी-चौरा काण्ड उनके अहिंसक सिद्धांत के विरुद्ध था. गांधीजी के असहयोग आंदोलन में भी दलित वर्गों के देशभक्तों ने बढ़-चढ़ कर हिस्सा लिया और पूरे देश में अपनी गिरफ्तारियां दी. इन देश भक्तों में गोरखपुर का मिठाई, ठेलू, गजाधर,और कल्लू. सीतापुर के दुर्जन और चौधरी परागी लाल, आजमगढ़ के राम प्रताप, सुल्तानपुर के सूरज नारायण और लखनऊ के सीताराम और जोधा प्रमुख थे.
by– Shadab Saharai
१९४७ में आज़ादी प्राप्ति के पश्चात शासन, प्रशासन का पूरा तंत्र ब्रहमण मनुवादियों के आधीन हो जाने के कारण चाहे वह कांग्रेस की सरकार रही हो या RSS की राजनितिक शाखा BJP की, इतिहास के नाम पर वही लिखा गया जो ये मनुवादी या ब्रहमणवादी चाहते थे ! इनको ये सफ़लता मिलने का मुख्य कारण था , हज़ारों साल इनके ही द्वारा पीडित , आत्याचार भोगी ,निर्धन और अशिक्छित मूलनिवासी ,दलित समाज जिस्के लिये इन ब्रहमण मनुवादियों ने ६००० वर्षों पहले ही से शिक्छा की प्रप्ति वर्जित कर दी थी ! यहां तक कि वेदों का एक श्लोक सुनने के जुर्म में कानों मे गर्म सीसा पिलाने और उन्ही श्लोको के पढने के जुर्म में ज़ुबान काट लेने का फ़तवा दे रखा था ! ऐसे में दलितों को अपने आप को ही हीन भावना से देखने की मान्सिक्ता का बनना अपरिहार्य था ! वो शारीरिक ही नही मान्सिक गुलाम बन चुके थे ! हर कोइ सोच सकता है कि एक कुत्ता को अपने साथ रखने से ये मनुवादी पवित्र थे किन्तु अछूतों का मात्र साया भी पड जाने से अपवित्र हो जाते थे ! ऐसी स्थिति में वही हुआ जो होना था दलित समुदाय ने ये हार्दिक और मान्सिक तौर पर स्वीकार कर लिया था की हमारे जनम मरण का उद्देश्य ही इन मनुवादियों की दासता है ! इतिहास क्या है ,? भूगोल या सभ्यता या स्वाभिमान किस चिडिया का नाम है ? ये कुछ नही जानते थे और जान ने की चेष्टा पर मनुवादियों के घोर यातना से भयभीत थे ! फ़ल स्वरूप इतिहास के नाम पर वही लिखा गया जो ये मनुवादी चाहते थे , इस बीच दलित समाज में जो भी महापुरूष हुये जैसे महिसा सुर , रावण , शम्बोक ,एकलव्य , हिरण कस्प ,ज्योतिबा फ़ुले या रैदास जिन्में से कुछ को इन मनुवादियॊं ने असुर या रक्छस का घिर्णित नाम दिया ,किसी को गयान पाने के प्रयत्न और पूजा करने के गुनाह में गर्दन उडावा दिया ! या किसी दूसरे कुंठित षणयंत्र से उनकी जीवन लीला ही समाप्त कर दी गयी इस प्रकार उन दलित महा पुरुषों की आवाज दबा दी गयी ! मनुवादियों का भय और डर का निशान, दलित समुदाय के दिलों में और गहरा होता गया ! इन मनुवादियों को मन मानी छूट पाने में सफ़लता मिलती रही ! दलितों दवारा किया गया कोइ भी कार्य इतिहास के पन्नों में नही आने दिया गया ! प्रस्तुत है १९९७ में छपने वाली एक Booklet ' Sepoy Mutiny 1957-58 and Indian Perfidy (बेइमानी) जिसके प्रीफ़ेस में एक बंगाली दलित IAS अधिकारी लिखता है " भारतिय इतिहास को भारतिय उच्च वर्ग के शिक्छित लोगों ने बिल्कुल एक नया मोड दे दिया है जिसमें सत्य को कालीन के नीचे सुला दिया गया है कि वह कभी रोशनी या प्रकाश में न आसके ! उच्च वर्ग के ज़मीदारों की पूरी सहानुभूति अंग्रेज़ों के साथ थी "
जबकि 'दलित फ़्रीडम फ़ाइटर ' का लेखक पन्ना क्रमांक ३६ पर स्वीकार करता है कि " ये सत्य है कि निम्न समुदाय के बहुत सारे लोगों ने असहयोग ,अंग्रेज़ों भारत छोडो , इत्यादि आंदोलनों में अपना अभूतपुर्व सहयोग दिया और जान गंवाइ , किन्तु यश और प्रसिद्धि उच्च वर्ग के हिस्से में आयी क्युं कि वही लोग इन आंदोलनों के संगठन करता थे !" ऐसे बहुत से बुद्धजीवियों के कथन, उदाहरण में प्रस्तुत किये जा सकते है !
जो भी हो, इतिहास का बदलना भी प्रकिर्ति का एक अटल नियम है ! दलितों में भी एक युग पुरुष ,महामानव का अवतार हुआ जिस के बिना दलित समुदाय ही नही भारत का इतिहास अधूरा है, संसार उसे डा० बाबा साहेब भीम राव अंबेडकर के नाम से जानता है जिन्होंने इतिहास बदल डाला और अपने अथक प्रयास व लगन से दलित समुदाय को नयी जाग्रिति , चेतना के साथ स्वाभिमान की नयी ज़िंदगी दी ! शिक्छा के क्छेत्र में आगे बढता हुआ दलित समाज , शासन ,प्रशासन में जब अपने अधिकारों और भागीदारी का प्रश्न उठाया तो मनुवादियॊं के सीने पर सांप लोटने लगा ! उन्होने अज़ादी प्राप्ति के संदर्भ में दलित समाज को उलाहना दी ताने मारे , और महात्मा गांधी से अपने घोर विरोधी व दलितों के मसीहा डा० बाबा साहेब की अनबन को अधार बना कर आज़ादी के लडाइ में असहयोग का इलज़ाम लगा दिया कि दलित अपने लिये किसी भी प्रकार की भागीदारी का मुतालबा न कर सकें ! बात उस समय खुल कर आयी जब RSS के तत्वाधान में उसके करता धरताओं ने एक सोचे समझे प्लान के तहत , मूल निवासियों ,दलितों .अछूतों के द्वारा स्वतंत्रता संग्राम या भारत निर्माण के किसी मुख्य या अमुख्य किसी भी प्रकार में किये गये अविस्मरणीय कार्यों को मिटाकर मनुवादियों पर आधारित , ब्रहमणवाद के गुणगान में अपनी मन मरज़ी नये इतिहास की रचना के लिये All India History Compilation Project नामक १९९९ में एक कमेटी बनाइ ! जिसकी बैठक १७ से १९ जुलाइ को इलाहाबाद में हुयी ! इस बैठक में दलितों के इतिहास को लिखने से दामन बचाने व उनके इतिहास को ही समाप्त कर देने के लिये एक सोची समझी रणनीति के तहत 'मोरेश्वर नीलकंठ पिंगले' दावारा ये कहा गया कि शुद्र ग्वाला ,घूमन्तर जातियों और आदिवासीयों का इतिहास लिखना भारतिय समाज में समस्याओं का जनक और घिर्णा का सूत्रपात होगा ! अजीब बात और अजीब तर्क था इस प्रकार वह भारत के निर्माण में , भारत के स्वतंत्रता संग्राम में दलितों की मुख्य या अमुख्य किसी भी भूमिका को नकार रहे थे ! उनके द्वारा तर्क में ये कहा जा रहा था दलित समुदाय हमेशा से सुस्त , काहिल, पढाये जाने योग्य या नौसिखुआ या दूसरे शब्दों मे अशिक्छित और अयोग्य था इसलिये वो कैसे १९५७ के स्वतंत्रता संग्राम में सक्रिय और कुशल भूमिका निभा सकते हैं ?, किन्तु RSS और BJP वाले भूल गये कि जब कपडा , और प्रतिदिन के जीवन में उप्योग होने वाली बस्तुयें ब्रिटेन से आयात की जाने लगीं तो उसका प्रभाव इन दलित जातियों पर ही पडा जैसे जुलाहे , लोहार बढइ और दूसरी दलित जातियां बेरोजगार होगयी उन का दैनिक जीवन तबाह होगया और अंग्रेज़ उनको अपना सबसे बडा शत्रु नज़र आने लगे परिणाम स्वरूप उन्होनें १८५७ के स्वतंत्रता संग्राम में सक्रिया भूमिका निभाइ ! साथ ही १७५७ के पलासी युद्ध का हवाला देकर RSS और BJP के उच्चस्तरीय लोगों द्वारा दलितों को Anti national (देशद्रोही) सिद्ध करने के लिये ये भी कहा गया कि पलासी युद्ध में दलित बहेलिया और दुसाधों ने अंग्रेज़ फ़ौज और गवर्नर जनरल लार्ड क्लाइव का साथ दिया था ! जिस पर उस समय के U.P. के राज्य पाल जो स्वयं शुद्र थे सूर्य भान , उन RSS और BJP वालों पर भडक उठे , यहां तक कि अपशब्दों का भी प्रयोग किया ! उन्हों ने कहा " जिस रामायण का तुम लोग पाठ करते हो जिस राम और सीता की तुम पूजा करते हो वह एक दलित'वाल्मिकि' की देन है !" (संदर्भ के लिये जिसको चाहिये Dalit freedom fighter नामक पुस्तक में ये देख सकता है !)
यही कारण थे कि दलितों को अपने अस्तित्व जो मनुवादियों द्वारा मिटा दिया गया था ,इतिहास के पन्नों से समाप्त कर दिया गया था , को ढूढने की आवश्यक्ता आन पडी ! उन्होने अधिक तो नही किन्तु कुछ हद तक इसमें सफ़लता भी पायी और आज भी स्वतंत्रता सेनानियों ,भारत के निर्माण में अहम भूमिका निभाने वाले अपने , महापुरुषों वीरों और वीरांगनाओं को भारतिय समाज और इतिहास से परिचित कराने में व्यस्त हैं ! मै उनकी इस महान और पवित्र कार्य का आदर व सम्मान करता हूं !
नीचे कुछ गिने चुने दलित स्वतंत्रता सेनानियों के संदर्भ में वर्णित किया जा रहा है !
१- माता दीन भंगी -"

बडा आवा है ब्रहमन का बेटा ! जिन कारतूसों का तुम उप्योग करते हो उन पर गाय का चर्बी लगावल जात है ! जिन्हे तुम अपने दांतों से तोड कर बन्दूक में भरत हो ,ओ समय तुमका जात और धर्म कहां जावत! धिक्कार है है तुम्हारे इस ब्रहमनवाद का !"
उपर्युक्त शब्द हैं १८५७ के स्वतंत्रता संग्राम के जनक माता दीन भंगी का जिसने बाराक पुर मे मंगल पांडॆ को संबोधित करते हुये कहा था ! जिसकी सज़ा भी उसे मिली जी हां अछूत नाग वशी 'भंगी माता दीन हेला ' जिसको S R Sajiv Ram के अनुसार '१८५७ के स्वतंत्रता संग्राम का जनक ' भी कहा जाता है !

जिसकी जीवनी 'दलित केसरी , अनार्य भारत (मनी पुर यू पी) , हिमायती, दलित साहित्यिक पुस्तिका , में छपी थी !
२ – उदैया चमार – आप को ये जानकर हैरत होगी कि आज़ादी की लड़ाई 1804 में ही शुरू हो गई थी । और यह लड़ाई लड़ी गई थी छतारी के नबाब द्वारा , छतारी के नबाब का अंग्रेजो से लड़ने वाला परम वीर योद्धाथा ऊदैया चमार ,जिसने सैकड़ो अंग्रेजो को मौतके घाट उतार दिया था । उसकी वीरता के चर्चे अलीगढ के आस पास के क्षेत्रो में आज भी सुनाई देते हैं , उसको 1807 में अंग्रेजो द्वारा फाँसी दे दी गई थी। किन्तु आज इतिहास उस के संबंध में चुप है ! क्यों ? इसका उत्तर आप आसानी से सोच सक्ते है कि इसके पीछे कारण में कौन लोग हैं !
३ – बांके चमार – बांके जौनपुर जिले के मछली तहसील के गाँव कुवरपुर के निवासी थे , उनकी अंग्रेजो में इतनी दहशत थी की सं० 1857 के समय उनके ऊपर 50 हजार का इनाम रखा था अंग्रेजो ने । सोचिये जब १रूप्ये से कम पैसे की इतनी कीमत थी की उस से बैल ख़रीदा जा सकता था तो उस समय 50 हजार का इनाम कितना बड़ा होगा ! अपने १८ साथियो के साथ फ़ांसी पर लटका दिये गये !
४ – वीरांगना झलकारी बाई – इस वीरांगना को कौन नहीं जानता? जिस के पति क नाम पूरन कोरी था ! रानी झाँसी से बढ़ के हिम्मत और साहस था उनमे , वे चमार जाति की उपजाति कोरी जति से थी । पर दलित होने के कारण उनको पीछे धकेल दिया गया और रानी झाँसी का गुणगान किया गया !उनके युद्ध कौशल के कारण ही कुच लोगो के अनुसार लक्छमी बाइ प्रताप गढ या नेपाल जाने में सफ़ल हो सकी उनकी सूरत झांसी की रानी से इतनी मिलती थी कि अंग्रेज़ फ़ौजी जनरल भी धोका खा गया ! D.C Dinkar के अनुसार "झांसी की रानी राज पाट की आशिक थी वह अंग्रेज़ों से युद्ध नही करना चाहती थी !"
५ – वीरा पासी -1857 में ही राजा बेनी माधव ग्राम मूरा मऊ जिला रायबरेली को अंग्रेजो द्वारा कैद किये जाने पर उन्हें छुड़ाने वाला अछूत वीरा पासी थे !
६ – गंगा दीन मेहतर – ये गंगू बाबा के नाम से भी आज जाने जाते हैं उनके इलाके कानपूर के लोग कहते हैं कि वे एक भंगी जाति के पहलवान थे १८५७ में अंग्रेज़ों के विरुद्ध सतीचौरा के करीब वीरता से लडॆ , अपना प्राक्रम दिखाया बहुत से अंग्रेज़ों को मौत के घाट उतारा बाद में अंग्रेज़ों द्वारा गिरिफ़्तार हुये और सुली पर लटका दिये गये !
७ – मक्का पासी – १० जून १८५७ अंग्रेज़ों की आरमी का एक छोटा दस्ता लारेंस हेनरी की कमान में अवध से चिनहाट, बाराबंकी जारहा था मक्का पासी ने २०० पासियों को लेकर उनका रास्ता रोका और कइ अंग्रेज़ों को मार गिराया अन्त्तः लारेंस के द्वारा आज़ादी की जंग में शहीद होगये ! पासी समुदाय के लोगों ने अवध के बडे भूभाग पर राज्य भी किया किन्तु मनुवादी व्यवस्था के पोषक इतिहासकारों ने उसे इतिहास के पन्नों में जगह नही दी ! मायावती ने उनके ये नाम लिखे हैं जो ये हैं – महाराजा बिजली पासी, महाराज लखन पासी, महाराजा सुहाल देव, महाराजा छेटा पासी, और महाराजा दाल देव पासी !
८ – उदा देवी – १९७१ सेनसस रेकार्ड के अनुसार बेगम हजरत महल का एक पासी पलटन भी था ! ये वीरांगना उदा देवी, लखनऊ के उजेरियन गांव की रहने वाली थीं, अपने शौहर की अंग्रेज़ों द्वारा गिरफ़्तारी के बाद बेगम हजरत महल द्वारा बनाइ गयी आरमी का एक कमांडर थीं ! जिनका पति मक्का पासी थे जो चिनहाट बाराबंकी में अग्रेज़ों द्वारा शहीद कर दिया गये थे और उसकी लाश पर रोते हुये मक्का देवी ने प्रतिशोध की कसम खाइ थी ! "पीपल के पेड के नीचे ठंडा पानी रखा हुआ था गरमी बहुत थी सख्त धूप में अंग्रेज़ सिपाही आते और पानी पी कर लेट जाते ! ततपश्चात जनरल डावसन को कुछ संदेह हुआ वह सावधानी पुर्वक आया उसने देखा अंग्रेज सिपाहियों को गोली मारी गयी है ! उसने लाशों को देखते हुये कुछ अन्दाज़ा लगाया और वैलेक को आवज़ दी और कहा की ये गोलियां बतारही हैं के आगे या पीछे से नही बल्कि उपर से मारी गयी हैं अब वो पेड पर देखने लगे जहा एक साया सा दिखाइ दिया वैलेक ने पोज़िश्न ली फ़ायर किया ! उपर से साया गिरा जो कोइ औरत थी ये और कोइ नही वीरांगना 'उदा देवी' थीं जिन्होने अपना प्रतिशोध लेलिया था और वतन पर शहीद हो चुकी थीं ! उन्हों ने ३५ अंग्रेज़ सैनिकों को परलोक की राह दिखा दी थी ! किन्तु दलित होने के नाते उस वीरांगना को मनुवादीयों ने इतिहास में जगह नही दी ! १९८० से लोग उन्हें जानने लगे !
विश्व इतिहास में शायद ये पह्ले पति पत्नी हैं जो दोनों अपने देश के लिये शहीद होगये !
९ – महावीरी देवी – ये वीरांगना पश्चिमी उत्तर प्रदेश के मुज़फ़्फ़र नगर की थीं जिनके संबंध में कहीं कोइ चरचा नही ! लेकिन उनकी गाथा में अगरा की ये लोक गीत प्रस्तुत है !
" महावीरी भंगन के गनवा भैया गावत के परत !
सन ५७ के गदर में दी उसने कुरबानी !
अंग्रेज़ों के सामने उसने हार नही मानी !!"
एक दूसरी लोक गीत में उसका बखान ऐसा है –
" चमक उठी सन ५७ में वह तलवार पुरानी !
महावीरी भंगन थी ! बडी मरदानी !!"
इस वीरांगना को भी भारतिय इतिहास मे जगह नही मिल सकी , किन्तु लोगों के दिलों में आज भी सम्मान और आदर के साथ ये वीरांगना जीवित हैं !
१० – चेता राम जाटव – कहते हैं महाराजा पटियाला ने एक आदमी को देखा जो एक म्रित शेर को पीठ पर लादे चला आ रहा था शेर का बदन गर्म था उस आदमी के पास कोइ हथियार नही था पूछने पर पता चला कि उस आदमी ने ही बिना हथियार के शेर को मार गिराया है ! वह राजा की फ़ौज में शामिल होगया ये चेता राम जाटव थे जो बाद में गिरिफ़्तार होने पर पेड से बांध सूट करदिया गये थे ! इसप्रकार अपने देश के लिये शहादत पायी थी लेकिन इतिहास में इन्हें भी कोइ स्थान नही मिला ! हां उनकी कहानी आज भी लोगों में गूंजती है !
११ – बालू राम मेहतर – ये भी वीर बांके चमार के साथ और उन्के ही जैसा पेड से बांध कर शूट कर दिये गये ! इनके साथ बाकी १६ दलितों को पेड से लटका कर फ़ांसी दे दी गयी थी !
१२ – बाबू मंगू राम – जाति से चमार थे इनका जन्म १८८६ ग्राम मोगोवाल जिला होशियार पुर पंजाब मेंहुआ था ! देश के लिये जीवन पर्यंत संघर्षरत रहे विदेशों मे ठोकरें खाइ कइ बार शूट होने के हुक्म के पर्यंत जीवन पाया इनकी कहानी बहुत लंबी है ! 'आदि धर्म ' की स्थापना की !
१३ – उधम सिंग – ये भी दलित जाति कम्बोज से थे अनाथालय मे पले अग्रेज़ी भाषा किसी अंग्रेज़ की तरह बोलते थे मोहम्मद सिंग के नाम से Caxton Hall मे जलियां वाला बाग के पापी पजाब के गवर्नर जनरल डायर को गोली मारी और जलियां वाला बाग का बदला लिया जिसकी गांधी ,नेहरु और अनेक आर्यों द्वारा भर्तसना की गयी ! आज उनका नाम तो है किन्तु दिखावे के लिये !
इसके अतिरिक्त, जी डी तपसे, भोला पासवान, पन्ना लाल बरुपाल , सन्जिवय्या , रामचंद्र वीरप्पा ,सिदरन और लाखों दलित हैं जिन्हों ने स्वतंत्रता संगराम में अपने देश के लिये जान गवाइ ! खैर ये व्यक्तिगत विवरण था एक दो सामूहिक घटना की बातें भी हो जायें की वो पहलू भी शेष न रहे !
(१) आज़ादी की लड़ाई में चौरा- चौरी काण्ड एक मील का पत्थर है ,इसी चौरा- चौरी कांड के नायक थे रमापति चमार, इन्ही की सरपस्ती में हजारो दलितों की भीड़ ने चौरा-चौरी थाने में आग लगा दी थी जिससे 23 अंग्रेज सिपाहियों की जलने से मौत हो गई थी । इतिहासकार श्री डी सी दिन्कर ने अपनी पुस्तक ' स्वतंत्रता संग्राम में अछूतों का योगदान ' में उल्लेख किया है की – " अंग्रेजो ने इस काण्ड में सैकड़ो दलितों को गिरफ्तार किया । 228 दलितों पर सेशन सुपुर्द कर अभियोग चला। निचली अदालत ने 172 दलितों को फांसी की सजा सुनाई। इस निर्णय की ऊपरी अदालत में अपील की गई ,ऊपरी अदालत ने 19 को फाँसी, 14 को आजीवन कारावास , शेष को आठ से पांच वर्ष की जेल की सज़ा सुनाइ ! ।2 जुलाई 1923 को 18 अन्य दलितों के साथ चौरा-चौरी कांड के नायक रमापति को फांसी के फंदे पर लटका दिया गया ।
चौरा- चौरी कांड में फाँसी तथा जेल की सजा पाने वाले क्रन्तिकारी दलितों के नाम थे-
1- सम्पति चमार- थाना- चौरा, गोरखपुर, धारा 302 के तहत 1923 में फांसी
2- अयोध्या प्रसाद पुत्र महंगी पासी- ग्राम -मोती पाकड़, जिला, गोरखपुर , सजा – फाँसी
3- कल्लू चमार, सुपुत्र सुमन – गाँव गोगरा, थाना झगहा, जिला गोरखपुर, सजा – 8 साल की कैद
4 – गरीब दास , पुत्र महंगी पासी – सजा धारा 302 के तहत आजीवन कारावास
5- नोहर दास, पुत्र देवी दीन- ग्राम – रेबती बाजार, थाना चौरा-चौरी गोरखपुर, आजीवन कारवास
6 – श्री फलई , पुत्र घासी प्रसाद- गाँव- थाना चौरा- चौरी , 8साल की कठोर कारवास !
7- बिरजा, पुत्र धवल चमार- गाँव – डुमरी, थाना चौरा चौरी , धारा 302 के तहत 1924 में आजीवन कारवास
8- श्री मेढ़ाइ,पुत्र बुधई- थाना चौरा, गोरखपुर, आजीवन कारवास
इसके आलावा 1942 के भारत छोडो आंदोलन में मारने वाले और भाग लेने वाले दलितों की संख्या हजारो में हैं जिसमें से कुछ प्रमुख हैं-
1- मेंकुलाल ,पुत्र पन्ना लाल, जिला सीता पुर यह बहादुर दलित 1932 के मोतीबाग कांड में शहीद हुआ !
2- शिवदान ,पुत्र दुबर -निवासी ग्राम – पहाड़ी पुर मधुबन आजमगढ़ , इन्होंने 1942 के 15 अगस्त को मधुबन थाना के प्रात:10 बजे अंग्रेजो पर हल्ला बोला , अंग्रेजो की गोली से शहीद हुए।
इसके अलावा दलित अमर शहीदों का भारत अभिलेख से प्राप्त परिचय –
मुंडा, मालदेव, सांठे,सिंहराम, सुख राम,सवराउ, आदि बिहार प्रान्त से ।
आंध्र प्रदेश से 100 से ऊपर दलित नेता व कार्यकर्ता बंदी।
बंगाल से 45 दलित नेता बलिदान हुए आजादी की लड़ाई में ऐसे ही देश के अन्य राज्यो में भी दलितों ने आज़ादी के संग्राम में अपनी क़ुरबानी दी ।
(२) – २० जुलाइ १८५७ को अंग्रेज़ी सैन्य टुकडी उन्नाव से १० किमी० दूर मगरवारा गांव से कानपूर जाते समय , २००० पासियों ने पत्थर वर्षाते हुये उसका रास्ता रोका फ़ौज को रास्ता बदलना पडा ४ अगस्त को कानपूर से एक बडी सैन्य टुकडी सभी साजो सामान से फिर मगरवारा गांव से गुजरी पासियों ने फिर रास्ता रोका किन्तु इसबार सैन्य दल हर तरह का प्रबंध करके आया था फ़लस्वरूप २००० पासी अपने देश पर शहीद होगये कोइ भी जीवित नही बचा !
(३) हरबोला – ये भी दलितों में मदारी , बाज़ीगर ,नट बेवैरिया , सूत उपजातियां थीं जिसके लोग वगावत का संदेश जगह जगह गांव गांव ,घर घर गा कर या कहानी में गुप्त रूप से पहुंचाते थे !
इसके अतिरिक्त , चमार ,पासी,धोबी,खटिक, दुसाध, बसोर, धानुक, वाल्मिकि , कोरी,डोम , कोल ,धरिकार, खरबार. मुसहर , बेलदार , कंजरा , नट्, भुऐर ,घासी ,हवूदा, हारी, कलबाज ,कापडिया , कर कड . खैराहा ,अगरिया , वधिक , वाडी , भैंस्वार ,बजरिया , बजागी , वलहार , बंगाली ( ये सांप के चमडे और जडी बूटी बेचने वाले ) बांसफ़ोर, वरवार , वेदिया , भन्डू , बौरिया , लालबेगी, मज़हबी ( कहाडा) परिका , परडिया , पतरी , सहरिया , बहेलिया सनसिया , वलाइ बावैरिया सभी दलितों ने स्वतंत्रता संग्राम में भाग लिया अपनी जान देश के लिये कुर्बान किया !
किन्तु
अजीब बात है जब उच्च वर्ग के ज़मींदार और शिक्छित लोग धन, सम्मान या 'राय बहादुर' जैसी उपाधियां पाने या मूल निवासियों की ज़मीन हडपने के चक्कर में अंग्रेज़ों का सहयोग और चाटुकारिता कर रहे थे , जैसे बैकिम चंद्र चटर्जी जो १९ वर्ष की आयू में ग्रेजुएशन के बाद अंग्रेज़ों द्वारा डिप्टी मजिस्ट्रेट बना दिये गये और उन्होने अपने उपन्यास में कइ बार स्वीकार किया है कि "अंग्रेज़ हमारे मित्र है" ! रविंद्र नाथ टैगोर जो जार्ज पंचम के स्वागत समारोह के लिये 'जन गन मन' लिखे , मनुवाद का नुयायी 'तिलक' जो कहते थे कि ये तेली तंबोली संसद जाकर क्या हल चलाये गें ! माफ़ी वीर सावरकर जिसने ६ बार माफ़ी मांगी और रिहाइ के उपलक्छ 'बांटो और शासन करो 'के अंग्रेज़ों के असूल को सार्थक बनाने और अखंड भारत के पार्टीश्न में अहम भूमिका निभाइ , नाथू राम गोडसे जैसे बहुत से अन्य लोग वीर , धर्म वीर , देशभक्त , भारत रत्न , और जाने क्या क्या कहलाये , क्युं कि ये ब्रहमण थे मनुवादी थे , जबकि इसके विपरीत मूल निवासी जो केवल अपने देश भारत को अज़ाद कराने के लिये लिये भूखे प्यासे जंगल से लेकर शहरों , गावों में बिना किसी उपाधि ,बिना दौलत की लालच में लडते रहे और इसी कारण अंग्रेज़ों की घिर्णा ,शत्रुता, प्रकोप का शिकार भी होते रहे , अंग्रेज़ों की नज़र में क्रिमिनल कहलाये उनके लिये विशेषतः १८७१, १८९६ ,१९०१ ,१९०२, १९०९ ,१९११, १९१३ ,१९१४ ,१९१९ ,१९२४ क्रिमिनल एक्ट पास किये गये, फ़िर भी वो स्वतंत्रता संग्राम में भाग लेते रहे ,सर कटाते सूली पर चढते रहे , किन्तु उनका सवतंत्रता संग्राम और भारत निर्माण में कोइ भागीदारी होने से भी ब्रहमणवादियों मनुवादियों का इनकार किया अर्थ रखता है ! इसे समस्त दलित और मूल निवासियों को सोचना होगा !http://khabarkikhabar.com/archives/1859
Few names should not be ignore who were joined hand and faced criminal cases . Some left, but few sentensed.
Kunji s/o Sukhdev, Chamar , Govindpur
Janaki s/o Ramdeen, Chamar, Chaura
Mangaru s/o Nithuri , Chamar , Dumari Khurd
Tribeni s/o Bhual, Chamar .Dumari Khurd
Dudhai s/o Deviddin, Chamar, Dumari Khurd
Meghu s/o Dhauntal , Chamar , Chhabaila
Mendhai s/o Dhandhai , Chamar , Mansoorganj
Kalu s/o Mati , Chamar , Phulawaria Sattrohanpur
Neur s/o Ramphal, Chamar , Mangapatti
Sukhari s/o Devideen , Chamar , Gauri
Puranmasi s/o Gopal , Chamar , Dumari Khurd
Phalai s/o Suggan , Chamar ,Gauri
Somai s/o Chilar , Chamar , Gauri
Sukhram s/o Gauri , Chamar ,Gauri
Pirthi s/o Bhajan , Chamar , Motopakar
Panchu s/o Chotku , Kahar , Dumari Khurd
Jagarnath s/o Badari, Kahar
Mallu s/o Raghunath , Kahar , Motipakar
Sukhu s/o Parshad , Kahar , Pokharbhinda
Ugrah s/o Gaja Kahar, Pipraich.
Chirkut s/o Bhagelu , Kahar, Chauri
Trilok s/o Ram Charan, Kahar , Gauri
Sukhdev s/o Jitu , Kahar, Jangal Mahadeva
Bipat s/o Lakhan, Kahar, Chauri
Gokula s/o Parshad , Kahar, Gauri
Jakhar s/o Bishambhar, Kahar , Dumari Khurd
Kalicharan s/o Nirghin , Kahar Chaura
Ramdatt s/o Kumar , Kahar , Duumari Khurd
Sahdeo s/o Jitu , Kahar , Jangal Mahadeva
Changur s/o Sohan , Pasi, Bhagwanpur
Ramjas s/o Jagrup , Pasi , Ruddrapur
Rmeshwar s/o Ramphal , Pasi , Dumari Khurd
Munni s/o Ramphal , Pasi , Dumari Khurd
Nageswar s/o Ramphal , Pasi , Dumari Khurd
Chhattar s/o Gaya , Pasi , Pokharbhinda
Jamana s/o Motilal , Pasi , Rampur Raqba
Sheonarain s/o Dukhi , Pasi , Mangapatti
Sheobaran s/o Chotku , Pasi Phulwaria
Raghunath s/o Sheobaran , Pasi , Mangapatti
Karia s/o Gajadhar, Pasi , Pokharbhinda
Govind s/o Prag , Pasi, Pokharbhinda
Govardhan s/o Ram Bux , Pasi, Dumari Khurd
Jaddu s/o Mosai , Pasi , Pipraich
Sukhdeo s/o Musai , Pasi ,Dumari Khurd
Lalu s/o Ishari , Dhobi , Mangapatti
Tilakdhari s/o Kauri , Dhobi, Jangal Mahadeva
Idan s/o Mohiuddin , Julaha, Vishunpura
Mohabat s/o Badal , Julaha , Dumari Khurd
Nazar Ali s/o Jian Churikar, Dumari Khurd
Nazir s/o Jhingai, Dhunia , Behrampur
Prabhu s/o Imamuddin , Julaha, Ajodhyachak
Rasul s/o Ilahi , Julaha , Pipraich
Sahadat s/o Badai , Julaha , Dumari Khurd.
मूलनिवासी विशेषतः दलित स्वतंत्रता सेनानी!
१९४७ में आज़ादी प्राप्ति के पश्चात शासन, प्रशासन का पूरा तंत्र ब्रहमण मनुवादियों के आधीन हो जाने के कारण चाहे वह कांग्रेस की सरकार रही हो या RSS की राजनितिक शाखा BJP की, इतिहास के नाम पर वही लिखा गया जो ये मनुवादी या ब्रहमणवादी चाहते थे ! इनको ये सफ़लता मिलने का मुख्य कारण था , हज़ारों साल इनके ही द्वारा पीडित , आत्याचार भोगी ,निर्धन और अशिक्छित मूलनिवासी ,दलित समाज जिस्के लिये इन ब्रहमण मनुवादियों ने ६००० वर्षों पहले ही से शिक्छा की प्रप्ति वर्जित कर दी थी ! यहां तक कि वेदों का एक श्लोक सुनने के जुर्म में कानों मे गर्म सीसा पिलाने और उन्ही श्लोको के पढने के जुर्म में ज़ुबान काट लेने का फ़तवा दे रखा था ! ऐसे में दलितों को अपने आप को ही हीन भावना से देखने की मान्सिक्ता का बनना अपरिहार्य था ! वो शारीरिक ही नही मान्सिक गुलाम बन चुके थे ! हर कोइ सोच सकता है कि एक कुत्ता को अपने साथ रखने से ये मनुवादी पवित्र थे किन्तु अछूतों का मात्र साया भी पड जाने से अपवित्र हो जाते थे ! ऐसी स्थिति में वही हुआ जो होना था दलित समुदाय ने ये हार्दिक और मान्सिक तौर पर स्वीकार कर लिया था की हमारे जनम मरण का उद्देश्य ही इन मनुवादियों की दासता है ! इतिहास क्या है ,? भूगोल या सभ्यता या स्वाभिमान किस चिडिया का नाम है ? ये कुछ नही जानते थे और जान ने की चेष्टा पर मनुवादियों के घोर यातना से भयभीत थे ! फ़ल स्वरूप इतिहास के नाम पर वही लिखा गया जो ये मनुवादी चाहते थे , इस बीच दलित समाज में जो भी महापुरूष हुये जैसे महिसा सुर , रावण , शम्बोक ,एकलव्य , हिरण कस्प ,ज्योतिबा फ़ुले या रैदास जिन्में से कुछ को इन मनुवादियॊं ने असुर या रक्छस का घिर्णित नाम दिया ,किसी को गयान पाने के प्रयत्न और पूजा करने के गुनाह में गर्दन उडावा दिया ! या किसी दूसरे कुंठित षणयंत्र से उनकी जीवन लीला ही समाप्त कर दी गयी इस प्रकार उन दलित महा पुरुषों की आवाज दबा दी गयी ! मनुवादियों का भय और डर का निशान, दलित समुदाय के दिलों में और गहरा होता गया ! इन मनुवादियों को मन मानी छूट पाने में सफ़लता मिलती रही ! दलितों दवारा किया गया कोइ भी कार्य इतिहास के पन्नों में नही आने दिया गया ! प्रस्तुत है १९९७ में छपने वाली एक Booklet ' Sepoy Mutiny 1957-58 and Indian Perfidy (बेइमानी) जिसके प्रीफ़ेस में एक बंगाली दलित IAS अधिकारी लिखता है " भारतिय इतिहास को भारतिय उच्च वर्ग के शिक्छित लोगों ने बिल्कुल एक नया मोड दे दिया है जिसमें सत्य को कालीन के नीचे सुला दिया गया है कि वह कभी रोशनी या प्रकाश में न आसके ! उच्च वर्ग के ज़मीदारों की पूरी सहानुभूति अंग्रेज़ों के साथ थी "
जबकि 'दलित फ़्रीडम फ़ाइटर ' का लेखक पन्ना क्रमांक ३६ पर स्वीकार करता है कि " ये सत्य है कि निम्न समुदाय के बहुत सारे लोगों ने असहयोग ,अंग्रेज़ों भारत छोडो , इत्यादि आंदोलनों में अपना अभूतपुर्व सहयोग दिया और जान गंवाइ , किन्तु यश और प्रसिद्धि उच्च वर्ग के हिस्से में आयी क्युं कि वही लोग इन आंदोलनों के संगठन करता थे !" ऐसे बहुत से बुद्धजीवियों के कथन, उदाहरण में प्रस्तुत किये जा सकते है !
जो भी हो, इतिहास का बदलना भी प्रकिर्ति का एक अटल नियम है ! दलितों में भी एक युग पुरुष ,महामानव का अवतार हुआ जिस के बिना दलित समुदाय ही नही भारत का इतिहास अधूरा है, संसार उसे डा० बाबा साहेब भीम राव अंबेडकर के नाम से जानता है जिन्होंने इतिहास बदल डाला और अपने अथक प्रयास व लगन से दलित समुदाय को नयी जाग्रिति , चेतना के साथ स्वाभिमान की नयी ज़िंदगी दी ! शिक्छा के क्छेत्र में आगे बढता हुआ दलित समाज , शासन ,प्रशासन में जब अपने अधिकारों और भागीदारी का प्रश्न उठाया तो मनुवादियॊं के सीने पर सांप लोटने लगा ! उन्होने अज़ादी प्राप्ति के संदर्भ में दलित समाज को उलाहना दी ताने मारे , और महात्मा गांधी से अपने घोर विरोधी व दलितों के मसीहा डा० बाबा साहेब की अनबन को अधार बना कर आज़ादी के लडाइ में असहयोग का इलज़ाम लगा दिया कि दलित अपने लिये किसी भी प्रकार की भागीदारी का मुतालबा न कर सकें ! बात उस समय खुल कर आयी जब RSS के तत्वाधान में उसके करता धरताओं ने एक सोचे समझे प्लान के तहत , मूल निवासियों ,दलितों .अछूतों के द्वारा स्वतंत्रता संग्राम या भारत निर्माण के किसी मुख्य या अमुख्य किसी भी प्रकार में किये गये अविस्मरणीय कार्यों को मिटाकर मनुवादियों पर आधारित , ब्रहमणवाद के गुणगान में अपनी मन मरज़ी नये इतिहास की रचना के लिये All India History Compilation Project नामक १९९९ में एक कमेटी बनाइ ! जिसकी बैठक १७ से १९ जुलाइ को इलाहाबाद में हुयी ! इस बैठक में दलितों के इतिहास को लिखने से दामन बचाने व उनके इतिहास को ही समाप्त कर देने के लिये एक सोची समझी रणनीति के तहत 'मोरेश्वर नीलकंठ पिंगले' दावारा ये कहा गया कि शुद्र ग्वाला ,घूमन्तर जातियों और आदिवासीयों का इतिहास लिखना भारतिय समाज में समस्याओं का जनक और घिर्णा का सूत्रपात होगा ! अजीब बात और अजीब तर्क था इस प्रकार वह भारत के निर्माण में , भारत के स्वतंत्रता संग्राम में दलितों की मुख्य या अमुख्य किसी भी भूमिका को नकार रहे थे ! उनके द्वारा तर्क में ये कहा जा रहा था दलित समुदाय हमेशा से सुस्त , काहिल, पढाये जाने योग्य या नौसिखुआ या दूसरे शब्दों मे अशिक्छित और अयोग्य था इसलिये वो कैसे १९५७ के स्वतंत्रता संग्राम में सक्रिय और कुशल भूमिका निभा सकते हैं ?, किन्तु RSS और BJP वाले भूल गये कि जब कपडा , और प्रतिदिन के जीवन में उप्योग होने वाली बस्तुयें ब्रिटेन से आयात की जाने लगीं तो उसका प्रभाव इन दलित जातियों पर ही पडा जैसे जुलाहे , लोहार बढइ और दूसरी दलित जातियां बेरोजगार होगयी उन का दैनिक जीवन तबाह होगया और अंग्रेज़ उनको अपना सबसे बडा शत्रु नज़र आने लगे परिणाम स्वरूप उन्होनें १८५७ के स्वतंत्रता संग्राम में सक्रिया भूमिका निभाइ ! साथ ही १७५७ के पलासी युद्ध का हवाला देकर RSS और BJP के उच्चस्तरीय लोगों द्वारा दलितों को Anti national (देशद्रोही) सिद्ध करने के लिये ये भी कहा गया कि पलासी युद्ध में दलित बहेलिया और दुसाधों ने अंग्रेज़ फ़ौज और गवर्नर जनरल लार्ड क्लाइव का साथ दिया था ! जिस पर उस समय के U.P. के राज्य पाल जो स्वयं शुद्र थे सूर्य भान , उन RSS और BJP वालों पर भडक उठे , यहां तक कि अपशब्दों का भी प्रयोग किया ! उन्हों ने कहा " जिस रामायण का तुम लोग पाठ करते हो जिस राम और सीता की तुम पूजा करते हो वह एक दलित'वाल्मिकि' की देन है !" (संदर्भ के लिये जिसको चाहिये Dalit freedom fighter नामक पुस्तक में ये देख सकता है !)
यही कारण थे कि दलितों को अपने अस्तित्व जो मनुवादियों द्वारा मिटा दिया गया था ,इतिहास के पन्नों से समाप्त कर दिया गया था , को ढूढने की आवश्यक्ता आन पडी ! उन्होने अधिक तो नही किन्तु कुछ हद तक इसमें सफ़लता भी पायी और आज भी स्वतंत्रता सेनानियों ,भारत के निर्माण में अहम भूमिका निभाने वाले अपने , महापुरुषों वीरों और वीरांगनाओं को भारतिय समाज और इतिहास से परिचित कराने में व्यस्त हैं ! मै उनकी इस महान और पवित्र कार्य का आदर व सम्मान करता हूं !
Dariki Dasi Baruah
She was actively involved in the Civil Disobedience Movement and was one of the leading members of the anti-opium campaign. She was arrested on February 1, 1932, and jailed for six months for anti-opium picketing. She was pregnant at the time of imprisonment. She refused to take conditional release from jail. Eventually, she fell sick and died in the jail on April 26, 1932.
Dhanaji Jadhav (1650–1708) was a warrior of the Maratha Empire. Along with Santaji Ghorpade he made terrifying campaigns against Mughal Army from 1689 to 1696. After Santaji, Dhanaji became the chief of the Maratha army in 1696 and remained on the post until his death in 1708.
Background
Dhanaji was born in or around 1650, to the Maratha family from Sindh khed to Santaji Jadhav. Dhanaji was brought up by Shivaji's mother Jijabai after assassination of Dhanaji's grandfather Achloji, who was Jijabai's brother. Santaji's son Shambhu (Sambhaji) also was brought up by Jijabai with her son Shivaji after Santaji's martyrdom at the Battle of Pavan Khind with Baji Prabhu Deshpande
Early career
At an early age, Dhanaji joined Maratha army under Shivaji's Military Chief Prataprao Gujar. In the battles at Umbrani and Nesari, Dhanaji's performance attracted attention of Shivaji for the first time. He was named by Shivaji on his death bed among six pillars of Maratha Empire who would save the kingdom in hard times. They would end up with success in the 27 Years War between Mughal forces of Aurangzeb and the Maratha forces.
Later career and death
In November 1703, Aurangzeb opened talks with Dhanaji through his son Kambaksh to handover Shahu to him. The talks, however, could not succeed due to the so-called extravagant demands by Dhanaji made on behalf of the Maratha king. In 1705, Maratha army containing about 40,000 soldiers headed by Dhanaji, Dado Malhar and Rambhaji Nimbalkar smashed into Surat and looted entire region of Gujarat up to Bharuch. Dhanaji also vanquished the Mughal army under Nazar Ali, the Nawab of Baroda, at Ratanpur and brought huge treasure to Maharashtra.
In 1708, with mediation by his assistant Balaji Vishwanath, who would later become Peshwa in 1713, Dhanaji left Tarabai and joined hands with Shahu at Khed. Soon thereafter he died, because of leg injury, in Vadgaon (Kolhapur). Subsequently, his son Chandrasen Jadhavrao was placed on his post.
Dariki Dasi
Dariki Dasi, Golaghat : Took active part in 1930 Civil Disobedience movement - an active anti-opium worker - arrested and jailed for anti-opium picketing - she was pregnant at the time of imprisonment - refused to take conditional release from jail - fell ill and died in the jail hospital at Sibsagar on 26.4.1932.
Duvvuri Subbamma
Memorial to Duvvuri Subbamma in the Freedom Park in Rajahmundry, India
Born 15 November 1881
Died 31 May 1964 (aged 82)
Biography
Subbamma was born in 1880 in Daksharamam, East Godavari district, Andhra Pradesh. A child bride, she was married at the age of ten. She was widowed at a very young age. After her husband's death, she took up activism and joined the Quit India Movement against the British Raj. She took part in the civil disobedience movement and strongly advocated total freedom from British rule in India.
In 1922 she organized the women's congress committee. In 1923 she organized a meeting in Kakinada, Andhra Pradesh, where hundreds of women volunteers attended the Kakinada Congress Mahasabha. Subbamma organized Andhra Mahila Sabhas that trained and educated women in the national freedom movement and was instrumental in galvanizing support of the women in the Indian independence movement. She extensively traveled throughout Andhra Pradesh promoting women's empowerment.
Together with other activists like Nadimpalli, Sundaramma helped set up the Goteti Manikyamba, Andhra Mahasabha, and T. Varakshmamma organizations. Subbamma was arrested and incarcerated in the Rajahmundry prison for one year due to her activities on behalf of the civil disobedience movement. She also spent a year in the Rayavellore prison for taking part in the Salt March. She aggressively spoke out and worked for the abolition of untouchability in India.
She is memorialized with a bust in the Freedom Park in Rajahmundry.
Dheeran Chinnamalai
From Wikipedia, the free encyclopedia
Dheeran Chinnamalai Gounder
Statue of Dheeran Chinnamalai Gounder at Odanilai
Died 31 July 1805 (aged 49)
Dheeran Chinnamalai Gounder (17 April 1756 – 03 August 1805) was a Tamil chieftain and Palayakkarar of Kongu Nadu belong to the Kongu Vellala gounder community who fought against the British East India Company.
Early life
Dheeran Chinnamalai was born on 17 April 1756 in Melapalayam, Kangeyam near Erode, Tamil Nadu. His birthname was Theerthagiri Gounder.
Polygar wars
Dheeran Chinnamalai Gounder was one of the main commanders in the Polygar Wars, notably during the Second Polygar War that took place in 1801–1802. He was trained by French military in modern warfare alongside Tipu Sultan to fight against the British East India company and helped in victories against the British at Chitheswaram, Mazahavalli and Srirangapatna.
After Kattabomman and Tipu Sultan's deaths, Chinnamalai sought the help of Marathas and Maruthu Pandiyar to attack the British at Coimbatore in 1800. British forces managed to stop the armies of the allies and hence Chinnamalai was forced to attack Coimbatore on his own. His army was defeated and he escaped from the British forces.[2] Chinnamalai engaged in guerrilla warfare and defeated the British in battles at Cauvery in 1801, Odanilai in 1802 and Arachalur in 1804.
Death
Chinnamalai was betrayed by his cook Nallapan and was captured by the British sepoys in 1805.[2] He was hanged at Sankagiri Fort along with his two brothers on 31 July 1805 on the day of Aadi Perukku.
Dheeran Chinnamalai memorial at Sankagiri
Statues and memorials commemorating Dheeran Chinnamalai exist in Chennai, Tiruchirappalli, Erode and Odanilai. On 31 July 2005, a commemorative postage stamp commemorating him was released by India Post.
Until 1997, Tiruchirapalli division of Tamil Nadu State Transport Corporation was known as Dheeran Chinnamalai Transport Corporation. Until 1996, Karur district was known as Dheeran Chinnamalai district. The headquarters of Erode Municipal Corporation are named after him.
दिलावर खान
दिलावर खान जिसने अपने अकेले दम पर अंग्रेज़ो के छक्के छुड़ा रखे थे अंग्रेज़ सरकार ने ईनाम भी रखा और मीर क़ासिम जैसे कई मुख़बिर भी छोड़ रखे थे ताकी किसी भी सूरत दिलावर खां को गिरफ़्तार किया जा सके क़्योकी सरकार का अफ़सरों पर दवाब बहुत था।
दिलावर खां के तआक़ुब में अंग्रेज़ फौज जंगलो की ख़ाक छानती फिर रही थी, इसी सिलसिले में एक जंगल में ख़ेमा लगा रखा था सर्द रात थी कमांडर अपने खे़मे में सोने के लिये चला गया ख़ेमे के बाहर दो मुस्सलाह फौजी पहरा दे रहे थे रात गहराती जा रही थी तभी बहुत दूर से घौड़े कि टापों की आवाज़ माहौल के सन्नाटे को चीरती हुई ख़ेमे के बाहर खड़े सिपाहीयों के कानो तक पहुंच रही थी दोनो एक पल में ही चौकन्ना हो गए।
जबकी कमांडर गहरी नींद में सो रहा था धीरे धीरे वो आवाज़ करीब आती जा रही थी जिससे मालूम होता था की घुड़सवार कि मंज़िले मकसूद वो ख़ेमा ही थी, अगले ही पल वो बर्क़ रफ़्तार घुड़सवार तूफ़ान की तरह उनके सर पर मुस्सलत था, उंचे घोड़े पर ऊंंची क़द ओ कामत का शख़्स जिसने खुद को चादर में लपेट रखा था और कंधे पर टंगी बंदूक उसकी हिम्मत की गवाही दे रही थी।
दोनो पहरेदारो पर एक दम ख़ौफ़ तारी हो गया पूछा कौन हैं और क्या चाहता है तभी घुड़सावर ने बेहद पथरीली और सख़्त आवाज़ में अपना तआरुफ़ कराते हुए कहा की वो उनके कमांडर का मुख़बिर है और दिलावर खां के बारे में बहुत अहम जानकारी कामंडर को देना चाहता है, तभी एक पहरेदार अंदर गया और कमांडर को सूरत ए हाल बताया तो कमांडर ने फौरन उस घुड़सवार को अंदर तलब किया और पहरेदार को अंदर ना आने पर पाबंद किया।
पहरेदार का इशारा पाकर घुड़सवार अंदर दाख़िल हो गया बिना कुछ कहे अपनी बंदूक की नाल उस अंग़्रेज़ कमांडर की गर्दन पे रख थी, कमांडर समझदार था वक्त की नज़ाक़त देखते हुए खामोश रहने मे ही अपनी भलाई समझी, हिम्मत करके कमांडर ने कंपकपाते हुए कहा क्या चाहते हो तो घुड़सवार ने कहा की मेरी बंदूक में सिर्फ़ आख़िरी गोली बची है और मुझे कारतूस चाहिये वरना इस आख़िरी गोली को तुम्हारा मुक़द्दर कर दुंगा।
कमांडर ने बिना कोई दूसरा सवाल दोहराए पूरी मैगज़ीन उस ऊंचे और चोड़ी छाती वाले घुड़सवार के हवाले करदी, घुड़सवार ने अपना मक़्सद पूरा होते ही घोड़े को ऐड़ लगाई तभी कमांडर ने पूछा ये तो बताते जाओ तुम कौन हो,तो घुड़सवार ने अपने चेहरे से नकाब हटाया और कमांडर से कहा "दिलावर खान" और फिर कुछ ही पल बाद ख़ेमे के बाहर सिर्फ दिलावर के घोड़े की टापो से उड़ता हुअा गुबार ही बाक़ी था और कमांडर बहुत दूर तक उसे ताकता रहा, तभी एक पहरेदार ने पूछा हुज़ूर कौन था ये....
कमांडर ने जवाब दिया एक 'बहादुर'...
Gouranga Charan Das
From Wikipedia, the free encyclopedia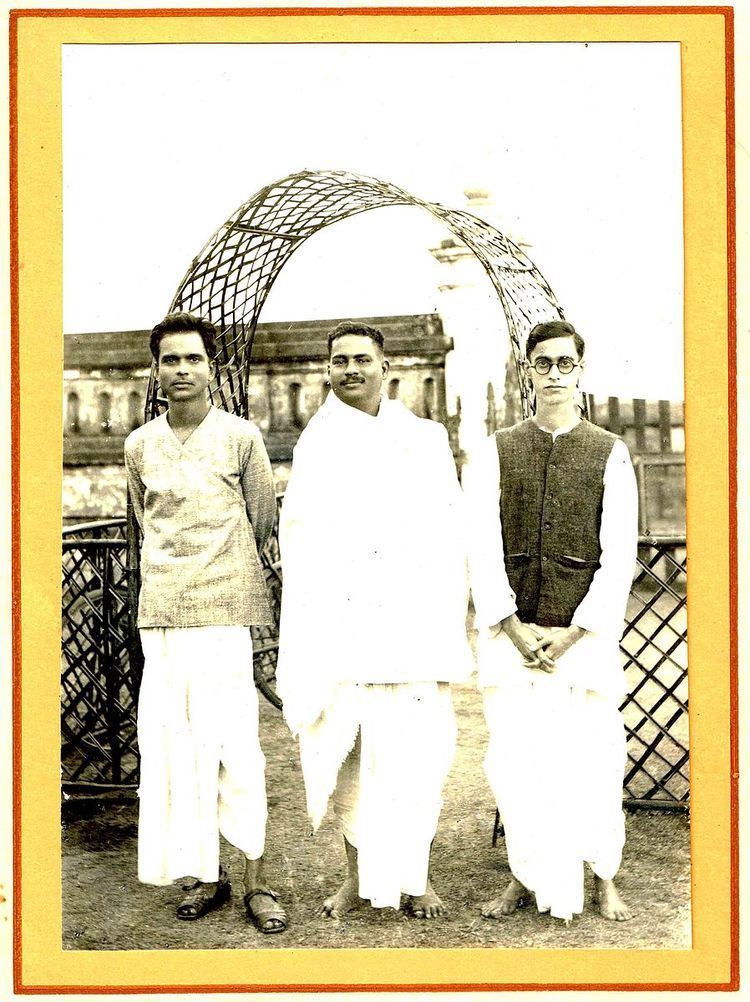 Gouranga Charan Das
Born 26 January 1899
Died 19 February 1972
Other names Gouri Bhai
Gouranga Charan Das (1899–1972)
was a
Gandhian
freedom fighter, and leader of the socialist Kissan Movement and Gadajat Praja Andolon in
Odisha
.
Biography
Gouranga Charan Das was born in Bagalpur in the then district of
Cuttack
(now Jagatshingpur district) in
Odisha
on 26 January 1899. He was physically handicapped by birth with his right hand critically crippled. In his early youth he was inspired by
Mahatma Gandhi
's call and joined the Freedom Movement. He was jailed many times for his participation in the freedom struggle.
He had started his first journey to jails on 13 April 1930 by leading the salt movement at Inchudi. He was imprisoned for more than six years by the British authorities for joining Salt movement, Byakti satygraha and
Quit India movement
. Quit India movement eighteen freedom fighters from his village Bagalpur were imprisoned and thousands of people joined in the struggle under his leadership. He was deeply involved with Charakha movement. He was one of the stalwart organizers of Congress socialist party with
Nabakrushna Choudhuri
and Bhagabati Charan Panigrahi. He was the man who made history by changing aristocrat Karans of his village to allow Harijans into the famous Dadhibamanjew temple.
He had been elected uncontested to Orissa Assembly in 1946 and was Chairman of Cuttack Zilla Parishad from 1961 to 1967. Simple in nature but strong in decision, the Legendary
Gandhian
breathed his last on 19 February 1972. His only son
Shashi Bhusan Das
was also his fellow traveller and imprisoned in British jail by joining in the freedom movement. Both father and his son had together staked their lives out in cause of the country and had emerged as formidable force against not only the British, but also against the local oppressors that were in nexus with the British.
गंगू मेहतर
1857 की क्रांति का एक गुमनाम नायक जिससे अंग्रेज़ आज भी नफ़रत करते हैं।
teamht
गंगू मेहतर विट्ठुर के शासक नाना साहब पेशवा की सेना में नगाड़ा बजाते थे। गंगू मेहतर को कई नामों से पुकारा जाता है। भंगी जाति के होने से गंगू मेहतर तो पहलवानी का शौक़ होने की वजह कर गंगू पहलवान के नाम से पुकारा जाता था।
सती चौरा गांव में इनका पहलवानी का अखाड़ा था, कुश्ती के दांव पेच एक मुस्लिम उस्ताद से सीखने के कारण गंगूदीन नाम से पुकारे जाने लगे और लोग इन्हें श्रद्धा प्रकट करने के लिए गंगू बाबा कहकर भी पुकारते थे।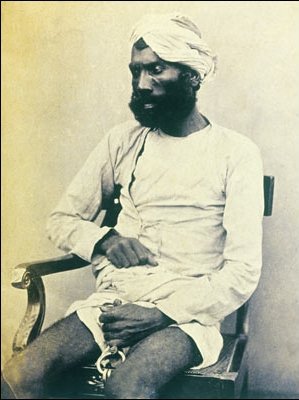 Heritage Times@HeritageTimesIN
#HeroOf1857
Indian Mutiny Rebel Gungoo Mehter who was tried at Kanpur for killing many of the #SatiChaura survivors, including many women and children. He was convicted and hanged at Kanpur on 8 September 1859.
#GungooMehter
#SepoyMutiny
#IndianRebellion
#UprisingOf1857
गंगू मेहतर के पुरखे जिले कानपुर के अकबरपुरा गांव के रहने वाले थे। उच्चवर्णों की बेगार, शोषण और अमानवीय व्यवहार से दुखी होकर इनके पुरखे कानपुर शहर के चुन्नी गंज इलाके में आकर रहने लगे थे।
1857 की लडा़ई में इन्होने नाना साहब की तरफ़ से लड़ते हुए अपने शागिर्दों की मदद से सैंकड़ो अंग्रेज़ों को मौत के घाट उतारा था। और इस क़त्ल ए आम से अंग्रेज़ी सरकार बहुत सहम सी गई थी। जिसके बाद अंग्रेज़ों ने गंगू मेहतर जी को गिरफ़्तार करने का आदेश दे दिया। गंगू मेहतर अंग्रेज़ों से घोड़े पर सवार होकर वीरता से लड़ते रहे। अंत में गिरफ़्तार कर लिए गए। जब वह पकड़े गए तो अंग्रेज़ों ने उन्हे घोड़े में बाँधकर पूरे शहर में घुमाया और उन्हें हथकड़ियाँ और पैरों में बेड़ियाँ पहनाकर जेल की काल कोठरी में रख दिया और तरह तरह के ज़ुल्म किये।
गंगू मेहतर पर इलज़ाम था के इन्होने कई महिलाओं और बच्चों का क़त्ल किया था; पर ये बात प्रोपेगंडा का हिस्सा भी थी, क्युं के अंग्रेज़ों ने उस समय मिडीया का भरपूर उपयोग प्रोपेगंडा के लिए किया था! बहरहाल गंगू मेहतर को फांसी की सज़ा सुनाई जाती है। उसके बाद कानपुर में इन्हे बीच चौराहा पर 8 सितम्बर 1859 को फाँसी के फंदे पर लटका दिया जाता है। लेकिन दुर्भाग्यवश भारत के इतिहास में इनका नामो निशान नही है। यह नाम जातिवाद के कारण इतिहास के पन्नों में कहीं सिमट सा गया है।
शहीद गंगू मेहतर अपनी अंतिम सांस तक अंग्रेजों को ललकारते रहे : "भारत की माटी में हमारे पूर्वजों का ख़ून व क़ुर्बानी कि गंध है, एक दिन यह मुल्क आज़ाद होगा।"
एैसा कहकर उन्होंने आने वाली पीढ़ियों को क्रान्ति का संदेश दिया और देश के लिए शहीद हो गए। कानपुर के चुन्नी गंज में इनकी प्रतिमा लगाई गई है। और यह तस्वीर कानपुर के सिविल सर्जन जॉन निकोलस(1818-1889) ने गंगू मेहतर(1859) को फांसी दिये जाने से पहले लिया था।
Sanjay Gupta
#_क्रान्तिवीर_भंगी_गंगू_मेहतर गंगू मेहतर को कई नामों से पुकारा जाता है । भंगी जाति के होने से गंगू मेहतर, पहलवानी का शौक होने से गंगू पहलवान, सती चौरा गांव में इनका पहलवानी का अखाड़ा था, कुश्ती के दांव पेच एक मुस्लिम उस्ताद से सीखने के कारण गंगूदीन और लोग इन्हें श्रद्धा प्रकट करने के लिए गंगू बाबा कहकर भी पुकारते हैं । गंगू मेहतर के पुरखे जिले कानपुर के अकबरपुरा गांव के रहने वाले थे । उच्चवर्णों की बेगार, शोषण और अमानवीय व्यवहार से दुखी होकर इनके पुरखे कानपुर शहर के चुन्नी गंज इलाके में आकर रहने लगे थे । कानपुर में जन्मे ग़दर के जाबांज गंगादीन मेहतर जिन्हें गंगू बाबा के नाम से भी जाना जाता है । गंगू बाबा एक उच्च कोटि के पहलवान भी थे । वह 1857 में अंग्रेज़ों के विरुद्ध सतीचौरा के करीब वीरता से लड़े । 1857 की लडा़ई में इन्होने 200 अंग्रेजों को मौत के घाट उतारा था । और 200 अंग्रेजो की मौत के कारण अंग्रेजी सरकार बहुत सहम सी गई थी । अंग्रेजी कुत्तों ने गंगू मेहतर जी को गिरफ्तार करने का आदेश दे दिया । और अंग्रेज़ कुत्ते की तरह इनके पीछे लग गए और वीर गंगू मेहतर जी अंग्रेजों से घोड़े पर सवार होकर वीरता से लड़ते रहे । अंत में गिरफ्तार कर लिए गए । जब वे गिरफ्तार हुए उनको हथकड़ियाँ और पैरों में बेड़ियाँ पहनाकर जेल की काल कोठरी में रखा गया था और कड़ा पहरा लगा दिया गया था । उसके बाद कानपुर में इन्है बिच चौराहा पर #_8_सितंबर_185 फाँसी दे दी गई । लेकिन दुर्भाग्यवश भारत के इतिहास में इनका नामो निशान नही है । यह नाम जातिवाद के कारण इतिहास के पन्नों में कहीं सिमट सा गया है । अंतिम सांस तक अंग्रेजों को ललकारते रहे,, "भारत की माटी में हमारे पूर्वजों का खून व कुर्बानी कि गंध है, एक दिन यह मुल्क आजाद होगा ।" ~शहीद सिरोमणी गंगू मेहतर जी ऐसा कहकर उन्होंने आने वाली पीढ़ियों को क्रान्ति का संदेश दिया और देश के लिए शहीद हो गए । कानपुर के चुन्नी गंज में इनकी प्रतिमा लगाई गई है । वहां इनकी स्मृति में हर वर्ष मेला लगता है । लोग श्रद्धा सुमन अर्पित करते हैं ।। इंकलाब जिन्दाबाद ।। इस तस्वीर कानपुर के सिविल सर्जन जॉन निकोलस का जिन्होंने गंगू मेहतर को फांसी देने के पहले ये तस्वीर लिया था । ~आजाद
"भारत की माटी में हमारे पूर्वजों का खून व कुर्बानी कि गंध है, एक दिन यह मुल्क आजाद होगा।"-स्वतंत्रता सेनानी गंगू मेहतर (5.6.1858)
गुण्डाधुर



कैसे और क्यों शुरू हुआ भूमकाल विद्रोह,



मुरिया विद्रोह के अंत होने के बाद राजा भैरमदेव ने बस्तर पर राज किया, बस्तर की जनता को भैरमदेव पसंद नही थे, कुछ विद्रोहो के बाद बिल्कुल भी नही, उन्हें भैरमदेव के भाई कालेन्द्र सिंह पसंद थे। सम्पूर्ण बस्तर भैरमदेव से ज्यादा कालेन्द्र सिंह का सम्मान करती थी, वे उस समय बस्तर के दीवान थे और आदिवासिओ पर प्रेम प्राप्त करने वाले वे एक मात्र सफल दीवान थे।

राजा भैरमदेव की 2 पत्नियां थी, किन्तु राजा का कोई पुत्र प्राप्त नही हुआ था, तो कालेन्द्र सिंह अपने आप को भावी राजा के रूप में देखते थे। राजा भैरमदेव के अंतिम दिनों में उन्हें पुत्र की प्राप्ति हुई, जो कालेन्द्र सिंह को राजा बनने में एक बाधा प्रतीत हुई तो उन्होंने कुछ आदिवासी नेताओ को बुला कर यह अफवाह फैला दी कि कुंवर रुद्र प्रताप सिंह में राजा के अंश नही है और वे राजा बनने के योग्य नही है, जिसका समर्थन राजा की दूसरी पत्नी ने किया। इस बात से आदिवासिओ में रुद्र कुंवर के प्रति नफरत पैदा कर दी गई। राजा के अंतिम दिनों और परिस्तिथियों को देखते हुए किशोर रुद्र प्रताप को राजा घोषित कर दिया गया और इस बात से आहत होकर कालेन्द्र सिंह ने राजा के खिलाफ षड्यंत्र रचना चालू कर दिया।

राजा होने में बावजूद रुद्र प्रताप, कालेन्द्र सिंह से डरते थे। इस डर को मिटाने में लिए उन्होंने अपने पिता की तरह अंग्रेजों से हाथ मिला लिया और कालेन्द्र सिंह को दीवान पद से हटा दिया और पंडा बैजनाथ को नया दीवान बना दिया जो अंग्रेजों के चापलूस थे। इस फैसले ने आदिवासिओ को राजा के विरुद्ध जाने पर मजबूर कर दिया और विद्रोह को चिंगारी दी। इन परिस्थितियों का फायदा उठाते हुए कालेन्द्र सिंह ने भूमकाल की भूमिका रची और उन्होंने नेतानार गांव के एक उत्साह से भरे युवक जिसे बाहरी लोगों से नफरत थी , गुण्डाधुर को युद्ध के नेतृत्व की लिए चुना। और आगे की रणनीति तैयार की।

एक उम्दा रणनीतिकार नेतानार का युवा गुण्डाधुर,

राजा और अंग्रेज के खिलाफ गुण्डाधुर ने अलग-अलग जनजातियों से नेता चुन कर पूरे बस्तर को एक धागे में बांध दिया। इन नेताओं ने संगठन बनाये जो सभी जगह से विद्रोह का नेतृत्व कर सके, जिसमे डेब्रिधुर, सोनू माझी, मुंडी कलार, मुसमी हड़मा, धानु धाकड़, बुधरु और बुटुल थे जो गुण्डाधुर के विश्वसनीय थे। इन्होंने गांव-गांव जा कर लोगो को एकत्रित किया। विरोध चिन्ह के रूप में डारा-मिरी को उपयोग किया गया, जिसमें आम की टहनी पर लाल मिर्च को बांध दिया जाता था।

जनवरी 1910 में ये सारे संगठन सक्रिय हो चुके थे। 2 फरवरी 1910 को पुसपल के बड़े बाजार में बाहरी व्यपारियो को मारा गया, 5 फरवरी को पूरा बाजार लूट लिया गया और आदिवासियों में बटवा दिया गया। गुण्डाधुर ने ऐसे बहुत बाजार को लुटवा कर बटवा दिया। 13 फरवरी तक लगभग दक्षिण-पश्चिम बस्तर गुण्डाधुर के समर्थकों के कब्जे में थी। नेतानार का एक साधारण युवा अद्भुत संगठन करता सिद्ध हुआ। ये बात अंग्रेजो तक पहुच चुकी थी, अंग्रजो में सैन्य टुकड़ी के साथ कप्तान गेयर को राजा और दीवान की मदत के लिए भेजा। राजा, पंडा बैजनाथ और गेयर ने सभी आदिवासिओ को शांत करने की नीतियां बनाई।

22 फरवरी को एक विरोध में 15 मुख्य क्रांतिकारी नेता गिरफ्तार किये गए, परंतु अंग्रेज सैनिक गुण्डाधुर को पकड़ना छोड़ उनका चेहरा भी नही देख पाए। कप्तान गेयर को गुण्डाधुर के साहस का अनुमान हो गया था। गेयर ने बस्तर की माटी की कसम कहते हुए सारे अत्याचार को खत्म करने की घोषणा की, जो अंत मे एक छलावा निकला ताकि वे गुण्डाधुर और उनके समर्थक को पकड़ सके। इसके बाद विद्रोह और बढ़ गया, महीनों तक गुण्डाधुर ने हर छोटी- बड़ी लड़ाइयों का नेतृत्व खुद किया, गेयर ने गुण्डाधुर को पकड़ने के कड़े निर्देश दिए। यह लड़ाइयों का क्रम काफी दिनों तक यूँ ही चलता रहा। करीब 14-15 लड़ाइयों में विजयी होने के बाद गुण्डाधुर ने कप्तान गेयर पर हमला कर दिया पर गेयर छिप कर भाग निकला

राजा,अंग्रेज,दीवान और अंग्रेजी सैनिक गुण्डाधुर के नाम से कांप उठते थे। पहली बार महीनों तक किसी आदिवासी ने अंग्रेजी रणनीतियों को भेदते हुए अपना परचम लहराया था।

24 मार्च 1910 को गुण्डाधुर और उनके समर्थक नेतानार में सारे लड़ाइयों का उत्साह मनाने के लिए एकत्रित हुए। सोनू मांझी जो गुण्डाधुर के विश्वनीय थे, उसे अंग्रजो ने पैसे और सत्ता के लालच में खरीद लिया था। सभी आदिवासी युद्ध से थक चुके थे, भर पेट भोजन और महुवे के नशे में अपना संयम खो चुके थे। तब सोनू मांझी ने मौके का फायदा उठाते हुए, सारी जानकारी गेयर को दे दी। 25 मार्च को सुबह बहुत मात्रा में अंग्रेज सैनिक बदुको के साथ नेतानार के तरफ बढ़ गए , और शुरुवाती कस्बो में आदिवासियों पर गोली चलाना चालू कर दिया, गोलियों के आवाज़ ने गुण्डाधुर को सचेत कर दिया और वे बाकी लोगों को सचेत करने लग गए परंतु कोई धनुष-बाण छोड़ खुद खड़े होने लायक नही थे। गुण्डाधुर ने अपनी तलवार उठायी और घने जंगलों की ओर बढ़ गए , वे जानते थे कि उनके पकड़े जाने से महान भूमकाल का पूर्ण अंत हो जाएगा।



गेयर ने सभी आदिवासिओ पर देखते ही गोली चलाने और प्रमुख नेताओं को बंदी बनाने का हुक्म दिया। 21 माटी पुत्र शहीद हो गए, डेब्रिधुर और उनके प्रमुख 7 क्रंतिकारी को बंदी बना लिया गया जिसमें माड़िया मांझी भी शामिल थे , जिन्हें कुछ दिन बाद नगर के बीच इमली के पेड़ पर फांसी दे दी गयी। जिससे भूमकाल शांत हो चुका था।
क्या हुआ भूमकाल की शांति के बाद ?



इन सारी घटनाओ के बाद कालेन्द्र सिंह के मित्रो ने आदिवासियों के साथ मिलकर अंग्रेजो के साथ संधि की जिसमे अवेध घुसपैठ, आदिवासिओ पर अत्याचार का अंत और बस्तर की भूमि पर शांति की स्थापना थी। जो गुण्डाधुर का स्वप्न्न था।

1910 के इस महान घटना में न गुण्डाधुर मारे गए न पकड़े गए, अंग्रेजी फाइल यह कह कर बन्द कर दी गयी कि कोई बताने के समर्थ नही है कि गुंडाघुर कौंन और कहां है। बस्तर के जंगल के चीखते सन्नाटे आज भी अपने पुत्र गुण्डाधुर का इंतज़ार कर रही है।

वर्तमान के छत्तीसगढ़ में गुण्डाधुर स्मृति में साहसिक कार्य एवं खेल क्षेत्र में उत्कृष्ट प्रदर्शन के लिए गुण्डाधुर सम्मान स्थापित किया गया है।

एक आदिवासी युवा महान गुण्डाधुर की कहानी सामने रख मैं गर्व से कहता हूँ की हाँ मैं आदिवासी हूँ #HaanMainAdivasiHoon #Part05

(हाँ मैं आदिवासी हुँ। शुरुआत ऐसे किस्सों की शृंखला की जो आदिवासियों की गौरव गाथा सबको सुनाएगा। बने रहे कोसल कथा के साथ।)


sanket dahre
गंगाराम धानुक
बद्री नारायण
निदेशक, जी. बी. पंत सामाजिक विज्ञान संस्थान
बाबू गंगाराम धानुक ने जुलूस निकाले, नारे लगाए, जेल गए, अंग्रेज़ी सरकार के ज़ोर-जुल्म से जमकर लोहा लिया. वो 1923 में गांधी जी के हरिजन उत्थान आंदोलन से प्रभावित हुए और दलित उत्थान और जागृति लाने का संकल्प लिया.
1932 में वे बाबा साहब से मिले. उनसे जुड़कर इटावा, फ़र्रुख़ाबाद और उत्तर प्रदेश के अन्य भागों में आंबेडकर चेतना का आंदोलन चलाए. फिर 1942 में भारत छोड़ो आंदोलन के नायक बन गए. उत्तर प्रदेश से चलकर बाद में बिहार को भी अपना कर्मस्थली बनाया.
भारत छोड़ो आंदोलन संपूर्ण देश का आंदोलन बना. अनेक जातियां, समुदाय, क्षेत्रों के लोग इसमें शामिल थे. दलित समूह जिनकी जनसंख्या इस देश में 15 प्रतिशत के आस-पास है, की भी भारत छोड़ो आंदोलन में बहुत महत्वपूर्ण भूमिका रही है.
किन्तु भारतीय स्वतंत्रता संग्राम के इतिहास लेखन में उन्हें महत्वपूर्ण जगह मिलना अभी बाक़ी है.
महात्मा गांधी, नेहरू, राजेंद्र प्रसाद के साथ भारत के अलग-अलग प्रान्तों में दलित कंधा से कंधा मिलाकर संघर्ष कर रहे थे.
इनमें बिहार के गंगा राम धानुक, भोला पासवान, जगलाल चौधरी, उत्तर प्रदेश के धर्म प्रकाश, राम जी लाल सहायक, जौनपुर उत्तर प्रदेश के माता प्रसाद, खुदागंज के प्रेम चन्द आर्य, राजस्थान के गोबिन्द गुरु, आन्ध्र प्रदेश के एम. आर. कृष्णा, एस. नागप्पा, मध्य प्रदेश के भगवती चन्द्राकर, के जूलुस चन्द्राकर जैसे दलित समूह के लोगों की महत्वपूर्ण भूमिका रही है.
बिहार से उभरे बाबू जगजीवन राम, गंगाराम धानुक के ही राजनीतिक शिष्य माने गए हैं. दलित समूह के ये क्रान्तिकारी देश के लिए अंग्रेजों से लड़े, साथ ही इनमें से कइयों ने समाज के दलित मुक्ति की लड़ाई का भी नेतृत्व किया.
बाबू गंगाराम धानुक ने ताउम्र दलित मुक्ति की लड़ाई लड़ी. ये सब कांग्रेस के बैनर तले आज़ादी की लड़ाई से जुड़े, साथ ही अनेक छोटे-छोटे उप संगठन बनाकर दलित मुक्ति की लड़ाई भी लड़ते रहे. इन सबके लिए देश की मुक्ति और दलित मुक्ति एक दूसरे से गहराई से जुड़े थे.
1941 के भारत छोड़ो आंदोलन के नायक श्री भोला पासवान ने आज़ादी के बाद अछूतों के बीच जागरूकता लाने के लिए अनेक आंदोलन चलाए.
उत्तर प्रदेश के बरेली में जन्मे धर्म प्रकाश ने आर्य समाज के बैनर तले दलितों में आत्म सम्मान जागृत करने का अभियान चलाया था, साथ ही भारत छोड़ो आंदोलन के महत्वपूर्ण जननायक बनकर उभरे.
उत्तर प्रदेश के मेरठ के रामजी लाल सहायक ने 1942 के आंदोलन में दलित नवयुवकों को बड़ी संख्या में गोलबंद किया था. आज़ादी मिलने के बाद इन्होंने अपने को पूर्ण रूप से समाज सेवा में लगा दिया. 1966 में वे उत्तर प्रदेश सरकार के शिक्षा मंत्री भी बने.
1942 के आंदोलन के ये दलित जननायक गांव-गांव और कस्बे-कस्बे में मिल जाएंगे, ज़रूरत है इन पर शोध कर इन्हें सामने लाने की. इन दलित जन नायकों में ज़्यादातर कांग्रेसी थे. लेकिन इनके लिए आज़ादी की लड़ाई सिर्फ़ अंग्रेजों से देश की मुक्ति की लड़ाई नहीं थी, किन्तु अछूतपन से मुक्ति और दलित मुक्ति की लड़ाई से भी जुड़ी थी.
इसीलिए उनमें से ज़्यादातर स्वतंत्रता सेनानी के साथ साथ दलित समाज के समाज सुधारक भी बन कर उभरे. इनमें से कई आज़ादी के बाद बनी राज्य सरकारों में मंत्री तक बने, लेकिन इनमें से कई आज भी अनाम हैं. आज जब इस 'भारत छोड़ो आंदोलन' को याद कर रहे हैं तो हमें उन्हें भी याद करने की ज़रूरत है.
(बीबीसी हिन्दी के एंड्रॉएड ऐप के लिए आप
यहां क्लिक
कर सकते हैं. आप हमें
फ़ेसबुक
और
ट्विटर
पर फ़ॉलो भी कर सकते हैं.)
मुक्त ज्ञानकोश विकिपीडिया से
15जुलाई 1909 को जन्में श्री तपासे का विवाह रखामिनीबाई से हुआ। 1938-46 के मध्य वे सतारा नगर कांग्रेस कमेटी के अध्यक्ष रहे। उन्हें महाराष्ट्र प्रदेश कांग्रेस कमेटी की कार्यकारिणी का सदस्य नियुक्त किया गया । 1940 में उन्होंने सविनय अवज्ञा आन्दोलन में भाग लिया और जेल गये। भारत छोड़ो आन्दोलन के दौरान उन्हें पुनः जेल भेजा गया। 1946 में वे सतारा जिले से बम्बई विधानसभा के सदस्य निर्वाचित हुए। 1952 में वे बम्बई से ही पुनः विधानसभा के सदस्य नियुक्त हुए उन्हें मंत्री नियुक्त किया गया तथा वे 11 वर्ष तक मंत्री रहे। 1957 में उन्हें अखिल भारतीय कांग्रेस कमेटी का सदस्य बनाया गया। वे 1962 से 1968 तक राज्य सभा के सदस्य रहे। 1968 से 71 तक वे रेल सेवा आयोग बम्बई के अध्यक्ष रहे। 2 अक्टूबर 1977 को वे उत्तर प्रदेश के राज्यपाल नियुक्त हुए ।
2 अक्तूबर 1977 – 27 फरवरी 1980
28 फरवरी 1980 – 13 जून 1984
जन्म 15 जुलाई 1909
हरियाणा के राज्यपाल के रूप मे विवादित भूमिका
जीडी तापसे 1980 के दशक में हरियाणा के राज्यपाल बनाए गए थे.
उस समय राज्य में देवीलाल के नेतृत्व वाली सरकार थी. साल 1982 में भजनलाल ने देवीलाल के कई विधायकों को पटा लिया.
राज्यपाल तापसे ने इसके बाद भजनलाल को सरकार बनाने के लिए आमंत्रित किया जिस पर देवीलाल ने कड़ा विरोध जताया.
देवीवाल अपने कुछ विधायकों को लेकर दिल्ली के एक होटल में चले गए, पर विधायक वहां से निकलने में कामयाब रहे. अंत में भजनलाल ने विधानसभा में बहुमत साबित कर दिया और सरकार बनाने में कामयाब हुए.
Gangadin Mehtar
Birth Kanpur, Uttar Pradesh
Sacrifice: 8.9.1859 Chuniganj, Kanpur, Uttar Pradesh
Great freedom fighter
Gangadin Mehtar / Gangadin / Gangoo Wrestler / Gangoodin / Gangoo Baba
"In the soil of India our ancestors smell of blood and sacrifice, one day it will be free." - Gangadin Mehtar Great freedom fighter 8.9.1859
Gangadin Nana Saheb used to play Nagada in Peshwa's army. In the village of Satichora in Kanpur, he had a wrestling arena. Gangadin was a resident of Akbarpura village in Purkhe district of Mehtar, Kanpur. Unhappy with the system of disorderly behavior due to forced labor, exploitation and social fabric, their forefathers started living in the Chunni Ganj area of ​​Kanpur city.
In 1857, the soldier of the freedom struggle of India born in Kanpur, Gangadin fought valiantly against the British in the area close to Satichora. In the battle of 1857, he killed about 200 British soldiers. In the subsequent environment, the British government was scared and scared due to the death of such a large number of British soldiers. Officials of the British Army ordered the arrest of Gangadin under any circumstances. The British army soldiers followed them badly for arrest. The gallant warrior Gangadin kept fighting with valor on horseback from the big British army. Finally arrested.
He surrendered himself to the country for the sake of liberating the country and laughed the cruelty of the British and kissed the hanging noose with self-respect but he continued to dare the British even to the last breath. It was hanged publicly on 8.9.1859 in front of the general public by hanging it on a tree situated in the middle of the main intersection of Kanpur Chuniganj.
"There is a smell of blood and sacrifice of our ancestors in the soil of India, one day it will be free."
Having said this, he gave the message of revolution to the generations to come and made sacrifices for the country.
His statue has been installed in Chunni Ganj in Kanpur. A fair is held there every year in his memory. People pay reverence.
But unfortunately in the history of India, there is no trace of this amazing revolution saga anywhere.
Shaheed Khudiram Bose FB 10.9.5018
Gopinath Saha
From Wikipedia, the free encyclopedia
On 12 January 1924, he attempted to assassinate Charles Tegart, a leader in the fight against revolutionary movements and the then head of the Detective Department of Calcutta Police. Saha's attempt failed as he erroneously killed Ernest Day (born 1888), a white civilian who had gone there on official business.[citation needed] Saha was arrested, tried and, on 1 March 1924, hanged,in Alipore Central jail.
He was born in the town of Srirampur, whose erstwhile name was Serampore of undivided Bengal.
गिरफ़्तारी उन दिनों कलकत्ता में पुलिस के डिटेक्टिव डिपार्टमेन्ट के मुखिया चार्ल्स टेगार्ट ने क्रान्तिकारियों के ख़िलाफ़ बहुत सख्ती से मोर्चा खोला हुआ था। देशभक्तों के ऊपर बहुत ज़ुल्म किया जा रहा था। टेगार्ट के सख्त रवैये के चलते बहुत से क्रान्तिकारियों को फाँसी पर लटकाया जा चुका था। बहुतेरे जेलों में थे। ऐसे में 'युगान्तर दल' ने यह निर्णय लिया कि टेगार्ट का काम तमाम कर दिया जाए। इससे क्रान्तिकारियों का मनोबल बढ़ेगा और पुलिस का टूटेगा तथा शहीद क्रान्तिकारियों का बदला भी लिया जा सकेगा। उसको ख़त्म करने की ज़िम्मेदारी गोपीनाथ साहा को दी गई। 12 जनवरी, 1924 को चौरंगी रोड पर टेगार्ट के आने की भनक थी। घात लगाकर गोपीनाथ ने आने वाले अंग्रेज़ पर फॉयर किया। उनका ख़्याल था कि वह चार्ल्स टेगार्ट है। परन्तु बाद में पता चला कि मारा जाने वाला एक सिविलियन अंग्रेज़ था, जो किसी कम्पनी में कार्य करता था। उसका नाम अर्नेस्ट डे था। लोगों ने उनका पीछा किया और गोपीनाथ साहा पकडे गए। मुक़दमा गोपीनाथ के ऊपर मुक़द्दमा दर्ज़ करके न्यायलय में केस चलाया गया। 21 जनवरी, 1924 को पेशी पर उन्होंने जज से मुख़ातिब होकर बड़ी बेबाक़ी और बहादुरी से कहा, 'कंजूसी क्यों करते हैं, दो-चार धाराएँ और भी लगाइए'। बहुत ही साहस और दिलेरी से उन्होंने केस का सामना किया। उच्च अदालत में पेशी पर उन्होंने कहा- "मैं तो चार्ल्स टेगार्ट को ठिकाने लगाना चाहता था, क्योंकि उसने देश-प्रेमी क्रान्तिकारियों को काफी तंग कर रखा था। लेकिन उसकी क़िस्मत अच्छी थी कि वह बच निकला और इस बात का दु:ख है कि एक मासूम व्यक्ति मारा गया। परन्तु मुझे विश्वास है कि कोई न कोई क्रान्तिकारी मेरी इस इच्छा को ज़रूर पूरी करेगा।"[2]
Read more at: https://m.bharatdiscovery.org/india/%E0%A4%97%E0%A5%8B%E0%A4%AA%E0%A5%80%E0%A4%A8%E0%A4%BE%E0%A4%A5_%E0%A4%B8%E0%A4%BE%E0%A4%B9%E0%A4%BE?page=2
Govind Rao Khari
Profession : Commander & Outlaw
Fort : Ratangad (Ratangarh) Fort Near Akole (Akola)
Govind Rao Khare Was Able Commander & Fortkeeper . Ratangad Fort Was Under Govind Rao Khare. Govind Rao Khare Was Selected As Commander By Present Peshwa Of Maratha Empire Of That Time Since 1828. Commander Govind Rao Ji Khare Belong To Mahadev (Mahadeo) Koli Community Of Maharashtra.On The Fall Of Peshwa's Power Against British . He Remained Staunch To His Master. Govind Rao Khare Didn't​ Accepted The Proposal To His Commander Possition From British Government. The Kinsmen Of Khare Numbering Twelve Were Thrown Out In Order Of Reductions Of Garrisons Of Ratangad Fort (Twenty Two Miles West From Akola). Govind Rao Khare Decided To Became A Outlaw Because Of British Government. Khare & His Kinsmen Went To The Hills & Started His Outlawry With Fire Against British. After Some Days He Became Well-Known Outlaw & Hero Of Native Peoples. Now His Gang Was About Hundreds Of Koli Outlaws. He Was Joined By Famous Koli Outlaw Of Konkan Ramji Bhangre A Same Angry Blood. Captain Mackintosh Decided To Kill The Koli Outlaws He Sent His Troops To Sahyadris To Collect The Information About Koli Outlaws But Captain Mackintosh Didn't Got Any Information About Koli Outlaws But Got Some Support From Kulkarni Brahmins Because Brahmin Are Against Race Of Kolis From The Time Of Lord Budh Who Was Also A Shakya Koli Prince. Captain Mackintosh Became Polite & He Became Able To Get Information About Koli Outlaws. He Noticed Point To Point Where Koli Outlaws Lives, Where Drinks, Where There Arms, What Is Their Power Source, How Many Peoples Are Supporting Them, What's Their Possibility After Complete Information Sent His Troops To Akola Hills But Was Unsuccessful To Catch Koli Outlaws In This Fight Captain Mackintosh Lost His Many Constables & Officers & Koli Outlaws ,Govind Rao Khare & Ramji Bhangre Escaped And Joined The Gang Of Famous Koli Outlaw Raghoji Bhangre. There He Was Killed When Raghoji Bhangre Join Hands ,Help Dada Phule Was Hanged By British Government. In Present Days Sarkar Govind Rao Khare, Sardar Ramji Bhangre & Krantiveer Raghoji Bhangre Known As Heros & Freedom Fighters.
Mr. Prem ji Mahour Koli Palwal, Hariyana
Gulab Kaur
Hailed from Punjab's Sangrur district, Gulab Kaur (1890-year of death unknown) was married to Mann Singh and the couple migrated to Manila, Philippines. During their stay in Manila, they were exposed to the members of the Ghadar Party, an organization set up by the Indian immigrants in California for liberating the country from the grapple of the British Raj. She possibly may have joined the party in 1913.
Disguised as a journalist, Gulab Kaur distributed arms among the party members and has inspired Indian immigrants in ships with her speeches and lectures. She was sentenced to a prison in Lahore for the charges of sedition for two years.
Gulab Kaur (From Wikipedia, the free encyclopedia)
Gulab Kaur was an Indian freedom fighter. She was born around 1890 and died in 1941.
Early life
Political career
Gulab Kaur kept vigil on party printing press in guise. Posing as a journalist with a press pass in hand, she distributed arms to the Ghadar Party members. Gulab Kaur also encouraged others to join the Ghadar Party by distributing independence literature and delivering inspiring speeches to Indian passengers of ships.
Gulab Kaur with about fifty other freedom Ghadrites of the Philippines joined the S.S. Korea batch and sailed for India, changing at Singapore from S.S. Korea to Tosha Maru. After reaching India, she with some other revolutionaries were active in the villages of Kapurthala, Hoshiarpur and Jallandhar to mobilize the masses for armed revolution for the cause of the independence of the country.
गौतु लच्चन्ना
डॉ गौतु लच्चन्ना का जन्म 16 अगस्त 1909 को आंध्र प्रदेश राज्य के श्रीकाकुलम जिले के सोम्पेटा मंडल के बरुवा गांव में हुआ था। वह चित्त्याह के आठवें बच्चे, गौड़ा टॉडी टैपर और राजम्मा थे। उन्होंने यशोध देवी से शादी की, जो 1996 में निधन हो गए।
19 अप्रैल 2006 को विशाखापत्तनम में 98 वर्ष की आयु में उनकी मृत्यु हो गई और सोनिया श्यामा सुंदर शिवाजी, जो सोमपेटा के विधायक हैं और दो बेटियां झांसी और सुशीला से बचे हैं।
स्वतंत्रता सेनानी और लोगों के नेता
वह किसानों, पिछड़े वर्गों, कमजोर वर्गों और उनके समय के सबसे प्रमुख नेताओं में से एक के चैंपियन थे। 21 वर्ष की उम्र में उन्हें गिरफ्तार किया गया जब उन्होंने पलासा में नमक सत्याग्रह में भाग लिया। लचन्ना ने भारत छोड़ो आंदोलन में भी भाग लिया। ब्रिटिश राज के खिलाफ उनकी निडर लड़ाई के लिए उन्हें सरदार का खिताब दिया गया।
वह जनता, स्वतंत्रता सेनानी और सामाजिक सुधारक के पैदा हुए नेता थे। स्वतंत्रता तक, उन्होंने अंग्रेजों के खिलाफ लड़ा। ब्रिटिश राज के अंत के बाद, यह किसानों, मजदूरों और मजदूर वर्ग के लिए राजनीतिक और सामाजिक मोर्चों पर था। वह मद्रास ट्रेड यूनियन बोर्ड के सदस्य भी थे। वह निषेध के मुद्दों पर प्रकाश पंथुलू सरकार को कम करने में महत्वपूर्ण भूमिका निभाते थे।
From Wikipedia, the free encyclopedi
Garimella Satyanarayana
Statue of Garimella Satyanarayana in Srikakulam
Born 14 July 1893
Died 18 December 1952 (aged 59)
Nationality Indian
Occupation Poet, writer, freedom fighter
Garimella Satyanarayana (14 July 1893 – 18 December 1952) was a poet and freedom fighter of Andhra Pradesh, India. He influenced and mobilised the Andhra people against the British Raj with his patriotic songs and writings, for which he was jailed several times by the British administration.
An English translation of his most famous poem Maakoddee Tella doratanamu in folk song format:
We don't want this White rule - Garimella Satyanarayana
We don't want this White man's rule O God We don't want this White man's rule We don't want this .... 2
Stalking on our lives Robbing us of our honour We don't want this .... 2
Stalking on our ....
(1) The eighteen lamps have doused off, but A handful of rice is hard to come by Throws dirt into our mouths Wants us to fight with his dogs to eat our food We don't want this .... 2
(2) For taxes he's devised ways Sells toddy and liquor Looted Chattels and belongings Drunken (husband) snatched that mother's wedding jewellery. Threw dust in to our eyes Pushed us close to our grave We don't want this .... 2
(3) Brought in Courts, created political parties. Murdered the charitable character Raised thirst for money Raised bad thoughts Showing off his style he wooed us We don't want this .... 2
(4) Brings on the Gandhi cap Don't come says Don't come to school like this Takes away the cap and moves on
It is rebellion against State It is all over the Country We don't want this .... 2
Stalking on our ....
We don't want this White man's rule
Translated from telugu: Bhaanuh
Career
m district in 1893. His parents were Venkatanarasimham and Suramma.
Satyanarayana is identified by his famous song - "మాకొద్దీ తెల్ల దొరతనం " (We don't need this white rule). He himself used to sing this song. This particular song was a popular in the households of Andhra Pradesh during the Indian independence movement.
He was helped to study by a kind lawyer, called Kannepalli Narasimha Rao and finish graduation (BA). He worked as a clerk in collector's office of Ganjam district and as a teacher at a high school in Vijayanagaram. He gave up his studies by the call of Mahatma Gandhi to participate in civil disobedience movement. During this time, he wrote his famous song Maakoddee Telladoratanamu for which he was jailed in 1922 for one year. After the release from Jail, he continued his participation in the movement by singing songs in villages. For this he was sentenced for two and half years rigorous imprisonment. His entire family (wife, father and grandfather) died when he was in jail. He also ran a restaurant called Kalpaka Vilaas.
He died in a destitute state on 18 December 1952 after spending several years in poverty.
Works
Information plate below his Statue in Srikakulam.
Swaraajya geetamulu (1921)
Khandakaavyalu, baalageetaalu (1926)
Telugu translation of the Economic Conquest of India by Bhogaraju Pattabhi Sitaramayya.
Telugu translation of "Tirukkural" and "Naandiyar" from Tamil.
Telugu translation of "Tallikota" from Kannada.
An English poem "Heart of the Nation,"
From Wikipedia, the free encyclopedia

Hema Bharali


Hema Bharali addressing a press conference in 2006
Born February 19, 1919

Assam Province, British India
Died April 29, 2020 (aged 101)

Assam, India
Resting place Mumbai
Occupation Social worker
Freedom fighter
Gandhian
Sarvodaya leader
Years active 1950–2020
Awards Padma Shri
National Communal Harmony Award
Fakhruddin Ali Ahmed Memorial Award


Hema Bharali (19 February 1919 – 29 April 2020) was an Indian freedom activist, social worker, Sarvodaya leader and Gandhian, known for her contributions for the empowerment of women and efforts towards the upliftment of the socially and financially challenged sections of the society. She was reported to have been active during the relief operations in the wake of the earthquake in North Lakhimpur of Assam state in 1950 and in the development activities after the Sino-Indian War of 1962. The Government of India awarded her the fourth highest civilian honour of the Padma Shri, in 2005, for her contributions to Indian society. A year later, she received the National Communal Harmony Award from the National Foundation for Communal Harmony, an autonomous organization under the Ministry of Home Affairs.
Biography
Hema Bharali was born on 19 February 1919 in a family of Chutia ethnicity in the Northeast Indian state of Assam and is known to have taken to social work from an early age.[citation needed] She became active in the Indian freedom struggle and when the earthquake caused devastation in North Lakhimpur area in 1950, she took part in the relief operations. A year later, she joined the Bhoodan movement launched by Vinoba Bhave in 1951 and became one of its leaders. She was a part of the team, led by Vinoba Bhave, who were involved in the service of the victims of the war-torn area of Tezpur and stayed at Maitreyi Ashram of Bhave during the operations. She has also been involved with the Padayatra in connection with the Bhoodan movement and was a founder member of the executive council of the Central Social Welfare Board (CSWB).
The Government of India included Bharali in the 2005 Republic Day Honours list for the fourth highest civilian award of the Padma Shri. In 2006, she was awarded the National Communal Harmony Award by the National Foundation for Communal Harmony of the Ministry of Home Affairs. Three years later, she received the Fakhruddin Ali Ahmed Memorial Award for National Integration from the Government of Assam. Bharali, a spinster by choice, endured financial and health challenges in her 90s and received financial assistance from the State Government. She lived in Guwahati, in Assam. As of April 2016, she has continued to make public appearances.
She died on 29 April 2020, at age 101.
हरिसिंह भंगी
गुरु तेगबहादुर के शीश बलिदान के बाद उनके पुत्र सिक्खों के दसवें और अंतिम गुरु गोविन्द सिंह जी ने 1699 में खालसा पंथ की स्थापना की। उन्होंने सिक्ख शक्ति को इकट्ठा करना प्रारंभ किया, जिसमें निम्न जातियों के लागों को भी सेना में भर्ती किया गया। मुगलों से युद्ध करने में उनके दो पुत्र अजीत सिंह व झुंझार सिंह शहीद हो गए। गुरु गोविन्द सिंह जी ने गुरु प्रथा समाप्त कर सिक्खों को पूर्णतया सैनिक बना दिया और खालसा सेना की स्थापना की।
गुरु के पाँच मुख्य अनुयायियों में जीवन सिंह उर्फ जेता भाई भंगी शामिल था। बंदा बहादुर ने इस परम्परा को बनाए रखा, उसे गुरु का उत्तराधिकारी मानकर बंदा बहादुर को सिक्खों का नेतृत्व सौंपा। 1716 में मुगलों ने उनकी हत्या कर दी। 1748 में 100-100 सैनिकों के 'दल खालसा' बनाए गए फिर उनको 11 जत्थों में विभाजित किया। उनके पराक्रमी और योग्य सिक्ख नेताओं ने पंजाब के भिन्न-भिन्न भागों में अपने-अपने राज्य स्थापित कर दिए।
मुल्तान विजय के नायक
मिसलों के निर्माण की योजना 1778 में वैशाखी के दिन नवाब कपूर सिंह के सुझाव पर सभी सिक्ख जत्थों का एक संगठन बनाया गया था। जिसके प्रधान सेनापति थे सरदार जस्सा सिंह अहलूवालिया। खालसा दल के फिर 11 दल बनाए गए थे, जिनका अपना एक नायक था, अपना एक अलग झण्डा था। यह 11 दल 11 मिसलों के नाम से मशहूर हुए जिसमें एक 'भंगी' मिसल थी, जिसके एक नेता थे हरि सिंह भंगी । 1778 में पहली भंगी मिसल का नेतृत्व हरि सिंह ने संभाला। गुजर सिंह भंगी तथा लेहना सिंह भंगी भी सिक्ख इतिहास में अपनी महत्ता रखते हैं। 1762 में हरमिन्दर साहब के पुनः निर्माण में हरि सिंह भंगी का भी सहयोग था। हरि सिंह जी ने 1764 में मुल्तान पर हमला किया और विजय पायी थी शुंग, खुशाब, चिनोट प्रांतों पर भंगी मिसल का कब्जा हो गया था। इस प्रकार भाई जेता उर्फ जीवन सिंह भंगी के बलिदान को भाई हरि सिंह ने बेकार नहीं जाने दिया।
महाराजा रणजीत सिंह
कालान्तर में महाराजा रणजीत सिंह ने उन मिसलों को जीत कर पंजाब में एक शक्तिशाली राज्य की स्थापना की नींव रखी। रणजीत सिंह जी ने सिक्ख गुरुओं व सिक्ख मिसलों के सेनानायकों तथा निम्न जातियों के भंगी, चूहड़ा, मजहबी आदि सफाई कामगारों को अपनी फौज में स्थान देकर परम्पराओं को कायम रखते हुए सिक्खों को एक सूत्र में पिरोया। जेता भाई भंगी के त्याग और बलिदान को भाई हरि सिंह भंगी ने जीवनभर संघर्ष कर सिक्खों को विजय का स्वाद चखाया, वही कालान्तर में विजय अभियान बन गया। अफगानों के विरुद्ध मुल्तान विजय के इतिहास में भंगी मिसल के नायक हरि सिंह भंगी को कमी भी भुलाया नहीं जाएगा। भले ही इतिहासकारों ने उसे अनदेखा किया हो।
संदर्भ पुस्तकें
*सफाई देवता : ओम प्रकाश वाल्मीकि
*भारत का इतिहास 1200-1760 : शर्मा व व्यास
*भारत का इतिहास 1760-1950 : शर्मा व व्यास
*बोले सो निहाल : हंसराज रेहबर
*स्वतंत्रता संग्राम सेनानी : एस एस गौतम
Hansa, who contributed to the independence of the country, was born in a prestigious family of Baroda in 1897. Hansa studied journalism and sociology from England. She is considered to be a renowned educationist and writer of the country. Hansa, in her presidential address of the All India Women's Conference held in Hyderabad, talked about women's rights. She spoke about women's rights in the making of the constitution which was heard prominently.
The feminist movement is now gaining momentum around the world. There have been several people in the past whose work and struggle have facilitated this. One such woman is Dr Hansa Jivraj Mehta. Dr Mehta was a prominent freedom fighter and a champion of women's right.
Initially, the Universal of Human Rights (UDHR) had the phrase, "All men are born free and equal". Dr Mehta made an amendment to it, now the phrase reads, "All human beings are born free and equal".
Her contribution to making UDHR 'universal' in the truest sense, was also appreciated by the then United Nation General Secretary Ban Ki-Moon in 2015. He said, "The world can thank a daughter of India, Dr Hansa Mehta, for replacing the phrase in the UDHR."
Hansa Mehta and freedom struggle
Dr Mehta was born on July 3, 1897. She belonged to an affluent family and her father Manubhai Nandshankar Mehta was the then Dewan of Baroda. She studied Sociology and Journalism from England, and post her studies, she returned back to India.
Around that time, Mahatma Gandhi and Sarojini Naidu became two of the major influences in her life. Soon after, she immersed herself in the freedom movement, participating actively in Swadeshi and the Non-cooperation movement.
In 1930, Kamala Nehru and Hansa Mehta arrived at the Delhi Railway Station and shouted slogans of 'Inquilaab Zindabaad'. The passionate calls for revolution were so strong that the British made the train engines to hoot non-stop, to drown the sound of the slogan.
Her active participation soon was noticed by the Britishers and she, along with her husband was arrested. After her release, she stood for the Bombay Legislative Council. She went on to win the provincial elections. She completed two terms, one from 1937-39 and other from 1940-49. After that, she joined the Constituent Assembly (CA).
Champion of women's rights
She was one of the members who drafted the Indian Women's Charter of Rights and Duties, which was presented in the 18th session of All India Women's Conference (AIWC) in 1946.
She was the one actively pushing for the abolition of child marriage and the devadasi system. Even as a member of CA, she regularly took up issues pertaining to women's rights. She lent her support to reforms suggested by BR Ambedkar for the Hindu Bill on issues like property rights, inheritance laws, divorce and adoption. One of her most significant contributions was trying to make the Uniform Civil Code (UCC) a part of the Indian Constitution. Finally, UCC went on to become the non-justiciable directive principle.
She was appointed to the UN Human Rights Council on the recommendation of Jawaharlal Nehru. It was during her stint there that the rephrasing of 'all men' to 'all human beings' took place.
Mehta has a series of firsts to her name. She became India's first woman vice-chancellor after she started her two-year term at the SNDT Women's University at Bombay (now Mumbai).
She also presented the national flag to the assembly, minutes after midnight on August 15, 1947. This very flag was the first flag to fly over independent India.
Once, Rohini Kumar Chaudhari, a member of the Assam Province said that men needed protection against women since they are trying to "elbow" men out in every sphere of life. According to Chaudhari, women succeeded in doing that because of men's "exaggerated sense of courtesy" or due to having influence over those in authority. He also went on say, "We have in this Constitution cow protection to some extent, but there is no provision at all for protection against cows. There is also no provision in this Constitution for protection against women." Hansa reacted very sharply to this comment.
At the time when marrying a person of one's choice was looked down up, Hansa, a member of the Nagar Brahmin community married Jivraj Narayan Mehta, a Vaishya Mehta. She, fortunately, received support from Maharaja of Baroda, Sir Sayajirao Gaekwad III, who finally convinced her father.
The Logical Indian salutes such women of steel whose struggle led the pathway for more stronger movement for women's rights.
Hosur Narasimhaiah
From Wikipedia, the free encyclopedia
I'm not an atheist: I don't go to a temple because God is everywhere. A temple is like a jail for God. I don't believe in religious practices or commercial Gods either.
He was a courageous Palyekar chieftain from Tamil Nadu in the 18th century. He waged a war with the British sixty years before the Indian War of Independence (the 1857 rebellion) occurred in the Northern parts of India. He was captured and hanged in 1799 CE. His fort was destroyed and his wealth was looted by the British army. He basically protested against the sovereignty of the East India Company and refused to pay their taxes.
सन् १८७३ मे एक होन्या केंगले ने एक क्रांतिकारी समूह बनाया जिसे वंडकरी बुलाया जाता था और अंग्रेजों और उनके चमचों के खिलाफ जंग का एलान कर दिया। सबसे पहले केंगले ने साहूकारों के खिलाफ मोर्चा खोला क्योंकि साहूकार अंग्रेजों का साथ दे रहे थे और लोगों को पैसा उधार देकर उनकी जमीनों को हड़पने की कोशिश मे लगे हुए थे। केंगले ने लगातार पुणे, नाशिक, अहमदनगर और ठाणे के साहुकारों पर हमला किया और लुटे हुए माल को गरीब जनता मे बांटा दिया।
साहुकारों ने अंग्रेजों का साथ नही छोड़ा और इसी तरह अंग्रेजों की सेना के बल पर अपना धंधा चलाए रखा जिसके चलते केंगले ने साहुकारों की नाक और कान काट दिए एवं घर जला दिए जिसके कारण गांव खाली हो गए। केंगले के हाथ लगा सारा माल गरीबों मे बांट दिया गया और ब्रिटिश सरकार ने केंगले को डकैत घोषित कर दिया और १००० रुपए का इनाम जिंदा या मुर्दा रखा।
डकैत घोषित होने के पश्चात ही केंगले ने ब्रिटिश सरकार के सरकारी खजाने को लुट कर स्थानीय लोगों मे बांट दिए जिसके चलते केंगले स्थानीय बोलचाल में काफी प्रचलित हुआ। ब्रिटिश सरकार ने जगह-जगह केंगले के पोस्टर छपवाए और केंगले के साथीयों पर भी इनाम रख दिया। केंगले के साथी की महत्वता के हिसाब से २०० से लेकर ६०० तक का इनाम देने का वादा किया लेकिन किसी ने भी केंगले और उसके साथीयों की कोई जानकारी नही दी। ६०० रुपए सिर्फ केंगले के मुख्य साथी दादू दतिया के लिए थी और अन्य के लिए २००- ३०० थी।
१८७४ मे ब्रिटिश सरकार ने केंगले को पकड़ने के लिए कर्नल स्कोट, मिस्टर डब्लू एफ सिनक्लेयर के नेतृत्व मे अंग्रेजी सेना भेजी लेकिन सरकार कुछ भी नही कर पाई। १८७६ मे मेजर एच डेनियल के नेतृत्व मे केंगले और सेना के बीच संघर्ष हुआ जिसमे केंगले को बंदी बना कर कचहरी में पेश किया गया और देशद्रोह का इल्ज़ाम लगाकर केंगले और उसके कुछ साथीयों को फांसी पर लटका दिया गया।
From Wikipedia, the free encyclopedia
Life
Immanuvel Sekar was born in Sellur, Mudukulathur, Tamil Nadu on 9 October 1924. He took part in the
Quit India
movement from the age of 18 and was imprisoned for three months because of it. In 1945, he enlisted in the
British Indian Army
and, upon his discharge, he returned to his native
Ramanathapuram district
to work for the Indian National Congress party (INC). His time in the army had caused him to question the historic oppression of Dalits in his district, which was particularly severe.
Immanuel worked to improve the education, rights and representation of the Dalit
Pallar
caste, of which he was a member. He tried to mobilise them to demand equality. The INC saw him as a useful opposition to
Mutharamalingam
, who had defected from the party to join the
Forward Bloc
. The party thought that he might be a worthy future member of the Legislative Assembly and groomed him for that end. It was for this reason that he converted to the Hindu religion and took the name Immanuel Sekaran.
The Pallars were often in dispute with the opposite caste and the relationship between the communities became fraught following a by-election in 1957. A peace meeting was called, at which Devendrar refused to stand up when Muthuramalingam arrived.
Immanuel ambushed and murdered by a group of Muthuramalingam for his activity on 11 September 1957. There were accusations that Muthuramalingam himself had some responsibility for the death. Muthuramalingam was in fact arrested but later released without charge.
The
1957 Ramnad riots
, in which 42 Dalits were killed, occurred as a consequence of Immanuel's murder.
The anniversary of Immanuel's death is celebrated annually as Immanuel Jayanti by Pallar people in Tamil Nadu.
Defying all caste norms and leading the Dalit struggle in the early 1900s in a district as caste-ridden as Ramanthapuram in Tamil Nadu is no easy feat. And that is exactly what Dalit leader Immanuel Sekaran became the face of. To emancipate the Dalits, educate them, allow them freedoms and make their place known in a caste entrenched society, Immanuel sacrificed himself for the Dalit struggle.
D Karthikeyan writes in
The Hindu
, "The riots in Mudukulathoor district that led to his death, and struggles of Dalits like him, did not figure even in the Dravidian discourse or Non-Brahmin Movement as a problematique."
Today, film and political circles are abuzz with a rumour that a movie could be made about him. In all likelihood, this will remain a rumour as a movie on him could lead to violent clashes between communities.
So, who was Immanuel Sekaran?
According to
The Hindu
, Immanuel Sekaran was born to Vedhanayagam, a school teacher and founder of Devendra Kula Vellalar Sangam, on October 9, 1924 in Sellur village in Mudukulathur, Ramanathapuram. He participated in the Quit India movement at the age of 18 and was imprisoned for three months by the then British government.
In 1945, he joined the Indian Army as Havildar Major. After serving the Army for a few years, he returned to Paramakudi to become a Youth Congress leader. He worked towards uplifting the Dalits and organised 'Annihilation of Caste Conference' in Madurai. The conference was presided over by B.R. Ambedkar. He was highly educated and knew seven languages including Russian.
During the colonial period of 1930s, Ramanathapuram district was known to be notorious for its violent caste based discrimination. Dalits were systematically denied any form of symbols that were associated with superior status. JH Hutton, the then Census Commissioner, in his book Caste in India; Its Nature, Function, and Origins (Oxford University Press, London, 1963) describes the eight prohibitions imposed on Dalits by dominant castes, which included ban on wearing jewelery, ornaments and getting educated.
D Karthikeyan writes "The ban was later
re-imposed
with a stronger set of eleven prohibitions. Sekaran defied all of the existing norms and fought for making the Dalits as emancipated subjects."
Immanuel was actively involved in the 'depressed classes' movement in and around Sellur and propagated the importance of education among Dalits and asked them to fight against oppression.
There were attempts by the Congress, particularly by Chief Minister K Kamaraj, to make Immanuel a member of the Legislative Assembly so that he could be given protection as per the law. In order to contest the elections, Immanuel converted to Hinduism and became Immanuel Sekaran. In 1956, following the demise of B. R. Ambedkar, Immanuel organised a condolence meeting.
In 1957, Forward Bloc leader Muthuramalinga Thevar won from the Arupukottai parliamentary constituency and the Mudukulathoor assembly constituency. Because he resigned from the Mudukalathoor assembly constituency, a by-poll was held on 1 July, 1957. Immanuel Sekaran, now of the Congress Party, wanted to contest the election, but Kamaraj preferred to nominate a Maravar. Immanuel Sekaran campaigned for the Congress. Sasivarna Thevar, a candidate of the Forward Bloc won the election.
However, the Dalits and the Nadars had voted for entirely for the Congress. Angered by this, the Maravars started unleashing greater oppression against the Dalits and the Nadars. In order to offer sacrifices to the Badrakali temple, the Maravars kidnapped 9 Dalit men from the village of Katamangalam and took them along. 42 Dalits were slain in the Muukalathoor riots. Considered as one of the worst caste clashes in the post-colonial period, it marked a new phase in the struggle against caste based oppression in which Dalits started to question their subjective position.
The then District Collector CVR Panikkar made arrangements for talks between the Dalits, Maravars and Nadars on 10 September 1957. Perumal Peter and Immanuel Sekaran represented the Dalits. Muthuramalinga Thevar suggested that all the leaders could address the people in a public meeting.
VCK leader Thirumavalavan writes in his book
Uproot Hindutva: The Fiery Voice of the Liberation Panthers
, "The Dalit representatives feared that Muthuramalinga Thevar could use the meeting to create further tension, suggested that all the leaders sign an agreement, which could be distributed among the people. When Muthuramalinga Thevar had entered this meeting, everybody including the Collector stood up with the exception of Immanuel Sekaran. The Collector asked Immanuel why he did not stand up when a leader entered. Immanuel replied, 'He is not a leader to me. He wanted to destroy my whole community.'"
This angered Muthuramalinga Thevar very much. As a consequence, the talks came to an abrupt end without any solution in sight.
On 11 September 1957, Immanuel Sekaran who was returning to Peraiyur, was attacked by the Maravars and murdered on the spot. Periyar passed a resolution seeking the arrest of Muthuramalinga Thevar. Kamaraj, the then Chief Minister, immediately arrested Muthuramalinga Thevar and all the Maravars who were responsible for the riots. Later, the C.N.Annadurai-led DMK government released all those arrested in connection with the 1957 riots. Today, there is a memorial for Immanuel Sekaran in Paramkodi in southern Tamil Nadu.
According to Anand Teltumbde in Counter Currents, on September 11, 2011, Immanuel Sekaran's 54th death anniversary, police firing on participants observing the memorial day in Paramkudi had claimed three lives
Mainstream discourse has carefully weeded out any but the barest references to him. Every exercise to black out memories of Immanuel seems to have only strengthened the resolve of the Dalits of Tamil Nadu to remember him, cherish his memory.
Irayi Kunnathidathil Kumaran
Your Town :
Mahe (Mayyazhi)
Freedom Struggle
When the independence of India became an accomplished fact on the 15th of August 1947 there were repercussions in French India, including Mahe. Till 1937 there were no political parties with an organizational set-up in French India. People were polarized between individual leaders. Mahajana Sabha was formed in Pondicherry in 1937. It was got extended to Mahe by the youth League, which started functioning from 1933. I.K. Kumaran and C.E. Bharathan were the leaders of Mahajana Sabha in Mahe.
In October 1948, the election to the Municipal council was to be held. This election was very significant in that the elected members were to decide whether Mahe should merge with India or not. The incidents at Mahe Municipal office on 21.10.1948 in connection with the issue of identification cards to voters, led to the political upheaval known as 'Mahe Rebellion' of October 1948. It was alleged that the distribution of identification cards was improper. Crowds rushed into the Municipal Office and clashed with the police. The mob pulled out Municipal Records including Birth, Marriage and Death records and burnt them. Mr. Perrier, Administrator, rushed to the Municipal office with a posse of gendarmes, who withdrew the order after an hour. It is important to note in this connection, during the French regime that the Mayor (Municipal Chairman) was alone empowered to give authorization to the police to fire. The mob, then, burned the records, books, etc., at the court, which was situated adjacent to the Municipal office. Subsequently a defense council was formed. All the Departments functioned without any radical change. This state of affairs continued till the 26th October when a French cruiser anchored off Mahe.
Some officials, leaders and French-knowing people were compulsorily transported to Mukkali, about three miles from Mahe. The leaders of the Mahajana party left Mahe. Under instructions from the collector of Kozhikode, after that all the detainees at Mukkali were released at midnight.
The French rule was re-established. The French government arrested and framed charges against many. Some of them were in Mahe while others were outside Mahe. Those who were in Mahe underwent imprisonment while those outside Mahe were sentenced in absentia to varying terms of imprisonment.
The fight for the freedom of Mahe got an impetus in April – May 1954 when the leaders of Pondicherry staged a volte-face and left Pondicherry. In Mahe there was firing at Cherukallayi on the 27th of April 1954, in which Achuthan and Anandan, two communist party workers, were killed. As a result of which the police force was withdrawn from Pallour and Pandakkal and subsequently a defense council was established with Mr. I.K. Kumaran as President and V.N. Purushothaman as Vice President.
In June there was a virtual blockade of Mahe. Pro-merger sympathizers were harassed in Mahe. Anti-merger sympathizers were harassed outside Mahe. Towards the end of June, N. Sahadevan, Mayor, the Municipal councilors and the M.L.A's left Mahe. There was an exodus of officials and people from Mahe to the neighboring areas. Talks were held between the liberation leaders and Mr. Deschamps, Administrator. Mr. Revel, a French Businessman at Tellicherry acted as the intermediatory. It was revealed that Mr. Deschamps and party would leave Mahe on the 16th of July, which they did. Thus the curtain fell on the 233 years of French rule in Mahe. I.K. Kumaran, President of the Free Government council, was become the first Administrator of Free Mahe.
On the 1st of November 1954, Mahe, along with the other French possessions, was handed over to the Government of India. This was the de facto transfer of power. The de- jure transfer of power took place on the 16th April 1962. This day is a public holiday in the Union Territory of Pondicherry.
From Wikipedia, the free encyclopedia
Jatra Bhagat
Statue of Veer Jatra Tana Bhagat in Ranchi District, Jharkhand
Born September 1888
Chingri Navatoli village, Gumla district, Jharkhand
Died 1916
Nationality Indian
Other names Tana Bhagat
Known for Tana Bhagat Movement
Bhagatism
Jatra Bhagat (born 1888; died 1916) was an Indian tribal freedom fighter and social reformist. He was the founder of Tana Bhagat Movement among the Oraon tribe.
Tana Bhagat alias Jatra Oraon was born in September 1888 at Chingari Navatoli village in Gumla district of Jharkhand. His father's name was Kodal Oraon and mother's name was
जयानन्द भारती
मुक्त ज्ञानकोश विकिपीडिया से
जयानन्द भारती (१७ अक्टूबर १८८१–०९ सितम्बर १९५२), भारत के स्वतंत्रता संग्राम सेनानी एवं सामाजिक चेतना के अग्रदूत थे। उन्होने डोला-पालकी आन्दोलन चलाया। यह वह आन्दोलन था जिसमें शिल्पकारों के दूल्हे-दुल्हनों को डोला-पालकी में बैठने के अधिकार बहाल कराना था। लगभग 20 वर्षों तक चलने वाले इस आन्दोलन के समाधान के लिए भारती जी ने इलाहाबाद उच्च न्यायालय में मुकदमा दायर किया जिसका निर्णय शिल्पकारों के पक्ष में हुआ। स्वतन्त्रता संग्राम में भारती जी के योगदान को भुलाया नहीं जा सकता है। 28 अगस्त 1930 को इन्होंने राजकीय विद्यालय जयहरिखाल की इमारत पर तिरंगा झंडा फहराकर ब्रिटिश शासन के विरोध में भाषण देकर छात्रों को स्वतन्त्रता आन्दोलन के लिए प्रेरित किया।
गवर्नर मैलकम हेली को काला झंडा दिखाने की घटना-
उसी समय की बात है, तत्कालीन अंग्रेज गवर्नर मैलकम हेली का पौड़ी दौरा था, यह खबर सुनते ही राम प्रसाद नौटियाल व उनके दल ने यह योजना बनाई की गवर्नर को काले झंडे दिखाए जाएँ व उसका बायकॉट किया जाय. इस काम को अंजाम देने के लिए जयानंद भारती को चुना गया, युवा जयानंद में खूब जोश था व उन्होंने अपनी सहमति दे दी। उनको लेकर नौटियाल जी पौड़ी गए वहां भारती जी ने गवर्नर के सामने जाकर काला ध्वज लहराया व 'वन्दे मातरम' का घोष किया। 'गवर्नर गो बैक' के नारे लगाते हुए उन्हें पुलिस ने गिरफ्तार कर लिया व इसके लिए उन्हें एक वर्ष के कठोर कारावास की सजा हुई।
जयानन्द भारती का जन्म पौड़ी जनपद के आरकन्डाई ग्राम में हुआ।इन्होने आर्य समाज के विचारों को गढ़वाल में प्रचारित करने में महत्वपूर्ण भूमिका निभाई।
A portrait of Mr Rahi presented to him by an admirer
Died 11 April 1996 (aged 83)
Jaswant SIngh Rahi was an eminent
Punjabi
poet, democratic writer, communist and a
freedom fighter
. He was born and lived his whole life in
Dera Baba Nanak
. Rahi was born in a Rajput (Jaswal) family. As per eminent columnist Joginder Singh Bedi, "Born in the holy town of Dera Baba Nanak in Gurdaspur district the Sahit Shiromani Poet Jaswant Singh Rahi's contribution to Punjabi world of letters is no less than that of
Dhani Ram Chatrik
, Prof
Mohan Singh (poet)
and Prof
Puran Singh
. This poeet is Popularly known for his slogan Jai Mitarta".
Early life
Rahi family had devoted itself to India's struggle for independence from British colonial rule. He was very close to Baba Pyare Lal Bedi, a Punjabi Sikh, an author and philosopher. He married Satwant Kaur, a Sikh girl form Fatehgarh Churian of Gurdaspur district in Punjab who bore him eight children, three sons namely – Rajwant Singh Rahi, Inderjeet Singh Rahi and Sarbjeet Singh Rahi; and five daughters namely – Late Ms Sukhbir Kaur (was a social activist and Punjabi writer), Santosh, Raj Kumari, Mohanjeet and Kanwaljeet. The daughters-in-law are Charanjeet Kaur, Ravinder Rahi and Kulwinder Kaur. His grandchildren include Baninder Rahi who is a journalist and media educator and has worked with The Indian Express, The Pioneer and Daily Post. Other children are Kavita Rahi, Bikramjeet Singh Rahi, Natasha Rahi, Navkiran Rahi, Prateek Rahi and Sarvnoor Singh Rahi.
He also mentored famous writers like Rajwant Kaur Nagi & Shiv Kumar Batalvi, during his early years. Batalvi used to spend weeks at his house in Dera Baba Nanak.
Works
Jaswant Singh Rahi was inspired by the freedom struggle, joined the Communist movement and at that time changed his name to Rahi. He wrote several novels, poetry, and biography in three parts. He was awarded by the Punjabi Lekhari Sabha and won the Punjabi Sahit Shiromani Award.
Books
Lahoo Bhiji Chanani (1981)
Parchhavian da sach (1988)
Moye phulan da mandar (1990)
Main Kiven Jeeveya I, II, III (Autobiography)
Communist
His political identity soon came into limelight, and he became an influential political leader of border region. He had very friendly relations with Santokh Singh Randhawa, the then MLA of the constituency.
Awards
Jaswant Singh Rahi won several awards for his works, and his contributions for freedom struggle. He was conferred with the honour of "Rashtriya Kavi" (
National Poet
) by the
Government of India
on 26 January 1972 for his immense contribution to
Punjabi literature
. Rahi was also conferred with Tamar Patra by Prime Minister Rajiv Gandhi.
Jhalkaribai
Born November 22, 1830
Bhojla Village, near Jhansi
Died 1890 (disputed)



Jhalkaribai (November 22, 1830 – 1890) was an Indian revolutionary who played an important role in the Indian Rebellion of 1857 during the battle of Jhansi. She was a soldier in the women's army of Queen Laxmibai of Jhansi. Born into a poor Kori family, she started her career as an ordinary soldier in Laxmibai's female army, but rose up to a position to participate and advise the queen in vital decisions. During the rebellion, at the height of the battle of fort of Jhansi, she disguised herself as the queen and fought on the front to let the queen escape safely out of the fort.




Jhalkari Bai, a little known chapter on a woman's courage in colonial India

This is the story of a courageous woman who came from a humble background but rose to the occasion to fight for her people and country.

The history of India is full of rulers -- both men and women -- who combined bravery with a strategy to repulse attacks by foreign invaders down the ages. Members of royal families were known to have shown exemplary courage when the situation demanded.



But Jhalkari Bai's saga is a study in contrast. She was the 'double' of Rani Laxmibai of Jhansi, the legendary warrior who fought the invading British army in the first War of Independence. A little known figure in Indian history, Jhalkari Bai lives on in the folklore of the Bundelkhand region.


Laxmibai and Jhalkari Bai led the Durga Dal (women's army) recruits to repeatedly foil attacks by the British army. And but for the betrayal by one of Laxmibai's generals, the Jhansi fort would have remained invincible for at least some more time.



Ignored by mainsteam historians, Jhalkari -- a dalit woman -- has now emerged from oblivion and finds mention in works of local writers, which include an epic poem by Chokhelal Verma, Virangana Jhalkari Bai by Bhavani Shankar Visharad, and a biography by dalit scholar and Arunachal Pradesh Governor Mata Prasad.




Her appearance, which was strikingly similar to Laxmibai, helped the Jhansi army evolve a military strategy to deceive the British. But before all that, Jhalkari was an ordinary village girl in Bundelkhand who would take care of household chores besides tending cattle and collecting firewood from the jungle.




She once had an encounter with a tiger in the jungle and killed the beast with her axe. On another occasion, she challenged a gang of dacoits who raided the house of a village businessman and forced them to retreat.




As a mark of gratitude, the village organised her marriage with Pooran Kori who matched her in courage. Pooran was inducted into Laxmibai's army and his fighting skills were soon recognised by her generals. Once on the occasion of Gauri Puja, Jhalakari with the other village women went to the Jhansi fort to pay homage to the queen.




Laxmibai was struck by Jhalkari's uncanny resemblance to her. After being told about her courage, she ordered Jhalkari's induction into the Durga Dal. Jhalkari, along with the other village women, was trained in shooting and igniting the cannons at a time when the Jhansi army was being strengthened to face any British intrusion.




The British did not allow the childless Laxmibai to adopt her successor, in a bid to bring the state under their control. However, her generals and the people of Jhansi rallied round the queen and resolved to take up arms against the British instead of surrendering to them.




During April 1858, from inside the Jhansi fort, the queen led her army and repulsed several attacks by the British and their native allies. One of her commanders, however, betrayed her and opened a well protected gate of the fort. When the fall of the fortress became imminent, her generals advised Laxmibai to escape with a handful of fighters. The Rani slipped away from Jhansi on horseback.




Jhalkari's husband Pooran was killed defending the fort but instead of mourning her loss, she worked out a plan to deceive the British. She dressed up like Laxmibai and took command of the Jhansi army. After which she marched out of the fort towards the camp of British General Hugh Rose. On reaching the British enclave, she shouted that she wanted to meet the general.




Rose and his men were exultant. Besides capturing Jhansi, the British thought they had caught the queen alive. When the general -- thinking she was the queen -- asked Jhalkari what should be done to her, she firmly said, ''hang me.''




Bundelkhand legend has it that her reply stunned the general, who said that if even one per cent of Indian women were like Jhalkari, the British would soon have to leave India.




The legend of Jhalkaribai remains in the popular memory of Bundelkhand over centuries. Her life and especially the incident of her fighting with East India Company army on the front in disguise, continues to be sung in various Bundeli folklores. Her bravery along with her identity as a Dalit has helped to create a sense of pride and cultural unity in Dalits in North India.




In the recent years, the name of Jhalkaribai, along with the others, has played a crucial role in the political landscape of North India, especially of Uttar Pradesh. Taking advantage of her popular image, Bahujan Samaj Party (BSP), the leading Dalit-based party in India, projected Jhalkaribai as one of the symbols of Dalit pride and honour. Efforts were taken in research and find facts about her life and propagating them to the masses. Emphasis was given to portraying her as a historical heroine of the bahujans (read masses).

Life



Jhalkaribai was a daughter of a Kori farmers, Sadovar Singh and Jamuna Devi. She was born on November 22, 1830 in Bhojla village near Jhansi. After the death of her mother when she was very young, her father raised her like a boy. She was trained in horse-riding and using weapons. Consistent with the social conditions of those days, she could not have a formal education, but soon became well-trained as a warrior. She garnered notoriety in her region when she killed a leopard in the forest with a stick she used to herd cattle.




Jhalkaribai bore an uncanny resemblance with Rani (queen) Laxmibai. In due course of time, she was married to an artilleryman, Puran Singh, from the artillery unit of Rani Laxmibai. Jhalkaribai was introduced to the queen by Puran Singh. She joined women's army, headed by Rani Laxmibai. After joining the army, she gained further expertise in all aspects of warfare.




During the Rebellion of 1857, General Hugh Rose stormed Jhansi with a large army on April 3, 1858.The queen was not in position to face such a big army and as per the plan with rebels she has to join them at Kalpi . Jhalkaribai made a suggestion to the queen that she would go on the front in disguise as the queen and the queen should escape out of the fort. On the night of April 4, the queen escaped from the fort and left for Kalpi. At the same time, Jhalkaribai set out for General Rose's camp in disguise as the queen and declared herself to be the queen Laxmibai. This led to a confusion that continued for a week and she was released only after it was revealed that she was not the queen but a common soldier.




Very little, if any, information is available about later days of Jhalkaribai. Some sources state that she was killed during the battle of Jhansi; others state that she was released by the General Rose and thereafter lived until 1890. She was most favourite soldier & warrior of Laxmibai.She was a very kind girl.

Historiography




Very few references are found about Jhalkaribai in the contemporary records. The diary of General Hugh Rose, who was the general of the company army, and commissioner's gazetteer has no mention of Jhalkaribai. However, Vishnubhat Godse, a contemporary Marathi traveller who travelled in North India during the rebellion and was the court priest of Jhansi during this period mentioned her in his travelogue, though he mentioned her as a maid.




One could find no references of Jhalkaribai or her bravery in early historiography. In pre-independence India, British historiographers like Kaye and Malleson or Thompson and Garratt made no mention of Jhalkaribai. Even the Indian authors ignored her feat. Savarkar neglected her in his The Indian War of Independence and Nehru did not mention her in his Discovery of India. Majumdar, Raychaudhuri, and Datta did not specify the deed of Jhalkaribai though they noted that the queen Laxmibai escaped out of the Jhansi fort on the night of April 4, 1858 and left for Kalpi as Sir Hugh Rose "stormed" in Jhansi on April 3.




The name of Jhalkaribai appeared in the printed history after the Independence of India in 1947. First reference of her story in this period is found in a novel Jhansi ki Rani written in 1951 by B.L. Varma, who created a subplot in his novel about Jhalkaribai for which he interviewed Jhalkaribai's grandson. He addressed Jhalkaribai as Korin and an ordinary soldier in Laxmibai's army. Another novel where we can find mention of Jhalkaribai was written in the same year by Ram Chandra Heran in his Bundeli novel Maati. Heran depicted her as "chivalrous and a valiant martyr". The first biography of Jhalkaribai was written in 1964 by Bhawani Shankar Visharad, a Dalit intellectual, with the help of Varma's novel and his research from the oral narratives of the lower caste people living in the vicinity of Jhansi.




Legacy




The image of Jhalkaribai has risen to a significant place in North India in the recent years. The socio-political importance of the story of Jhalkaribai to create social awareness and a sense of pride in the Dalits has been successfully recognized and used by political parties like Bahujan Samaj Party. The death anniversary of Jhalkaribai is celebrated as Shahid Diwas (Martyr Day) by various Dalit organizations every year.




The story of Jhalkaribai is utilized not only by the Dalits. The movement to create a separate Bundelkhand state has also use the legend of Jhalkaribai to create the Bundeli identity. The Government of India's Post and Telegraph department has also issued a postal stamp depicting Jhalkaribai.

Jijabai , Rajmata

: Shivaji Maharaj's inspiration and Hindavi Swaraj visionary




Jijabai was Shahjiraje's wife and Chatrapati Shivaji Maharaj's mother, she was the queen and Rajmata too. She moulded him into an ideal ruler by sowing seeds of devotion to the nation and Dharma. She was not only a mother to Shivaji, but also a source of inspiration. She had a strong faith that she was blessed by Goddess Bhavani and Mahadev. She strongly believed that our efforts bring success to our doorstep only with the grace of God. Entire Hindu community is grateful to God for having set an example before us in the form of Rajmata Jijabai.



1. Early years of Jijabai
Jijabai was born to Lakhojiraje Jadhav in Sindkhed territory of Vidharbh, Maharashtra in the year 1598 A.D. She was affectionately called as 'jiu'. Lakhojiraje Yadav was a Yadava, traditionally the rules of Devgiri. So, Jijabai was actually the princess of Devgiri. But Lakhojiraje, along with his three sons accepted to be chieftains in the Sultan's military. This was something that irked Jijabai.
1A. Righteous anger that fuelled Jijabai
Maharashtra was so subjugated that Brahmins would go to the Sultan to settle their disputes like, 'Who should proffer the offerings in a religious ritual?' The Sultan's army would often abduct the wives of the local Kshatriyas, and they would meekly offer bribes to have their wives back. In a state where Brahmins and Kshatriyas had discarded Dharma (righteousness) and valour, nothing much could be expected of the others ! Jijabai wold seeth with fury at the manner in which the Hindus were being treated by the invaders. Thus, right from the childhood, she developed an intense hatred towards the invaders who had used every ploy to humiliate Hindus.
2. Post marriage, Jijabai's love for Dharma unites two warring clans against the invaders
2a. Shahaji and Jijabai's intense desire to end the hostilities between the Jadhavs and Bhosales
Jijabai got married to the most valorous general of the Sultan's army, Shahajiraje Bhosale. Thereafter, she lived in Pune. Once, when all the Maratha sardars had come together, an elephant belonging to Khandagle suddenly became violent and went on a rampage. In the ensuing chaos, the Sardars used weapons which wounded the elephant. Unfortunately, this led to a misunderstanding between the Bhosales and the Jadhavs who took up arms against each other. Petty hostilities between the Maratha sardars flared up. Jijabai and Shahaji had to witness their near and dear ones die. They earnestly wanted both the families to forgo bitterness of the past and rise above personal ego; put an end to the hostility between the two families and fight the foreign invaders and establish Hindu Kingdom. But the egoistic Maratha Sardars were hardly convinced by the noble thoughts.
2b. Jijabai's patriotic words that force her father to introspect on the petty clashes
The Nizam had sent Lakhojiraje along with his army to Junnar to capture Shahajiraje. As Jijabai was pregnant, it was not possible for her to travel to Pune on horseback. So, Shahjiraje placed Jijabai under the care of Vishwasrao and Vaidhyaraj Nirgudkar (a doctor) in the Shivneri fort, and proceeded to Pune. Meanwhile Lakhojiraje reached Junnar and met his daughter at Shivneri fort after many years.
Jijabai said to her father, 'Marathas are fighting with each other for sake of mere ego and greed. If their valorous swords unite, foreign invaders will be vanquished in no time. It is a disgrace to be working under invaders for your livelihood, you must give it up'. Jijabai's intense patriotism and love for Dharma touched her father. Her earnest thought compelled Lakhojiraje to introspect. When he met Shahajiraje at the foothills of Shivneri, Lakhojiraje was pacified and that put an end to the hostility between Jadhavs and Bhosales forever.
3. Jijabai, who always kept the flame of vengeance burning, through hardship !
3a. Shahajiraje's sister-in-law abducted by Mahabat Khan
Mahabat Khan, a Mughal general, abducted Godavaribai in broad daylight. Kheloji made no efforts to rescue his wife; but Shahajiraje promptly rescued his sister-in-law Godavaribai from Mahabat Khan and in due course of time killed Mahabat Khan who had fled away.
3b. Nizam deceitfully killing Jijabai's father and three brothers
Nizam called Jijabai's father, Lakhojiraje and her three brothers in his royal court unarmed and killed them deceitfully. This callous event tore Jijabai's heart apart. Her maternal family was ruined, but she did not forgo her yearning for 'Swaraj'.
3c. Pune destroyed under Adilshah's orders
On Adilshah's orders, Rairao attacked Pune (Shahaji's territory) and burnt it to ashes, committed innumerable atrocities on the common man and killed many, destroyed the fields and houses. Pune, known as 'Punyabhumi' was sullied by the marauding forces.
These devastating incidents, occuring one after another, made a deep impact on Jijabai who was residing at Shivneri. She was unable to endure this situation and felt like forsaking her life, but she consoled herself, did not lack composure and kept the flame of vengeance burning !
4. Prayers offered by Jijabai prior to Shivaji's birth and her longings during pregnancy
4a. Prayers offered by Jijabai to Bhavanimata
Jijabai would ernestly pray to Bhavanimata 'To destroy the villainous and for the protection of the nation and Dharma, bless me with a son like Shri Ram or a daughter like Goddess Durga who would vanquish the enemies.
4b. Longings during pregnancy
Jijabai would feel like wielding a sword, sit on a tiger and slay the enemies. She would often dream of Dharmik war and establishment of Ramrajya.
5. Jijabai, an ideal mother who instilled values like patriotism and love for Dharma in Shivaji
Shivaji was born on Vaishakh shukla Paksha Trutiya (1627 A.D.) at Shivneri fort. Right from his childhood, Jijabai would tell Shivaji about the lives of Shriram, Maruti, Shrikrishna and also from Mahabharat and Ramayana to make him pious and patriotic. Thus, she moulded him into an ideal ruler by sowing seeds of devotion to the nation and Dharma. She was not only a mother to Shivaji, but also a source of inspiration.
6. Personal Life of Jijabai
6A. How Dharmacharan helped Jijabai face difficult situations courageously
When Jijabai went to stay in Pune along with Shivaji, she founded Kasbapeth Ganapati temple and renovated the Tambdi Jogeshwari and Kevereshwar temple. Besides being a patron of temples, Jijabai listened to bhajan-kirtans by Saints, studied Sanskrut scriptures and religiously performed the vowed religious observances. She was a chaste wife and dutiful mother. Although she was religiously inclined, her devotion was above rituals. She had lot of merit that she gathered by abiding to Dharma in her daily life. This gave her immense strength to face difficult situations.
6B. Jijabai's undaunted faith in God blessed her with success
She had a strong faith that she was blessed by Goddess Bhavani and Mahadev. She always backed her valorous husband and son fearlessly and resolutely. When her husband or son would be in perilous situations, she would ardently pray to Bhavanimata night and day, for their protection and safe return. She strongly believed that our efforts bring success to our doorstep only with the grace of God.
6C. Jijabai – An ideal Hindu woman
Jijabai played all the roles in her life such as daughter, sister, wife, daughter-in-law, sister-in-law, mother, mother-in-law, grandmother just as the scriptures have mentioned. She was loved and respected by all her family members. She was looked upon as the support system in the family. In all aspects, she was an ideal Hindu woman. Entire Hindu community is grateful to God for having set an example before us in the form of Rajmata Jijabai. A prayer unto the divine feet of Bhavanimata and Shambu Mahadev that, 'May all Hindu women be inspired by Jijabai to be ideal women !'
7. Jijabai – an ideal Queen Mother !
7A. A warrior par excellence
Jijabai was adept in warfare, possessing skills like horse riding, as well as mastery over the sword.
7B 1. Jijabai, wielding a sword, had decided to declare war against Siddi Jauhar to rescue Shivaji from the encircled fort of Panhala
7B 2. Jijabai the inspiration behind Afzal Khan's slaying : The Mughal commander Afzal Khan had killed Jijabai's elder son, Sambhajiraje in a military expedition of Kanakgiri by firing a cannon deceitfully. Later Afzal Khan set his sights on capturing Shivaji Maharaj. In this endeavour, he was unstoppable; destroying temples, idols of Deities, burning fields and inhumanly murdering people, as he was headed swiftly towards Rajgad. In this situation, if Shivaji Maharaj was to clash with Afzal Khan's army, the Maratha army's defeat was inevitable. Also if Shivaji was to meet Afzal Khan to sign a treaty, he would certainly not return. So, Shivaji's sardars and his learned ministers advised him to move to a safe place, away from Afzal Khan. But, Jijabai ordered Shivaji to meet Afzal Khan and slay him and display the Maratha valour to the world.
7D. An efficient administrator
Jijamata would keep a close watch on socio-political affairs of the state and in times of need would efficiently handle the administration.
7D 1. Leading the Marathas who were fighting Shaistakhan : Shivaji Maharaj was trapped for four months when Siddi Jauhar had besieged Panhala fort. Jijabai had shouldered the responsibility of Swaraj then. Till Shivaji escaped from the besieged fort, Jijabai led the Marathas who were fighting Shaistakhan thus protecting Swaraj.
7D 2. Protecting Swaraj even in her advanced age : While proceeding to Agra, Shivaji Maharaj entrusted Swaraj in the safe hands of Jijabai. Shivaji Maharaj's imprisonment by Aurangazeb did not deter Jijabai. Mughals from South, armies of Adilshah and Kutubshah, British and Portuguese invaders in Konkan and Gomantak (Goa) and vast army of Siddi Jauhar in Murud Janjira all had trained their greedy eyes on the Hindavi Swaraj. Jijabai, though aged, protected her people from these enemies for more than 8 months. Beyond this, she accomplished completion of Sindudurg fort, recaptured a fort from the enemies, attended to problems of the subjects and showed her efficiency in governing.
She promptly delivered justice to her subjects to settle numerous problems related to their family and state administration and well as social, religious and financial issues. She was well versed in scriptures, strong, principled and unbiased and so, she was able to deliver perfect and Dharma abiding justice. As the culprits were duly punished, her subjects looked upon her as a ray of hope and were blessed with Dharmrajya / Ramrajya.
She never distanced herself from her subjects to enjoy pleasures as Rajmata or Queen mother. She was always a responsible mother of a responsible king. She was the pillar of swaraj.
7G. Excellent political and war advisor
Her decisiveness and perceptive nature was so valuable and par excellence that Shahjiraje and Shivaji Maharaj used to value her opinion while taking major political decision. She was extremely good at planning strategies and war tactics.
7H 1. Singlehandedly bringing up Shivaji in the absence of Shahjiraje : Shahajiraje signed the treaty of Mahul and was compelled to leave Maharashtra and go to Karnataka with his elder son. Although this incident scattered her family and uprooted Swaraj, Jijabai was steady. Jijabai stayed back in Maharashtra under the pretext of taking care of Pune and Supe Paraganas given by Adil Shah to Shahjiraje and brought up Shivaji as an ideal son.
7H2. She taught her grandson Sambhaji, Urdu and Persian, to help understand the enemy's plans and strategies.
7H3. Jijabai encouraged Shivaji after the treaty of Purandar and Shivaji restablished Hindavi Swaraj : Shivaji Maharaj lost many of his territories and 23 forts to Raje Jaisingh in the treaty of Purandar, but he had a narrow escape from the clutches of Mughals. He did not let the enemy wreck Swaraj completely. Jijabai expressed her amazement over Shivaji's commendable achievement. Her positive approach encouraged Shivaji and he set about re-establishing swaraj with a renewed enthusiasm.
7I. An ideal queen, whose priority lay in her subjects
As Jijabai was Shahjiraje's wife and Chatrapati Shivaji Maharaj's mother, she was the queen and Rajmata too. As her prime concern was well-being of her subjects, she always gave priority to her duties as a queen or rajmata rather than just emotional bondages as a wife or a mother.
7I 1. Jijabai, the force behind Shivaji's Hindavi Swaraj : Hindus were oppressed under the barbaric atrocities of the Mughals in north India and the AdilShahs, KutubShahs in south India. Shivaji Maharaj, along with his mavlas was trying to reign in these demons. Shivaji Maharaj was the lone survior among Jijabai' sons and he too had to face many life threatening odds. But that did not deter Jijabai who braved all this and blessed Shivaji in all his endeavours.
7I2. Jijabai enduring the grief of her husband's death and contributing to swaraj : Shahjiraje's death shattered Jijabai but she endured it despite her advanced age. She refrained from committing sati for the sake of swaraj. She overcame grief and helped Shivajiraje by guiding him in the administration.
Gratitude and prayer
Barely 12 days after witnessing the golden moment of Shivaji's coronation Jijabai breathed her last in Pajad 1674. She devoted her entire life for swaraj. Obeisance to God for setting a personified example of what an ideal Hindu women should be like, in the form of Rajmata Jijabai. 'Jijamata had multi-faceted qualities like intense yearning, faith, determination, patience, sense of respect towards her Dharma, selflessness, warrior attitude, broad-mindedness, fearlessness, leadership, courage, war strategies, sacrificing attitude as well as a desire for victory. A prayer unto the Divine Feet that may all Hindus develop these abilities.
https://www.hindujagruti.org/articles/37_jijabai-jijamata.html
Joban Pagi Was A Infamous Koli Outlaw Of Gujarat Who Born In The Vadtal Village Of Gujarat State Of India And Became The Head Of Outlaws Of Vadtal Village.
Joban Pagi
One & Only Gangster Of Gujarati
Joban Pagi Was Born In A Farmer Koli Family Of Vadtal Village Of Gujarat. When Joban Pagi Was A Little Boy, The Army Of Any Ruler Passed Through The Vadtal Village And They Plunder And Looted The Peoples Of Vadtal Village.The Army Of
Baroda State
Was Most Known For Treating Bad The People's. The Villagers Of Vadtal Always Fears About Armies Of Rulers. So Joban Pagi Became A Outlaw To Treet The Rich Peoples And Rulers. Joban Pagi Became Head (
Sardar
) Of Outlaw Gang And Conducted The Attacks All Over The Gujarat. The Vadtal Village Of Joban Pagi Became Known Village Of Outlaws. Joban Pagi Targeted The Rich Peoples Who Was Cheating The Poor People And Main Target Of Joban Pagi Was Baroda State's Treasury Carts. Whenever Treasure Of Baroda State Taken To Baroda By Differents Of Roots , Joban Pagi Always Captured The Treasury Carts Of Baroda Kingdom. Princely State Of Baroda Was Only Big State In Gujarat. The Government Of Baroda State Took Stringent Steps To Protect The Treasury Carts From Joban Pagi But Joban Pagi Was Always Successful In His Aims. Joban Attacked The Rich During Marriage Season In Village He Also Attacked At Kashiabhai - A Government Collector Of Revenue On Agency Basis. The Maharaja Sayajirao Gaekwad Of Baroda State Tried Many Hard To Search The Joban Pagi But They Couldn't Find Him. At That Guru
Swaminarayan
Came To Dabhan Village With His Faster Horse Named Manki. Guru Swaminarayan Welcomes By
Kathi
Peoples Of Dabhan Village With Hundreds Of Horses. This News Reached To Joban Pagi And Joban Pagi Thought That This Is A Goledn Chance To Steel Some Good And Fast Horses For Robberies. The Eyes Of Joban Pagi Was At The Horse Of Guru Swaminarayan Named Manki. The Joban Pagi Tried For 3 Nights To Steel The Manki But He Was Not Successful So He Accepted The Swaminarayan As Lord And In The Morning He Surrendered Himself To Guru Swaminarayan And Requested To Be Devotee Of Guru Swaminarayan. This News Reached To Sayajirao 2 Gaekwad King Of Baroda State. Maharaja Sayajirao 2 Gaekwad Reached To Dabhan Village To Arrest The Joban Pagi. Maharaja Sayajirao 2 Gaekwad Was Requested By Followers Of Swaminarayan To Leave The Koli Outlaw Because He Was Changed. Maharaja Sayajirao 2 Gaekwad Also Was Follower Of Swaminarayan But Maharaja Was Not Able To Believe On Joban Pagi Because Joban Pagi Was Second Name Of Terror In Gujarat. Joban Pagi Captured The Treasury Carts Of Sayajirao 2 Gaekwad. But After Request Of Swaminarayan And His Saints, Maharaja Sayajirao 2 Gaekwad Make Free The Joban Pagi. Maharaja Sayajirao 2 Gaekwad Challenged The Joban Pagi To Steel The Royal Hores Of Baroda State And Said Hores Is Very Aggressive And Can Kill Him Because The Horse Don't Like Unknown Persons. The Koli Outlaw Joban Pagi Accepted The Challenge, At The Night , Joban Pagi Dressed Himself As Maharaja Of Baroda State Sayajirao 2 Gaekwad And Started The Riding On Royal Horse Of Baroda State. At This The Maharaja Sayajirao 2 Gaekwad Was Totally Impressed And Feared Of Joban Pagi. The Maharaja Sayajirao 2 Gaekwad Said Joban Pagi Is King Of Outlaws. Maharaja Sayajirao 2 Gaekwad Was Thinking That How Joban Pagi Changed And Became Follower Of Swaminarayan. The Hands Of Joban Pagi Was Full Of
Swords
And Now Carrying Rosary There. After That Swaminarayan Decided To Celebrate The Festival Of Swing Of Flowers (
Fuldol
). and Ordered Swami Brahmanand To Make All Of The Arrengment For Festival. Swami Brahmanand Asked To Joban Pagi For Arrengment Of Festival. Joban Pagi Went To
Petlad
Village Of Kashiabhai For Arrengment. Kashiabhai Announced That Joban Pagi Has Came To Petlad To Kill Us And Kashiabhai Hide Himself In His House. The Joban Pagi Called The Kashiabhai Peacefully To Come Out Of House And Said That I Came Here For Your Help In Arrengment For Festival Of Flowers Ordered By Swaminarayan. At This Hear, Kashiabhai Smiled And Came Out Of House. Kashiabhai Arrenged The Festival. Swaminarayan Was Pleased By The Arrengment Of Festival By Joban Pagi And Asked To Joban Pagi For Bless. At This , Joban Pagi Said That bless this land so that in the area between the river
Mahi
and the river
Sabarmati
no man or animal should be without food or water and may all persons dying within this area never go to hell." Shree Hari granted these two boons.
Stealing was quite common at religious gatherings and thieves were easily caught by Joban Pagi.
Shree Hari enjoyed playing the game of hide and seek. During the game Shree Hari tried to hide under the water but Joban Pagi always found Him.
Inspired by Joban Pagi's new way of life many other gang members gave up their criminal activities and became followers of Shree Hari. Joban Pagi's aunt Kadvi Kaki was a witch. When her
Black Magic
failed over Shree Hari she too surrendered and became His follower.
The transformation from a criminal to a devotee was visible in his actions. Once he saw an old man wounded. He stopped and dressed his wounds. He then took the old man to his residence and asked him to rest.
The cow herder Hira came to Joban Pagi for help. Two hundred cows from his herd were stolen by two thugs, one Yakub Khan and other Alla Rakha. Angered by this Joban Pagi fought the thugs and recovered the cattle.
When the famous
Swaminarayan Temple
was being built, he gifted away all the money and ornaments he had collected by robbing and killing innumerable persons. Besides he donated spacious land for the construction of the temple.
When Joban Pagi was fifty six years old, Shree Hari left for his eternal abode –
Akshardham
. To cherish the holy memories of Shree Hari, he kept a vial of the Lords holy dust that touched His feet. At every meal he would place a particle of this sand on his tongue. He lived up till the age of eighty six.
His beautiful statue stands in Jnan Baug near
Vadtal Temple
and all visitors pay their tribute to him there. The residence of Joban Pagi has been carefully preserved at Vadtal.
Born: 25 February 1925, Kuala Lumpur, Malaysia
Died: 9 May 2014, Cheras, Kuala Lumpur, Malaysia
Not many might have heard this name, but she was the founding member of the Malaysian Indian Congress. Belonging to a well to do Tamilian family, when Janaky heard about Subhas Chandra Bose' appeal to give whatever they could to help in gaining Indian independence, she immediately donated her gold earrings and determined to join the women's wing in the Rani of Jhansi regiment of the INA.
She was among the first women to join the Indian National Army that was organized during the Japanese occupation of Malaya to fight for Indian independence with the Japanese. After the second world war, she emerged as a welfare activist. She was awarded the fourth highest civilian honor of Padma Shri in 2000, by the Indian Government.
From Wikipedia, the free encyclopedia
Yang Berbahagia Puan Sri Datin
Kuala Lumpur, British Malaya (now Malaysia)
Died 9 May 2014 (aged 89)
Nationality Tamil Malaysians
Known for Figure of Indian independence movement And Malaysian independence movement,
Co founder of Malaysian Indian Congress
Title Notable commander of Rani of Jhansi Regiment Indian National Army, Puan Sri
Political party Malaysian Indian Congress
Children Ishwar Nahappan, Gouri Nahappan, Jayashri Nahappan
Puan Sri Datin Janaky Devar (25 February 1925 – 9 May 2014), better known as Janaky Athi Nahappan, was a founding member of the Malaysian Indian Congress and one of the earliest women involved in the fight for Malaysian (then Malaya) independence.
Janaki grew up in a well-to-do Tamil family in Malaya and was only 16 when she heard Subhas Chandra Bose's appeal to Indians to give whatever they could for their fight for Indian independence. Immediately she took off her gold earrings and donated them. She was determined to join the women's wing, the Rani of Jhansi Regiment of the Indian National Army. There was strong family objection especially from her father. But after much persuasion, her father finally agreed.
She was among the first women to join the Indian National Army organised during the Japanese occupation of Malaya to fight for Indian independence with the Japanese. Having been brought up in luxury, she initially could not adapt to the rigours of army life. However, she gradually got used to military life and her career in the regiment took off. She became second in command of the regiment.
After World War II she emerged as a welfare activist.
Janaki found the Indian National Congress's fight for Indian independence inspiring and joined the Indian Congress Medical Mission in then Malaya. In 1946 Nahappan helped John Thivy to establish the Malayan Indian Congress, which was modelled after the Indian National Congress. The party saw Thivy as its first president. Later in life, she became a senator in the Dewan Negara of the Malaysian Parliament.
The Government of India awarded her the fourth highest civilian honour of Padma Shri in 2000. She died at her house on 9 May 2014 due to pneumonia.
Kittur Chennamma
From Wikipedia, the free encyclopedia
23 October 1778
Died 21 February 1829 (aged 50)
Other names Rani Chennamma, Kittur Rani Chennamma
Kittur Chennamma (23 October 1778 – 21 February 1829) was the Indian Queen (Rani) of Kittur, a princely state in Karnataka. She led an armed rebellion against the British East India Company (BEIC) in 1824 in defiance of the doctrine of lapse in an attempt to maintain Indian control over the region, in which she defeated them, but she was dead in the imprisonment of second rebellion by the British East India Company. One of the first female rulers to rebel against British rule, she became a folk hero in Karnataka and symbol of the independence movement in India.
Early life
Kittur Chennamma was born on 23 October 1778, in Kakati, a small village in the present Belagavi District of Karnataka, India. She belonged to the Lingayat community and received training in horse riding, sword fighting and archery from a young age.
She married Raja Mallasarja of the Desai family at the age of 15.
Rebellion against the British
Chennamma's husband died in 1824, leaving her with a son and a state full of volatility. This was followed by her son's death in 1824. Rani Chennamma was left with the state of Kittur and an uphill task to maintain its independence from the British. Following the death of her husband and son, Rani Chennamma adopted Shivalingappa in the year 1824 and made him the heir to the throne. This irked the East India Company, who ordered Shivalingappa's expulsion, on the pretext of the Doctrine of Lapse introduced by Lord Dalhousie, the then Governor General, to annex independent Indian States in 1848. This doctrine was based on the idea that in case the ruler of an independent state died childless, the right of ruling the State reverted or 'lapsed' to the sovereign. The state of Kittur came under the administration of Dharwad collectorate in charge of St John Thackeray of which Mr. Chaplin was the commissioner, both of whom did not recognize the new ruler and regent and notified Kittur to accept the British regime.
Rani Chennamma sent a letter to Mountstuart Elphinstone, Lieutenant-Governor of the Bombay Presidency pleading her cause, but the request was turned down, and war broke out. The British tried to confiscate the treasure and jewels of Kittur, valued at around 1.5 million rupees. They attacked with a force of 20,797 men and 437 guns, mainly from the third troop of Madras Native Horse Artillery. In the first round of war, during October 1824, British forces lost heavily and St John Thackeray, collector and political agent, was killed in the war Amatur Balappa, a lieutenant of Chennamma, was mainly responsible for his killing and losses to British forces. Two British officers, Sir Walter Elliot and Mr. Stevenson were also taken as hostages. Rani Chennamma released them with an understanding with Chaplin that the war would be terminated but Chaplin continued the war with more forces. During the second assault, subcollector of Solapur, Munro, nephew of Thomas Munro was killed. Rani Chennamma fought fiercely with the aid of her deputy, Sangolli Rayanna, but was ultimately captured and imprisoned at Bailhongal Fort, where she died on 2 February 1829. Chennamma was also helped by her henchman Gurusiddappa in the war against British.
Sangolli Rayanna continued the guerrilla war to 1829, in vain, until his capture. He wanted to install the adopted boy Shivalingappa as the ruler of Kittur, but Sangolli Rayanna was caught and hanged. Shivalingappa was arrested by the British. Chennamma's legacy and first victory are still commemorated in Kittur, during the Kittur Utsava held on 22–24 October every year.
Memorials
Burial place
Rani Chennamma's samadhi or burial place is in Bailhongal taluk, and is currently in a poor state due to poor maintenance of the surrounding park area by Government agencies.
Statues
Parliament House, New Delhi
Statue of Kittur Chenamma near Belagavi town hall.
From Wikipedia, the free encyclopedia
Died 26 July 2017 (aged 95)
Occupation Freedom fighter
K. E. Mammen (31 July 1921 – 26 July 2017) was an Indian freedom fighter. He was a follower of Mahatma Gandhi and is often referred to as the Kerala Gandhi.
Personal life
Mammen was born into the Kandathil family on 31 July 1921 as the sixth child of K.C. Eapen and Kunjandamma, in Thiruvananthapuram. His father was a manager at the National Quilon Bank, and they lived opposite the Kerala Government Secretariat where freedom fighters used to converge to make speeches. Mammen was a staunch follower of Gandhian ideals and lead an austere life. He remained unmarried.
Activism
He became the president of the Travancore Students Federation while he was an intermediate student at College of Fine Arts Trivandrum. During this period, he was jailed for urging students to join the freedom struggle, during a public meeting held at Thirunakkara. The famous 'Kozhencherry speech' by C. Kesavan inspired Mammen to dedicate himself to social causes. The National Quilon Bank was closed by C. P. Ramaswami Iyer who was the then Diwan of Travancore. Mammen's father, the brother of K.C Mammen Mappillai, was among the officials arrested and ended up dying in jail. He was expelled from the college for criticising the Diwan in a meeting and was rejected admission in Maharaja's College, Ernakulam when he tried to continue his education there. He subsequently completed his intermediate course at St. Thomas College, Thrissur. He went to the Madras Christian College for his bachelor's degree in 1940, but was soon expelled for participating in the Quit India Movement.
During the period Mahatma Gandhi invoked the youth to join the freedom struggle. Mammen was inspired by this, and began working among the people of Thiruvalla and Kottayam. He was the candidate for the newly formed Praja Socialist Party in the 1952 Travancore-Cochin Legislative Assembly election and ended up coming second by 500 votes. He received many accolades over his eventful life including the Ramashramam Award, Lohi Vicharavedi Award and the TKV Foundation Award. Mammen was also actively involved in anti-liquour campaigns across the state of Kerala till his death. He died on 26 July 2017.
कुयिली
कुयिली : दक्षिण भारत की दलित वीरांगना
By Eesha, -August 25, 2020
भारतीय इतिहास में महिलाओं का योगदान अक्सर भुला दिया जाता है। हमारे इतिहास के शूरवीर योद्धाओं और शासकों की जब भी बात होती है हम अधिकतर पुरुषों के नाम ही याद रखते हैं। महिलाएं खासकर दलित और आदिवासी महिलाएं जिन्होंने भारत के स्वतंत्रता संग्राम में एक अहम भूमिका निभाई थी उनमें से एक या दो को छोड़कर बाकियों के नाम तक हम नहीं जानते। इसलिए ज़ाहिर है कि हम यह नहीं जानते कि ब्रिटिश सरकार के खिलाफ़ जंग छेड़नेवाली पहली भारतीय एक औरत थी। तमिलनाडु के शिवगंगा की रानी वेलु नचियार (1730-96)। हम यह भी नहीं जानते कि उनके लिए यह कर पाना असंभव होता अगर उनके साथ एक और वीरांगना न लड़ी होती। यह वीरांगना थी उनकी सेनापति, अंगरक्षक और खास सहेली-भारत की पहली दलित महिला सेनापति- कुयिली।
कुयिली का बचपन
कुयिली का जन्म तमिलनाडु के शिवगंगा के एक गांव में हुआ था। उसके पिता पेरियमुदन और मां रकू किसान थे और 'अरुंधतियार' जाति से तालुक्क रखते थे, जो तमिलनाडु की एक अनुसूचित जाति है। कुयिली की मां रकू अपने साहस और ताकत के लिए पूरे गांव में मशहूर थी। कुयिली के पैदा होने के कुछ ही समय बाद खेतों मे घुस आए एक पागल सांड से लड़ते हुए रकू की मृत्यु हो गई।
पत्नी के चले जाने के बाद पेरियमुदन बहुत आहत हुए और बेटी के साथ अपना घर छोड़कर शिवगंगा की राजधानी में आ गए, जहां रानी वेलु नचियार का शासन था। यहां वे मोची का काम करके अपना गुज़ारा करने लगे और छोटी कुयिली को उसकी मां की वीरता की कहानियां सुनाकर बड़ा करने लगे। पेरियमुदन जल्द ही शाही मोची बन गए और रानी के लिए जूते बनाने लगे, जिसकी वजह से उन्हें और कुयिली को रोज़ महल में आने-जाने की अनुमति थी। इस तरह रानी वेलु नचियार कुयिली से रोज़ मिलने लगी और दोनों में अच्छी दोस्ती हो गई।
रानी की अंगरक्षक कैसे बनी कुयिली
बड़ी होते-होते कुयिली अपनी मां जैसी साहसी और ताकतवर बनती गई। उसने कई तरह के अस्त्र-शस्त्र चलाना सीखे और कई अलग-अलग युद्ध कलाओं में पारंगत हो गई। अब वह रानी के साथ रहने लगी थी और उनकी सबसे करीबी इंसान बन चुकी थी। इसी तरह कई बार कुयिली ने रानी की जान भी बचाई। एक रात जब रानी सो रही थी तो एक हत्यारा उनके शयन कक्ष में घुस आया और उन्हें मारने की कोशिश की। कुयिली भी वहीं सो रही थी और वह उस हत्यारे से लड़कर रानी की जान बचाने में सफल हुई। ऐसा करते हुए वह खुद बुरी तरह से घायल हुई। जब रानी की नींद टूटी और उन्हें सब पता चला, उन्होंने अपनी साड़ी फाड़कर कुयिली की मरहम-पट्टी की। एक और बार कुयिली को पता चला कि उसके अपने गुरु रानी को मारने का षड्यंत्र कर रहे हैं तो इस बात की खबर लगते ही उसने खुद अपने गुरु की हत्या कर दी। यह देखकर रानी वेलु नचियार अत्यंत प्रभावित हो गई और उन्होंने कुयिली को अपना खास अंगरक्षक घोषित कर दिया।
रानी वेलु नचियार से कुयिली की करीबी की बात ब्रिटिश शासकों तक पहुंच गई। वे चाहते थे कि रानी पर हमला और शिवगंगा की राजधानी पर कब्ज़ा करने में कुयिली उनकी मदद करे। उन्होंने पूरी कोशिश की कुयिली को अपने साथ शामिल करने की, पर वह टस से मस न हुई।
सेनापति कुयिली
रानी वेलु नचियार से कुयिली की करीबी की बात ब्रिटिश शासकों तक पहुंच गई। वे चाहते थे कि रानी पर हमला और शिवगंगा की राजधानी पर कब्ज़ा करने में कुयिली उनकी मदद करे। उन्होंने पूरी कोशिश की कुयिली को अपने साथ शामिल करने की, पर वह टस से मस न हुई। लालच और धमकियां देकर उन्होंने कुयिली को अपने साथ मिलाने की बहुत कोशिश की पर वह अपनी बात पर अड़ी रही। जब सारी कोशिशें नाकाम हुईं, ब्रिटिश सेना ने शिवगंगा के दलित समुदाय पर हल्ला बोल दिया। निहत्थे दलितों को दिनदहाड़े बेरहमी से काटा जाने लगा ताकि अपने समुदाय के लोगों की हालत देखकर कुयिली अंग्रेज़ों से हाथ मिला ले।
जब रानी को यह बात पता चली, उन्होंने कुयिली को अपनी सेना के महिला पलटन की सेनापति बना दिया ताकि वह अपने लोगों की रक्षा के लिए ब्रिटिश ताकतों के ख़िलाफ़ लड़ सके। कुयिली इतिहास में पहली दलित महिला बनी जिसने सेना का नेतृत्व किया हो। अपने साहस और शौर्य के लिए उसकी सेना में उसे 'वीरतलपति' (वीर नेता) और 'वीरमंगई' (वीरांगना) जैसे नामों से जाना जाने लगा।
18वीं सदी के दूसरे भाग में रानी वेलु नचियार ने मैसूर के टीपू सुल्तान, उनके पिता हैदर अली और शिवगंगा के मरुदु पांडियर भाईयों के साथ शामिल होकर ब्रिटिश शासकों के ख़िलाफ़ जंग छेड़ दी। सेना के महिला पलटन के नेतृत्व में थी कुयिली और सेना में कुयिली के पिता पेरियमुदन भी शामिल थे। मक़सद था शिवगंगा किले को अंग्रेज़ों के कब्ज़े से मुक्त करवाना, क्योंकि यहीं से वे शिवगंगा के एक बड़े हिस्से पर नियंत्रण कर रहे थे। शिवगंगा किला हमेशा ब्रिटिश सैनिकों से घिरा रहता था और किसी को अंदर जाने की अनुमति नहीं थी। पूरे साल में सिर्फ़ एक ही दिन के लिए शिवगंगा किला बाहरवालों के लिए खुलता था। नवरात्रि के आखिरी दिन, जब महिलाओं को विजयादशमी की पूजा करने के लिए किले के अंदर देवी राजराजेश्वरी अम्मा के मंदिर में जाने की अनुमति थी। सेनापति कुयिली ने इसी मौके का फ़ायदा उठाया और इसके आधार पर एक नई रणनीति बनाई।
1780 साल में विजयादशमी के दिन कुयिली अपनी पूरी पलटन के साथ शिवगंगा किले में घुस गई। पलटन की सारी महिलाएं भक्तों के भेष में थी और अपनी टोकरियों में उन्होंने फूल और प्रसाद के साथ अपने शस्त्र छिपाए थे। अंदर जाते ही कुयिली किले के उस कमरे में चली गई जहां अंग्रेज़ों के सारे हथियार रखे हुए थे। इसके बाद उसने वह किया जिसे आज की भाषा में 'सुसाईड बॉम्बिंग' कहते हैं।
कुयिली ने पहले ही अपनी सैनिकों से कहकर अपने शरीर पर बहुत सारा तेल और घी डलवा लिया था। कमरे में पहुंचते ही उसने अपने हाथ में लिए दीपक से खुद को आग के हवाले कर दिया। आग से जलती हुई कुयिली ने हथियारों पर छलांग लगाई और सारे हथियारों के साथ उसका शरीर भी एक पल में भस्म हो गया। भारतीय इतिहास में पहली बार किसी ने हमले का यह तरीका अपनाया था।
अंग्रेज़ सैनिक वैसे भी युद्ध के लिए तैयार नहीं थे और सारे हथियार ध्वंस हो जाने के बाद उनके पास आत्मरक्षा का कोई विकल्प नहीं था। रानी वेलु नचियार की सेना ने उन्हें आसानी से हरा दिया और शिवगंगा किले पर जीत हासिल कर ली। अपने असाधारण साहस और बलिदान के लिए कुयिली भारत के इतिहास में एक महत्वपूर्ण नाम है। साल 2013 में तमिलनाडु की सरकार ने उसकी स्मृति को समर्पित एक स्मारक बनवाया था। दुर्भाग्य से तमिलनाडु के बाहर बहुत कम लोग कुयिली के बारे में जानते हैं। हमारे इतिहास में महिलाओं, ख़ासकर दलित महिलाओं का अमूल्य योगदान रहा है। हमें ज़रूरत है इन सभी ऐतिहासिक चरित्रों के बारे में पढ़ने और जानने की। इन्हें इतनी आसानी से भुला दिया नहीं जा सकता।
तस्वीर साभार : Feminism In India
तस्वीर साभार: द बेटर इंडिया
कूयिलि शिवगंगा की रानी वेलु नचियार की सेनाध्यक्ष थी। वेलु नेचियार उन पहले सम्राटों में से एक थी जिन्होंने 1780 के दशक में अग्रेज़ों से लोहा लिया था। अंग्रेज़ों के खिलाफ इस युद्ध में कूयिलि ने अपने राज्य के लिए अपने प्राण न्योछावर कर दिए थे। कूयिलि के चाहने वाले उन्हें एक वीर योद्धा के रूप में याद करते हैं। कूयिलि का जन्म एक गरीब दलित परिवार में हुआ था। उनके पिता रानी के लिए एक जासूस के रूप में काम करते थे जिसके ज़रिए कूयिलि वेलु नचियार के करीब आई। उन्होंने कई बार रानी वेलु रचियार के प्राणों की रक्षा की जिसके बाद उन्हें रानी के अंगरक्षक के रूप में तैनात किया गया और आगे चलकर वह महिला सेना की सेनाध्यक्ष बनी। जब शिवगंगा के महल पर अंग्रेज़ों का हमला हुआ तब उन्होंने वीरता के साथ उनका सामना किया। कूयिलि और उनकी सेना ने अंग्रेज़ों के हथियार छिपाकर उन्हें सकते में डाल दिया। सिर्फ इतना ही नहीं, कूयिलि ने अंग्रेजों के हथियार के जखीरे को बर्बाद करने के लिए अपने शरीर को तेल में डुबोया और आग लगा ली। एक दलित महिला के रूप में उनकी वीरता और जिस बहादुरी के साथ उन्होंने अंग्रेज़ों का सामना किया उसे हमेशा याद किया जाना चाहिए।
: एक चादर ने खोल दी थी क्रांतिकारियों की पोल, पढ़िए पूरी कहानी !
नई दिल्ली (टीम डिजिटल): हिन्दुस्तान प्रजातन्त्र संघ की ओर से प्रकाशित इश्तहार और उसके संविधान को लेकर बंगाल पहुँचे दल के दो नेता- शचीन्द्रनाथ सान्याल बाँकुरा में उस समय गिरफ्तार कर लिये गये जब वे यह इश्तहार अपने किसी साथी को पोस्ट करने जा रहे थे।
सरकारी खजाना लूटने का निर्णय
2 प्रमुख नेताओं के गिरफ्तार हो जाने से राम प्रसाद 'बिस्मिल' के कन्धों पर उत्तरदायित्व आ गया। पार्टी के कार्य हेतु धन की आवश्यकता अधिक बढ गयी। कहीं से भी धन प्राप्त होता न देख उन्होंने 7 मार्च 1925 बिचपुरी तथा 24 मई 1925 को द्वारकापुर में 2 राजनीतिक डकैतियाँ डालीं तो परन्तु उनमें कुछ विशेष धन उन्हें प्राप्त न हो सका। इन दोनों डकैतियों में एक-एक व्यक्ति मौके पर ही मारा गया। बिस्मिल की आत्मा को अत्यधिक कष्ट हुआ, आखिरकार उन्होंने यह पक्का निश्चय कर लिया कि वे अब केवल सरकारी खजाना ही लूटेंगे।
ऐतिहासिक रेल डकैती
8 अगस्त 1925 को राम प्रसाद 'बिस्मिल' के घर पर हुई एक इमर्जेन्सी मीटिंग में अंग्रेजी सरकार का खजाना लूटने की एक धमाकेदार योजना बनायी। 9 अगस्त 1925 को इस योजनानुसार दल के ही एक प्रमुख सदस्य राजेन्द्रनाथ लाहिड़ी ने लखनऊ जिले के काकोरी रेलवे स्टेशन से छूटी 'आठ डाउन सहारनपुर-लखनऊ पैसेन्जर ट्रेन' को चेन खींच कर रोका।पण्डित राम प्रसाद बिस्मिल के नेतृत्व में अशफाक उल्ला खाँ, पण्डित चन्द्रशेखर आज़ाद व 6 अन्य सहयोगियों ने समूची ट्रेन पर धावा बोलते हुए सरकारी खजाना लूट लिया।
इसके बाद गार्ड के डिब्बे से सरकारी खजाने का बक्सा नीचे गिरा दिया। पहले उसे खोलने की कोशिश की किन्तु वह नहीं खुला तो अशफाक उल्ला खाँ ने अपना माउजर मन्मथनाथ गुप्त को पकड़ा दिया और हथौड़ा लेकर बक्सा तोड़ने में जुट गए।मन्मथनाथ गुप्त ने उत्सुकतावश माउजर का ट्रैगर दबा दिया, गोली अहमद अली नाम के मुसाफिर को लग गयी। वह मौके पर ही ढेर हो गया। शीघ्रतावश चाँदी के सिक्कों व नोटों से भरे चमड़े के थैले चादरों में बाँधकर वहाँ से भागने में एक चादर वहीं छूट गई। अगले दिन अखबारों के माध्यम से यह खबर पूरे संसार में फैल गयी।
ब्रिटिश सरकार ने इस ट्रेन डकैती को गम्भीरता से लिया और सीआईडी इंस्पेक्टर तसद्दुक हुसैन के नेतृत्व में स्कॉटलैण्ड की सबसे तेज तर्रार पुलिस को इसकी जाँच का काम सौंप दिया।
गिरफ्तारी और मुकदमा
पुलिस ने काकोरी कांड षड्यन्त्र में शामिल किसी भी व्यक्ति को गिरफ्तार करवाने के लिये इनाम की घोषणा के साथ इश्तिहार सभी प्रमुख स्थानों पर लगा दिये जिसका परिणाम यह हुआ कि पुलिस को घटनास्थल पर मिली चादर में लगे धोबी के निशान से इस बात का पता चल गया कि चादर शाहजहाँपुर के किसी व्यक्ति की है। शाहजहाँपुर के धोबियों से पूछने पर मालूम हुआ कि चादर बनारसीलाल की है। बिस्मिल के साझीदार बनारसीलाल से मिलकर पुलिस ने इस डकैती का सारा भेद प्राप्त कर लिया।
पुलिस को उससे यह भी पता चल गया कि 9 अगस्त 1925 को शाहजहापुर से राम प्रसाद 'बिस्मिल' की पार्टी के कौन-कौन लोग शहर से बाहर गये थे और वे कब-कब वापस आये? जब खुफिया तौर से इस बात की पूरी पुष्टि हो गई कि राम प्रसाद 'बिस्मिल', जो हिन्दुस्तान प्रजातन्त्र संघ (एचआरए) का लीडर था, उस दिन शहर में नहीं था तो 26 सितम्बर 1925 की रात में बिस्मिल के साथ समूचे हिन्दुस्तान से 40 लोगों को गिरफ्तार कर लिया गया।
फरार क्रान्तिकारियों में से दिल्ली से अशफाक उल्ला खां, भागलपुर से शचीन्द्रनाथ बख्शी को पुलिस बाद में गिरफ़्तार किया था। शचीन्द्रनाथ सान्याल बाकुरा में, योगेशचन्द्र चटर्जी हावडा में तथा राजेन्द्रनाथ लाहिड़ी दक्षिणेश्वर बम विस्फोट मामले में कलकत्ता से पहले ही गिरफ्तार हो चुके थे और दो लोग अशफाक उल्ला खां और शचीन्द्रनाथ बख्शी को तब गिरफ्तार किया गया जब मुख्य काकोरी षड्यन्त्र केस का फैसला हो चुका था।
जब पांच क्रांतिकारियों को नहीं पकड़ पाए अंग्रेज
काकोरी-काण्ड में के 10 लोगों में से 5 - चन्द्रशेखर आजाद, मुरारी शर्मा, केशव चक्रवर्ती, अशफाक उल्ला खां व शचीन्द्र नाथ बख्शी को छोड़कर, जो उस समय तक पुलिस के हाथ नहीं आये, शेष सभी व्यक्तियों पर सरकार बनाम राम प्रसाद बिस्मिल व अन्य के नाम से ऐतिहासिक मुकदमा चला और उन्हें 5 वर्ष की कैद से लेकर फाँसी तक की सजा हुई। जिन-जिन क्रान्तिकारियों को एचआरए का सक्रिय कार्यकर्ता होने के सन्देह में गिरफ्तार किया गया था उनमें से 16 को साक्ष्य न मिलने के कारण रिहा कर दिया गया।
सरकारी वकील लेने से इनकार
सेशन जज के फैसले के खिलाफ 18 जुलाई 1927 को अवध चीफ कोर्ट में अपील दायर की गयी। चीफ कोर्ट के मुख्य न्यायाधीश सर लुइस शर्ट और विशेष न्यायाधीश मोहम्मद रजा के सामने दोनों मामले पेश हुए। राम प्रसाद 'बिस्मिल' ने अपनी पैरवी खुद की क्योंकि सरकारी खर्चे पर उन्हें लक्ष्मीशंकर मिश्र नाम का एक बड़ा साधारण-सा वकील दिया गया था जिसको लेने से उन्होंने साफ मना कर दिया।
न्यायाधीश ने पूछा कहां से पढ़ी वकालत, तो क्या कहा बिस्मिल ने..
बिस्मिल ने चीफ कोर्ट के सामने जब धाराप्रवाह अंग्रेजी में फैसले के खिलाफ बहस की तो सरकारी वकील जगतनारायण मुल्ला जी बगलें झाकते नजर आये।
इस पर चीफ जस्टिस लुइस शर्टस् को बिस्मिल से अंग्रेजी में यह पूछना पड़ा - मिस्टर रामप्रसाड !
फ्रॉम भिच यूनीवर्सिटी यू हैव टेकेन द डिग्री ऑफ ला ?
इस पर बिस्मिल ने हस कर चीफ जस्टिस को उत्तर दिया था -
'एक्सक्यूज मी सर ! ए किंग मेकर डजन्ट रिक्वायर ऐनी डिग्री।'
बिस्मिल की बहस से सनसनी
बिस्मिल द्वारा की गयी सफाई की बहस से सरकारी तबके में सनसनी फैल गयी। मुल्ला जी ने सरकारी वकील की हैसियत से पैरवी करने में आनाकानी की। अतएव अदालत ने बिस्मिल की 18 जुलाई 1927 को दी गयी स्वयं वकालत करने की अर्जी खारिज कर दी। उसके बाद उन्होंने 76 पृष्ठ की तर्कपूर्ण लिखित बहस पेश की जिसे देखकर जजों ने यह शंका व्यक्त की कि यह बहस बिस्मिल ने स्वयं न लिखकर किसी विधिवेत्ता से लिखवायी है।
अंत में उन्हीं लक्ष्मीशंकर मिश्र को बहस करने की इजाजत दी गयी जिन्हें लेने से बिस्मिल ने मना कर दिया था। यह भी अदालत और सरकारी वकील जगतनारायण मुल्ला की मिली भगत से किया गया। क्योंकि अगर बिस्मिल को पूरा मुकदमा खुद लडने की छूट दी जाती तो सरकार निश्चित रूप से मुकदमा हार जाती।
काकोरी काण्ड का अन्तिम निर्णय
22 अगस्त 1927 को जो फैसला सुनाया गया उसके अनुसार राम प्रसाद बिस्मिल, राजेन्द्रनाथ लाहिड़ी व अशफाक उल्ला खां को आजीवन कारावास तथा अनुसार फांसी एवं ठाकुर रोशन सिंह को पहली दो दफाओं में 5+5 कुल 10 वर्ष की कड़ी कैद तथा 2 दफाओं के अनुसार फांसी का हुक्म हुआ। शचीन्द्रनाथ सान्याल, जब जेल में थे तभी लिखित रूप से अपने किये पर पश्चाताप प्रकट करते हुए भविष्य में किसी भी क्रान्तिकारी कार्रवाई में हिस्सा न लेने का वचन दे चुके थे जिसके आधार पर उनकी उम्र-कैद बरकरार रही।
चीफ कोर्ट में अपील करने के बावजूद योगेशचन्द्र चटर्जी, मुकुन्दी लाल व गोविन्दचरण कार की सजायें 10-10 वर्ष से बढाकर उम्र-कैद में बदल दी गयीं। सुरेशचन्द्र भट्टाचार्य व विष्णुशरण दुब्लिश की सजायें भी 7 वर्ष से बढाकर 10 वर्ष कर दी गयी। रामकृष्ण खत्री को भी 10 वर्ष के कठोर कारावास की सजा बरकरार रही।
खूबसूरत हैण्डराइटिंग में लिखकर अपील देने के कारण केवल प्रणवेश चटर्जी की सजा को 5 वर्ष से घटाकर 4 वर्ष कर दिया गया। इस काण्ड में सबसे कम सजा (3 वर्ष) रामनाथ पाण्डेय को हुई। मन्मथनाथ गुप्त, जिनकी गोली से मुसाफिर मारा गया, की सजा बढाकर 14 वर्ष कर दी गयी। एक अन्य अभियुक्त राम दुलारे त्रिवेदी को इस मुकदमें में पाँच वर्ष के कठोर कारावास की सजा दी गयी।
Komaram Bheem