Begging is a Rs 15 crore pa industry in Hyderabad


Begging has become a lucrative profession in Hyderabad with the 10,466-odd alms-seekers making a whopping Rs 15 crore per annum.
This was found after a survey commissioned by the Hyderabad District Collectorate and conducted by a city-based non-Governmental Organistaion, Hyderabad Council of Human Welfare.
The district administration has planned to implement a rehabilitation package for beggars to wean them away from their favourite avocation. In all, 77 volunteers were involved in the two-month-long massive data collection exercise for the survey.

The survey reveals that one out of every 354 residents of Hyderabad is engaged in begging. Almost 21% of the 10,466 beggars earn above Rs 2,000 per month, while 47% make between Rs 900 to Rs 2,000 pm.

Another 30% earn less than Rs 900 a month. A whopping 92% of the average earnings of the beggars go towards food, followed by shelter, drug habits and entertainment.

Sixty-five percent of the beggars earn their money by direct soliciting and the remaining make their living through other methods such as devotional singing and exhibiting the portraits of gods etc.
The beggars include 5,814 males (55.5%), 4,615 females (44.1%) and 39 eunuchs (0.4%).
Almost 73% of the beggars are 'outsiders', including 66% from other districts and 7% from other states. Curiously, four foreigners (Nepalese) are engaged in begging in Hyderabad.

Most of the beggars (86%) belong to weaker sections, including Scheduled Castes (40%), Backward Classes (30%), Scheduled Tribes (12%) and minorities (4%).

Interestingly, the study found that 300 beggars who had migrated to Delhi had shifted back to Hyderabad as they found Hyderabadis to be more generous and God-fearing than the people of Delhi.
A shocking revelation, of course, is that 31% of 175 adolescent female beggars were sexually abused and 50% were physically abused. The abusers include street children (77%), street youth (13%) and cycle and autorickshaw drivers (10%).
Policemen, too, occasionally sexually abuse these girls. 67% of the girls were not aware of the risk of HIV/AIDS.
Among the places of begging, religious places are considered to be safe areas, while traffic junctions and footpaths, though more fetching, are viewed as risky by the beggars.

Religious places constitute 34% of the 'begging spots', followed by footpaths (15%), commercial centres (12%) and traffic junctions (8%).
Also, 41% of the beggars have their own dwellings such as huts or makeshift homes, while 20% live on pavements, 11% under bus shelters, 15% in railway stations and the remaining in parks and religious places.
A whopping 85% of the beggars have come into this profession on their own accord, while 12% have been forced to beg by their parents. As many as 43% of the beggars are able-bodied persons.
Begging as a phenomenon increased in the state capital as a result of the prolonged drought affecting the agriculture sector in the districts. With able-bodied men and women migrating to construction sites to find work, the old and the infirm are left to their fate. Many of them join the ranks of the destitute in the city.
Hyderabad District Collector Arvind Kumar says that the district administration will provide identity cards and rehabilitate all the beggars within six months.
Once this is done, the administration will strictly enforce the Andhra Pradesh Prevention of Begging Act 1977 to eradicate begging in the city. The Act includes penal provisions like imprisonment up to two years.
The district administration will provide night shelter for homeless beggars in the homes run by various departments.
Children, disabled persons, adolescent boys and irls, men and women, old and infirm persons will be covered under one scheme or the other for their rehabilitation.
The administration will coordinate with various agencies to implement the action plan. The NGO will be involved in the rehabilitation of beggars.

The SC, ST, BC and Minority Welfare Departments will identify the able-bodied among the beggars who constitute 54% of the alms-seekers and who are ready to avail self-employment schemes to give up begging.

For the aged and infirm, old age pensions will be given and ration cards will be issued for supply of rice under the Annapurna Anna Yojana at Rs 3 per kg.
Children will be admitted in residential bridge schools and adolescent girls will be lodged in homes run by the Women's and Child Welfare Department and provided education and vocational training.

Begging in Chennai: A Rs 30-crore business that refuses to go away
Ekatha Ann John | TNN


Reluctance by police and lack of sufficient specialised homes for rescued children and infants have fed the be... Read MoreCHENNAI: As the train pulled into Basin Bridge junction on Friday morning, Arunachalam's phone buzzed: Someone on board had alerted Childline volunteers at Chennai Central station about the children. Even before he disconnected the call, his teenage son jumped out, and hollered to the others. In five minutes, six children scrambled out of the compartments holding stacks of colouring books and stickers close to their chests. They knew what this meant – a meal less.

But for Arunachalam, who heads a community of 30 families engaged in begging, this was a minor hitch in an otherwise thriving business. "We will make up for the loss tomorrow," he said, cleaning a pair of dark shades before sporting them. The group, hailing from Avadi, then split – one headed to Vepery, while the other, led by his son, went to Purasawalkam. It wasn't fear as much as inconvenience that made them disembark before their intended destination. "We will lose a day's earning trying to get these children out," he said.

Arunachalam is among four leaders of beggars' groups TOI met over the course of a month to unravel their vast network – involving railway porters, autorickshaw drivers and police – and to dig deep into their pockets to fish out an economy with an annual turnover of more than Rs 30 crore, as estimated by officials who rescue children. Women with infants and children below 12 bring in 70% of this revenue – a figure validated by these leaders and supported by the number of rescues.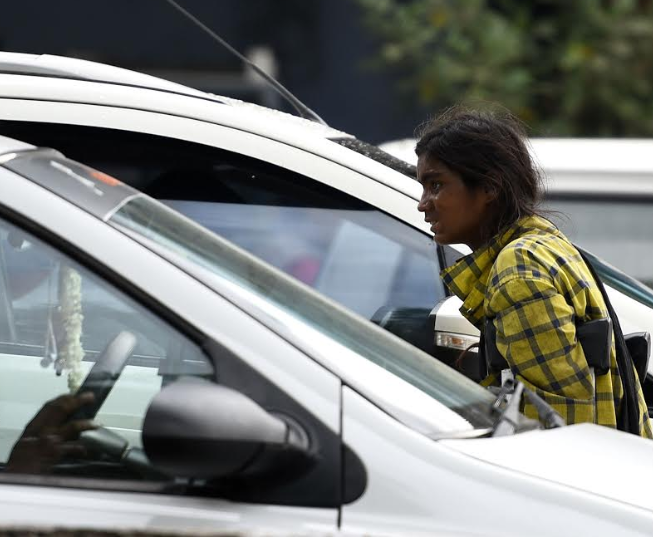 A woman begs at a traffic signal in Chennai (TOI photo by C Suresh Kumar)

In two drives by Chennai police last year, which officials promised would be concerted, 107 child beggars were rescued. All of them were restored to their families. At least three of these children surfaced again in the state's records this year when a drive by police in April resulted in 54 children being "rescued". "They rounded up any child sitting alone on the road. We had to let all of them go," said Sheila Charles Mohan, member of Child Welfare Committee, Chennai.

Reluctance by police and lack of sufficient specialised homes for rescued children and infants have fed the beggars' network in the city. While a majority of them commute by buses and trains from Tiruvallur and Andhra Pradesh to beg in the city daily, a large proportion of them are migrants from Bihar, Odisha and West Bengal, who make a pit-stop in the city, especially during festival seasons, before heading to Kerala to beg. While, according to the 2011 census, Tamil Nadu has 6,814 beggars and vagrants, officials are in the dark about the number of them in the city.

TOI, with the help of Chennai district child protection unit and Childline, identified at least 10 locations where beggar 'clans', comprising 30 to 50 families, each with six to eight children, stay. Eight of these groups are from Tiruvallur.

And trains are the most common mode of transport. "The prevalence is higher in suburban trains," said S Arunmozhi, project coordinator, Childline Foundation. However, for every 10 calls Childline's 1098 helpline receives to report on children found begging, or selling products in trains less than two land in the net. "They get a tip-off and disembark at Basin Bridge," said a railway childline coordinator. Thereafter they either beg close to the station or board a train heading towards Beach Station, she said. The most frequented suburban routes used by these groups are the Arakkonam-Chennai and Chengalpet-Tambaram-Beach routes.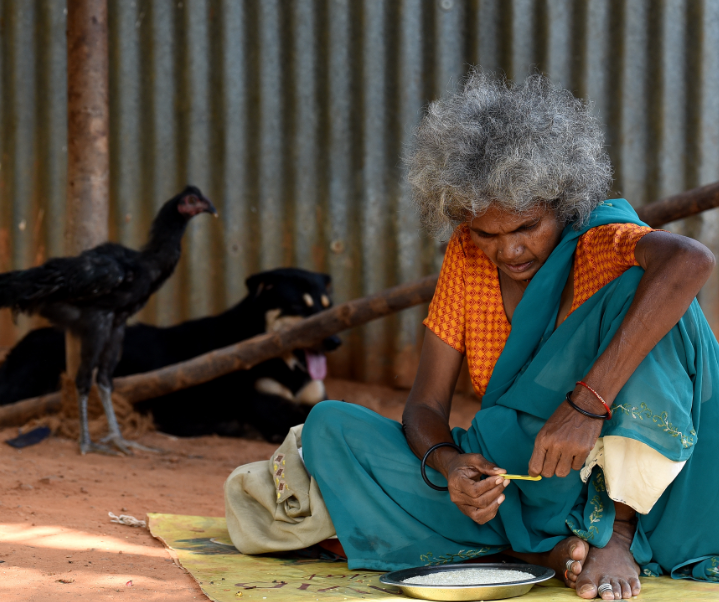 Beergammal, who has been begging for the last 60 years. (TOI photo by A Prathap)

V Natarajan is the leader of one such community from Kanniamman Nagar, 12km from Avadi. Although he doesn't personally accompany the groups that set out to beg, he sends at least one man to escort the women and children.

"They go to different areas and are constantly on the move to avoid police attention," he said. They earn the most from Tidel park, Marina Beach and Besant Nagar beaches and Koyambedu bus stand. "Each child makes around Rs300-400 a day. If they sell books and stickers (which are procured every week from a shop in Parry's corner), they earn around Rs600," he said. The books, he admitted, are just a ruse to mislead police.

"We also advise our girls to gently touch women when they ask for money. It makes a difference," he said. At a 90-second signal, a beggar can cover at least 20 vehicles. "We have to be quick and cover as much as we can. Our first pointer is if they look at us as we approach, they usually give," said Natarajan. On an average, they make around Rs20-Rs50 every time the signal turns red. And, on rare occasions, Rs 100.

P Manoram, director of CHES, a collaborating partner of Childline Foundation, said most of their calls to report on child beggars come in the morning between 8 and 10 am and in the evening from 6.30 to 8.30 pm. "They all come as a big group and split into smaller groups of 3-4 women with infants and children and one or two men. The minute a volunteer tries to rescue them the men mobilise the locals to create a hue. It is impossible to recue these children without police help," she said.

The infants are either carried by the mother or given to another woman within the community. "We don't know if the babies are sedated, but we have found white tablets in a couple of these women's bags," said an official in the district child protection unit.

While officials maintain that trafficking of these children by begging networks here are minimal a recent study by the criminology

Most child beggars pushed into 'business' by parents in Kapurthala, say rescue teams
Kids rescued are produced before the Child Welfare Commission. The city however does not have a child protection home for rehabilitation.

punjab
Jatinder Mahal
Hindustan Times, Kapurthala


(Representative Image)

In a statewide campaign to prevent child begging, the district administration rescued 14 children in last two months in Kapurthala, mostly being pushed by their own parents, rescuing teams have found.

However, all children were handed over to their parents after issuing a warning. No legal action has been initiated against parents by the district administration or police department under the Juvenile Justice (Care and Protection of Children) Act, 2015.

On Thursday, a team of district child rights commission, led by local police had found 4 minor children begging at city bus stand.District child protection officer (DCPO) Harpreet Kaur Sandhu said the children revealed that they did not go to school and their parents forced them to beg."The Right to Education (RTE) Act is being violated as parents enrol their wards in schools and avail facilities offered by the government, but do not allow their kids to attend classes," Sandhu said.

She added "We have given a stern warning to the parents of rescued children, before handing over their wards to them. If their children are found begging again, an FIR under the Juvenile Justice Act will be registered against them."She said, so far no FIR has been registered against any parent, as in some cases they pled innocence and cited reasons such as extreme poverty.

Kids rescued from begging are produced before the Child Welfare Commission (CWC). The city however does not have a child protection home for rehabilitation, forcing officials to hand over the rescued children after issuing a warning to their parents.

Bachpan Bachao Andolan activists claim that some gangs might be operating a begging racket in the region but the administration lacks the mechanism to identify real parents of children. Moreover, they do not provide rehabilitation and monetary help to the rescued children and their families, due to this, they again start begging.

"Most beggars are migrants and their parents do not carry any age or identification proof. The department cannot afford to conduct DNA tests for every child. So we believe what their parents say," DCPO said.She said that now, they will recommend the police to immediately file an FIR against the parents, if their child is found begging in the district.

Begging was prohibited in Punjab through a legislation passed in 1971. Child beggars are a common sight at major traffic light points in the state. Under the Punjab Prevention of Beggary Act, adults found begging can be jailed up to five years and mandates that child beggars should be rescued and put in children homes

The Juvenile Justice (Care and Protection of Children) Act, 2015, legislated by the central government, has strict provisions to completely prohibit begging by children.Poor migrants, mostly from the eastern Indian states, push their children into begging, officials said.

3,00,000 children across India are forced to beg by cartels: Report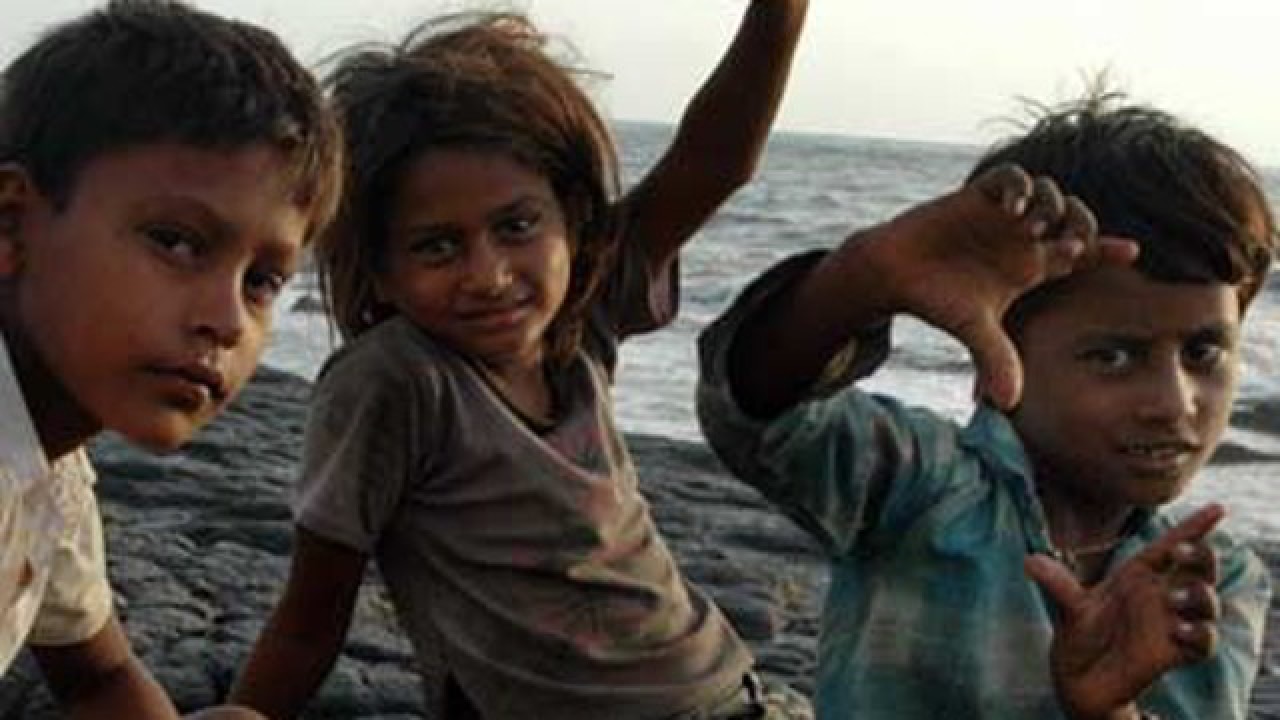 Child beggars Child beggars , File Photo


Written By Reuters
At least 300,000 children across India are drugged, beaten and forced to beg every day, in what has become a multi million rupee industry controlled by human trafficking cartels, police and trafficking experts said.Writing in a report which is about to be circulated across the country's police forces, the authors urged law enforcers to carry out greater surveillance of children living on the streets.According to the Indian National Human Rights Commission, up to 40,000 children are abducted in India every year, of which at least 11,000 remain untraced."The police don't think begging is an issue because they assume that the adult with the child is either family or a known person," said co-author Anita Kanaiya, CEO of The Freedom Project India, which works on trafficking issues.

"But for every 50 children rescued there will be at least 10 who are victims of trafficking. And there has to be a constant vigil to identify them," she told the Thomson Reuters Foundation.Children are sometimes maimed or burned to elicit greater sympathy and get more alms, said the report.The money they earn is usually paid to the traffickers, or to buy alcohol and drugs.


The report is based on the experiences of police and charities in Bengaluru city - formerly known as Bangalore - in the southern Indian state of Karnataka.There is a seasonal pattern to begging, local police said. Cities like Bengaluru see a sharp rise in the numbers of children wandering the streets just before festivals or after a natural disaster.In 2011, Bengaluru police launched "Operation Rakshane" ("To Save"). In coordination with various government departments and charities, they drew up a blueprint to help children forced into begging.


Months before carrying out a series of rescues, they spread out across the city, taking pictures of children on the street, documenting their daily activities and shadowing them back to their homes."When we started, we had nothing to prove the connection between begging and trafficking. But we went about meticulously recording any signs of forced labour on the streets of the city," Kanaiya said.According to inspector general of police, Pronob Mohanty, who spearheaded the operation, teams of police and health workers rescued 300 children on a single day across the city. The traffickers were arrested and later imprisoned. "Operation Rakshane is meant to be a template which can be replicated as a model of inter agency cooperation," Mohanty said in the handbook, which includes suggestions for surveillance, data collection and rehabilitation, as well as listing relevant laws.
Kanaiya said: "We are now initiating a planned campaign to take the book to every police headquarter in the country and follow it up with a workshop on child (begging) and rescue operations for policemen."

Poor Dalit farmer teaches corrupt cop an unforgettable lesson

By Imran Khan
Patna

Vol 3 Issue 24
Asked to pay a Rs.1,000 bribe, a landless Bihar farmer begged to differ. And he vented his ire by collecting alms and sending the amount to Chief Minister Nitish Kumar with the request it be paid to the corrupt police officer who had asked for it.


Instead of cursing the system and his fate, Saurabh Kumar alias Chabila Paswan, a poor Dalit farmer in Vaishali district, about 40 km from here, gathered his family and begged on the streets to collect the bribe money.


Paswan sent the money to the CM's office with the request that it be paid to the police official if "the law permits"


The intrepid Paswan, his wife and children even slung placards around their necks to tell people why they were collecting money.


"I was angry and frustrated after I ran from pillar to post to lodge a police complaint. Then this innovative idea to fight against corruption came to my mind. I decided to beg to collect money to pay bribe," said Paswan, recounting how he was asked for a bribe from the Katahara police post in-charge when he went to lodge a complaint about threats to his life.


"I was shocked when a police official demanded a bribe of Rs. 1,000 from me for lodging a complaint that I was being threatened by some powerful people to be killed. When I told the police official that I'm not in a position to pay bribe, he made it clear that it was not possible for him to lodge his case."


Paswan added that he sent the money to the chief minister's office with the request that it be paid to the police official if "the law permits" or be deposited in the welfare fund.


"I had purchased 10 postal orders of Rs.100 denomination each and sent to the chief minister by Speed Post in a closed envelope. The envelope also has a petition detailing my plight," said Paswan over phone from his village Halaiya.


He also told the chief minister that nothing moved without palms being greased.


Senior police and administration officials refused to comment.
However, Vaishali Superintendent of Police Upendra Kumar Sinha said he had heard about the case. "Police will inquire into the allegations of bribe," he said. - IANS

Child Beggars
The Oscar winning film, 'Slumdog Millionaire', highlighted the plight of hundreds of thousands of children in India who are being forced to beg by mafia-style gangs. There are an estimated 300,000 child beggars in India, although some organisations claim it is as many as a million. Every year, 44,000 children fall into the clutches of the gangs.


Children are deliberately maimed; amputation of limbs, dousing with acid and blinding. The worse the injuries a child has the more money they are likely to get. They are actually taught in the art of begging and they are given beatings if they don't hit daily monetary targets. To hide from their misery many child beggars fall victim of solvent, alcohol or drug abuse.


Again Gangmasters bribe their way into immunity. Needless to say the vast majority of child beggars are drawn from the Dalit community.


The more they are tortured or tormented, the more sympathy they gain when they beg. They are trained to approach certain kinds of people and use certain mannerisms, to extract even more money. There are many child beggars who are not mutilated, but those with the worst injuries make the most money, earning up to ten times the amount that millions in India survive on each day.


[poverty]


Of course the children do not see any of their earnings. These are handed over to the gangmasters, and if a child does not make their target that day they are beaten and tortured.


[addicted]

Almost all the child beggars are addicted to solvents, alcohol and charras (powerful Afghan hashish often laced with opium). This helps the children to forget where they are, but it also helps the gangmasters to keep them under control.



Beggars' independence day


Posted by Malarthamil

The media tried to save the image of Bangalore, the IT capital of India by not prominently reporting the death of beggars in a Government run Rehabilitation centre on our independence day. But the low profile could not be maintained as the news spread slowly sending shock waves across the globe.


The first thought flashed in anybody's mind on hearing that news would be that the beggars should have saved their life if they had stayed begging in their respective streets. Alas, poor beggars, they had to eat and die in a walled camp!


Initial reports claimed that they died due to eating spoiled food fed to them on the eve of our IDay, happened to be a liberation day for them for good or bad. And the food was supplied by a philanthropist! No one can comment whether the philanthropist resorted to mercy killing. Only the committee constituted by the government can report on this in a short period of next three days.


Later many other reasons have surfaced , diarrhea and vomiting, electrolyte imbalance; , old age, cardiac arrest, generalized weakness, myocardial infarction, anorexia epilepsy, anemia, , bodily infirmity and for one person the reason is called " reason unknown" . But already eleven bodies were cremated without any post mortem. It seems all the diseases have aggravated at the same time to kill so many. Only Yama Dharma can explain this phenomena to Yeddy in his dreams already in a nightmare due to Reddys.


By this time 26 beggars have died and it can even be called as massacre of beggars. Taking this chance to live, many beggars are said to have deserted the camp and have merrily settled in their area of wealth in Bangalore.


The Chief Minister B.S Yediyurappa was seen going around with his men tightlipped by covering with hygienic mouth guard while visiting the camps and the Government is taking damage control by saying that most of the beggars belonged to other states and therefore they would be deported ( so that they can beg in their respective states by asking their alms in their own mother tongue, what a great right awarded to beggars).


Somewhat deportation of beggars to other respective states is better than deporting them to Paradise / hell a still controversialdestination. It is learnt that there is a debate among the BJP circle and Sang Parivar outfits to analyse whether those spirits have gone to Vaikunt or Kailash. They are planning to organise a padayatra or Rathyatra with both Bow/Arrow and Trishul in their hands in a show of solidarity to solve this problem.


Back to our serious concern on this less important issue, we have to recall why the amendment to the Karnataka Beggars Act of 1975 was proposed few years back. By that act every beggar at the colony was entitled to get 300 grams of ragi malt, 300 grams of rice and 200 grams of vegetables per day in their diet. But since beggars from North Karnataka refused to take that food while it was acceptable to Beggars of South Karnataka the amendment was proposed especially to feed the beggars from North Karnataka. Now we see a trouble for amending again and again to feed multi cuisine to beggars from many states. Practically not possible!


There is one more practical reason which we have to leave it as an accident.
Even before the death of the beggars, 40 acres of garden area belonging to beggars colony has been allotted by the present government to house a technology park. Now with the incident of death of beggars, it is easier for the government to close this camp and hand over the rest of the land in beggars colony to other purpose. Of course the name of the premises will have to be changed, isn't?e day at Bangalore


Dalit Beggar Survey
http://books.google.co.in/books?id=Xcpa_T-7oVQC&pg=PA664&lpg=PA664&dq=dalit+beggar+survey&source=bl&ots=zSErCHoOu8&sig=nbdMAZxsDTN12hUNYaNvMy-FqLU&hl=en&sa=X&ei=9du6UNatNsSrrAejhIGQAQ&ved=0CD4Q6AEwAzgK#v=onepage&q=dalit%20beggar%20survey&f=false



Begger Survey


By Neeta Lal
A recent survey in Delhi revealed that many beggars are able-bodied and educated, forced into beggary by unemployment. The findings underscore the absence of a cohesive and humane national policy for beggars in India
If you thought penury, unemployment and disability were the only factors propelling people towards beggary, here's some news for you. A recent survey carried out by the social welfare department (Delhi government) and Delhi University's department of social work, reveals that the capital city's beggars, many of them 'educated and able-bodied', resort to begging to augment their professional incomes! Of over 5,000 beggars surveyed, four turned out to be post-graduates who were supplementing their monthly salaries by begging on weekends, six were graduates, and 796 had studied up to higher secondary level.


Conducted across a swathe of geographical regions, the survey shows that a beggar's earnings add up to between Rs 50 and Rs 500 a day, with most beggars opting to beg in the face of meagre earning capacity, poverty, infirmity, destitution, and age. Of those surveyed, 799 men and 1,541 women were able-bodied but continued to beg due to lack of employment opportunities. Many were found to be drug addicts, but they were not part of an organised gang or mafia. Unsurprisingly, most beggars were found outside temples and places of religious significance where alms are given more readily and more generously. The respondents also said they made more money on weekends.


While the survey throws some fresh light on the age-old occupation of begging, it also underscores the disquieting lack of a cohesive and humane national policy for beggars in India. Since 1961, Delhi has been administered by the antiquated Bombay Prevention of Begging Act, 1959, which makes begging in public places a crime and a punishable offence. Clause (d) of the Act describes beggars as people "...having no visible means of subsistence and wandering about or remaining in any public place in such condition or manner (as) makes it likely that the person doing so exists by soliciting or receiving alms".


Under this Act, officials from the social welfare department (assisted by the police) conduct raids to randomly pick up beggars who are then tried in a special beggars' court and, if convicted, sent to a certified institution. Unfortunately, however, the Begging Act lumps together an assortment of people (street performers, mendicants, small vendors, pavement-dwellers and migrants) who might solicit alms indirectly, as 'beggars'.


The Act also suffers from other serious lacunae. Firstly, it addresses anyone who appears 'poor' and 'destitute'. Both definitions are nebulous and open to the vagaries of time and the whims of an inspector. Thus, a ragpicker or a migrant labourer -- who may never have begged in his/her life -- can be picked up at random and incarcerated in a beggars' home for a period up to three years at a stretch! Secondly, the nature of the Act itself is punitive, which makes the poor criminally responsible for their position.


India's beggary laws are undoubtedly a throwback to the centuries-old European vagrancy laws that overlook the crucial difference between official text and practical reality. In other words, rather than address the socio-economic angle of beggary, beggary laws criminalise it. "The aggressive anti-beggar legislation is aimed at wiping the desperately poor off the city's radar so that society can continue to neglect them without it pricking its collective conscience," says senior lawyer and human rights activist Rani Jethmalani.


In addition to this, the Traffic Police Notification (under the Motor Vehicles Act) provides for the imposition of a fine on motorists who give money to beggars. The Delhi Traffic Police has issued a direction to all motorists in the capital not to give alms to beggars at traffic lights, as this hinders traffic flow, sometimes even causing accidents. The fine for a first violation is Rs 150; the second time around it is Rs 300.


"The law prevents motorists and commuters from doling out alms to beggars at traffic intersections, which is ludicrous as it's unfeasible to stop them from doing so," asserts Jethmalani. Instead of enforcing such inane laws, Jethmalani advocates the need to set in motion public awareness campaigns and vocational training for beggars depending on their capacity. "Rather than giving alms, the public should be motivated to give aid to institutions which can empower and educate the beggars," she says.


Organised begging, which often involves maiming, is widely seen as being exploitative and coercive, but there is a startling lack of documented evidence on this. The Indian Penal Code (Section 363 A) deals with the kidnapping/maiming of a minor for purposes of begging. However, the police seem intriguingly unwilling to use this, preferring to book 'unwanted elements' like homeless people/drug addicts in their area under the Bombay Act, as their responsibility then stops with the arrest. Thus, the current institutionalised approach to beggars merely serves to punish destitute people without aiming to help or reform them. Driven to begging, these people -- often unemployed, aged people, people with physical disabilities or drug problems -- remain helpless.


Beggary laws also suffer from faulty implementation. The criteria employed by the social welfare department and the police to identify and pick up beggars are arbitrary and unfair. Mistakes abound and often those who look unkempt and miserable are rounded up despite their protests. In order to combat this legal apathy, a coalition comprising lawyers from the Ashray Adhikar Abhiyan (AAA), a campaign for the homeless in Delhi, run by ActionAid, the Human Rights Law Network and students from the law department of the University of Delhi, was set up to provide legal help to aggrieved people.


In its efforts to make Delhi 'beggar-free', the social welfare department has been working towards rehabilitating them. The Delhi High Court too, some time ago, directed the department to clear Delhi of beggars/hawkers as they "obstruct the smooth flow of traffic". It advocated a rehabilitation plan for them in the wake of a public interest litigation (PIL) that described beggars as the "ugly face of the nation's capital" and as people who caused "road rage".


Under the Beggary Act, 12 statutory institutions -- 10 for male beggars and two for female beggars -- were constituted for the prevention of begging, the detention, training and employment of beggars, and the custody, trial and punishment of offenders under the law. "We've also made provisions for providing vocational training to beggars in these government-run homes," explains Dr Sneh Lata Tandon, Head of the Department of Social Work, Delhi University.


But despite such laudable -- albeit sporadic -- efforts to rehabilitate beggars, there's an urgent need to revamp beggars' homes too. Some years ago, the national media raised a storm when several beggars died of cholera at the Lampur beggar home, underscoring the horrific, near-Dickensian conditions that prevail in these homes. An inquiry was ordered into the matter and the committee's report highlighted the need for a review of the law. "These places are called 'homes', but the pathetic conditions which prevail in them are worse than those of third-rate jails where 'convicts' may be incarcerated for up to 10 years. It's the most sure-fire way of criminalising poverty in the country," says social activist Jaya Pradhan.


"The beggar homes feed and clothe their inmates and pay Rs 12 for an hour of constructive work," says an official from the social welfare department. "The physically challenged and those afflicted with leprosy find beggar homes a real refuge as they are the ones who suffer the most living on the streets." However, experts feel that such an approach is skewed because, according to official figures, the government spends approximately Rs 35,000 per head to maintain these homes. The money, experts say, could be better utilised to give beggars vocational training that can, in turn, empower them and assure them of employment.


"The first step towards preventing begging is to stop giving alms. But how can people expect any effective action when begging is such a lucrative means of livelihood, allowing a person to earn up to Rs 500 a day doing nothing," asks Supreme Court advocate Ashok Aggarwal of Social Jurists, a Delhi-based civil rights organisation.


A study by the Centre for Media Studies (CMS), a Delhi-based research group, pegs a beggar's average earnings at around Rs 50 a day. According to this report, 90% of Delhi's beggar population are migrants from the BIMARU states of Rajasthan, Uttar Pradesh and Bihar. A study conducted by AAA India shows that nearly all of them were pushed to Delhi by abject poverty in their hometowns and villages. "With no sense of belonging to a place, no employment opportunities, and easy money for the asking, is it any surprise that we've not been able to eradicate beggary from the national landscape," Aggarwal asks.


So what really is the answer to the problem of beggary in India? The question, unfortunately, is a complex one. For starters, recognising and combating structural injustices in society and expanding livelihood options for the marginalised -- in a growth-driven and now shining trillion-dollar economy -- is a good idea. But simultaneously it is crucial to have an inclusive legal system that incorporates the welfare of the deprived/downtrodden in its charter.


The problem of beggary in India needs to be addressed cohesively, involving sustained, long-term and collective action. Political will, the efforts of local administrations, NGOs and the public will all need to come together to achieve this aim.
(Neeta Lal is an independent journalist based in Delhi)

Child Beggars
Hundreds of thousands of children in India are being forced to beg, often by unscrupulous mafia-style gangs. Many of the children are trafficked into gangs, some are kidnapped, others may have been handed over by their family out of desperation or because they have been duped. Every year some 44,000 children fall into the clutches of the gangs.
As portrayed so vividly in the Oscar winning film, Slumdog Millionaire, some of the children are deliberately maimed. Arms and legs are forcibly amputated, others are cruelly blinded. The gangs also pour acid on to children's bodies leaving them with suppurating wounds. The more they are tortured or tormented, the more sympathy they gain when they beg. Children are trained to approach certain kinds of people and use certain mannerisms, to extract even more money. There are many child beggars who are not mutilated, but those with the worst injuries make the most money, earning up to ten times the amount that millions in India survive on each day. Of course the children do not see any of their earnings. These are handed over to the gangmasters, and if a child does not make their target that day they are beaten and tortured.


Many child beggars are addicted to solvents, alcohol and charras (powerful Afghan hashish often laced with opium). This helps the children to forget where they are, but it also helps the gangmasters to keep them under control.


Maimed child beggars are terrified of speaking out – they say their limbs just disappeared or were damaged in an accident. The beggar mafia make more than £20 million a year, and this kind of money and power ensures that complaints to the police don't get anywhere as gangmasters bribe their way to immunity. Even where children are taken off the streets and put in government shelters, many are re-trafficked back into begging.


The children who are the most vulnerable to gangmasters are Dalits (Untouchables) or Tribals (Adivasis), due to their poverty and how lowly they are regarded in society. But whether they are kidnapped or sold into beggary, it is too high a price to pay.

1. Old 'mul nivasi' of Austrasiai or Austric origin, which go by the name of 'Kol' (Kolerian). They live in water logged areas and are experts in navigation and cultivation of rice and are brave and able to tolerate hardships.
Bengal was outside 'aryavrat' for about thousand years. The aryas going there used to be declared 'condemned' and 'depressed' (bhrashta and patit), and were excommunicated. During those centuries, Mongoloid migration occurred. They all intermixed with original inhabitants, were called as 'kirat' and 'monkhemr' etc., and ruled the country as a powerful non-aryan state for many dynasties.
Presumably, he is referring to kingdoms from the times of Lord Buddha, till the arrival of Brahminical culture to Bengal in the times of Samudragupta – a Buddhist period of history.
In the fourth century, Bengal became part of a so-called 'hindu' empire. The original inhabitants were now called 'kaivart'. It was an old tradition of Aryas to call any non-aryan living near sea or river as 'daasha' or 'daasa' (mallaaha). It appears to be more of an abuse, as can be verified from Manu, who does not consider very highly of them.
This is the main caste of Bengal and has the majority population in villages. They are divided into two sub-castes – 'mazi kaivarta', who catch fish or ply boats and 'haali kaivarta', who do farming. A few families from them got some titles and got rich due to some political service rendered by them at some time in the history, and some were kings, sardars and jagirdars.
Some of them were, due to their power or prosperity, 'elevated' by the brahmin priests to the 'honourable title' of 'nama shudra', meaning, 'shudra for namesake', and given lowest position in hindu society, or nearly made untouchables. In 1943 famine about 30 lakh people who died were mostly from these castes. Nobel laureate Amartya Sen, as is well known, talks of this famine, which was subject of his study.



Trafficking of children



From Wikipedia, the free encyclopedia

Trafficking of children is a form of human trafficking and is defined as the "recruitment, transportation, transfer, harboring, and/or receipt" of a child for the purpose of slavery, forced labor and exploitation. This definition is substantially wider than the same document's definition of "trafficking in persons". Children may also be trafficked for the purpose of adoption.
Though statistics regarding the magnitude of child trafficking are difficult to obtain, the International Labour Organization (ILO) estimates that 1.2 million children are trafficked each year. In 2012, the United Nations Office on Drugs and Crime (UNODC) reported the percentage of child victims had risen in a 3-year span from 20 percent to 27 percent. Every year 300,000 children are taken from all around the world and sold by human traffickers as slaves. 17,000 of those children are brought to the United States—about 46 children per day. In 2014, research conducted by the anti-human trafficking organization Thorn reported that internet sites like Craigslist are often used as tools for conducting business within the industry and that 70 percent of child sex trafficking survivors surveyed were at some point sold online. The trafficking of children has been internationally recognized as a serious crime that exists in every region of the world and which often has human rights implications. Yet, it is only within the past decade that the prevalence and ramifications of this practice have risen to international prominence, due to a dramatic increase in research and public action. A variety of potential solutions have accordingly been suggested and implemented, which can be categorized as four types of action: broad protection, prevention, law enforcement, and victim assistance.
The main international documents dealing with the trafficking of children are the 1989 UN Convention on the Rights of the Child, the 1999 ILO Worst Forms of Child Labour Convention, and the 2000 UN Protocol to Prevent, Suppress and Punish Trafficking in Persons, Especially Women and Children.

Definition

The first major international instrument dealing with the trafficking of children is part of the 2000 UN Palermo protocols, titled the Protocol to Prevent, Suppress and Punish Trafficking in Persons, Especially Women and Children. Article 3(a) of this document defines child trafficking as the "recruitment, transportation, transfer, harboring and/or receipt" of a child for the purpose of exploitation. The definition for child trafficking given here applies only to cases of trafficking that are transnational and/or involve organized criminal groups; in spite of this, child trafficking is now typically recognized well outside these parameters.The ILO expands upon this definition by asserting that movement and exploitation are key aspects of child trafficking. The definition of "child" used here is that listed in the 1989 UN Convention on the Rights of the Child which states, "a child means every human being below the age of 18 years, unless, under the law applicable to the child, majority is attained earlier." The distinction outlined in this definition is important, because some countries have chosen to set the "age of majority" lower than 18, thus influencing what exactly legally constitutes child trafficking.

Related legal instruments

Many international, regional, and national instruments deal with the trafficking of children. These instruments are used to define what legally constitutes trafficking of children, such that appropriate legal action can be taken against those who engage in and promote this practice. These legal instruments are called by a variety of terms, including conventions, protocols, memorandums, joint actions, recommendations, and declarations. The most significant instruments are listed below:

International human rights instruments

These legal instruments were developed by the UN in an effort to protect international human rights and, more specifically, children's rights.
Universal Declaration of Human Rights, 1948
Convention on the Rights of the Child, 1989
Labor and migration treaties

The trafficking of children often involves both labor and migration. As such, these international frameworks clarify instances in which these practices are illegal.
ILO Minimum Age Convention, 1973
ILO Worst Forms of Child Labour Convention, 1999
ILO Worst Forms of Child Labour Recommendation No. 190, 1999
ILO Forced Labor Convention, 1930
ILO Migration for Employment Convention (Revised), 1949
United Nations Convention on the Protection of the Rights of All Migrant Workers and Members of Their Families, 1990

Trafficking-specific instruments

Protocol to Prevent, Suppress and Punish Trafficking in Persons, Especially Women and Children, 200
The Recommended Principles and Guidelines on Human Rights and Human Trafficking, 2002
Hague Convention on the Protection of Children and Cooperation in regard to Intercountry Adoption

Regional instruments

A variety of regional instruments have also been developed to guide countries in decisions regarding child trafficking. Below are some of the major instruments, though many others exist:
Council of Europe Convention on Action against Trafficking in Human Beings (Treaty series No.197), 2005
Communication to the European Parliament and the Council, COM(2005) 514 Final
Multilateral cooperation agreement to combat trafficking in persons, especially women and children, in West and Central Africa, 2006
Mekong sub regional cooperation agreement to fight human trafficking (COMMIT), 2004

National law

National laws pertaining to child trafficking continue to develop worldwide, based on the international principles that have been established. Anti-trafficking legislation has been lauded as critical by the United Nations Global Initiative to Fight Human Trafficking, because it ensures that traffickers and trafficking victims are treated accordingly: for example, "if migration laws are used to pursue traffickers, it is often the case that the victims too are prosecuted as illegal migrants, whereas if there is a specific category of 'trafficker' and 'trafficked person,' then it is more likely that the victim will be treated as such." The existence of national laws regarding child trafficking also enables trafficking victims and/or their families to take appropriate civil action.
Types of child trafficking

The intended or actual after-sale use of the child is not always known.

Forced labour

The objective of child trafficking is often forced child labour. Child labour refers specifically to children under a stipulated minimum age, usually 14 at the lowest, being required to work. UNICEF estimates that, in 2011, 150 million children aged 5–14 in developing countries were involved in child labour. Within this number, the ILO reports that 60% of child workers work in agriculture. The ILO also estimates that 115 million children are engaged in hazardous work, such as the sex or drug trade. Overall, child labor can take many forms, including domestic servitude, work in agriculture, service, and manufacturing industries. Also, according to several researchers, most children are forced into cheap and controllable labor, and work in homes, farms, factories, restaurants, and much more. Trafficked children may be sexually exploited, used in the armed forces and drug trades, and in child begging. In terms of global trends, the ILO estimates that in 2004–2008, there was a 3% reduction in the incidence of child labor; this stands in contrast to a previous ILO report which found that in 2000–2004, there was a 10% reduction in child labor. The ILO contends that, globally, child labour is slowly declining, except in sub-Saharan Africa, where the number of child workers has remained relatively constant: 1 in 4 children aged 5–17 work in this region. Another major global trend concerns the number of child laborers in the 15-17 age group: in the past five years, a 20% increase in the number of these child workers has been reported. A surprising example occurred in the United States as McCabe indicates that in the 1990s, huge companies such as Gap and Nike were using industry "sweatshops" that used trafficked children to make their desired products.

Sexual exploitation

The Optional Protocol on the Sale of Children, Child Prostitution and Child Pornography is a protocol of the Convention on the Rights of the Child, formally adopted by the UN in 2000. Essentially, this protocol formally requires states to prohibit the sale of children, child prostitution, and child pornography. According to the ILO, sexual exploitation of children includes all of the following practices and activities:
"The use of girls and boys in sexual activities remunerated in cash or in kind (commonly known as child prostitution) in the streets or indoors, in such places as brothels, discotheques, massage parlours, bars, hotels, restaurants, etc."
"The trafficking of girls and boys and adolescents for the sex trade"
"Child sex tourism"
"The production, promotion and distribution of pornography involving children"
"The use of children in sex shows (public or private)"
Though measuring the extent of this practice is difficult due to its criminal and covert nature, the ILO estimates that there are as many as 1.8 million children sexually trafficked worldwide, while UNICEF's 2006 State of the World's Children Report reports this number to be 2 million. The ILO has found that girls involved in other forms of child labour — such as domestic service or street vending — are at the highest risk of being pulled into commercial child sex trafficking. Likewise, Kendall and Funk justifies how "young girls age 12 and under are malleable and more easily trained into their prospective roles as prostitutes, and because virginity is highly prized by certain consumers willing to pay a premium". A variety of sources, including the ILO and scholars Erin Kunze and D.M. Hughes, also contend that the increased use and availability of the Internet has served as a major resource for traffickers, ultimately increasing the incidence of child sex trafficking. In fact, in 2009, Illinois Sheriff Thomas J. Dart sued the owners of Craigslist, a popular online classifieds website, for its "allowance" and "facilitation" of prostitution, particularly in children. In response to public and legal pressure, Craigslist has since blocked all access to its "Adult Services" section.

Children in armed forces

The Optional Protocol on the Involvement of Children in Armed Conflict is a protocol of the Convention on the Rights of the Child, formally adopted by the UN in 2000. Essentially, the protocol states that while volunteers below the age of 18 can voluntarily join the armed forces, they cannot be conscripted. As the protocol reads, "State parties shall take all feasible measures to ensure that member of their armed forces who have not attained the age of 18 years do not take a direct part in hostilities." Despite this, the ILO estimates that "tens of thousands" of girls and boys are currently forcibly enlisted in the armed forces in at least 17 countries around the world. Children conscripted into the armed forces can then be used in three distinct ways:

Direct roles in hostilities (combat roles)
Supporting roles (such as messengers or spies)
For political advantage (such as for propaganda purposes)

Recent research conducted by the Coalition to Stop the Use of Child Soldiers has also noted that girl soldiers must be uniquely recognized, in that they are especially vulnerable to acts of sexual violence. The incidence of child soldiers was the focus of the Kony 2012 movement, that aimed to arrest Joseph Kony, a Ugandan war criminal who is responsible for the trafficking of thousands of child soldiers and sex slaves.

Children in drug trades

Children are also used in drug trades in all regions of the world. Specifically, children are often trafficked into exploitation as either drug couriers or dealers, and then 'paid' in drugs, such that they become addicted and further entrapped. Due to the illicit nature of drug trafficking, children who are apprehended are often treated as criminals, when in reality they are often the ones in need of legal assistance While comprehensive worldwide statistics regarding the prevalence of this practice are unknown, several useful regional studies have been conducted. For example, the ILO has recently investigated the use of Afghan children in the heroin trade and child involvement in the drug trades of Brazil. Scholar Luke Dowdney specifically studied children in the drug trade in Rio de Janeiro, Brazil; he found that children involved in the drug trades are at significantly higher risk of engaging in violence, particularly murder.

Adoption

Children may be trafficked for the purposes of adoption, particularly international adoption. Children are sourced from orphanages or kidnapped, or parents may be tricked, cajoled or coerced into relinquishing custody.
Disreputable international adoption agencies then arrange international adoptions, charging high fees to prospective adoptive parents. The Hague Convention on the Protection of Children and Cooperation in regard to Intercountry Adoption is an international agreement designed to protect children from such exploitation and to assist in preventing such illegal intercountry adoptions.
Child begging


Forced child beggars in Niger
Forced child begging is a type of begging in which boys and girls under the age of eighteen are forced to beg through psychological and physical coercion. Begging is defined by the Buffalo Human Rights Law Review as "the activity of asking for money as charity on the street". There is evidence to suggest that forced begging is one industry that children are trafficked into, with a recent UNICEF study reporting that 13% of trafficking victims in South Eastern Europe have been trafficked for the purpose of forced begging. The UN protocol affirms that "the recruitment, transportation, transfer, harboring or receipt of a child for the purpose of exploitation shall be considered 'trafficking in persons' even if this does not involve any of the means set forth in subparagraph (a) of this article." With this definition the transportation of a child to an urban center for the purposes of begging constitutes trafficking regardless of whether this process was enforced by a third party or family member. The severity of this form of trafficking is starting to gain global recognition, with the International Organization for Migration (IOM), the European Union, the ILO, and the UN, among others, beginning to emphasize its pertinence. The European Union's Brussels Declaration on Preventing and Combating Trafficking includes child begging as one form of trafficking, stating "trafficking in human beings is an abhorrent and worrying phenomenon involving coercive sexual exploitation, labor exploitation in conditions akin to slavery, exploitation in begging and juvenile delinquency as well as domestic servitude." This issue is especially difficult to regulate given that forced begging is often imposed by family members, with parental power leveraged over a child to ensure that begging is carried out.

Demographics

By definition child begging occurs in persons younger than eighteen, though forced begging has been found by UNICEF to exist among children as young as the age of two. Incidences of this practice have been recorded by the World Bank in South and Central Asia, Europe, Latin America, the Caribbean, the Middle East, and West Africa.
Most research, such as studies done by UNICEF, suggests that boys are much more likely than girls to be trafficked for the purposes of begging; experts presume this is because there is a greater female presence in trafficking for the purposes of sexual exploitation. In Albania, where forced begging is a common practice, seventy percent of victims are male.
While concrete figures are difficult to determine, the ILO recently reported that there are at least 600,000 children involved in forced begging. The problem may be much more extensive, however, with China's Ministry of Civil Affairs reporting that as many as 1.5 million children are forced into begging. Additionally, a recent study done in Senegal by Human Rights Watch projected that a minimum of 50,000 children within the country and neighboring nations have been trafficked for the purposes of begging. Begging is often the primary source of income for street children in a number of countries, with a current study conducted by UNICEF finding that 45.7% of children who work on the streets of Zimbabwe engaged in begging, though there is no way of knowing whether it was through forced means.
Gang networks involving forced begging have been found to occur in populations of 500 or greater.

Motivations
Economic factors

Forced begging is a profitable practice in which exploiters are motivated by economic incentives. The business structures of major rings of children trafficked for the purpose of begging have been examined as comparable to a medium-size business enterprise. In the most severe cases networks of children forced to beg may generate $30–40,000 USD for the profiteer. Though family networks are not nearly as extensive, a study conducted in Albania showed that a family with multiple children begging can earn up to fifteen euros a day, an amount greater than the average national teacher salary. Anti-Slavery International asserts that because this income is relatively high many families believe it is the best option available given the lack of existing capabilities. Capability deprivation, meaning the routine absence of adequate resources that serve in facilitating opportunities, may account for cross-generational begging practices within families. UNICEF studies have found that begging is especially prevalent among families in which parents are incapacitated in some way, leading children to be the sole providers.

Political factors

According to the World Bank forced begging is most commonly found in the Middle East and countries of West Africa, where laws prohibiting begging are scarce and heavy regulation of trafficking absent. In Zimbabwe, where child begging is especially prominent, the United Nations has indicated many contradictions between the Labour Act of Zimbabwe and the United Nations Convention on the Rights of the Child. Many nations, such as Indonesia, have laws against begging on the books, but the repercussions for such entail temporary detainment and eventual release back onto the streets, which does little to combat the issue.

Cultural factors

There are several cultural factors that support begging. In Europe begging is found in a number of minority cultures, especially popular within Roma and nomadic communities. In Turkey familial networks of beggars have been documented across three generations, making it deeply ingrained within their survival schemas. It is important to note that while these may be culturally rooted practices, juvenile begging by way of familial pressure still falls under the realm of forced begging. The transport of children, even one's own, for the purposes of exploitation through begging is a form of trafficking outlined by the United Nations.
Another cultural practice is the resolution of familial debts through the kidnapping and exploitation of one of their children.

General abuses

UNICEF has found that children who are forced to beg by third parties are often removed from their families, surrender the majority of their income to their exploiter, endure unsafe work and living conditions, and are at times maimed to increase profits. The process of maiming, popularized by the film Slumdog Millionaire, is common given that according to the Buffalo Human Rights Law Review children with apparent special needs often make upwards of three times as much as other children who beg. In addition to inflictions such as blindness and loss of limbs, other physical abuses for the purposes of heightening profits include pouring chili pepper on a child's tongue to give the appearance of impeded speech, the use of opium to elicit cries, and administering forced injections of drugs that will increase a child's energy and alertness. Testimonies against trafficking ring gang leaders have discussed the detainment of individuals in small cells devoid of food, water, and light to make victims weak and feeble, and thus more likely to elicit donations.
The conditions in which begging takes place commonly expose children to further physical and verbal abuse, including sexual victimization and police brutality. Research completed by Human Rights Watch revealed that when begging hours are completed for the day children often do not have proper shelter, adequate food, or access to healthcare where they reside. Furthermore, many of the gangs which run networks of forced begging have heavy drug involvement, thus the children under their control are often turned into drug addicts in order for them to become further reliant on their exploiters.

Long-term implications

Studies have shown that children forced into begging primarily receive little to no education, with upwards of sixteen hours a day dedicated to time on the streets. With education being a leading method in escaping poverty child beggars have been shown to engage in a cyclical process of continuing this practice cross-generationally. Interviews conducted by UNICEF show that children who beg have little hope for the future and do not believe their circumstances will improve. Children who work on the streets typically have little or no knowledge of their rights, leaving them especially susceptible to exploitation both as juveniles and later as adults. Children who beg have also been found by UNICEF to have much higher instances of HIV-infection due to lack of awareness and supervision on the streets.



Solutions


International action

A victim-centered human rights approach to combating trafficking has been internationally renowned as the best possible strategy when addressing this issue, with recourse focusing on punishing the exploiter and rehabilitating the child. Some countries who emphasize this method include the United States, with the Victims of Trafficking and Violence Protection Act of 2000 affirming "victims of severe forms of trafficking should not be inappropriately incarcerated, fined, or otherwise penalized solely for unlawful acts committed as a direct result of being trafficked."
Other supported methods, such as those outlined by the Buffalo Human Rights Center, include relying on three Ps: protection, prosecution, and prevention. Protection starts with enforcing strict measures on the matters of both trafficking and begging. For many nations the first step is the criminalization of begging and trafficking. Prosecution should be instituted in the form of greater legal ramifications for traffickers, with punishment focused on the exploiter rather than the exploited. This becomes difficult with respect to victims of familial trafficking, considering this would require changes in care placement and strict monitoring of each displaced child's welfare. Many organizations affirm that prevention begins with discouraging donations and improving services so that children, and families as a whole, have greater capabilities. Though well-intentioned, by giving child beggars money, individuals only make this practice more profitable, and soon these funds find their way into the hands of the child's abuser.

Government response

In Senegal, where the abuses against talibes are extensive, there have been several initiatives with the help of the World Bank to put an end this exploitation. First, there is intervention on a community level with education on the validity of some of these Quranic institutions provided to rural villages that typically send their children there. This is supplemented by improved regulation of schools within the nation to ensure that they remain places of education, followed by a greater enforcement of preexisting laws banning trafficking and exploitative begging. Finally, rehabilitation services have been provided with the help of CSOs to recovered children to provide them with the capabilities they have been denied.
In Zimbabwe policy has adapted to ensure the safety of all persons under the age of sixteen with the Children's Protection and Adoption Act, however, the government admits that a lack of resources and capital play a critical role in inadequate enforcement.
In Bangladesh, where there are an estimated 700,000 beggars, a law passed in 2009 banning the practice, though officials report some trouble with enforcement.
In China, the Ministry of Public Security has established a department that solely focuses on child trafficking. Recently the department has instituted a hotline where the public dials 110 to report suspected incidences of forced begging, which law enforcement officials are expected to investigate further. The police are trained to take the children into custody if a blood relationship with their guardian cannot be established, and educate parents on the illegality and dangers of begging if they are those responsible for the child's action. This policy instituted in April 2009 has since led to the recovery of 9,300 children.

NGO initiatives

Many NGOs have initiated movements focusing on informing the public on the dangers of donations. As recently reported by UNICEF, "certain behaviors, such as giving money to child beggars can also indirectly motivate traffickers and controller to demand children." The Mirror Foundation's Stop Child Begging Project of Thailand is one such organization that emphasizes eliminating the demand. Their initiatives are focused on educating passersby on the forced begging of trafficked Cambodians within their country to decrease the likelihood of donations.

Other methods

In China, where the kidnapping and forced begging of children has been routinely documented, a multi-media movement has begun. Here, blogs are utilized to publicize over 3,000 photos of children whose families believe have been abducted for the purpose of begging, with hundreds of thousands of followers who remain on the look out for these children in major urban centers. This campaign has enabled at least six children to be recovered and reunited with their families.
In instances where begging is religiously sanctioned it has been suggested by the United States Agency for International Development (USAID) that religious leaders should outwardly condemn this practice. For talibes religious leaders have been asked to take a stance against begging using passages cited from the Quran, such as, "Except paradise, you should not beg anything for the sake of Allah" (8:23), which would help strip the practice of its religious foundation. In addition, former US President Clinton took the responsibility of providing protection against child abuse through Internet Service Providers (ISP) that can help law enforcement track any suspicious activities including child pornography.

Child exchange

In China, in response to adult starvation, some children were exchanged, killed, and eaten. According to Robyn Meredith, in the People's Republic of China (ca. 1958), "Peasants turned into skeletons. The nation's farmers, including the residents of Xiaogang, found themselves going to shocking lengths to find food. ... Some starving families resorted to a practice called 易子而食 [meaning 'exchanging children to eat']: they traded a child for a neighbor's child, then killed and ate the skinny youngster, with the sickening knowledge that their neighbors were devouring their own."

Sales motivated by cash

In ancient Rome, according to Keith Bradley, Augustine wrote that "there were indigent parents selling their children because they needed the cash."
In contemporary Nepal, parents of poor families sell their children to orphanages (or sometimes simply hand them over without any payment). The orphanage then misrepresent them as "orphans", ensuring an income for the orphanages.

Mechanisms

In general, child trafficking takes place in three stages: recruitment, movement, and exploitation. Recruitment occurs when a child is approached by a recruiter, or in some cases, directly approaches a recruiter themselves. Recruitment is initiated in many different ways: adolescents may be under pressure to contribute to their families, children may be kidnapped or abducted into trafficking, or families may be trafficked together. Then, movement will occur — locally, regionally, and/or internationally — through a variety of transportation types, including by car, train, boat, or foot. Ultimately, the final goal of child trafficking is exploitation, whereby traffickers use the services of children to garner illegal profit. Exploitation can take place in a variety of forms, including forced labor, sexual exploitation, and child begging, among other practices.

Supply and demand framework

Child trafficking is often conceptualized using the economic model of supply and demand. Specifically, those who are trafficked constitute the "supply", while the traffickers, and all those who profit from the exploitation, provide the "demand". Two types of demand are defined: consumer demand and derived demand. Consumer demand is generated by people who actively or passively buy the products or services of trafficked labor. An example of this would be a tourist purchasing a T-shirt that has been made by a trafficked child. Derived demand, on the other hand, is generated by people who directly profit from the practice of trafficking, such as pimps or corrupt factory owners. Scholar Kevin Bales has extensively studied the application of this economic framework to instances of human trafficking; he contends that it is central to an accurate understanding of how trafficking is initiated and sustained. Bales, along with scholars Elizabeth M. Wheaton, Edward J. Schauer, and Thomas V. Galli, have asserted that national governments should more actively implement policies that reduce both types of demand, thus working towards the elimination of trafficking.

Social mechanisms

Various international organizations, including the ILO and UN.GIFT, have linked child trafficking to poverty, reporting that living in poverty has been found to increase children's vulnerability to trafficking. However, poverty is only one of many social "risk factors" that can lead to trafficking. As UNICEF and the World Bank note, "Often children experience several risk factors at the same time, and one of them may act as a trigger that sets the trafficking event in motion. This is sometimes called 'poverty plus,' a situation in which poverty does not by itself lead to a person being trafficked, but where a 'plus' factor such as illness combines with poverty to increase vulnerability." UNICEF, UN.GIFT, and several scholars, including Una Murray and Mike Dottridge, also contend that an accurate understanding of child trafficking must incorporate an analysis of gender inequality. Specifically, in many countries, girls are at a higher risk of being trafficked, particularly into sexual exploitation. In addition, these international agencies and scholars contend that giving women and men an equal voice in anti-trafficking policy is critical to reducing the incidence of child trafficking.
Studies throughout Europe have identified risks that make children vulnerable to exploitation that are also causes and contributing factors of child trafficking. These include social and economic marginalisation, dysfunctional family backgrounds, experiences of neglect, abuse or violence within the family or in institutions, exploitative relationships, gender-based violence and discrimination, experiences of living or working on the streets, precarious and irregular migration situations, aspirations to work and to earn money and limited opportunities to enter or remain in school, vocational training or regular employment. As the efforts of national governments to improve social safety nets can lessen many of these risks, child trafficking is considered not only a result of criminal activities but also as indicating weaknesses in the national government's ability to effectively safeguard children's rights to a safe and healthy development.

Identification

The complex definition of child trafficking and the differences in national laws and interpretations makes the identification of child victims of trafficking challenging. For example, the European debate on child trafficking lacks consensus on how child trafficking is to be distinguished from other contexts of exploitation, from social dumping of migrants, the sale of children and the smuggling of migrants.
Once a potential victim has come into contact with state authorities, identifying the child as a victim of trafficking takes time. The process often benefits from a thorough understanding of the child's story. For a child who is in trouble with the law, hearing the child's full story helps caseworkers and officers determine if the child is actually a victim of a crime herself, such as exploitation, abuse, or trafficking. For a child in an administrative process, such as an asylum procedure, hearing the child's full story helps caseworkers to detect cases of trafficking. Children may be hesitant to share their complete stories with authorities and appointed child welfare professionals. Some service providers have found that establishing trust and a stable relationship with the child encourages increased disclosure of experiences of exploitation and trafficking that might otherwise not be detected. The trust building process can include granting assistance and support services to ensure safety, well-being and development.
Identified victims of child trafficking are entitled to special safeguards that all child victims of crimes are entitled to under international law. These safeguards include the right to guardianship, legal assistance and representation, safety and protection, support for physical and psychological recovery and social reintegration, regularisation of immigration status, the right to compensation, and the right to act as a party, or plaintiff, in criminal proceedings. An important safeguard for trafficked children who have been exploited in illegal or criminal activities is the 'non-punishment clause'. It means that child victims of criminal offences, including human trafficking, are to be protected from sanctions or prosecution for acts that they committed in relation to their situation as victims.
Articles 19 and 32-36 of the UN Convention on the Rights of the Child prohibits the exploitation of children in any form and in any context. Any child who is exposed to violence, exploitation or abuse can be considered a victim of crime and enjoys the correlated rights and entitlements, including access to assistance, protection and support, services for recovery and rehabilitation, access to justice, with due procedural safeguards in any related legal or administrative proceedings. Children at risk of exploitation have to be identified and recognised as being at risk. This implies that they have a right to assistance and support in order to prevent their exploitation or any other harm resulting from the risks. Considering the difficulties of identifying children who have been trafficked and the broad protection against all forms and contexts of exploitation afforded under the Convention, a child rights-based approach prioritises the identification of child victims of exploitation or other crime and children at risk. Whether or not exploitation takes place in a context of trafficking is of subordinate relevance for the child rights and protection context. It may interest primarily the law enforcement investigations and the prosecution.

Prevalence

It is difficult to obtain reliable estimates concerning the number of children trafficked each year, primarily due to the covert and criminal nature of this practice. It often takes years to gather and compile estimates regarding child trafficking and, as a result, data can seem both inadequate and outdated. This process of gathering data is only complicated by the fact that very few countries publish national estimates of child trafficking. As a result, the available statistics are widely thought to underestimate the actual scope of the problem.

Worldwide

Trafficking of children has been documented in every region of the world. A widely used figure regarding the prevalence of this practice is provided by the ILO, which estimates that 1.2 million children are trafficked each year; this estimate includes cross-border and internal trafficking.

Regional

Regionally, the ILO has provided the following estimates for trafficking of children by region per year:
Asia/Pacific: 250,000 children
Latin America & the Caribbean: 550,000 children
Africa: 200,000 children
Transition economies: 200,000 children
Developed/industrialized economies: unknown
As the numbers above indicate, child trafficking occurs the most frequently in Latin America and the Caribbean. Child trafficking is also the most prevalent in developing countries, though it does occur in developed and industrialized economies as well. Notably, the US Department of State publishes an annual "Trafficking in Persons" report which provides ample data regarding the prevalence of human and child trafficking in the majority of countries. The University of Pennsylvania School of Social Work released a study that estimated as many as 300,000 American youth may be at risk of commercial sexual exploitation at any time.

History (England)

According to anthropologist Samuel Pyeatt Menefee, in late 17th and 18th century Britain, parents in poverty "sold their children (actually, their children's services, but to all intents and purposes their persons as well)". Sale motivations were more economic than for wife sales and prices, drawing from limited data, "appear to have been fairly high". Many of the boys sold were climbing boys for chimney sweeps until they were no longer small enough. Prostitution was another reason for selling a child, usually a girl. One sale was of a niece; another was the sale by a man of the daughter of a woman domestic partner who also ran his business. Some children were stolen and then sold.

Impacts
Children and families

According to UN.GIFT, child trafficking has the most significant impact on trafficked children and their families. First, trafficking can result in the death or permanent injury of the trafficked child. This can stem from a dangerous "movement" stage of trafficking or from specific aspects of the "exploitation" stage, such as hazardous working conditions. Moreover, trafficked children are often denied access to healthcare, effectively increasing their chances of serious injury and death. Trafficked children are also often subject to domestic violence; they may be beaten or starved in order to ensure obedience. In addition, these children frequently encounter substance abuse; they may be given drugs as "payment" or to ensure that they become addicted and thus dependent on their trafficker(s). As opposed to many other forms of crime, the trauma experienced by children who are trafficked is often prolonged and repeated, leading to severe psychological impacts. UN.GIFT reports that trafficked children often suffer from depression, anxiety, and post-traumatic stress disorder, among other conditions.
Effects on families are also severe. Some families believe that sending or allowing their children to relocate in order to find work will bring in additional income, while in reality many families will never see their trafficked children again. In addition, UN.GIFT has found that certain forms of trafficking, particularly sexual exploitation in girls, bring "shame" to families. Thus, in certain cases, children who are able to escape trafficking may return to their families only to find that they are rejected and ostracized.

Communities

Child trafficking has also been shown to have a major effect on communities. If multiple children in a community are trafficked, it can result in the entire community being corrupted, and thus devastated, by trafficking. Social development efforts are hindered, as trafficked children's educations are cut short. As a result of this lack of education, children who escape trafficking may be less able to secure employment later in life.In addition, trafficked girls face special obstacles, in that their prospects for marriage might be diminished if the community becomes aware that they have been trafficked, particularly into sexual exploitation.

Nations

On a national level, economic development is severely hindered by the lack of education of trafficked children; this results in a major loss of potentially productive future workers.Children who are able to successfully return to their families often pose a significant financial burden, due to their lack of education, and the illnesses and injuries they may have incurred during trafficking work. There are major costs associated with the rehabilitation of these trafficked children, so that they are able to successfully participate in their communities. Furthermore, the persistence of child trafficking indicates the presence of sustained criminal activity and criminal networks, which, in most cases, are also associated with drugs and violence. As a result, UN.GIFT has cited child trafficking as a significant indicator of national and global security threats.

Proposed solutions

Solutions to child trafficking, or "anti-trafficking actions", can be roughly classified into four categories:
Broad protection: "To prevent children and former victims from being (re)trafficked"
Prevention: "Of the crime of child trafficking and the exploitation that is its end result"
Law enforcement: "In particular within a labour context and relating to labour laws and regulations"
Protection: "All steps towards the redress of their grievance, rehabilitation and helping to establish her/him."
Broad protection actions are geared towards children who could potentially be trafficked, and include raising awareness about child trafficking, particularly in vulnerable communities. This type of outreach also includes policies geared towards improving the economic statuses of vulnerable families, so that reasonable alternatives are available to them, other than sending their children to work. Examples of this include increasing employment opportunities for adults and conditional cash transfer programs. Another major broad protection program that has been readily endorsed by UN.GIFT, the ILO, and UNICEF involves facilitating gender equality, specifically by enhancing both boys' and girls' access to affordable, quality education. Other forms of protection and resources are conveniently located clinics, clean water, sustainable environments, and financial literacy.
Another way to raise awareness for child trafficking is by communities from all over the world dedicating a week to this situation. Observing the 2012 Human Trafficking Awareness Day in the US, and wider world. Community groups along with police enforcements are collaborating to organize events as well as in depth information sessions and support groups for the victims. The events held by communities could include films, guest speakers, booths, and many more things that can help people understand the seriousness of this issue. The ICE (Human Trafficking) has a help line for victims as well as conducts awareness in the U.S.A communities through the ICE In Plain Sight Campaign.
Preventative actions are more focused on addressing the actual practice of child trafficking, specifically by implementing legal frameworks that are aimed to both deter and prosecute traffickers. This involves the adoption and implementation of the ILO's international labour standards, as well as the development of safe and legal migration practices.
Law enforcement refers to the actual prosecution of traffickers; UNICEF maintains that successful prosecution of child traffickers is the surest way to send a message that child trafficking will not be tolerated. Traffickers can be "caught" at any one of the three steps of trafficking: recruitment, movement, and/or exploitation; anti-trafficking laws as well as child labour laws must then be appropriately enforced and having them properly implemented. The development of grassroots surveillance systems has also been suggested by UNICEF which would enable communities to immediately report signs of child trafficking to legal authorities. However, some anti-trafficking groups, such as the Young Women's Empowerment Project, are against working with law enforcement due to cases where law enforcement officials played roles in the exploitation of the victim. In June 2016, 14 Oakland Police officers were alleged to have been involved in a sex scandal involving a teenaged prostitute, including some while she was allegedly a minor.
Protection begins first with victim identification; child trafficking laws must specifically and appropriately define what constitutes a "trafficking victim". Legal processes must then be in place for removing children from trafficking situations, and returning them either to their families or other appropriate settings. Victims should also be provided with individualized and supportive physical and psychological rehabilitation in order to establish him or her self. Trauma-informed programs, prevention education programs, survivor-led centers, and other recovery and community integration programs are options as well. Youth-specific vulnerabilities such as homelessness, lack of family, mistrust, lack of socialization, coercive relationships, substance abuse, and lack of education can cause challenges for in the process of rehabilitation for some children. Some scholars advocate for rights-based development, where the victims, survivors, and youth at-risk should be able to participate in the planning of projects and have continued involvement in order to build autonomy and leadership. This recuperation can take quite a length of time but, with the individual having the correct support, they can work towards a functional life.
Finally, steps should be taken to avoid "double victimization" — in other words, to ensure that formerly trafficked children are treated as victims, and not as criminals. An example of "double victimization" would be a child who was illegally trafficked into sexual exploitation in the United States, and then, once free from trafficking, is prosecuted for being an illegal migrant. The End Trafficking Project is the initiative to raise awareness about child trafficking and help people take action to protect children.The UNICEF has come up with ways to help children from child exploitation and the risk factors that need to be addressed.These include:
Helping parents provide a living wage, so the children won't have to support the family
Lobbying governments and others to develop laws and strengthen child protection systems to prevent violence and abuse
Supporting the training of professionals working with children,and police and border officials to help stop trafficking.
Working with communities and organizations to change societal norms that make children more vulnerable to exploitation

Relevant organizations

Many organizations have proposed potential solutions to child trafficking. These organizations continue to conduct research concerning this practice and policies that can be implemented to work towards its eradication. The most internationally recognized of these organizations include:
United Nations
UNICEF
Office of the United Nations High Commissioner for Human Rights
United Nations Global Initiative to Fight Human Trafficking
International Labour Organization
United States Department of State
ECPAT International
International Justice Mission
See more :-
Child-selling
Child grooming
Child laundering
Children in emergencies and conflicts
Debt bondage
Exploitation of labour
Forced labour
Forced prostitution
Human trafficking in Georgia (country)
International child abduction
Refugee children


Begging



From Wikipedia,



A beggar in 1880s Tehran, photographed by Antoin Sevruguin
Begging (also panhandling or mendicancy) is the practice of imploring others to grant a favor, often a gift of money, with little or no expectation of reciprocation. A person doing such is called a beggar, panhandler, or mendicant. Beggars may be found in public places such as transport routes, urban parks, and markets. Besides money, they may also ask for food, drink, cigarettes or other small items.
Internet begging is the modern practice of asking people to give money to others via the Internet, rather than in person. Internet begging is usually targeted at people who are acquainted with the beggar, but it may be advertised to strangers. Internet begging encompasses requests for help meeting basic needs such as medical care and shelter, as well as requests for people to pay for vacations, school trips, and other things that the beggar wants but cannot comfortably afford.History
Beggars have existed in human society since before the dawn of recorded history. Street begging has happened in most societies around the world, though its prevalence and exact form vary.



A beggar in Uppsala, Sweden. June 2014.
Greece

Ancient Greeks distinguished between the penes (Greek: πένης, "active poor") and the ptochos (Greek: πτωχός, "passive poor"). The penes was somebody with a job, only not enough to make a living, while the ptochos depended on others entirely. The working poor were accorded a higher social status. The New Testament contains several references to Jesus' status as the savior of the ptochos, usually translated as "the poor", considered the most wretched portion of society. In the Rich man and Lazarus parable, Lazarus is called 'ptochos' and presented as living in extreme poverty.
Britain

A Caveat or Warning for Common Cursitors, vulgarly called vagabonds, was first published in 1566 by Thomas Harman. From early modern England, another example is Robert Greene in his coney-catching pamphlets, the titles of which included "The Defence of Conny-catching," in which he argued there were worse crimes to be found among "reputable" people. The Beggar's Opera is a ballad opera in three acts written in 1728 by John Gay. The Life and Adventures of Bampfylde Moore Carew was first published in 1745. There are similar writers for many European countries in the early modern period.
According to Jackson J. Spielvogel, "Poverty was a highly visible problem in the eighteenth century, both in cities and in the countryside... Beggars in Bologna were estimated at 25 percent of the population; in Mainz, figures indicate that 30 percent of the people were beggars or prostitutes... In France and Britain by the end of the century, an estimated 10 percent of the people depended on charity or begging for their food."
The British Poor Laws, dating from the Renaissance, placed various restrictions on begging. At various times, begging was restricted to the disabled. This system developed into the workhouse, a state-operated institution where those unable to obtain other employment were forced to work in often grim conditions in exchange for a small amount of food. The welfare state of the 20th century greatly reduced the number of beggars by directly providing for the basic necessities of the poor from state funds.
In India




A street beggar in India gets into a car
Begging is an age old social phenomenon in India. In the medieval and earlier times begging was considered to be an acceptable occupation which was embraced within the traditional social structure. This system of begging and alms-giving to mendicants and the poor is still widely practiced in India, with over 400,000 beggars in 2015.
In contemporary India, beggars are often stigmatized as undeserving. People often believe that beggars are not destitute and instead call them professional beggars. There is a wide perception of begging scams. This view is refuted by grassroots research organizations such as Aashray Adhikar Abhiyan, which claim that beggars and other homeless people are overwhelmingly destitute and vulnerable. Their studies indicate that 99 percent men and 97 percent women resort to beggary due to abject poverty, distress migration from rural villages and the unavailability of employment.

China
Ming Dynasty

After the establishment of the Ming Dynasty many farmers and unemployed laborers in Beijing were forced to beg to survive. Begging was especially difficult during Ming times due to high taxes that limited the disposable income of most individuals. Beijing's harsh winters were a difficult challenge for beggars. To avoid freezing to death, some beggars paid porters one copper coin to sleep in their warehouse for the night. Others turned to burying themselves in manure and eating arsenic to avoid the pain of the cold. Thousands of beggars died of poison and exposure to the elements every year.
Begging was some people's primary occupation. A Qing Dynasty source describes that "professional beggars" were not considered to be destitute, and as such were not allowed to receive government relief, such as food rations, clothing, and shelter. Beggars would often perform or train animals to perform to earn coins from passerby. Although beggars were of low status in Ming, they were considered to have higher social standing over prostitutes, entertainers, runners, and soldiers.
Some individuals capitalized on beggars and became "Beggar Chiefs". Beggar chiefs provided security in the form of food for beggars and in return received a portion of beggars daily earnings as tribute. Beggar chiefs would often lend out their surplus income back to beggars and charge interest, furthering their subjects dependence on them to the point of near slavery. Although beggar chiefs could acquire significant wealth they were still looked upon as low class citizens. The title of beggar chief was often passed through family line and could stick with an individual through occupational changes.
Religious begging


A mendicant outside 'Kalkaji Mandir' in Delhi, India
Many religions have prescribed begging as the only acceptable means of support for certain classes of adherents, including Hinduism, Sufism, Buddhism, and typically to provide a way for certain adherents to focus exclusively on spiritual development without the possibility of becoming caught up in worldly affairs.
Religious ideals of 'Bhiksha' in Hinduism, 'Charity' in Christianity besides others promote alms-giving. This obligation of making gifts to God by alms-giving explains the occurrence of generous donations outside religious sites like temples and mosques to mendicants begging in the name of God.
Tzedakah plays a central role in Judaism. According to the Torah, Jews are obligated to contribute 10% of their income as tithes, which also can include giving to the poor.
In Buddhism, monks and nuns traditionally live by begging for alms, as done by the historical Gautama Buddha himself. This is, among other reasons, so that Laity can gain religious merit by giving food, medicines, and other essential items to the monks. The monks seldom need to plead for food; in villages and towns throughout modern Myanmar, Thailand, Cambodia, Vietnam, and other Buddhist countries, householders can often be found at dawn every morning streaming down the road to the local temple to give food to the monks. In East Asia, monks and nuns were expected to farm or work for returns to feed themselves.
Ming China was founded by former beggar Zhu Yuanzhang. Orphaned in childhood due to famine, Zhu Yuanzhang, turned to the Huangjue temple for help. When the temple ran out of resources to support its occupants he became a mendicant monk traveling China begging for food.

Legal restrictions


A kindness meter (below the red parking meter) in Ottawa, Ontario, Canada. The meter accepts donations for charitable efforts as part of an official effort to discourage panhandling.
Begging has been restricted or prohibited at various times and for various reasons, typically revolving around a desire to preserve public order or to induce people to work rather than to beg. Various European poor laws prohibited or regulated begging from the Renaissance to modern times, with varying levels of effectiveness and enforcement. Similar laws were adopted by many developing countries.
"Aggressive panhandling" has been specifically prohibited by law in various jurisdictions in the United States and Canada, typically defined as persistent or intimidating begging.

Australia

Each state and territory in Australia has specific laws regarding begging and panhandling. Begging for alms is illegal in Victoria, South Australia, Northern Territory, Queensland and Tasmania.

Austria

There is no nationwide ban but it is illegal in several federal states.

Canada

The province of Ontario introduced its Safe Streets Act in 1999 to restrict specific kinds of begging, particularly certain narrowly defined cases of "aggressive" or abusive begging. In 2001 this law was upheld under the Canadian Charter of Rights and Freedoms. The law was further upheld by the Court of Appeal for Ontario in January 2007.
One response to the anti-panhandling laws which were passed was the creation of the Ottawa Panhandlers Union which fights for the political rights of panhandlers. The union is a shop of the Industrial Workers of the World.
British Columbia enacted its own Safe Streets Act in 2004 which resembles the Ontario law. There are also critics in that province who oppose such laws.

China

Begging in China is illegal if:
Coercing, decoying or utilizing others to beg;
Forcing others to beg, repeatedly tangling or using other means of nuisance.
Those cases are violations of the Article 41 of the Public Security Administration Punishment Law of the People's Republic of China. For the first case, offenders would receive a detention between 10 days and 15 days, with an additional fine under RMB 1,000; for the second case, it is punishable by a 5-day detention or warning.
According to Article 262(2) or the Criminal Law of the People's Republic of China, organizing disabled or children under 14 to beg is illegal and will be punished by up to 7 years in prison, and fined.

Denmark

Begging in Denmark is illegal under section 197 of the penal code. Begging or letting a member of ones household under 18 beg is illegal after being warned by the police and is punishable.

Finland

Begging has been legal in Finland since 1987 when the poor law was invalidated. In 2003, the Public Order Act replaced local government rules and decriminalized begging.
France


Louis Dewis, "The Old Beggar", Bordeaux, France, 1916
A law against begging ended in 1994 but begging with aggressive animals or children is still outlawed.

Greece


A woman begging at traffic lights in Patras, Greece.
Under article 407 of the Greek Penal Code, begging was punishable by up to 6 months in jail and up to a 3000 euro fine. However, this law was repelled in October 2018, after protests from street musicians in the city of Thessaloniki.

Hungary

Hungary has a nationwide ban. This may include stricter related laws in cities such as Budapest, which also prohibits picking things from rubbish bins.

India

Begging is criminalized in cities such as Mumbai and Delhi as per the Bombay Prevention of Begging Act, BPBA (1959). Under this law, officials of the Social Welfare Department assisted by the police, conduct raids to pick up beggars who they then try in special courts called 'beggar courts'. If convicted, they are sent to certified institutions called 'beggar homes' also known as 'Sewa Kutir' for a period ranging from one to ten years for detention, training and employment. The government of Delhi, besides criminalizing alms-seeking has also criminalized alms-giving on traffic signals to reduce the 'nuisance' of begging and ensure the smooth flow of traffic.
Aashray Adhikar Abhiyan and People's Union of Civil Liberties, PUCL have critiqued this Act and advocated for its repeal. Section 2(1) of the BPBA broadly defines 'beggars' as those individuals who directly solicit alms as well as those who have no visible means of subsistence and are found wandering around as beggars. Therefore, during the implementation of this law the homeless are often mistaken as beggars. Beggar homes, which are meant to provide vocational training, have been often found to have abysmal living conditions.

Italy

Begging with children or animals is forbidden, but the law is not enforced.

Japan

Buddhist monks appear in public when begging for alms. Although homelessness in Japan is common, such people rarely beg.

Korea

Most cases of begging are illegal. Especially, if it annoys someone, or bothers the traffic, or is for a personal purpose.

Luxembourg

Begging in Luxembourg is legal, except when it is indulged in as a group or the beggar is a part of an organised effort. According to Chachipe a Roma rights advocacy NGO 1639 begging cases were reported by Luxembourgian law enforcement authorities. Roma beggars were arrested, handcuffed, taken to police stations and held for hours and had their money confiscated.

Nepal

Although the Begging (Prohibition) Act was introduced in 1962, this has not been enforced and the begging population in Kathmandu has since grown to over 5,000, according to police estimates. Besides the common begging tricks such as asking for money or asking for milk which will be returned to the shop for money, there is a unique scam in Nepal which involves asking a foreigner to buy a shoe box at an inflated price. This shoe box is claimed to help provide a sustainable livelihood for the beggar but in actual fact, will be returned to the seller for money.

Norway

Begging is banned in some counties and there were plans for a nationwide ban in 2015, however this was dropped after the Centre Party withdrew their support.



The Singing Beggars by Russian painter Ivan Yermenyov c. 1775

Philippines

Begging is prohibited in the Philippines under the Anti-Mendicancy Law of 1978 although this is not strictly enforced.

Portugal

In Portugal, panhandlers normally beg in front of Catholic churches, at traffic lights or on special places in Lisbon or Oporto downtowns. Begging is not illegal in Portugal. Many social and religious institutions support homeless people and panhandlers and the Portuguese Social Security normally gives them a survival monetary subsidy.

Romania

Law 61 of 1991 forbids the persistent call for the mercy of the public, by a person who is able to work.

US State Department Human Rights reports note a pattern of Roma children registered for "vagrancy and begging".



In a 1786 James Gillray caricature, the plentiful money bags handed to King George III are contrasted with the beggar whose legs and arms were amputated, in the left corner

England & Wales

Begging is illegal under the Vagrancy Act of 1824. However it does not carry a jail sentence and is not enforced in many cities, although since the Act applies in all public places, it is enforced more frequently on public transport. Local authorities may issue public spaces protection orders for particular areas which makes begging subject to a fine.

United States

In parts of San Francisco, California, aggressive panhandling is prohibited.
In May 2010, police in the city of Boston started cracking down on panhandling in the streets in downtown, and were conducting an educational outreach to residents advising them not to give to panhandlers. The Boston police distinguished active solicitation, or aggressive panhandling, versus passive panhandling of which an example is opening doors at a store with a cup in hand but saying nothing.
U. S. Courts have repeatedly ruled that begging is protected by the First Amendment's free speech provisions. On August 14, 2013, the U. S. Court of Appeals struck down a Grand Rapids, Michigan anti-begging law on free speech grounds. An Arcata, California law banning panhandling within twenty feet of stores was struck down on similar grounds in 2012.
Use of funds


A beggar in Denver, Colorado in 2018.



A man holding a sign using self-deprecating humor for begging
A 2002 study of 54 panhandlers in Toronto reported that of a median monthly income of $638 Canadian dollars (CAD) – those interviewed spent a median of $200 on food and $192 on alcohol, tobacco and illegal drugs. The Fraser Institute criticized this study, citing problems with potential exclusion of lucrative forms of begging and the unreliability of reports from the panhandlers who were polled in the study.
In North America, panhandling money is widely reported to support substance abuse and other addictions. For example, outreach workers in downtown Winnipeg, Manitoba, Canada, surveyed that city's panhandling community and determined that approximately three-quarters use some of the donated money to buy tobacco products, while two-thirds buy solvents or alcohol. In Midtown Manhattan, one outreach worker anecdotally commented to the New York Times that substance abuse accounts for 90 percent of panhandling funds. This, too, may not be representative since outreach workers work with those with abuse problems.
Communities reducing street begging




Please do not Encourage the Beggars Sarahan, India
Because of concerns that people begging on the street may use the money to support alcohol or drug abuse, some advise those wishing to give to beggars to give gift cards or vouchers for food or services, and not cash. Some shelters also offer business cards with information on the shelter's location and services, which can be given in lieu of cash.[53] This has been criticised since there are typically far fewer shelter beds than people in need.



"The Man with the Twisted Lip", illustrated by Sidney Paget, a beggar playing a major role in a Sherlock Holmes adventure.
Notable beggars

Gautama Buddha, the founder of Buddhism, accepted alms from people to survive
Bampfylde Moore Carew, the self-styled "King of the Beggars"
So Chan, a Chinese folk hero of Drunken Fist
Diogenes of Sinope, a Greek philosopher
Dobri Dobrev, a Bulgarian ascetic and philanthropist
Gallicina, the mendicant Darotti is accused of murdering in Susan Palwick's novel, The Necessary Beggar (2005)
Nicholas Jennings, characterized as a rogue, in Thomas Harman's A Caveat for Common Cursitors
Lazarus, a Biblical character described in the Gospel of Luke, in the parable of the rich man and Lazarus (also called the Dives and Lazarus or Lazarus and Dives)
"The Man with the Twisted Lip", the titular character of Sir Arthur Conan Doyle's eponymous Sherlock Holmes short story
Gavroche Thenardier, a fictional character in Victor Hugo's novel Les Misérables
Wu Xun, was a Chinese wandering beggar and educational reformer
Zhu Yuanzhang, the founder of the Ming Dynasty



Social stigma


From Wikipedia, the free encyclopedia

Social stigma is the disapproval of, or discrimination against, a person based on perceivable social characteristics that serve to distinguish them from other members of a society. Social stigmas are commonly related to culture, gender, race, intelligence and health.

Description
Stigma is a Greek word that in its origins referred to a type of marking or the tattoo that was cut or burned into the skin of criminals, slaves, or traitors in order to visibly identify them as blemished or morally polluted persons. These individuals were to be avoided particularly in public places.
Social stigmas can occur in many different forms. The most common deal with culture, gender, race, illness and disease. Individuals who are stigmatized usually feel different and devalued by others.
Stigma may also be described as a label that associates a person to a set of unwanted characteristics that form a stereotype. It is also affixed. Once people identify and label one's differences, others will assume that is just how things are and the person will remain stigmatized until the stigmatizing attribute is undetectable. A considerable amount of generalization is required to create groups, meaning that people will put someone in a general group regardless of how well the person actually fits into that group. However, the attributes that society selects differ according to time and place. What is considered out of place in one society could be the norm in another. When society categorizes individuals into certain groups the labeled person is subjected to status loss and discrimination. Society will start to form expectations about those groups once the cultural stereotype is secured.
Stigma may affect the behavior of those who are stigmatized. Those who are stereotyped often start to act in ways that their stigmatizers expect of them. It not only changes their behavior, but it also shapes their emotions and beliefs. Members of stigmatized social groups often face prejudice that causes depression (i.e. deprejudice). These stigmas put a person's social identity in threatening situations, such as low self-esteem. Because of this, identity theories have become highly researched. Identity threat theories can go hand-in-hand with labeling theory.
Members of stigmatized groups start to become aware that they aren't being treated the same way and know they are likely being discriminated against. Studies have shown that "by 10 years of age, most children are aware of cultural stereotypes of different groups in society, and children who are members of stigmatized groups are aware of cultural types at an even younger age."

Main theories and contributions
Émile Durkheim
French sociologist Émile Durkheim was the first to explore stigma as a social phenomenon in 1895. He wrote:
Imagine a society of saints, a perfect cloister of exemplary individuals. Crimes or deviance, properly so-called, will there be unknown; but faults, which appear venial to the layman, will there create the same scandal that the ordinary offense does in ordinary consciousnesses. If then, this society has the power to judge and punish, it will define these acts as criminal (or deviant) and will treat them as such.

Erving Goffman
Erving Goffman was one of the most influential sociologists of the twentieth century. He described stigma as a phenomenon whereby an individual with an attribute which is deeply discredited by his/her society is rejected as a result of the attribute. Goffman saw stigma as a process by which the reaction of others spoils normal identity.
More specifically, he explained that what constituted this attribute would change over time. "It should be seen that a language of relationships, not attributes, is really needed. An attribute that stigmatizes one type of possessor can confirm the usualness of another, and therefore is neither credible nor discreditable as a thing in itself."
In Goffman's theory of social stigma, a stigma is an attribute, behavior, or reputation which is socially discrediting in a particular way: it causes an individual to be mentally classified by others in an undesirable, rejected stereotype rather than in an accepted, normal one. Goffman, a noted sociologist, defined stigma as a special kind of gap between virtual social identity and actual social identity:
Society establishes the means of categorizing persons and the complement of attributes felt to be ordinary and natural for members of each of these categories. [...] When a stranger comes into our presence, then, first appearances are likely to enable us to anticipate his category and attributes, his "social identity" [...] We lean on these anticipations that we have, transforming them into normative expectations, into righteously presented demands. [...] It is [when an active question arises as to whether these demands will be filled] that we are likely to realize that all along we had been making certain assumptions as to what the individual before us ought to be. [These assumed demands and the character we impute to the individual will be called] virtual social identity. The category and attributes he could, in fact, be proved to possess will be called his actual social identity. (Goffman 1963:2).
While a stranger is present before us, evidence can arise of his possessing an attribute that makes him different from others in the category of persons available for him to be, and of a less desirable kind--in the extreme, a person who is quite thoroughly bad, or dangerous, or weak. He is thus reduced in our minds from a whole and usual person to a tainted discounted one. Such an attribute is a stigma, especially when its discrediting effect is very extensive [...] It constitutes a special discrepancy between virtual and actual social identity. Note that there are other types of [such] discrepancy [...] for example the kind that causes us to reclassify an individual from one socially anticipated category to a different but equally well-anticipated one, and the kind that causes us to alter our estimation of the individual upward. (Goffman 1963:3).
The stigmatized, the normal, and the wise
Goffman divides the individual's relation to a stigma into three categories:
the stigmatized are those who bear the stigma;
the normals are those who do not bear the stigma; and
the wise are those among the normals who are accepted by the stigmatized as "wise" to their condition (borrowing the term from the homosexual community).
The wise normals are not merely those who are in some sense accepting of the stigma; they are, rather, "those whose special situation has made them intimately privy to the secret life of the stigmatized individual and sympathetic with it, and who find themselves accorded a measure of acceptance, a measure of courtesy membership in the clan." That is, they are accepted by the stigmatized as "honorary members" of the stigmatized group. "Wise persons are the marginal men before whom the individual with a fault need feel no shame nor exert self-control, knowing that in spite of his failing he will be seen as an ordinary other," Goffman notes that the wise may in certain social situations also bear the stigma with respect to other normals: that is, they may also be stigmatized for being wise. An example is a parent of a homosexual; another is a white woman who is seen socializing with a black man. (Limiting ourselves, of course, to social milieus in which homosexuals and blacks are stigmatized).
Until recently, this typology has been used without being empirically tested. A 2012 study showed empirical support for the existence of the own, the wise, and normals as separate groups; but, the wise appeared in two forms: active wise and passive wise. Active wise encouraged challenging stigmatization and educating stigmatizers, but passive wise did not.
Ethical considerations
Goffman emphasizes that the stigma relationship is one between an individual and a social setting with a given set of expectations; thus, everyone at different times will play both roles of stigmatized and stigmatizer (or, as he puts it, "normal"). Goffman gives the example that "some jobs in America cause holders without the expected college education to conceal this fact; other jobs, however, can lead to the few of their holders who have a higher education to keep this a secret, lest they are marked as failures and outsiders. Similarly, a middle-class boy may feel no compunction in being seen going to the library; a professional criminal, however, writes [about keeping his library visits secret]." He also gives the example of blacks being stigmatized among whites, and whites being stigmatized among blacks.
Individuals actively cope with stigma in ways that vary across stigmatized groups, across individuals within stigmatized groups, and within individuals across time and situations.

The stigmatized
The stigmatized are ostracized, devalued, scorned, shunned and ignored. They experience discrimination in the realms of employment and housing. Perceived prejudice and discrimination is also associated with negative physical and mental health outcomes. Young people who experience stigma associated with mental health difficulties may face negative reactions from their peer group. Those who perceive themselves to be members of a stigmatized group, whether it is obvious to those around them or not, often experience psychological distress and many view themselves contemptuously.
Although the experience of being stigmatized may take a toll on self-esteem, academic achievement, and other outcomes, many people with stigmatized attributes have high self-esteem, perform at high levels, are happy and appear to be quite resilient to their negative experiences.
There are also "positive stigma": it is possible to be too rich, or too smart. This is noted by Goffman (1963:141) in his discussion of leaders, who are subsequently given license to deviate from some behavioral norms because they have contributed far above the expectations of the group. This can result in social stigma.

The stigmatizer
From the perspective of the stigmatizer, stigmatization involves threat, aversion and sometimes the depersonalization of others into stereotypic caricatures. Stigmatizing others can serve several functions for an individual, including self-esteem enhancement, control enhancement, and anxiety buffering, through downward-comparison—comparing oneself to less fortunate others can increase one's own subjective sense of well-being and therefore boost one's self-esteem.
21st-century social psychologists consider stigmatizing and stereotyping to be a normal consequence of people's cognitive abilities and limitations, and of the social information and experiences to which they are exposed.
Current views of stigma, from the perspectives of both the stigmatizer and the stigmatized person, consider the process of stigma to be highly situationally specific, dynamic, complex and nonpathological.

Gerhard Falk
German-born sociologist and historian Gerhard Falk wrote:
All societies will always stigmatize some conditions and some behaviors because doing so provides for group solidarity by delineating "outsiders" from "insiders".
Falk describes stigma based on two categories, existential stigma and achieved stigma. He defines existential stigma as "stigma deriving from a condition which the target of the stigma either did not cause or over which he has little control." He defines Achieved Stigma as "stigma that is earned because of conduct and/or because they contributed heavily to attaining the stigma in question."
Falk concludes that "we and all societies will always stigmatize some condition and some behavior because doing so provides for group solidarity by delineating 'outsiders' from 'insiders'". Stigmatization, at its essence, is a challenge to one's humanity- for both the stigmatized person and the stigmatizer. The majority of stigma researchers have found the process of stigmatization has a long history and is cross-culturally ubiquitous.
Link and Phelan stigmatization model
Bruce Link and Jo Phelan propose that stigma exists when four specific components converge:
Individuals differentiate and label human variations.
Prevailing cultural beliefs tie those labeled to adverse attributes.
Labeled individuals are placed in distinguished groups that serve to establish a sense of disconnection between "us" and "them".
Labeled individuals experience "status loss and discrimination" that leads to unequal circumstances.
In this model stigmatization is also contingent on "access to social, economic, and political power that allows the identification of differences, construction of stereotypes, the separation of labeled persons into distinct groups, and the full execution of disapproval, rejection, exclusion, and discrimination." Subsequently, in this model, the term stigma is applied when labeling, stereotyping, disconnection, status loss, and discrimination all exist within a power situation that facilitates stigma to occur.

Differentiation and labeling
Identifying which human differences are salient, and therefore worthy of labeling, is a social process. There are two primary factors to examine when considering the extent to which this process is a social one. The first issue is that significant oversimplification is needed to create groups. The broad groups of black and white, homosexual and heterosexual, the sane and the mentally ill; and young and old are all examples of this. Secondly, the differences that are socially judged to be relevant differ vastly according to time and place. An example of this is the emphasis that was put on the size of the forehead and faces of individuals in the late 19th century—which was believed to be a measure of a person's criminal nature.
Linking to stereotypes
The second component of this model centers on the linking of labeled differences with stereotypes. Goffman's 1963 work made this aspect of stigma prominent and it has remained so ever since. This process of applying certain stereotypes to differentiated groups of individuals has attracted a large amount of attention and research in recent decades.

Us and them
Thirdly, linking negative attributes to groups facilitates separation into "us" and "them". Seeing the labeled group as fundamentally different causes stereotyping with little hesitation. "Us" and "them" implies that the labeled group is slightly less human in nature and at the extreme not human at all. At this extreme, the most horrific events occur.
Disadvantage
The fourth component of stigmatization in this model includes "status loss and discrimination". Many definitions of stigma do not include this aspect, however, these authors believe that this loss occurs inherently as individuals are "labeled, set apart, and linked to undesirable characteristics." The members of the labeled groups are subsequently disadvantaged in the most common group of life chances including income, education, mental well-being, housing status, health, and medical treatment. Thus, stigmatization by the majorities, the powerful, or the "superior" leads to the Othering of the minorities, the powerless, and the "inferior". Whereby the stigmatized individuals become disadvantaged due to the ideology created by "the self," which is the opposing force to "the Other." As a result, the others become socially excluded and those in power reason the exclusion based on the original characteristics that led to the stigma.
Necessity of power
The authors also emphasize the role of power (social, economic, and political power) in stigmatization. While the use of power is clear in some situations, in others it can become masked as the power differences are less stark. An extreme example of a situation in which the power role was explicitly clear was the treatment of Jewish people by the Nazis. On the other hand, an example of a situation in which individuals of a stigmatized group have "stigma-related processes" occurring would be the inmates of a prison. It is imaginable that each of the steps described above would occur regarding the inmates' thoughts about the guards. However, this situation cannot involve true stigmatization, according to this model, because the prisoners do not have the economic, political, or social power to act on these thoughts with any serious discriminatory consequences.
'Stigma allure' and authenticity
Sociologist Matthew W. Hughey explains that prior research on stigma has emphasized individual and group attempts to reduce stigma by 'passing as normal', by shunning the stigmatized, or through selective disclosure of stigmatized attributes. Yet, some actors may embrace particular markings of stigma (e.g.: social markings like dishonor or select physical dysfunctions and abnormalities) as signs of moral commitment and/or cultural and political authenticity. Hence, Hughey argues that some actors do not simply desire to 'pass into normal' but may actively pursue a stigmatized identity formation process in order to experience themselves as causal agents in their social environment. Hughey calls this phenomenon 'stigma allure'.
The Six Dimensions of Stigma
While often incorrectly attributed to Goffman the "Six Dimensions of Stigma" were not his invention. They were developed to augment Goffman's two levels – the discredited and the discreditable. Goffman considered individuals whose stigmatizing attributes are not immediately evident. In that case, the individual can encounter two distinct social atmospheres. In the first, he is discreditable—his stigma has yet to be revealed but may be revealed either intentionally by him (in which case he will have some control over how) or by some factor, he cannot control. Of course, it also might be successfully concealed; Goffman called this passing. In this situation, the analysis of stigma is concerned only with the behaviors adopted by the stigmatized individual to manage his identity: the concealing and revealing of information. In the second atmosphere, he is discredited—his stigma has been revealed and thus it affects not only his behavior but the behavior of others. Jones et al. (1984) added the "six dimensions" and correlate them to Goffman's two types of stigma, discredited and discreditable.
There are six dimensions that match these two types of stigma:
Concealable – the extent to which others can see the stigma
Course of the mark – whether the stigma's prominence increases, decreases, or disappears
Disruptiveness – the degree to which the stigma and/or others' reaction to it impedes social interactions
Aesthetics – the subset of others' reactions to the stigma comprising reactions that are positive/approving or negative/disapproving but represent estimations of qualities other than the stigmatized person's inherent worth or dignity
Origin – whether others think the stigma is present at birth, accidental, or deliberate
Peril – the danger that others perceive (whether accurately or inaccurately) the stigma to pose to them

Types
In Unraveling the contexts of stigma, authors Campbell and Deacon describe Goffman's universal and historical forms of Stigma as the following.
Overt or external deformities - such as leprosy, clubfoot, cleft lip or palate and muscular dystrophy.
Known deviations in personal traits - being perceived rightly or wrongly, as weak willed, domineering or having unnatural passions, treacherous or rigid beliefs, and being dishonest, e.g., mental disorders, imprisonment, addiction, homosexuality, unemployment, suicidal attempts and radical political behavior.
Tribal stigma - affiliation with a specific nationality, religion, or race that constitute a deviation from the normative, i.e. being African American, or being of Arab descent in the United States after the 9/11 attacks.

Deviance
Stigma occurs when an individual is identified as deviant, linked with negative stereotypes that engender prejudiced attitudes, which are acted upon in discriminatory behavior. Goffman illuminated how stigmatized people manage their "Spoiled identity" (meaning the stigma disqualifies the stigmatized individual from full social acceptance) before audiences of normals. He focused on stigma, not as a fixed or inherent attribute of a person, but rather as the experience and meaning of difference.
Gerhard Falk expounds upon Goffman's work by redefining deviant as "others who deviate from the expectations of a group" and by categorizing deviance into two types:
Societal deviance refers to a condition widely perceived, in advance and in general, as being deviant and hence stigma and stigmatized. "Homosexuality is, therefore, an example of societal deviance because there is such a high degree of consensus to the effect that homosexuality is different, and a violation of norms or social expectation".
Situational deviance refers to a deviant act that is labeled as deviant in a specific situation, and may not be labeled deviant by society. Similarly, a socially deviant action might not be considered deviant in specific situations. "A robber or other street criminal is an excellent example. It is the crime which leads to the stigma and stigmatization of the person so affected."
The physically disabled, mentally ill, homosexuals, and a host of others who is labeled deviant because they deviate from the expectations of a group, are subject to stigmatization- the social rejection of numerous individuals, and often entire groups of people who have been labeled deviant.

Stigma communication
Communication is involved in creating, maintaining, and diffusing stigmas, and enacting stigmatization. The model of stigma communication explains how and why particular content choices (marks, labels, peril, and responsibility) can create stigmas and encourage their diffusion. A recent experiment using health alerts tested the model of stigma communication, finding that content choices indeed predicted stigma beliefs, intentions to further diffuse these messages, and agreement with regulating infected persons' behaviors.

Challenging
Stigma, though powerful and enduring, is not inevitable, and can be challenged. There are two important aspects to challenging stigma: challenging the stigmatization on the part of stigmatizers and challenging the internalized stigma of the stigmatized. To challenge stigmatization, Campbell et al. 2005 summarise three main approaches.
There are efforts to educate individuals about non-stigmatising facts and why they should not stigmatize.
There are efforts to legislate against discrimination.
There are efforts to mobilize the participation of community members in anti-stigma efforts, to maximize the likelihood that the anti-stigma messages have relevance and effectiveness, according to local contexts.
In relation to challenging the internalized stigma of the stigmatized, Paulo Freire's theory of critical consciousness is particularly suitable. Cornish provides an example of how sex workers in Sonagachi, a red light district in India, have effectively challenged internalized stigma by establishing that they are respectable women, who admirably take care of their families, and who deserve rights like any other worker. This study argues that it is not only the force of the rational argument that makes the challenge to the stigma successful, but concrete evidence that sex workers can achieve valued aims, and are respected by others.
Stigmatized groups often harbor cultural tools to respond to stigma and to create a positive self-perception among their members. For example, advertising professionals have been shown to suffer from negative portrayal and low approval rates. However, the advertising industry collectively maintains narratives describing how advertisement is a positive and socially valuable endeavor, and advertising professionals draw on these narratives to respond to stigma.
Another effort to mobilize communities exists in the gaming community through organizations like:
Take This - who provides AFK rooms at gaming conventions plus has a Streaming Ambassador Program to reach more than 135,000 viewers each week with positive messages about mental health, and
NoStigmas - who's mission "is to ensure that no one faces mental health challenges alone" and envisions "a world without shame or discrimination related to mental health, brain disease, behavioral disorders, trauma, suicide and addiction" plus offers workplaces a NoStigmas Ally course and individual certifications.
Twitch streamers like MommaFoxFire place emphasis on mental health awareness to help lessen the stigma around talking about mental health.
Current research
The research was undertaken to determine the effects of social stigma primarily focuses on disease-associated stigmas. Disabilities, psychiatric disorders, and sexually transmitted diseases are among the diseases currently scrutinized by researchers. In studies involving such diseases, both positive and negative effects of social stigma have been discovered.
Research on self-esteem
Members of stigmatized groups may have lower self-esteem than those of nonstigmatized groups. A test could not be taken on the overall self-esteem of different races. Researchers would have to take into account whether these people are optimistic or pessimistic, whether they are male or female and what kind of place they grew up in. Over the last two decades, many studies have reported that African Americans show higher global self-esteem than whites even though, as a group, African Americans tend to receive poorer outcomes in many areas of life and experience significant discrimination and stigma.
People with mental disorders
Empirical research on the stigma associated with mental disorders, pointed to a surprising attitude of the general public. Those who were told that mental disorders had a genetic basis were more prone to increase their social distance from the mentally ill, and also to assume that the ill were dangerous individuals, in contrast with those members of the general public who were told that the illnesses could be explained by social and environmental factors. Furthermore, those informed of the genetic basis were also more likely to stigmatize the entire family of the ill. Although the specific social categories that become stigmatized can vary over time and place, the three basic forms of stigma (physical deformity, poor personal traits, and tribal outgroup status) are found in most cultures and eras, leading some researchers to hypothesize that the tendency to stigmatize may have evolutionary roots.
Currently, several researchers believe that mental disorders are caused by a chemical imbalance in the brain. Therefore, this biological rationale suggests that individuals struggling with a mental illness do not have control over the origin of the disorder. Much like cancer or another type of physical disorder, persons suffering from mental disorders should be supported and encouraged to seek help. The Disability Rights Movement recognises that while there is considerable stigma towards people with physical disabilities, the negative social stigma surrounding mental illness is significantly worse, with those suffering being perceived to have control of their disabilities and being responsible for causing them. "Furthermore, research respondents are less likely to pity persons with mental illness, instead of reacting to the psychiatric disability with anger and believing that help is not deserved." Although there are effective mental health interventions available across the globe, many persons with mental illnesses do not seek out the help that they need. Only 59.6% of individuals with a mental illness, including conditions such as depression, anxiety, schizophrenia, and bipolar disorder, reported receiving treatment in 2011. Reducing the negative stigma surrounding mental disorders may increase the probability of afflicted individuals seeking professional help from a psychiatrist or a non-psychiatric physician. How particular mental disorders are represented in the media can vary, as well as the stigma associated with each.
In the music industry, specifically in the genre of hip-hop or rap, those who speak out on mental illness are heavily criticized. However, according to a The Huffington Post article, there's a significant increase in rappers who are breaking their silence on depression and anxiety.
Addiction and substance use disorders
Throughout history, addiction has largely been seen as a moral failing or character flaw, as opposed to an issue of public health. Substance use has been found to be more stigmatized than smoking, obesity, and mental illness. Research has shown stigma to be a barrier to treatment-seeking behaviors among individuals with addiction, creating a "treatment gap". Research shows that the words used to talk about addiction can contribute to stigmatization, and that the commonly used terms of "abuse" & "abuser" actually increase stigma. Behavioral addictions (i.e. gambling, sex, etc.) are found to be more likely to be attributed to character flaws than substance-use addictions. Stigma is reduced when Substance Use Disorders are portrayed as treatable conditions. Acceptance and Commitment Therapy has been used effectively to help people to reduce shame associated with cultural stigma around substance use treatment.

Mental illness, Taiwan
In Taiwan, strengthening the psychiatric rehabilitation system has been one of the primary goals of the Department of Health since 1985. Unfortunately, this endeavor has not been successful. It was hypothesized that one of the barriers was social stigma towards the mentally ill. Accordingly, a study was conducted to explore the attitudes of the general population towards patients with mental disorders. A survey method was utilized on 1,203 subjects nationally. The results revealed that the general population held high levels of benevolence, tolerance on rehabilitation in the community, and nonsocial restrictiveness. Essentially, benevolent attitudes were favoring the acceptance of rehabilitation in the community. It could then be inferred that the belief (held by the residents of Taiwan) in treating the mentally ill with high regard, and the progress of psychiatric rehabilitation may be hindered by factors other than social stigma.

Epilepsy, Hong Kong
Epilepsy, a common neurological disorder characterised by recurring seizures, is associated with various social stigmas. Chung-yan Guardian Fong and Anchor Hung conducted a study in Hong Kong which documented public attitudes towards individuals with epilepsy. Of the 1,128 subjects interviewed, only 72.5% of them considered epilepsy to be acceptable;11.2% would not let their children play with others with epilepsy; 32.2% would not allow their children to marry persons with epilepsy; additionally, employers (22.5% of them) would terminate an employment contract after an epileptic seizure occurred in an employee with unreported epilepsy. Suggestions were made that more effort be made to improve public awareness of, attitude toward, and understanding of epilepsy through school education and epilepsy-related organizations.

In the media
In the early 21st century, technology has a large impact on the lives of people in multiple countries and has become a social norm. Many people own a television, computer, and a smartphone. The media can be helpful with keeping people up to date on news and world issues and it is very influential on people. Because it is so influential sometimes the portrayal of minority groups affects attitudes of other groups toward them. Much media coverage has to do with other parts of the world. A lot of this coverage has to do with war and conflict, which people may relate to any person belonging from that country. There is a tendency to focus more on the positive behavior of one's own group and the negative behaviors of other groups. This promotes negative thoughts of people belonging to those other groups, reinforcing stereotypical beliefs.
"Viewers seem to react to violence with emotions such as anger and contempt. They are concerned about the integrity of the social order and show disapproval of others. Emotions such as sadness and fear are shown much more rarely." (Unz, Schwab & Winterhoff-Spurk, 2008, p. 141)
In a study testing the effects of stereotypical advertisements on students, 75 high school students viewed magazine advertisements with stereotypical female images such as a woman working on a holiday dinner, while 50 others viewed nonstereotypical images such as a woman working in a law office. These groups then responded to statements about women in a "neutral" photograph. In this photo, a woman was shown in a casual outfit not doing any obvious task. The students that saw the stereotypical images tended to answer the questionnaires with more stereotypical responses in 6 of the 12 questionnaire statements. This suggests that even brief exposure to stereotypical ads reinforces stereotypes. (Lafky, Duffy, Steinmaus & Berkowitz, 1996)

Effects of education, culture
The aforementioned stigmas (associated with their respective diseases) propose effects that these stereotypes have on individuals. Whether effects be negative or positive in nature, 'labeling' people causes a significant change in individual perception (of persons with the disease). Perhaps a mutual understanding of stigma, achieved through education, could eliminate social stigma entirely.
Laurence J. Coleman first adapted Erving Goffman's (1963) social stigma theory to gifted children, providing a rationale for why children may hide their abilities and present alternate identities to their peers. The stigma of giftedness theory was further elaborated by Laurence J. Coleman and Tracy L. Cross in their book entitled, Being Gifted In School, which is a widely cited reference in the field of gifted education. In the chapter on Coping with Giftedness, the authors expanded on the theory first presented in a 1988 article. According to Google Scholar, this article has been cited at least 110 times in the academic literature.
Coleman and Cross were the first to identify intellectual giftedness as a stigmatizing condition and they created a model based on Goffman's (1963) work, research with gifted students, and a book that was written and edited by 20 teenage, gifted individuals. Being gifted sets students apart from their peers and this difference interferes with full social acceptance. Varying expectations that exist in the different social contexts which children must navigate, and the value judgments that may be assigned to the child result in the child's use of social coping strategies to manage his or her identity. Unlike other stigmatizing conditions, giftedness is unique because it can lead to praise or ridicule depending on the audience and circumstances.
Gifted children learn when it is safe to display their giftedness and when they should hide it to better fit in with a group. These observations led to the development of the Information Management Model that describes the process by which children decide to employ coping strategies to manage their identities. In situations where the child feels different, she or he may decide to manage the information that others know about him or her. Coping strategies include disidentification with giftedness, attempting to maintain low visibility, or creating a high-visibility identity (playing a stereotypical role associated with giftedness). These ranges of strategies are called the Continuum of Visibility.
Stigmatising attitude of narcissists to psychiatric illness
Arikan found that a stigmatising attitude to psychiatric patients is associated with narcissistic personality traits.

Abortion
While abortion is very common throughout the world, people may choose not to disclose their use of such services, in part due to the stigma associated with having had an abortion. Abortion providers are also subject to stigma.
Stigmatization of Prejudice

Cultural norms can prevent displays of prejudice as such views are stigmatized and thus people will express non-prejudiced views even if they believe otherwise (preference falsification). However, if the stigma against such views is lessened, people will be more willing to express prejudicial sentiments. For example, following the 2008 economic crisis, anti-immigration sentiment seemingly increased amongst the US population when in reality the level of sentiment remained the same and instead it simply became more acceptable to openly express opposition to immigration.
Maitri Karar


From Wikipedia, the free encyclopedia

Maitri Karar (friendship contract) is a legitimate contract system prevailed in Gujarat between a man and a woman at least one of whom is already married. similar live-in relationship Nata Pratha which is practiced in parts of Rajasthan and Madhya Pradesh.
As this system can be a pact between a married Hindu man and a woman while his wife is alive, It often circumvent the provisions of the Hindu Marriage Act, which prohibits the remarriage. The agreement would be made by a Sub-Registrar with his seal on affidavit on a stamp-paper of Rs. 10, signed by both the parties with two witnesses. Each agreement is customized based on both parties needs. In addition, It also includes financial support by the man for his partner. Though it is not legally enforceable, but the contract is meant to give a sense of security to both parties.

Nata practice in which the girl is forced to live in a live relationship
The tradition of 'live in relation' has been seen in some form in our country since ancient times. Many practices similar to this tradition can be seen in various regions of India. One of these practices is the tradition of Rajasthan.



India TV News Desk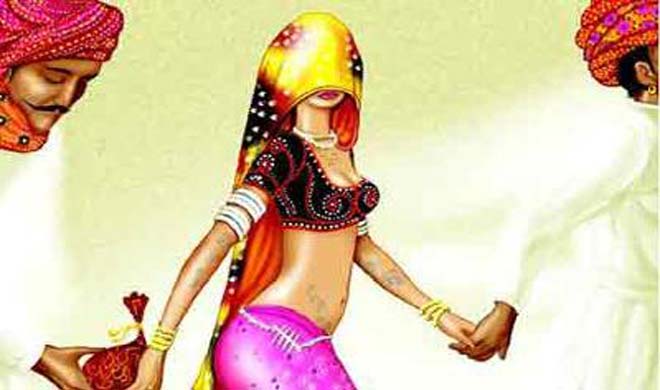 Nata pratha



Changing nature of relationship
जैसे-जैसे वक्त गुजरता गया अन्‍य प्रथाओं की तरह इस प्रथा में भी कई परिवर्तन होते चले गए। इस प्रथा के कारण समाज में लड़कियों और महिलाओं के खरीदने और बेचने के चलन को बढ़ावा मिला है। एक ओर जहां यह प्रथा अपने मनपसंद साथी को चुनने का अधिकार देती है तो वहीं आज के पुरुषवादी समाज में यह महिलाओं के नियंत्रण का भी हथियार बनती जा रही है।
पहले यह प्रथा जहां केवल गांवों में मानी जाती थी वहीं आज के वर्तमान युग में यह राजस्‍थान के कई कस्‍बो तक फैल चुकी है। वहीं इस प्रथा से हो रहें सामाजिक नुकसान को रोकने के लिए वर्तमान में पंचायतों के पास कोई भी आधिकारिक नियंत्रण नहीं है जिससे नाता प्रथा आज महिलाओं के शोषण का सबसे बड़ा हथियार बन कर सामने आ रही है।
https://www.indiatv.in/india/national-nata-pratha-forces-women-in-rajasthan-into-string-of-marriages-approved-by-families-or-husbands-for-bride-price-513481
https://www.indiatv.in/india/national-nata-pratha-forces-women-in-

https://bharatdiscovery.org/india/%E0%A4%A8%E0%A4%BE%E0%A4%A4%E0%A4%BE_%E0%A4%AA%E0%A5%8D%E0%A4%B0%E0%A4%A5%E0%A4%BE