भीमकवी वामनदादा कर्डक
भारत में शुरुआत से ही सिंधु संस्कृती समतावादी, मानवतादी रही है. बाद में चार हजार साल पूर्व में आर्यों ने भारत पर आक्रमण कर के वर्णभेद, जातीभेद निर्माण किया. उसके खिलाफ में तथागत बुध्द, गुरू कबीर, गुरू नानक, गुरू नामदेव, गुरू तुकाराम, गुरू गाडगेबाबा इन्होने आंदोलन किया. बाद में महात्मा फुले, छ.शाहू महाराज, डॉ.बाबासाहब आंबेडकर इन्होने जन-आंदोलन किया. डॉ.बाबासाहब के आंदोलन में अनेक कवी तथा गायकों ने योगदान दिया है. इनमें से वामनदादा कर्डक जी ने बाबासाहब के आंदोलन को गीत-गायन द्वारा पूरे भारत भर फैलाया.
जनम:- वामनदादा कर्डक का जनम 15 अगस्त 1922 मे नासिक जिले के सिन्नर तहसील में देषवंडी गांव में हुआ. उनके पिताजी का नाम तबाजी, माता का नाम सईबाई, बडे भाई का नाम सदाषिव तथा बहन का नाम सावित्री था. उनके घर खेती थी. खेतीबाडी लायक पालतु जानवर थे. लेकिन कभी कभी उनकी मॉं लकडीयों के बंडल बेचती थी. उनके पिताजी बैलों का व्यापार करते थे. वामनदादा की शादी अनुसया से हुयी. उनको मीरा नाम की लडकी भी हुई. लेकीन माँ और बेटी जल्दी ही गुजर गयी. बाद मे वामनदादा ने शांताबाई से दुसरी शादी की. बाद में वामनदादा उनकी माताजी के साथ मुंबई में मजदुरी करने के लिए आये. उन्होने मील श्रमिक का काम किया. बाद में कोयले की भंडारण में काम किया. बाद में उन्हे टाटा कंपनी में नोकरी मिल गयी. शिवडी के बीडीडी के किराया घर में रहते थे. उस समय समता सैनिक दल मजबुत था. वे उसमें शामिल हो गये. एक बार उन्हे एक आदमी ने खत पढने को कहा, लेकीन उन्हे पढना-लिखना नही आता था इसका उन्हे बहुत दुःख हुआ. उन्होने देहलवी नाम के अध्यापक से पढना-लिखना शुरू कर दिया. बाद में उनका पढना लिखना बढ गया.
शुरूआत में दादा सिनेमा में जाकर कलाकार बनना चाहते थे. उन्हे मिनर्व्हा फिल्म कंपनी में एक्स्ट्रा कलाकार का काम मिल गया. वे उस समय कारदार तथा रणजित स्टुडियों मे जाते थे. 1943 में उन्होने सर्वप्रथम डॉ.बाबासाहब आंबेडकर जी को देखा. उनके भाषण का दादा पर बहुत असर हुआ. दादा ने हिंदी-मराठी साहित्य पढा था. उस समय महाराष्ट्र में 1927 मे डॉ.बाबासाहब आंबेडकरजी ने महाड़ के चवदार तालाब के पानी के लिए सत्याग्रह शुरू कर दिया तथा 1930 में नासिक के कालाराम मंदिर प्रवेष का सत्याग्रह किया. इससे जनता में जोशो-उल्लास का निर्माण हुआ. हजारो लोग बाबा साहब जी के आंदोलन में शामिल हुए.
गायन पार्टी की स्थापना:- शुरूआती दौर में महाराष्ट्र मे पेषवाओं के जमाने में जलसे चलते थे. लेकीन बाद में महात्मा ज्योतिबा फुले के सत्यशोधक आंदोलन के लोगों ने सामाजिक परिवर्तन के जलसे चलाए. बाद में सभी गायक और कलाकार बाबासाहब के आंदोलन मे सामाजिक परिवर्तन के जंग मे शामिल हो गये. शुरूआती दौर में मुंबई में शाहीर घेंगडे बाबासाहब पर शाहीरी गीत गाते थे. उनका एक गीत मराठी में था. उसका मतलब था के, ''महार का एक बच्चा बहोत होशियार, लंडन से आया बॅरिस्टर बनकर'' यह गीत बाबासाहब को बहुत पसंद था. उस समय भीमराव कर्डक तथा केरूबा गायकवाड (अकोला) जैसे शाहीर थे. वामनदादा ने गायन पार्टी की स्थापना की थी.
उस समय डॉ.बाबासाहब आं

बेडकरजी ने 1927 मे समता सैनिक दल स्थापन किया था तथा 1936 में स्वतंत्र मजदूर पार्टी की स्थापना की. बाद में 1942 मे नागपूर में शेड्यूल कास्ट फेडरेशन की स्थापना की. उस समय 1933-35 में नागपूर कामठी के विधायक बाबू हरदास इन्होने सर्वप्रथम जयभिम का नारा दिया. 1943 मे बहुचर्चित फिल्म किस्मत में गाना था ''दुर हटो ए दुनिया वालों हिंदुस्तान हमारा है.'' दादाने उस समय गीत लिखा था, ''दुर हटो ये कॉंग्रेस वालो फेडरेशन हमारा है'' यह गीत उन दिनो बाबासाहब के आंदोलन में बहोत प्रसिध्द हुआ. दादा की कोई संतान नही थी. दादा कहते थे मुझे बाबासाहब से प्रेरणा मिली. ओर वह कहते थे मुझ जैसे गुंगे को जुबान मिली. बाद में दादा पुरे भारत में बाबासाहब के आंदोलन में गित लिखते रहे और गाते रहे. उन्होने कहा था भीम तेरे जन्म से हमारे करोड़ो परिवारों का उध्दार हुआ.
1952 के लोकसभा के चुनाव में डॉ.बाबासाहब आंबेडकरजी मुंबई से चुनाव में उम्मीद्वार थे. उस समय हजारों कवी गायक तथा कार्यकर्ताओं ने बाबासाहब का आंदोलन उत्साह के साथ चलाया. उस समय गायक कृष्ण शिंदे ये मराठा समाज से थे. वे प्रजा समाजवादी पार्टी के कार्यकर्ता थे. वे बाबासाहब के चुनाव में बाबासाहब के साथ थे. उन पर बाबासाहब का गहरा असर पडा. उन्होने बहोत सारे गीत गाये थे. 1956 में उन्होंने नागपूर में धम्म दिक्षा ली थी. बाद में प्रल्हादजी शिंदे, नागोराव पाटणकर, लक्ष्मण केदार, मिलिंद शिंदे, सरतापे, प्रतापसिंग बोदडे, हरेंद्र जाधव, लक्ष्मण राजगुरू, सुधिर फडके, श्रावण यषवंते, गोविंद मशालकर, नामदेव ढसाल, विठ्ठल उमप, जयवंत कुळकर्णी, पुश्पा वाघधरे, सुरेष वाडकर, अनिरूध्द वनकर, राहुल आन्वीकर, उत्तरा केळकर, अनिल खोब्रागडे, प्रकाश पाटणकर, आनंद शिंदे, मिलिंद शिंदे, सागर समदुर, गवई-मिसाळ, प्रभाकर धाकडे, आनंद षिंदे, डि.आर.इंगळे, इन जैसे कवी-गायक-संगितकारोंने बाबासाहब के आंदोलन पर बहोत गीत तयार किये ओर गाये इनसे लोगोंमे बहोत जागृती हुयी.
उस समय डॉ.बाबासाहब आंबेडकरजी नें अंग्रेज सरकार को बताकर बहोत सारे युवकों को पढाने के लिए इंग्लंड-अमेरिका भेज दिया. लेकिन उनमे से कोई भी सामाजिक आंदोलन के लिए काम में नही आया. इसलिए 1956 की आगरा की सभा में कहा था की, 'मुझे पढे-लिखे लोगों ने धोका दिया है.' लेकिन उस समय दादासाहब गायकवाड तथा वामनदादा कर्डक जैसे कम पढे लिखे नेताओं ने आंदोलन को आगे बढाया. उस समय बॅ.खोब्रागडेजी को बाबासाहब ने उनके पिताजी को कहकर उनके खुद के खर्चे से लंडन भेजने को कहा. बाद में बॅ.खोब्रागडेजी ने आंदोलन आगे चलाया. उस समय बाबासाहब का आंदोलन पूरे भारत में ताकत से चल रहा था. पार्टी बहोत मजबुत थी. प्रा.एन शिवराज, प्रा.बी.पी.मौर्य, जोगेन्द्रनाथ मंडल, एल.आर.बाली, अॅड.बी.सी.कांबळे, अॅड.आवळे बाबू, भैय्यासाहेब आंबेडकर, प्रा.आर.डी.भंडारे, शांताबाई दाणी, रा.सु.गवई, दादासाहब रूपवते और ना.ह.कुंभारे ये आंदोलन में शामिल थे. बाद में आंदोलन मे गुटबाजी हुयी.
बाद में भैय्यासाहब आंबेडकर तथा कांशिराम साहब ने एकता के लिए बहोत प्रयास किये. बाद में 1972 में दलित पैंथर की स्थापना हुयी.वामनदादा एक गीत में कहते है की, हम तुफानों मे के दिए है. वामन दादाजी ने निस्वार्थ सामाजिक आंदोलन चलाया. दादा एक गीत मे कहते है, 'बताउ कितना में दादा, तुम सब यहाँ पर एकता से रहो. उन्होने सामाजिक विषमता के खिलाफ बहोत सारे गीत लिखे ओर गाये. 1956 में जब बाबासाहब आंबेडकरजी ने नागपूर में लाखो लोगों के साथ बौध्द धम्म अपनाया.
उस समय वामनदादाने गीत लिखा था, 'वामन इस धरतीपर ऐसा हुआ ही नही, ओर पाँच लाख लोग बुध्द को शरण गये नही'. वामनदादा कहते है आजादी का मतलब हमे समझने दो, ओर दो वक्त का खाना हमे मिलने दो. दादा आगे गीत मे कहते है, मैदान मे आकर बेभान होकर दंगा मत करो, और इंसान के बेटे होकर इंसान के दुश्मन मत बनो. आगे वह गीत में कहते है महिलाओं के मुक्ती के लिए आये महात्मा फुले ओर लडकियों की पढाई हो गयी खुली. आगे पढाई के बारे मे दादा एक गीत में कहते है, तुम्हे पढाई की इच्छा हो, ओर तुम इधर-मत भटको ऐसा बच्चों को कहते हे. दादा दुसरे गीत में कहते है 'मुझे गुस्सा नही आता यही मेरा गुनाह है'. दादा एक गीत मे ऐसा कहते है की, 'भीम अगर तूम्हारे विचारों के पाँच लोग रहते तो उनके तलवार की धार अलग ही रहती'. वामनदादा छ.शिवाजी महाराज के बारे मे कहते है की, 'शिवजी के राज में नही थी कुछ कमी, ओर खुशी से रहते थे हिन्दु और मुसलमान' ऐसे महान भीमकवी का 15 मई 2004 को निधन हुआ. वामनदादा ने कोई भी संपत्ती जमा नही की. ऐसा उनका त्याग था. उनके त्याग और कार्य को अभिवादन.
सुरेश घोरपडे
पूर्व न्यायाधीश

From Wikipedia, the free encyclopedia

Jump to navigationJump to search
Chamarasa (c. 1425) was an eminent 15th century Virashaiva poet in the Kannada language, during the reign of Vijayanagar Empire, a powerful empire in Southern India during 14th - 16th centuries. A contemporary and competitor to a noted Brahmin Kannada poet Kumara Vyasa, Chamarasa was patronised by King Deva Raya II. The work is in 25 chapters (gatis) comprising 1111 six-line verses (shatpadi).

Magnum Opus
His magnum opus, "Prabhulinga Leele", written in 1430 AD, described Allama Prabhu as an early apostle of Veerashaivism and an incarnation of the god Shiva. Chamarasa and other noted Kannada writers such as Lakkanna Dandesa and Jakkanarya flourished under the patronage of King Deva Raya II. Chamarasa was a champion of the Veerashaiva faith and was a rival of Kumara Vyasa in the king's court. His Prabhulinga Lile, written in the native Bhamini Shatpadi metrical composition form (six line verse or hexa-metre) was a eulogy of 12th-century saint Allama Prabhu. So popular was the writing with the King that he had it translated into Telugu and Tamil languages, and later into the Sanskrit and Marathi languages as well. In the story, the saint is considered an incarnation of the Hindu god Ganapathi while Parvati took the form of a princess of Banavasi. While Kumara Vyasa's epic is war-torn (Kumara Vyasa Bharata, his version of the Hindu epic Mahabharata), Chamarasa writing was full of Yoga and vairagya (renunciation). The book includes details of the journey undertaken by Allama Prabhu en route to Basavakalyana, his interaction with notable Veerashaiva mystics including Basavanna, Akka Mahadevi, Gorakhnatha, Muktayakka and Siddharama. Interesting details include how Allama avoided the temptation of Mayadevi who tried to seduce him, and how Animisha became his guru. While these personalities are all real, it is possible they also represent human qualities narrated in a "parallel allegorical story". Competition between the two powerful faiths, Veerashaivism and Vaishnavism was intense during this period. This is evident by a remark made by the poet in the writing. Chamarasa claims that his story is "not about ordinary dead mortals", implying that the Vaishnava epics (the Ramayana and the Mahabharata) were about mere mortals.
C. V. Raman Pillai

From Wikipedia, the free encyclopedia
aman Pillai

Born Channankara Velayudhan Raman Pillai
19 May 1858
Arayoor, Travancore
Died 21 March 1922 (aged 63)
Trivandrum, Travancore
Occupation Novelist, playwright, journalist, social activist
Nationality Indian
Period 1880s −1920s
Genre Fiction, theatre
Subject Literary, socio-cultural
Notable works

Marthandavarma
Dharmaraja
Ramarajabahadur
Premamritham

Channankara Velayudhan Pillai Raman Pillai (19 May 1858 – 21 March 1922), also known as C. V., was one of the major Indian novelists and playwrights and a pioneering playwright and novelist of Malayalam literature. He was known for his historical novels such as Marthandavarma, Dharmaraja and Ramaraja Bahadur; the last mentioned considered by many as one of the greatest novels written in Malayalam.

Born in Thiruvananthapuram (Trivandrum), capital city of the erstwhile native State of Travancore, on 19 May 1858 to Neelakanta Pillai, a Sanskrit scholar and Parvathy Pillai, a scion of an ancient matriarchal family; both his parents were from middle-class families and employees at the Palace of the Maharaja of Travancore. Pillai got his family name, Channankara, through matrilineal succession. Fondly called Ramu, he had a traditional Sanskritized education, early in life, under his father's tutelage which included lessons in Ayurveda and even magic and Tantra. He continued education at the first English school in Thiruvananthapuram. Subsequently, he graduated from His Highness Maharaja's College (the present-day University College Thiruvananthapuram), the first-ever College in Travancore, where he reportedly had a brilliant academic career under John Ross, the principal of the institution and Robert Harvey. and obtained his BA degree from the Madras University in 1881, securing the 7th rank in the Madras Presidency. t was during this period, he started his first periodical named The Kerala Patriot.

After graduation, Pillai studied law but dropped out and went to Madras to study for the government pleader examination which was also abandoned in due course. Later, he joined the High Court as a clerk and where he rose to the position of a shirasthadar. Later, joined the Government Press and held the position of a superintendent when he retired from service. In between, he founded three publications, Malayali in 1886, Vanchiraj in 1901 and Mitabhashi in 1920.

Pillai's first marriage did not last long. He married again in 1887 at the age of 30, and his wife, Bhageerathi Amma, was only 16 at the time of the wedding. The marriage lasted till his wife's untimely death in 1904 and his third marriage was to Janaki Amma, the elder sister of Bhageerathi Amma and the widow of C. Raja Raja Varma, the younger brother of Raja Ravi Varma. He died on 21 March 1922, at the age of 63, survived by Janaki Amma.

Raman Pillai is compared by many with Bankim Chandra Chatterjee in Bengali and Hari Narayan Apte in Marathi, two other greats of India literature. His first published book was Chandramukhivilasam, a satire. He wrote his first novel, Marthandavarma, in 1885 but it was published in 1891. This followed sch historical novels as Dharmaraja and Ramarajabahadur, the social novel, Premamritam as well as several farces. Modern Malayalam drama traces its origins to his works. He is credited with the first original play in Malayalam, Chandramukheevilasam, written in 1884 and was staged for four days successively in 1887 at His Highness Maharaja's College, Trivandrum.

Exegetic dictionary

C. V. Vyaakhyaana Kosham is a 400-plus page lexicographic work in four volumes, based on Pillai's books. The work includes the explanations, elucidations and interpretations of over 700,000 Malayalam, Sanskrit, Tamil, Hindustani and English words used by him in his writings.
Works

Social Novels

Marthandavarma (1891)
Dharmaraja (1913)
Premamritam (1915)
Ramaraja Bahadur (1918)


Dishtadamshtram (1922) (unfinished)

Premarishtam (1922) (unfinished)
Plays
Chandramukheevilāsam (1884) (not published)
Mattavilāsam (1885) (not published)
Tentanāmkōţţu Harischandran (1914)
Kaimalassanţe Kadassikkai (1915)
Docţarku Kiţţiya Micham (1916)
Pãpi Chelluņadam Pāthālam (1919)
Kuruppinţe Thirippu (1920)
Other works
Videsiyamedhavitvam (1922) (a collection of editorials)
The Kerala Patriot (1882)
Translations
Marthandavarma (1936, 1979)
Honours
The India Post issued a commemorative postage stamp on Pillai on 19 May 2010.A road in Vazhuthacaud, Thiruvananthapuram has been neamed after him as C. V. Raman Pillai Road. Chenkal, a panchayat in Thiruvananthapuram which includes his native village of Arayoor, was renamed as C.V.R. Puram in 1970.
A principal scientist at M S Swaminathan Research Foundation, Chandrika is also a leading feminist activist and writer. She was awarded the Fellowship of Kerala Sahitya Academy in 1997, the Muthukulam Parvathy Amma Award in 2010, and the Toppil Ravi Foundation literary award in 2012. Her most notable works are "Pira", "K. Saraswathiyamma", "Kleptomania", "Bhoomiyude Pathaka", and "Ladies Compartment".
CS Chandrika has published both academic and fictional works. She was one of the editors of The Oxford India Anthology of Malayalam Dalit Writing, which was collection of Malayalam Dalit writing of 20th century. She won the Thoppil Ravi Award for her story collection Kleptomania in 2012. Her interview along with her story was published in Malayalathinte Kathakarikal, which listed her among ten prominent Malayali women writers. Her other Malayalam books include
She had published a monograph on K Saraswathi Amma, who was an early 20th century Malayalam feminist writer.
Dharamvir Bharati
From Wikipedia, the free encyclopedia
Born 25 December 1926
Died 4 September 1997 (aged 70)
Occupation Writer (essayist, novelist, poet)
Nationality Indian
Education M.A. Hindi, PhD
1984: Valley Turmeric Best Journalism Award
1988: Best Playwright Maharana Mewar Foundation Award
Rajendra Prasad Shikhar Samman
Bharat Bharati Samman
1994: Maharashtra Gaurav
Kaudiya Nyas
Vyasa Samman
Spouse Kanta Bharti (married 1954) (first wife), Pushpa Bharti (second. wife)
Children daughter Parmita (first wife); son Kinshuk Bharati and a daughter Pragya Bharati (second wife)
Dharamvir Bharati

(25 December 1926 – 4 September 1997)

was a renowned

Hindi

poet, author, play

wright and a social thinker of India. He was the chief editor of the popular Hindi weekly magazine Dharmayug, from 1960 till 1987.
Early life
Dharamvir Bharati was born on 25 December 1926 in a Kayastha Family of Allahabad to Chiranji Lal and Chanda devi. The family underwent considerable financial hardships after his father died early. He had a sister, Dr. Veerbala.
He did his MA in Hindi from Allahabad University in 1946 and won the "Chintamani Ghosh Award" for securing highest marks in Hindi.
Dharamvir Bharati was the sub-editor for magazines Abhyudaya and Sangam during this period. He completed his PhD in 1954 under Dr. Dhirendra Verma on the topic of "Siddha Sahitya" and was appointed lecturer in Hindi at Allahabad University. The 1950s were the most creative period in Bharati's life: He wrote many novels, dramas, poems, essays, and critical works during this phase.
Journalism (Mumbai)
In 1960 he was appointed as chief-editor of the popular Hindi weekly magazine Dharmayug by the Times Group and moved to Bombay. He remained the editor of Dharmayug till 1987. During this long phase the magazine became the most popular Hindi weekly of the country and reached new heights in Hindi journalism. As a field reporter, Bharati personally covered the Indo-Pak war that resulted in the liberation of Bangladesh.
Personal life
Dr Bharati married in 1954 and later divorced Kanta Bharati with whom he had a daughter: Parmita. A few years later he remarried and had a son Kinshuk Bharati and a daughter Pragya Bharati with Pushpa Bharati.
Bharati developed heart ailments and died after a brief illness in 1997.
Prominent works
Novels
Suraj ka Satwan Ghoda (सूरज का सातवां घोड़ा, 1952) (The Seventh Steed of the Sun) — A short novel published in 1952 that may be viewed as a set of connected mini-narratives can be called one of the foremost instances of metafiction in 20th century Hindi literature. The protagonist is a young man
named
Manik Mulla
who recounts these tales to his friends. The name of the work is an allusion to Hindu mythology according to which the chariot of the Sun-God
Surya
is said to be drawn by seven horses. (viz. seven days in a week). This novella has been translated into Bengali by poet
Malay Roy Choudhury
of
Hungry generation
fame, for which he was bestowed with the Sahitya Academy Award.
Shyam Benegal
's film
by the same name
(1992), based on the novel, won the National Film Award for Best Actor.
Giyara sapno ka desh (ग्यारह सपनों का देश)
Prarambh va Samapan (प्रारंभ व समापन)
Poetry
Kanupriya, Thanda Loha, Saat Geet Varsh, Sapana Abhi Bhi and Toota Pahiya are amongst his most popular works of poetry. Toota Pahiya tells a story of how a broken wheel helped Abhimanyu in the Mahabharata war.
Play in poetry
Story collections
Drow Ka gaon (र्दों का गाव), Swarg aur Prathvhi (स्वर्ग और पृथ्वी), Chand aur Tute hue Log (चाँद और टूटे हुए लोग), Band gali Ka Aakhkri Makaan (बंद गली का आखिरी मकान), Saas ki Kalam se (सास की कलम से), Samasta Kahaniya ek Saath (समस्त कहानियाँ एक साथ)
Essays




Thele par Himalayas (ठेले पर हिमालय), Pashyanti stories: Ankahi (पश्यंती कहानियाँ :अनकही), The river was thirsty (नदी प्यासी थी), Neel Lake (नील झील), Human values and literature (मानव मूल्य और साहित्य), Cold iron (ठंडा लोहा)

Film about Bharati

Dr. Bharati: documentary directed by young story writer Uday Prakash for Sahitya Akademi, Delhi, 1999

Awards
Padma Shri by the Government of India, 1972
Rajendra Prasad Shikhar Samman
Bharat Bharati Samman
Maharashtra Gaurav, 1994
Kaudiya Nyas
Vyasa Samman
1984, Valley turmeric best journalism awards
1988, best playwright Maharana Mewar Foundation Award
1989, the Sangeet Natak Akademi, Delhi
Translations
Andha Yug: Dharamvir Bharati, translated in English by Alok Bhalla, published by Oxford University Press. ISBN 978-0-19-567213-8, ISBN 0-19-567213-5
Dinesh Kumar
This journalist from Muzaffarnagar is on a mission to educate and spread awareness on 'real issues' via his handwritten newspaper
That's the kind of reporting we all need in our country.
Nisha SinghIndia Today Web DeskNew DelhiApril 10, 2018UPDATED: May 18, 2018
UP journalist who pens down real life issues in his handwritten newspaper
With all the technological advances happening around us, there is no doubt that mankind has reached the digital age. Technology in the form of smartphones, iPads, laptops and numerous other things have taken over the traditional way of gaining an information.
These days we have almost forgotten what use to be one of the main sources of our daily information - Newspapers. But there are still a few out there who are continuing the traditional form of news dissemination and they are doing a good job.
A journalist from UP is writing newspaper with his own hands
But at this time, what if you got to know that a man uses his sketch pen to actually write stories with his own hands?
Dinesh Kumar, a journalist from UP who writes handwritten newspaper
Yes! A 51-year-old journalist, Dinesh Kumar, who hails from Gandhi Colony, Muzaffarnagar, Uttar Pradesh, spends more than three hours daily handwriting a newspaper called Vidya Darshan and then distributes it in the villages on a bicycle.
Here's the newspaper, written by Dinesh Kumar in his own handwriting
Reports crimes issues in his newspaper
Dinesh only focuses on the critical affairs and shares his detailed opinion on them in his newspaper
The journalist believes in reporting crime issues to ministers so that they are taken care of, by the government
Handwritten newsp

aper pasted on a water tank in Uttar Pradesh
In our conversation with Dinesh Kumar, he gave the following inputs about his newspaper.
Here's what he shared:
How do you spend your entire day, apart from writing this newspaper?
Apart from writing, I sell toffees, chocolates or ice-cream, etc. around the city. Whatever money I get from selling these, I use it for buying papers and pen to write this newspaper.
How do you think the kind of reporting you do, differs from what we see on TV or in the mainstream media?
I want to focus on such issues that are not catered by others. Today, in the news, we see horrific crimes taking place and the way they are reported makes near to no impact. What I do is voice out my opinion on the subject and advise measures that can be taken to tackle such issues.
Dinesh also sends copies of his newspaper to ministers.
One of the incidents I recall is when I advised the minister to install CCTV cameras in schools and public transports in Uttar Pradesh so that we can decline the crime rate of the state.
I feel that the power of the pen is such that it can change the system and improve the condition of the country.
When did you realize the power of a handwritten newspaper?

In 2008, an incident of a Blade Man, a mysterious man who used to roam around, attacking children in the town with blades, created a sense of fear amongst the natives of Shamli of Muzaffarnagar district. At that time, I alerted the public about it by writing on a sheet of paper and then pasting it around the city. It did actually alert the public and as a result of which, local authorities took steps to deal with this serious problem. That was the time I realized what power my pen has.


We also spoke to Master Vijay Singh, an anti-corruption activist fighting against the land mafias in Muzzafarnagar, Uttar Pradesh.

He is well connected to the 51-year-old journalist as he sits and writes outside the DM's office with the activist. Here's what he said:

"Dinesh is a passionate man. He always keeps a sketch pen with him to write the stories in the newspaper. He focuses on the real-life issues that are not attended by others."


"He roams in the city to distribute toffees, ice-creams, and chocolates to the children in the afternoon and comes back after that to write stories for the newspaper."


Both are working together for the betterment of the country. We need more of such human beings who can take out the root cause of the issues and deliver the same ground issues to the caretakers of the country.


Without any help or a fixed job, this man is doing good deeds for the society.
The only handwritten newspaper in Urdu


Musalman, the only Urdu handwritten newspaper
Earlier in November 2017, we found that the state of Chennai also has its handwritten newspaper which is largely in black and white and is written in the Urdu language
The Musalman publishes Urdu poetry and messages on devotion to God and communal harmony daily
At this age where the most of the reporting is based on what Taimur has eaten today and what Salman Khan is having for lunch in the jail, Dinesh's story deserves an applaud for talking about the real issues.


Dinesh:
The Man Who Is Selling Handwritten Newspapers Since 17 Years
On Aug 13, 2018

Pic Credit- Daily Hunt

By- Md. Mojahid Raza

Bhubaneswar: Media is the most powerful entity in today's world. It controls the minds of the masses, acts as a watchdog of the society and plays a vital role in social change.In today's time where media is all about commercialisation of news and information, there still lives a man for whom journalism is not about TRPs and viewership rather a weapon to bring a change by informing and educating the general public.

The 53-year-old Dinesh hails from Muzaffarnagar in Uttar Pradesh. His contribution in the realm of media is unique and has set an unprecedented benchmark. Dinesh has been single-handedly running a newspaper called 'Vijay Darshan' since the last 17 years, which he painstakingly writes in his own handwriting.After writing a copy, Dinesh makes multiple photocopies of it, which are later supplied to the readers. He uses his bicycle to travel around the city and distribute newspaper to his customers.

Pic Credit- DailyHunt
However, this isn't Dinesh's only occupation. The earnings from n
ewspaper are not sufficient to keep his kitchen stove burning. Hence, Dinesh sells ice-creams and chocolates to make ends meet. He had dreamt of pursuing law but had to drop out of school owing to financial constraints. Later, family responsibility and need for money forced him to do odd jobs for survival. At present, Dinesh single-handedly writes and circulates his newspaper. He works all by his own with no financial or material help from outside.
Pic Credit- DailyHunt
Dinesh's newspaper 'Vijay Darshan' contains no advertisement or pictures and has never stopped a single issue in the last 17 years. The newspaper beautifully highlights the various issues faced by people in the society, besides offering suggestions for their solution. Dinesh's lucid handwriting along with his magical grasp over words makes reading Vijay Darshan a joyful experience.
The sto

ry of Dinesh is a perfect example of the fact that good

people always bring out the best in the society. They make us realize that those who work not for money but for their passion of spreading positively, truth and happiness all around are always appreciated.
Meet Dinesh, 51 YO Journalist Who Runs His Own Handwritten Newspaper Since 17 Years
An inspiring journalist's story will make your day.
How is a newspaper published?
Well, apparently, it requires a computer to type the texts, staff to interpret it and a machine to print it. Right? But what if I tell you that there's a journalist in Gandhi Colony, Mu
zaffarnagar, Uttar Pradesh, who 'writes' newspaper every day with just a few blank sheets, handing marker, sketch and a lot of confidence. Yes, a lot of confidence.
Meet Dinesh, a 51-year-old man who spends more than three hours each day writing a newspaper with his handwriting and then distributes it in the villages. He also sends some copies of his paper to PM and CM office.
Now, when I say 'newspaper', it isn't alike to what we read every day. In his journal, Dinesh only focuses on the critical affairs and shares his detailed opinion on them. Imagine a complete newspaper decorated in beautiful handwriting, giving solutions to common but critical social issues of the country.
Impressive, isn't it? So come, let's know the story of this unique journalist who without any support is spreading awareness by his handmade newspaper.
Dinesh also sells ice cream and candies for his living.
News18 reporter Bikram Singh recently shared about Dinesh's story with us. Along with selling ice cream and candies on the streets, he fulfils his fascination for writing a newspaper. And what amazed me the most is, Dinesh never accepted monetary help from people who wanted to uplift his financial status.
Dinesh says, "I want to live on my own, monetary help may make me selfish."
Dinesh's newspaper is called Vidya Darshan.
Once Dinesh's handwritten papers get completed, he prepares few black and white copies of it. Then he delivers all those copies in different villages on his bicycle. Sharing his daily routine, Dinesh added that he is so busy in his schedule and indulged in his work that weeks pass and he doesn't even get time to also wash his clothes.
For the sake of writing, Dinesh never got married.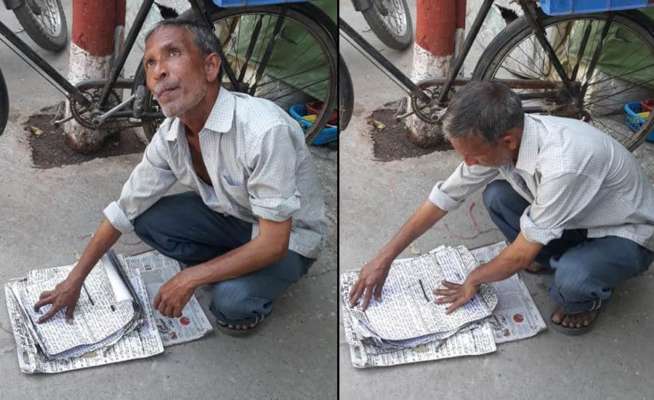 It was Dinesh's love for his handwritten Vidya Darshan that never let him get married and have kids. His passion for writing newspaper never benefitted him on a monetary basis, but he has no regrets of choosing it over his good future.
He doesn't have a huge audience, but he says, even if one man is satisfied with his newspaper, he feels accomplished.
Like every journalist, Dinesh writes to bring a positive change with his words. Though he doesn't have the modern technology, he believes that his mission of educating and spreading awareness is accomplished if even one of his readers is happy and satisfied with his handwritten media.Selfless Dinesh is working hard every day without any support or fixed employment.
It has been 17 years since Dinesh is writing and selling his newspaper. While talking to Bindass India, Dinesh revealed that he receives many offers, but he rejects them all. He believes that though he doesn't have a thousand copies, he has the faith of spending 3-4 hours and creating the best of what he has. And that is what he has been doing till now.
Here's a video by Bindass India. Watch till the end.
Dinesh's hard work and determination towards his work is commendable. More power to your pen, Dinesh.
When our CEO, Vinay Singhal, met Dinesh...
I hope you liked the story.
If you have any inspiring story like this to share, write to me at guneet@wittyfeed.com.
(Images source )
Dailyhunt
हाथ से काग़ज़ पर लिखकर 17 साल से अख़बार निकालते हैं दिनेश
April 6, 2018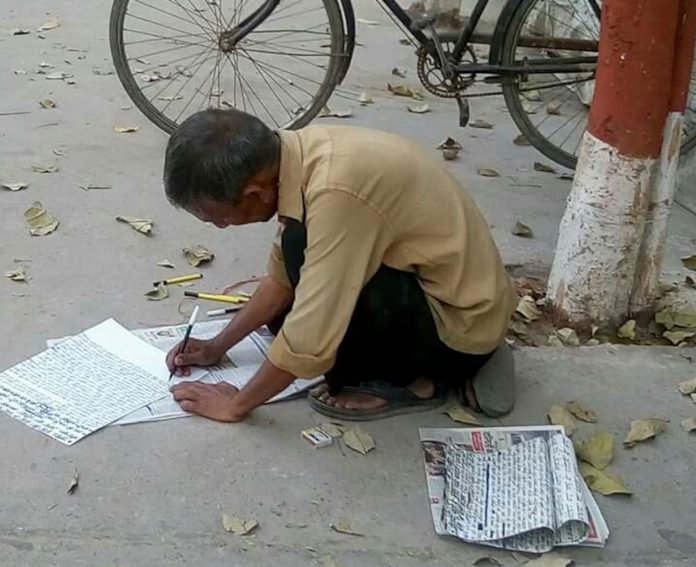 आस मुहम्मद कैफ़, TwoCircles.net
मुज़फ़्फ़रनगर : जहां एक तरफ़ मीडिया का 'राजनीतिकरण' के साथ-साथ 'बाज़ारीकरण' हो चुका है, वहीं एक शख़्स ऐसा भी है, जो रोज़ अपने हाथों से लिख कर अख़बार निकालता है. और वो ये काम पिछले 17 साल से लगातार कर रहा है. इस महान शख़्स का नाम है —दिनेश
53 साल के दिनेश कुमार मौजूदा दौर की ज़िन्दगी में एक विचित्र प्राणी हैं. सच्चा, ईमानदार और ग़रीब, मगर उस पर इंसानियत और देश के लिए कुछ करने का बोझ है. और इस बोझ को वो 17 साल से लगातार उतारने की जद्दोजहद में लगे हैं. इसके लिए वो काग़ज़ पर अपने हाथ से लिखकर अख़बार निकालते हैं.
पहले वो एक काग़ज़ की सीट पर ख़बरें और अपने विचार लिखते हैं. फिर उसकी फोटो कॉपी कराकर इसे सार्वजनिक स्थलों पर दीवार पर चिपका देते हैं. दिनेश ऐसा प्रतिदिन करते हैं. इन 17 सालों में शायद ही कोई ऐसा दिन रहा हो, जब दिनेश ने अपना अख़बार न निकाला हो. इस तरह से इतने लंबे समय तक चलने वाला शायद यह भारत का पहला हस्तलिखित अख़बार है.
दिनेश दूसरे अख़बारों से अपनी मतलब की ख़बर तलाशते हैं और उसे स्केच पैन से सफ़ेद काग़ज़ पर लिखते हैं. इन ख़बरों के अलावा वो अपने विचार भी लिखना नहीं भूलते.
दिनेश मुज़फ़्फ़रनगर के सुभाषनगर मोहल्ले में रहते हैं. समाज को अपनी क़लम से सन्देश देने वाले इस दिनेश ने शादी नहीं की है. उनका मानना है कि शायद शादी का बंधन उन्हें यह सब करने से विचलित करता.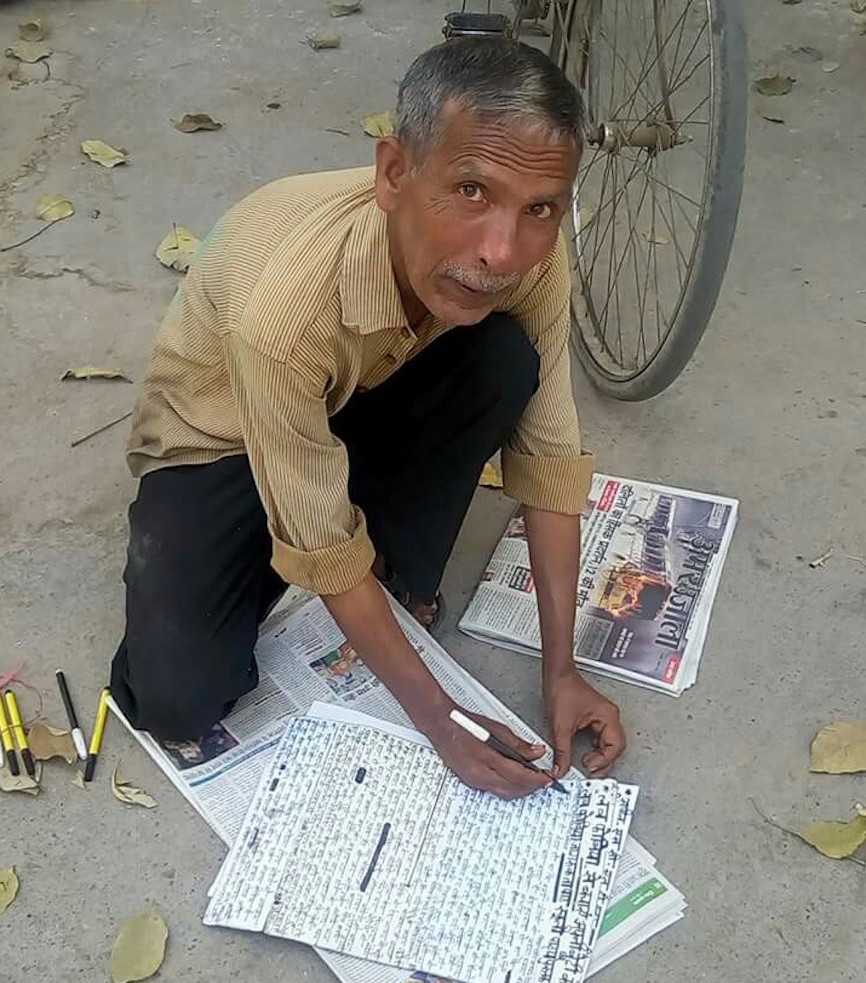 TwoCircles.net से बातचीत में वो कहते हैं कि, अपने स्कूल के दिनों से अख़बार निकालने में रुचि थी, मगर बात करने पर सब इसे 'पैसे वालों' का काम बताते थे. मुझे लगता था कि मेरे मन में जो विचार पैदा हो रहे हैं वो सबको जानने चाहिए.
वो आगे बताते हैं कि, चूंकि अख़बारों में ज़्यादातर ख़बरें झूठी आती थी, इसलिए सच्ची बात कहने की भी लगन थी. मैं रोज़ अख़बार पढ़ता हूं. उसके बाद उस में से अच्छी ख़बर तलाशकर उसे खुद लिखता हूं. संपादकीय मैं खुद लिखता हूं. जैसे आज मैंने लिखा है —'लवफोबिया से बचे लड़कियां…'
दिनेश बताते हैं कि, मैंने कई लोगों से बात की कि अख़बार निकालने में मेरी मदद करें, मगर बात नहीं बनी. क्योंकि यह लोग ग़लत धंधे को फलने-फूलने के लिए अख़बार का सपोर्ट चाहते थे और यह मैं नहीं कर सकता था.
वो कहते हैं कि, मैं अपने उसूलों पर चलने वाला आदमी हूं. हां! इससे बहुत कम लोगों तक मेरी आवाज़ पहुंचती है, मगर मेरी क़लम गुलाम नहीं है.
मुज़फ़्फ़रनगर की कचहरी में दिनेश से मुलाक़ात 12 बजे के बाद हो सकती है. यहां हर शख्स उसे पहचानता है. क्योंकि इससे पहले का समय दिनेश स्कूली बच्चों को देते हैं, वहां वो टॉफी बेचते हैं.
बताते हैं, अपने मतलब की ख़बरें छापते अख़बारों में निष्पक्षता नहीं है. अब हर ख़बर किसी न किसी विचारधारा से प्रभावित होती है. मेरे अंदर भी सामाजिक ज़िम्मेदारी की भावना ज़ोर मारती है. इसलिए काग़ज़ में हाथ से लिखकर अपना 'विद्यादर्शन' निकालता हूं.
दिनेश के हस्तलिखित अख़बार का नाम विद्यादर्शन है. वो हमें बताते हैं कि, ऐसा वो 17 साल से हर दिन करते हैं. दूसरे अख़बारों की तरह उनकी भी छुट्टी होती है. वो कहते हैं —"खुद लिखता हूं, खुद बांटता हूं."
कचहरी में पिछले 22 साल से धरने पर बैठे मास्टर विजय सिंह दिनेश के बारे में हमें बताते हैं कि, दिनेश बहुत ही खुद्दार शख़्स हैं. ये बच्चों को टॉफी बेचकर अपना गुज़ारा करता है. पहले स्कूल में टॉफी बेचता है, फिर आकर अपना अख़बार लिखता है. उसकी फ़ोटो कॉपी कराता है. दुर्भाग्यपूर्ण बात है कि समाज या राजनेता ऐसी विचाधाराओं के साथ खड़े नहीं होते.
बता दें कि दिनेश के अख़बार में कोई विज्ञापन नहीं होता है. और न ही इस अख़बार को कोई सरकारी सहायता हासिल है. और न ही 17 साल से निकलने वाले इस हस्तलिखित अख़बार की कोई सूचना स्थानीय सूचना कायार्लय को है. मुज़फ़्फ़नगर के सूचना अधिकारी हमसे बताते हैं कि, विधादर्शन नाम का कोई अख़बार हमारे यहां पंजीकृत नहीं है.
मास्टर विजय सिंह बताते हैं कि, बाक़ी पत्रकारों की तरह दिनेश का किसी नेता और अफ़सरों से कोई परिचय नहीं है. शायद उसे इसकी ज़रूरत ही नहीं है.
वो आगे कहते हैं कि, मैं पिछले 17 साल से उसे देख रहा हूं. उसकी ख़बरें साम्प्रदयिक और एक पक्षीय नहीं होती, बल्कि भाईचारा और समाज को सन्देश देने वाली होती हैं. उसका संपादन अच्छा है. अफ़सोस यह है कि वो एक ग़रीब पत्रकार है और उसके पास किसी तरह का कोई संसाधन नहीं है, मगर उसका हौसला बेमिसाल है.
समाजसेवी आसिफ़ राही का कहना है कि, दिनेश की निष्ठा और मेहनत देखने लायक़ है. उनका दृष्टिकोण राष्ट्र के प्रति सकारात्मक है. अच्छा है. एक पत्रकार को सरकार के प्रति नहीं, बल्कि जनता के प्रति जवाबदेह होना चाहिए. इसमें दिनेश खरे उतरते हैं.
वो आगे बताते हैं कि, ऐसे समय पर जब तमाम मीडिया आलोचनाओं में घिरी हैं, दिनेश ने एक मिसाल कायम की है.
Dushyant Kumar
From Wikipedia, the free encyclopedia
Dushyant Kumar
Kumar on a 2009 stamp of India
Born 1 September 1933
Rajpur Navada, United Provinces, British India
Died 30 December 1975
Bhopal, Madhya Pradesh, India
Occupation Poet, dramatist, Litterateur, Gazal, translator
Nationality Indian
Alma mater MA (Hindi), Allahabad
Genre Hindi poems
Notable works Saaye mein Dhoop,
Ek Kanth Vishpayi
Mann Ke Kon, published in 1963
Dushyant Kumar (1 Septembe

r 1933 – 30 December 1975) was a poet of modern Hindi literature. He is famous for writing Hindi Ghazals, and is generally recognised as one of the foremost Hindi poets of the 20th century.
Personal life
Dushyant Kumar was married to Rajeshwari Tyagi.
Death and legacy
Parts of Dushyant Kumar's poem ""Ho Gayi hai Peer Parvat Si"(हो गई है पीर पर्वत-सी)" were used in the popular 2017 India film Irada. The film showcases the sorry state of the people of Bhatinda (Punjab) due to corruption, and cancer caused by pesticides left from the Green revolution and uranium contamination of ground water due to fly ash from thermal power plants.
The poem "Ho Gayi hai Peer Parvat Si"(हो गई है पीर पर्वत-सी) was sung often by Arvind Kejriwal during the Anti Corruption Movement (2011–2012) in India.
Lines Dushyant Kumar from his Ghazal 'Saye Me Dhoop' are often used in many programmes, and the Hindi film "Halla Bol" मेरे सीने में नहीं तो तेरे सीने मे सही, हो कहीं भी आग, लेकिन आग जलनी चाहिए. Star Plus used the lines "Sirf hungaama khada karna mera maqsad nahin, saari koshish hai, ki yeh soorat badalni chahiye" in promos for its show Satyameva Jayate.
The Indian Department of posts issued a commemorative stamp with Dushyant Kumar's image on it, in September 2009.
A museum dedicated to Dushyant Kumar exists in C. T. T. Nagar, Bhopal, Madhya Pradesh.
The poem "Tu kisi rail si guzarti hai" line was taken from his poem and used as a song in the movie Masaan.
ABP News and the Hindi poet Kumar Vishwas made an episode on Dushyant Kumar in their program Mahakavi which was aired on 12 and 13 November 2016.
The house of Dushyant Kumar was broken by the administration of Smart City Project. This was criticised by several leading people.
Explaining the inclusion of Kumar's poems in the 2015 Hindi film Masaan, the lyricist Varun Grover explained that he wanted to show Shaalu (played by Shweta Tripathi) as a person whose hobby is to read Hindi poetry and shaayari, as this is a common hobby of millennial and generation x youngsters in Northern India, especially when in love, but this aspect is rarely shown in Hindi films.
Notable works
कहाँ तो तय था एक कण्ठ विषपायी और मसीहा मर गया साये में धूप मन के कोण छोटे-छोटे सवाल
कैसे मंजर आँगन में एक वृक्ष
खंडहर बचे हुए हैं दुहरी जिंदगी
जो शहतीर है
ज़िंदगानी का कोई मकसद
मुक्तक
आज सड़कों पर लिखे हैं
मत कहो, आकाश में
धूप के पाँव
गुच्छे भर अमलतास
सूर्य का स्वागत
आवाजों के घेरे
जलते हुए वन का वसन्त
आज सड़कों पर
आग जलती रहे
एक आशीर्वाद
आग जलनी चाहिए
मापदण्ड बदलो
कहीं पे धूप की चादर
बाढ़ की संभावनाएँ
इस नदी की धार में koi awaaz honi chahiye kon kehta hai aasman me
हो गई है पीर पर्वत-सी
Dilip M. Menon
Dilip M. Menon is Professor of Indian Studies at the University of Witwatersrand. He is the author of The Blindness of Insight and Caste, Nationalism and Communism in South India, Malabar 1900-1948. He has translated Potheri Kunhambu's novel of 1893, Saraswativijayam, a classic, from the Malayalam into English.
The Blindness of Insight
Essays on Caste in Modern India
Is communalism a deflection of the violence and inegalitarianism within Hindu society? How has the deployment of violence against an internal Other, the dalit, come to be transformed into aggression against an external Other, the Muslim? Does the dalit have the right to life in modern India? Exploring the intimate relation between the discourses of caste, secularism and communalism, Dilip Menon argues that communalism in India may well be the return of the repressed histories of caste. In four essays that position caste as the central faultline of modern India, Menon finds out why the use of marxism and its concepts was idiosyncratic at best and instrumental at worst for a brahmin like E.M.S. Namboodiripad; how the subordinated castes in the late nineteenth century wrote themselves into modernity using the Malayalam novel and Christianity; and why the use of violence in the maintenance of caste hierarchy remains the central occluded fact of Indian society: so present, yet so invisible.
Dilip Menon
Dilip M Menon is the Mellon Chair of Indian Studies and the Director of the Centre for Indian Studies in Africa at the University of Witwatersrand. He was educated at the Universities of Delhi, Oxford and Cambridge and got his PhD degree from Cambridge. He is a translator from the Malayalam and writes on film, theatre and literature.
His research for the past decade has engaged with issues of caste, socialism and equality in modern India. This has resulted in several essays and a monograph on issues of caste in modern India as also a translation of the first novel written in an Indian language by a lower caste individual.
Currently, he is working on issues of cultural and intellectual history and is engaged in a project on the writing of history in India between 1850 and 1960. The work inaugurated at the Centre is interdisciplinary and transnational in approach and looks afresh at issues of colonialism, modernity and migration in the Global South.
Divya Arya
Divya's Profile
linkedin.com/in/divya-arya-7605b053
About
Divya Arya is an award-winning journalist with the BBC reporting for its television, radio and web platforms in English and Hindi. She has focused her journalism on exploring human rights issues with a specific concentration on gender.
Over the past 15 years, she has reported on the Indian elections, education, religion and caste divides and gender discrimination. Now as the BBC's Women's Affairs Journalist in India she also writes a weekly blog on gender issues.
Divya has presented the global news programme OS on BBC World Service Radio from London. She has also presented the primetime weekly discussion programme WorklifeIndia on BBC World News TV.
Divya is a Knight Wallace Fellow from the University of Michigan where she completed her research on 'Reporting sexual violence in India', published in Breaching the Citadel, a book of essays, by Zubaan Publications and in the Economic and Political Weekly's Review of Gender Studies.
She has been awarded for best investigative journalism by the international Drum Online Media Awards and won the Laadli Media Awards for Gender Sensitivity in India.
Born and brought up in Delhi, Divya did her Bachelors in commerce in the premier institute for Business Studies – Sri Ram College of Commerce at the University of Delhi. She wrote for a college journal at that time, Campus on Wheels and also did a few radio programmes for the national broadcaster, All India Radio. This was followed by post graduate studies in Broadcast journalism at the Indian Institute of Mass Communication.
Divya is trained in the classical Indian dance, Bharatnatyam and takes refuge in it and music when trying to seek the ever elusive work-life balance.
चांगदेव भवानराव खैरमोड़े जी
(15.7.1904--18.11.1971)
डॉ.अम्बेडकर जी की प्रख्यात जीवनी के लेखक
1927 में खैरमोड़े जी ने ही डॉ.अम्बेडकर को "बाबासाहेब" और माता रमाबाई को "आईसाहेब" के नाम से संबोधित किया।
व्यक्तिगत जीवन
सी.बी. (चांगदेव भवानराव) खैरमोड़े जी का जन्म 15 जुलाई, 1904 को ग्राम-पाचवड, तालुका-खटव, जिला-सतारा में हुआ था। उन्होंने अपनी स्कूली शिक्षा मुंबई के न्यू इंग्लिश स्कूल ऑफ सतारा और एलफिस्टन हाई स्कूल से पूरी की। मुंबई में तत्कालीन ब्रिटिश सचिवालय में नौकरी की। द्वारकबाई चंगदेव खैरमोडे (गायकवाड़) उनकी संगिनी व भवानराव खैररामोड जी उनके पिताजी का नाम था। खैरमोड़े जी मराठी लेखक, कवि, अनुवादक थे और चरित्र लेखन, कविता आदि प्रकार के साहित्य का सृजन किया। खैरमोड़े जी ने बौद्ध आंदोलन में भी प्रतिभाग किया।
'डॉ भीमराव रामजी अंबेडकर चरित्र 'लेखन'
डॉ.अम्बेडकर के सानिध्य में रहकर, उनके जीवन और मिशन का अध्ययन किया। जिसका विस्तृत विवरण रखते हुए, 'डॉ. भीमराव रामजी अंबेडकर चरित्र" 15 खंडों में लिखा। जिसका पहला खंड 1952 में बाबासाहेब के समय में जारी किया गया। 1971 में चार खंड प्रकाशित किए गए और शेष दस खंड उनके बाद उनकी संगिनी द्वारकबाई चांगदेव खैरमोड (गायकवाड़) द्वारा प्रकाशित किए गए।
अन्य लेखन
खैरमोड़े जी ने अपने स्कूली दिनों में खादी के महत्व को उजागर करने वाली कविता लिखी।
खैरमोड़े जी ने दो सामाजिक प्रवचन लिखे - 'पाटिल प्रताप' (1928) और 'अमृतकण' (1929)। बाद में, सामाजिक सुधार, अस्पृश्यता, हिंदू धर्म और हिंदू समाज जैसे विभिन्न मुद्दों पर उनका वैचारिक लेखन महाराष्ट्र की विभिन्न पत्रिकाओं में प्रकाशित हुआ। 'शूद्र से पहले' कौन थे? (1951), उन्होंने 'उपनिषद और हिंदू महिलाओं का ह्रास' (1961), 'संविधान' पर तीन भाषण' लिखे।
साभार
विकिपीडिया : 8.1.2018
https://m.facebook.com/story.php?story_fbid=2041191856171465&id=1703045756652745
D. S. Ravindra Doss

From Wikipedia
D. S. Ravindra Doss (20 November 1945 – 22 June 2012) was a senior Indian journalist, and founder and president of the Tamil Nadu Union of Journalists. He was also Vice President of All India Journalists.

D. S. Ravindra Doss
Born 20 November 1945
Died 22 June 2012 (aged 66)

Chennai, Tamil Nadu, India
Occupation newspaper editor, journalist

Career

Although journalism was the largest part of his career, Doss was also a writer, social activist, and political critic. He wrote more than 1,000 articles in different Tamil magazines and daily newspapers. He authored more than 15 books, mainly on social issues and Indian cinema. He was the editor and publisher of the monthly Tamil magazine Tamil Thendral, which was captioned as "A Magazine by Journalists for Journalists".
Dev Kumar (born February 6, 1972) is a Dalit writer and dramatist.
Early life and career
Dev Kumar belonging to the Bhangi community, was born on 6 February 1972 in Haddi Godam locality of Kanpur. His mother Smt. Ganga Devi worked as a maid-servant in a school and his father Shri Prabhu dayal was a Supervisor in Municipal Corporation, Kanpur. He had four children and, thus, the burden of their up bring and education was enormous. But it did not deter him from encouraging his children to join school to obtain education. Dev had his primary education in a school set up by members of his own community and was situated in his own locality. All students in his school were either Dalits or Muslims. Not a single upper caste student even studied there. He passed his 8th standard from this school in the year 1984. In 1987 he passed his High School from Bishambhar Nath Sanatan Dharma Inter College, Kanpur. He sought admission in the Christ Church College for pursuing his B.sc. in 1991. He was admitted to the college, but this time his fortune had something different for him in store. When he was in the 1st year of his graduation, his father died; a trauma too severe for a man struggling economically to raise his educational status. Suddenly, all his dreams were shattered, and he had no option but to leave his studies. Being the eldest in the family, he had to shoulder the entire responsibility of looking after his ailing mother and other members of the family. As per law of the land, he was offered a job on his father's post i.e. a supervisor in the Municipal Corporation which he accepted with a heavy heart.
During his early days he encountered multiple instances of discrimination on account of being a Dalit, and that too a Bhangi, a torment that he had to bear for no fault of his. What afflicted him more was his neglect by the members of the other Dalit communities, as the community of sweepers was considered to be the lowest in their hierarchy. While studying in Inter College, one day he missed his classes. The next day, a Brahman class fellow of his inquired from him the reason for his absence. He replied, "I had gone to the dentist for getting one of my teeth extracted". On this his friend knocked him down with his shoes, saying "When you people perform everything with your own hand why should you visit a doctor for this". Dev was amazed and failed to understand the hidden meaning in this act.
The insult he met in his intermediate class was not a solitary incident of rebuke and repression. There were several other such humiliating and tormenting experiences. He began to understand what all this meant after reading the works of Ambedkar. Ambedkar gave him the vision through which he viewed not only his own past, but also the shortcomings in the Dalit communities and the injustice meted out to them by the savarna (the upper caste people). Ambedkar's books transformed his perception of life, and evoked in him the zeal to work for the uplift of the marginalized communities. He pondered for many days on the status of the culturally marginalized communities. How to improve their condition? How to bring them out from a history that stretched so much into the past? At this critical moment, Ambedkar's thought helped him to formulate strategies. Pen to him was mightier than the sword. So he took to writing booklets.
Literature work
'More Bazaar' was his first booklet to be published from the money he had saved from his tuition fee in 1992–1993. He published other booklets which include 'Haan Haan Haan Main Bhangi Hoon'. Two booklets 'Dom Se Mahar Tak' and 'Aatmaghati Dasta' are the in press. His unpublished writings include Bhangi Tola, Yugdarshan-Sudarshan, Meri Lal Diary, Bheem Bawani (Poems), Vo Jhelti Gaadi, Bharat Mein Bhangi: Bhangi Mein Bharat, Abhang Shastra, Barood and Bhangiyon Ke Bachche. His desire for social transformation is so deep that he has no reluctance in paying for the publication, even at the cost of his means of livelihood.
Dramatic work
Conscious of the fact that the booklets do not reach out to all sections of society, he set up his own theatre known as 'Apna Theatre' on 14 April 1992. Through the medium of this theatre, he strives to awaken consciousness among the people of the Dalit communities. His first Natak (drama), 'Daastan', was based on the ill deeds of the Aryans. His other plays include Nakhuda, Bhadra Angulimaal, Chakradhari, Sudarshan, Kapat, Bhulni, Bhamti, Lautri Ke Beemar, Nihang, Agyat Etihaas (based on Veerangana Udadevi Pasi), Amar Shaheed Matadin Bhangi and Jamadaar Ka Kurta, etc.
Social work
In the year 2000, he also started publication of a bi-monthly newsletter called 'Jai Bhim', which was completely dedicated to the Dalit issues. But it closed down in 2001 due to financial crisis. He organized discussions among children, helping them to learn about leading a respectful life, unlike his own. He brings out pamphlets for distribution in different localities. These pamphlets contain messages to awaken self-respect among the people and develop a feeling of pride in being a member of their own community. But now he is a disillusioned man due to the attitude of indifference and apathy of his own community members towards his efforts. They refuse to give up their traditional occupation of sweeping. To inspire them, he has created captions like 'Jharu ke upar kalam, kalam ke upar taj', (pen over broom, crown over pen). His other slogans are, 'Jharu chodo Kalam Pakdo' (Leave broom, hold pen) and 'Vote se raj tak, jharu se taj tak'(From vote to governance, from broom to crown). Despite his community's attitude he refuses to lose faith in future and believes that the tears of Baba Saheb Ambedkar will never let him sleep and always encourage his dream of establishing an egalitarian social system. His passion for social work propels him to do anything and everything for the uplift of the marginalized communities.
From Wikipedia
Deb Roy
Deb Roy at an MIT faculty meeting, 2014
Born
Scientific career
Institutions MIT, Bluefin Labs, Twitter
Deb Roy is a tenured professor at MIT and served as Chief Media Scientist of Twitter from 2013-2017. A native of Winnipeg, Manitoba, Canada, Roy received his PhD in Media Arts and Sciences from MIT. He directed the Cognitive Machines group and now directs the Laboratory for Social Machine at the MIT Media Lab where he conducts research on language, games, and social dynamics at the intersection of artificial intelligence and cognitive psychology. An author of over 100 academic papers in machine learning, cognitive modeling, and human-machine interaction, his TED talk, Birth of a Word, (based on the 2006–2009 Human Speechome Project) has been viewed over 2.5 million times.
In 2008, he co-founded and was the founding CEO of Bluefin Labs, a social TV analytics company, which MIT Technology Review named as one of the 50 most innovative companies of 2012. Bluefin was acquired by Twitter in 2013.
The Laboratory for Social Machines started in 2014 with an investment of $10 million from Twitter over a five-year period. The agreement also gives the lab access to all historical Twitter data and access to the firehose of all real-time tweets. The lab aims to "create new platforms for both individuals and institutions to identify, discuss, and act on pressing societal problems In 2018, Soroush Vosoug hi, Deb Roy, and Sinan Aral published "The spread of true and false news online" in Science. The paper examined "~126,000 stories tweeted by ~3 million people more than 4.5 million times," and found that "Falsehood diffused significantly farther, faster, deeper, and more broadly than the truth in all categories of information, and the effects were more pronounced for false political news than for false news about terrorism, natural disasters, science, urban legends, or financial information." Additionally, the authors found that "Contrary to conventional wisdom, robots accelerated the spread of true and false news at the same rate, implying that false news spreads more than the truth because humans, not robots, are more likely to spread it."
Drishadwati Bargi
The rather long title could have been longer if it were to encapsulate the full range of the subjectivity of this scribe. It should have been "The dilemma of being an upwardly mobile, English speaking, Dalit Feminist and ideologue who is simultaneously a wannabe intellectual, a commodity fetishist and a person with ambivalent sexual orientation (I am deliberately choosing not to use the word "queer" since I am not sure what it means) and who is working in Kolkata, West Bengal".
Much as I sound so, this paper is not a narcissistic exercise in dissecting, identifying and cataloguing my subjectivities. Rather, my focus will be on the experience of working in a University and a city which boast of being the intellectual hotbed of the country. Of course, I will be talking as a student who has studied here for five years. I do not claim to speak for other Dalit students. Nor do I claim to represent the sum total of the experience of caste discrimination that is faced by other Dalit students. There might be Dalits who will deny facing any discrimination, there might be Dalits who have had to physically bear the burden of their caste in the University. I belong to neither camp. Rather this article is about my personal journey with my caste in the campus, how I have sought to negotiate with it and the way I perceive it. Not only is the personal nature of the gaze very important here so is the personal motive since I am also writing, thinking and theorizing about caste for academic purpose.
It is not uncommon for Bengali Bhadroloks and Bhadromahilas to claim that caste does not exist in West Bengal. Why, do we hear or read about caste riots or caste rapes? There are Brahmins who reject their threads, relish beef and do not mind sharing hash, fag or biri with a scheduled caste (not Dalit) friend or two. The radicals take their time out of their busy schedules to have long addas at humble roadside tea stalls, binge (read gobble) into street food prepared by scheduled castes (not Dalits) and occasionally sneer at a scheduled caste (not Dalit) colleague who is hesitating to sit on the dusty pavement for fear of dirtying the first Peter England trousers of his life and is being castigated for his snobbishness.
If one desires to know the real radical that rests and occasionally bursts out in flames in every Bhadrolok and Bhadromahila's heart one must take into account what goes on in the addas. The addas are a gateway to the heart, mind and not to forget the stomach of Bengalis. One confronts the romantic, the intellectual and the splenetic or the bilious side of the Bengali Bhadrosamaj in its most unabashed nakedness in the adda sessions. The addas may include a heated discussion on the revolution in Cuba to the expression of anathema at having a Punjabi (i.e., non-Bengali) as an editor of a reputed literary journal in English, from the price of the newly purchased four bedroom apartment to Mayawati's lavish bungalow.
Being a Bengali Dalit who has been extremely fortunate/unfortunate to enjoy and observe the company of the Bhadrosamaj for a long time, I have also caught some of the quirks of their nature. Perhaps you are thinking that I am simply beating about the bush by talking about bhadrosamaj and addas, but it is through these sessions that I have encountered the most obscene forms of casteism. It has come when classmates and professors have made fun of people with non-brahmanical surnames and then smiled at you in mock apology, when the academic failure of reserved category (not Dalit) students has been used to justify that reservation is an unmixed evil, when the ignorance of English language of reserved category (not Dalit) students is perceived as something that insults the intellect of the English speaking teacher.
Caste came to me when I ditched an upper caste guy for his sexism and was told in turn that he let me go easily because I was three notches lower than him in the caste ladder. It came from my Dalit friends who perceived my friendship with upper caste students as a form of betrayal. It invaded my mind and entered my bed when I was being caressed by a lover. The tenets of Manu that forbade Dalits from wearing gold and precious stones suddenly hit me when I was celebrating my first branded bag or reminiscing about my first experience of drinking a cup of hot chocolate at the age of twenty four in spite of living in a metropolis for the last ten years.
My recently acquired 'commodity fetishism' as pronounced by some Marxists has revealed that I am a hypocrite masquerading as Dalit emancipator. If the ignorance of the English language of scheduled caste students allegedly mocked the intelligence of our teachers my knowledge of the language (however incomplete and insufficient it is) is now seen as something that is making me a class enemy by otherwise anglophile Bengali Comrades.
The result is a dilemma, a kind of intellectual, emotional and psychological paralysis of sorts. Should I identify myself as a Dalit? Do I have the right to work on Dalit Literature? Do I have the right to do so, given my alleged hypocrisy and betrayal, which has been felt in some way or the other by Dalits as well as non-Dalits? This dilemma has been quite unnerving for me. It has led to mental and psychological alienation, anxiety and a sense of extreme loneliness.
Once, in an interview I was told, rather absurdly by a professor that there are no Dalits in West Bengal. I had responded with a wry smile and had nothing to say. It is my contention that there are no Dalits in West Bengal because of the simple fact that Dalits are not allowed to exist. You can be a casteless Brahmin, Baidya or Kayastha. On the other side of the equation, you can be an untouchable/achyut waiting to be emancipated (accultured) by upper caste casteless radicals or you can be a scheduled caste employee perpetually embarrassed for enjoying the "privilege" of affirmative action.
The word Dalit as I understand it refers to dignity of the person concerned without taking away the history of prejudice and discrimination that he or she still faces in forms that cannot be explained through Bhadrolok Marxism. It has gradually incorporated within itself the long history of resistance against caste system as well as our claim to an autonomous identity that cannot be equated with the predicament of being poor, working class or an untouchable but includes something more than that.
When I identify myself as a Dalit I am making a claim and seeking recognition for that discrimination, prejudice as well as that resistance. But inadvertently by identifying myself as a Dalit I am also doing something more. I am challenging a practice of "division of labourers" that is endemic to West Bengal. This is the division between emancipators (which includes writers, intellectuals, social activists, doctors, economists, trade union leaders, Naxalite leaders) and the to be emancipated (which includes peasants, workers in factories and homes, taxi drivers, rickshaw pullers etc).
Just browse at any book store or go through the names of the faculty of the famous universities or the list of authors in any random little magazine dedicated to social transformation in the state. You will find the Bhattacharjees, Mukherjees, Boses, and Dasguptas glittering on the pages. And then try to find out the surnames of the thousands of men and women who form the crowd at any political rally or gathering, the men who clean the streets every morning and take away our shit and waste the women who commute daily to keep the houses of Bhadrolok clean.
In this context a Brahmin taxi driver or a Dalit lecturer or activist (especially) is an eyesore, a cause of moral and political anathema. This is feudalism twisted to suit the needs of Bhadrolok Radicalism. Bhadrolok Marxism entailed that a caste of people /bhadrolok will be destined to emancipate another caste of people, the chotolok. If the chotolok suddenly claims to be a Dalit and emancipates himself or herself then he/she challenges the bhadrolok's prerogative to liberate the chotolok thereby challenging a system of dependence, power and relationship of dominance and subordination. He/she is also laying a claim to a history of movement that has focused on the agency of Dalits and suspected the benevolence and the radicalism of the savarnas.
The identity Dalit challenges the hierarchy between the caste of emancipator and the caste of emancipated and renders the emancipator redundant and useless. As a result not a single opportunity is missed to target the person, intellectually as well as psychologically who attempts to challenge this division and decry his/her claim to the identity. The question then is not whether I should identify myself as a Dalit or whether I have the right to. The question is whether I can afford to identify myself as a Dalit and bear the resultant alienation, intellectual and emotional that will inevitably accompany it. The dilemma then stems from an angst and a very human fear of being left alone in the world. All said and done I will love to be proved false. I would really love it if any other Bengali Dalit opposes my thesis and presents a better picture.
Dr. D. Shina
She was born 19 February 1957 at Kollam, Kerala in 1957 as the daughter of Kootungal Divakaran and Panamoottil Bhasurangi.. She had her school education in Craven L M S High School, Kollam and the higher education at Sree Narayana College for Women, Kollam. She took her M Com degree from S N College, Kollam. Her M Phil and Ph D were awarded by the University of Kerala. K. Radhakrishnan former member (Generation Kerala State Electricity Board is her husband. Sruthi R Krishan and Anath R Krishnan are children married to Unnikrishnan K P and Revathy Lal respectively.
Career and Achievements
She has been teaching in graduate and post graduate levels in various colleges under Kerala University for more than 33 years now. She is actively engaged in research activities mainly centering power sector. Her comments on the sector are often well accepted. Her study on the Financial Performance of the Kerala State Electricity Board completed in 2007 made strong recommendations for continuance of Electricity Industry in Public Sector. Currently she is conducting a study on the impact of load shedding in industries. This study is sponsored by the University Grants Commission (India). She had several works to her credit including articles in research journals, periodicals and news papers. Her study with Dr M Sarngadharan on Indian power industry in the public sector published by Cooperjal Ltd UK was well noted. From 2008 onward she analyzes the Union Budget about power sector for the national daily the Hindu and is often described as an electricity finance expert by news papers
Dharamvir Bharati
Fazal Tabish
Name:-FazalTabish Birth:-5 August 1933 Bhopal Death:-10 November 1995 Fazal Tabish kisi ek khaas vichardhaha ke saath nahi hain wo zindagi ke saath jude hain wo banaye hue raaston se katra kar nikal jaate hain unki shayari tajurbon ki den hai.
Fazal Tabish ki shayari ka majmuan (book)" Roshni kis jagha se kali hai" ek novel "Wo Aadmi" do drame "Dara hua aadmi" aur"Akahre ke bahar se"hain.Unka pehla stage drama "Bila Unvan" Central Government ministry of S.R.C.A. ne pehla enaam diya. "Dara hua aadmi" aur "Akahre ke bahar se" stage drame hindi mein bhi publish huye hain . In dramon ke Shri Alaknandan ne stage shows kiye. Shri Rajendra Shukl ne "Dara hua aadmi" direct kiya. Premchand ke novel "Karmbhumi" ko dramein ka roop diya aur usey Shri B.V. Karant ne direct kiya. Danish drama "The judge" ka translation urdu mein kiya yeh darama Bharat Bhawan mein 20-25 baar pesh kiya gaya.Ek Tele Film "Urdu hai jiska naam" Shri Raam Tiwari ne Bhopal Durdarshan ke liye bnayi. Mani Kaul ki Film "Satah se uthta aadmi" aur Kumar Shahni ki film "Khyaal Gaatha" mein kaam kiya. Merchant-Ivory ke liye Ismail Merchant ki direct k hui film "Muhaafiz" mein location organiser ke saath script mein madad ki aur kaam bhi kiya.Hindi ke 50 kaviyon k kavitaon ko Urdu lipi mein tranlate kiya. "Jharokha" naam se yeh kitab Madhay Pradesh Urdu Academy ne publish ki.
Fazal Tabish, Urdu zubaan ka baaNkaa shaair thaa. This is often you get to hear about Fazal Sahab. I had heard a lot about him especially his personality and bohemian lifestyle.
In my school days I knew him through his son, who was our teacher. But I never met him. It was only after his death that I read some of his poetry and was instantly drawn towards it. Fazal's poetry is different in the sense that all his ghazals and Nazms stand out amongst hundreds of contemporary poets of his generation.
shakhsiyat hai ki sirf gaalii hai
jaane kis shakhs ne uchhaalii hai
shahar dr shahar haath ugte haiN
kuchh to hai jo har ek savaalii hai
jo bhii haath aaye TuuT kar chaaho
haar ke yah ravish nikaalii hai
meer kaa dil kahaaN se laaoge
Khuun kii buund to bachaa lii hai
jism meN bhii utar ke dekh liyaa
haath Khaalii thaa ab bhii khaalii hai
resha resha udheD kar dekho
roshnii kis jagah se kaalii hai
din ne chehraa kharoNch Daalaa thaa
jab to suuraj pe Khaak Daalii hai
A group of Qawwals rendered it at a function a few years back. They sung it differently and started with the last two couplets but had a magical affect on the audience. Of course, his sexually explicit couplets once floated across the Urdu world:
chaahte the aazmuudaa aurat ka visaal
khair jaisii bhii haath aaye, nibhaayaa chaahiye....(aazmuuda=experienced)
But it is Nazm where Fazal Tabish reveals his brilliance. Never in the history of Urdu poetry, a poet had treated the subject of sex like Fazal did. Amongst the voices of Nazm in the post-Progressive movement era, Shaharyar, Nida Fazli, Shamsur Rahman Faruqi, Ameeq Hanafi are counted but I surely consider Fazal amongst them. His nazm for another day.
From Wikipedia, the free encyclopedia
गिरिजाकुमार माथुर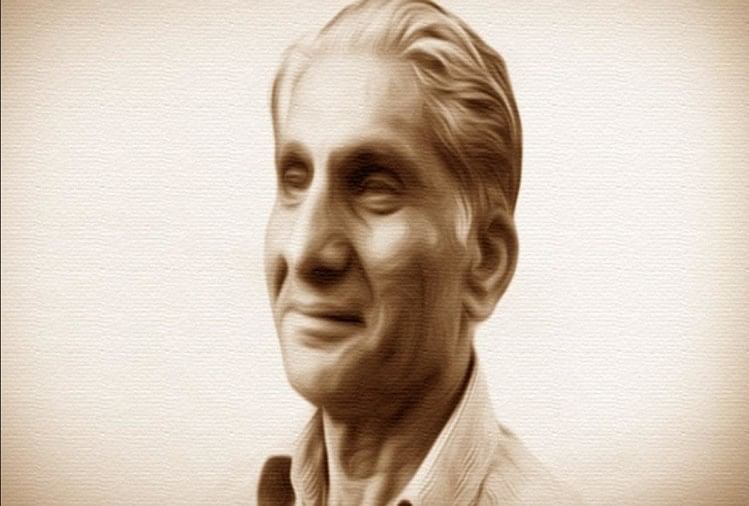 Born 22 August 1919
Died 10 January 1994 (aged 75)
Occupation Writer, Poet
Nationality Indian
Notable works Nash aur Nirman, Nayi Kavita: Seemae aur Sambhavnae
Children Pawan Mathur, Amitabh Mathur , Ashok Mathur
Girija Kumar Mathur (Hindi: गिरिजाकुमार माथुर) (22 August 1919 - 10 January 1994) was a notable Indian writer of the Hindi language. He is noted for his translation of the popular English song "We Shall Overcome" into Hindi (हम होगें कामयाब). His father, Devicharan Mathur, was a teacher in a local school and greatly admired music as well as literature. his mother name was laxmidevi Girijakumar Mathur is considered one of the most important writers in Hindi due to his efforts to modernise Hindi literature and promote it through many of his works.
Early life
Girijakumar Mathur was born in Ashoknagar which was tehsil of guna before 2003 Madhya Pradesh, on 22 August 1919. He was homeschooled by his father in History, Geography and English. After obtaining his primary education in Jhansi, he was awarded a degree of M.A (English) and L.L.B from Lucknow University. After practicing law for a few years, he started working in All India Radio and later Doordarshan.
Professional and musical career
On obtaining his law degree, Mathur initially worked as a lawyer, but subsequently joined the Delhi office of All India Radio. After a few years there, he moved on to join the then only television broadcasting organization of India, Doordarshan.
Mathur published his first collection of poems, Manjir in 1941.
It was during his service in Doordarshan that mathur translated the popular gospel and civil rights movement song "We shall overcome" into Hindi as "Honge Kaamyab" (होंगे कामयाब). It was sung by a female singer of the Doordarshan orchestra and the music was arranged by Satish Bhatia using Indian musical instruments. This version of the song was subsequently released by TVS Saregama. This Hindi rendition was released in 1970 as a song of social upliftment and was often broadcast by Doordarshan in the 1970s and 1980s. Doordarshan at that time was the only television station of India, and this song was especially played on days of national significance.
Mathur continued to work in Doordarshan, retiring in 1978 as the Deputy Director general.
Works
Girijakumar Mathur started his career in literature in 1934 in the Braj language.Greatly influenced by authors such as Makhanlal Chaturvedi and Balkrishna Sharma 'Navin', he published his first anthology, 'Manjir' in 1941. He was an important contributor to Hindi literature and used his works to spread moral messages through society. His notable works include:
Nash aur Nirman
Dhup ke Dhan
Sheilapankh Chamkile
Bhitri Nadi Ki Yatra (Anthology)
Janm Kaid (Play)
Nayi Kavita:Seemae aur Sambhavnae
Girijakumar Mathur was one of the seven eminent Hindi poets included in Tar Saptak, an anthology edited and published by Agyeya in 1943. Apart from poems, he wrote many plays, songs as well as essays. In 1991, he was awarded the Sahitya Akademi Award for his anthology, "Main Vakt ke Hun Samne" as well as the Vyas Samman in the same year. He is noted for his translation of the popular English song "We Shall Overcome" into Hindi.
Death
Girijakumar Mathur died on 10 January 1994, aged 75 in New Delhi.
गोपाल राम गहमरी
गोपाल राम गहमरी (1866-1946) हिंदी के महान सेवक, उपन्यासकार तथा पत्रकार थे। वे 38 वर्षों तक बिना किसी सहयोग के 'जासूस' नामक पत्रिका निकालते रहे, २०० से अधिक उपन्यास लिखे, सैकड़ों कहानियों के अनुवाद किए, यहां तक कि रवीन्द्रनाथ ठाकुर की 'चित्रागंदा' काव्य का भी (पहली बार हिंदी अनुवाद गहमरीजी द्वारा किया गया) अनुवाद किए। वह ऐसे लेखक थे, जिन्होंने हिंदी की अहर्निश सेवा की, लोगों को हिंदी पढऩे को उत्साहित किया, ऐसी रचनाओं का सृजन करते रहे कि लोगों ने हिंदी सीखी। यदि देवकीनंदन खत्री के बाद किसी दूसरे लेखक की कृतियों को पढ़ने के लिए गैरहिंदी भाषियों ने हिंदी सीखी तो वे गोपालराम गहमरी ही थे।
गहमरी ने प्रारंभ में नाटकों का अनुवाद किया, फिर उपन्यासों का अनुवाद करने लगे। बंगला से हिन्दी में किया गया इनका अनुवाद तब बहुत प्रामाणिक माना गया। बहुमुखी प्रतिभा के धनी गोपालराम गहमरी ने कविताएं, नाटक, उपन्यास, कहानी, निबंध और साहित्य की विविध विधाओं में लेखन किया, लेकिन प्रसिद्धि मिली जासूसी उपन्यासों के क्षेत्र में। 'जासूस' नामक एक मासिक पत्रिका निकाली। इसके लिए इन्हें प्रायः एक उपन्यास हर महीने लिखना पड़ा। 200 से ज्यादा जासूसी उपन्यास गहमरीजी ने लिखे। 'अदभुत लाश', 'बेकसूर की फांसी', 'सरकती लाश', 'डबल जासूस', 'भयंकर चोरी', 'खूनी की खोज' तथा 'गुप्तभेद' इनके प्रमुख उपन्यास हैं। जासूसी उपन्यास-लेखन की जिस परंपरा को गहमरी ने जन्म दिया, उसका हिन्दी में विकास ही न हो सका।
परिचय
गोपाल राम गहमरी का जन्म पौष कृष्ण 8 गुरुवार संवत् 1923 (सन् 1866 ई) में उत्तर प्रदेश के गाजीपुर जिले के गहमर में हुआ था। इनके प्रपितामह श्री जगन्नाथ साहू फ्रांसीसी छींट के व्यापारी थे। उनके दो पुत्र थे-रघुनंदन और बृजमोहन। रघुनंदनजी के तीन पुत्र हुए राम नारायण, कालीचरण और रामदास। गोपालराम गहमरी, रामनारायणजी के पुत्र थे। कालीचरण नि:संतान थे और रामदास के एक ही पुत्र थे महावीर प्रसाद गहमरी। गोपालराम गहमरी को भी एक ही पुत्र थे इकबाल नारायण। महावीर प्रसाद गहमरी के दो पुत्र थे देवता प्रसाद गहमरी एवं दुर्गा प्रसाद गहमरी। देवता प्रसाद गहमरी बहुत दिनों तक काशी से प्रकाशित होने वाले दैनिक 'आज' और 'सन्मार्ग' से जुड़े रहे।
गोपाल राम गहमरी जब छह मास के थे तभी पिता का देहांत हो गया और इनकी माँ इन्हें लेकर अपने मैके गहमर चली आईं। गहमर में ही गोपाल राम का लालन-पालन हुआ। प्रारंभिक शिक्षा-संस्कार यहीं संपन्न हुए। गहमर से अतिरिक्त लगाव के कारण उन्होंने अपने नाम के साथ अपने इस ननिहाल को जोड़ लिया और गोपालराम गहमरी कहलाने लगे।
उनकी प्रारंभिक शिक्षा गहमर में हुई थी। वहीं से वर्नाक्यूलर मिडिल की शिक्षा ग्रहण की। 1879 में मिडिल पास किया। फिर वहीं गहमर स्कूल में चार वर्ष तक छात्रों को पढ़ाते रहे और खुद भी उर्दू और अंगरेजी का अभ्यास करते रहे। इसके बाद पटना नार्मल स्कूल में भर्ती हुए, जहां इस शर्त पर प्रवेश हुआ कि उत्तीर्ण होने पर मिडिल पास छात्रों को तीन वर्ष पढ़ाना पड़ेगा। आर्थिक स्थिति अच्छी न होने के कारण इस शर्त को स्वीकार कर लिया। लेकिन बीच में ही पढ़ाई छोड़कर गहमरी जी बेतिया महाराजा स्कूल में हेड पंडित की जगह पर कार्य करने चले गए। सन 1888 ई में सब कामों से छुट्टी कर हाई फर्स्ट ग्रेड में नार्मल की परीक्षा पास की। इसके तुरंत बाद 1889 में रोहतासगढ़ में हेडमास्टर नियुक्त हो गए। मगर, यहां भी वे टिक नहीं पाए और बंबई के प्रसिद्ध प्रकाशक सेठ गंगाविष्णु खेमराज के आमंत्रण पर 1891 में बंबई चले गए।
गहमरी जी जब रोहतासगढ़ में थे तो वहीं से पत्र-पत्रिकाओं में अपनी रचनाएं भेजा करते थे। बंबई में जब रहने लगे तो वहां भी उनकी कलम गतिशील रही। यह अलग बात है कि वे वहां भी अधिक दिनों तक नहीं टिक सके। चूंकि खेमराज का व्यवसाय पुस्तकों के प्रकाशन का था, इसलिए वहां उनके लिए रचनात्मकता के लिए कोई विशेष जगह नहीं थी। पत्र-पत्रिकाओं का प्रकाशन वहां से होता नहीं था। इसलिए, यहां अपने अनुकूल अवसरों को न देखकर वहां से त्यागपत्र देकर कालाकांकर चले आए। कालांकाकर (प्रतापगढ़, उत्तर प्रदेश) से निकलने वाले दैनिक 'हिन्दोस्थान' के गहमरी जी नियमित लेखक थे। इसके साथ ही उस समय की श्रेष्ठ पत्र-पत्रिकाएं 'बिहार बंधु', 'भारत जीवन', 'सार सुधानिधि' में भी नियमित लिखते थे।
जब 1892 में गहमरी जी राजा रामपाल सिंह के निमंत्रण पर कालाकांकर चले आए तो यहां वे संपादकीय विभाग से संबंद्ध हो गए और एक वर्ष तक रहे। यहीं पर काम करते हुए बांग्ला सीखी और अनुवाद के जरिए साहित्य को समृद्ध करने का प्रयास भी किया।
गहमरी जी एक जगह बहुत दिनों तक नहीं टिकते थे। एक बार फिर सन् 1893 में वे बंबई की ओर उन्मुख हुए और यहां से निकलने वाले पत्र 'बंबई व्यापार सिंधु' का संपादन करने लगे। इस पत्र को वहां के एक निर्भीक और असीम साहसी पोस्टमैन निकालते थे। लेकिन इस पत्र का दुर्भाग्य कहें या गहमरी जी का कि यह पत्र छह महीने के बाद बंद हो गया, लेकिन गहमरी जी बेकार नहीं हुए। वहीं के एक हिंदी प्रेमी एसएस मिश्र ने गहमरी जी को बुलाकर उन्हें 'भाषा भूषण' के संपादन का भार सौंपा। यह पत्र मासिक था। लेकिन यह पत्र भी बंद हो गया। लेकिन इसके बंद होने के पीछे न आर्थिक कारण थे न अन्य दूसरी तरह की प्रकाशकीय समस्याएं। बल्कि इस पत्र को एक दंगे के कारण बंद कर देना पड़ा।
'भाषा भूषण' के बंद होने के बाद नए ठौर की तलाश में चल पड़े। इनके चाहने वालों और इन पर स्नेह रखने वालों की कमी नहीं थी। उन्हीं में थे पं बालमुंकुद पुरोहित। इन्हीं की कृपा से गहमरी जी मंडला की ओर रुख किए। लेकिन यहां भी बहुत दिनों तक नहीं रह सके। यहां से मासिक 'गुप्तकथा' का प्रकाशन तो शुरू हुआ, लेकिन अर्थाभाव के कारण इस पत्र को असमय बंद कर देना पड़ा। गहमरीजी एक बार फिर चौराहे पर आ गए। लेकिन इस चौराहे से एक रास्ता फूटा जो बंबई की ओर जाता था। खेमराज जी ने 'श्री वेंकटेश्वर समाचार' नाम से पत्र का प्रकाशन शुरू कर दिया था। यह पत्र गहमरी जी के कुशल संपादन में थोड़े समय में ही लोकप्रिय हो गया। इसी दौरान प्रयाग से निकलने वाले 'प्रदीप' (बंगीय भाषा) में ट्रिब्यून के संपादक नगेंद्रनाथ गुप्त की एक जासूसी कहानी 'हीरार मूल्य' प्रकाशित हुई थी। गहमरीजी ने इस कहानी का हिंदी में अनुवाद कर श्री वेंकटेश्वर समाचार में कई किश्तों में प्रकाशित किया। यह जासूसी कहानी पाठकों को इतनी रुचिकर लगी कि कई पाठकों ने इस पत्र की ग्राहकता ले ली।
उस दौर में जासूसी ढंग की कहानियों में पाठकों की गहरी रुचि जग रही थी। इसमें रोचकता और रहस्य की ऐसी कथा गुंफित होती कि पाठकों के भीतर एक तरह की जुगुप्सा जगाती और पढऩे को विवश। गहमरी जी पाठकों के मन-मस्तिष्क को समझ चुके थे। 'हीरे का मोल' के अनुवाद की लोकप्रियता और 'जोड़ा जासूस' लिखकर पाठकों की प्रतिक्रियाओं से वे अवगत हो चुके थे। इस लोकप्रियता के कारण वे कई तरह की योजनाएं बनाने लगे। वे यह भी समझ चुके थे कि जासूसी ढंग की कहानियों के जरिए ही पाठकों का विशाल वर्ग तैयार किया जा सकता है। गहमरी जी पूरी तैयारी के साथ जासूसी ढंग के लेखन की ओर प्रवृत्त हुए। उल्लेखनीय बात यह भी है कि उनके साथ घटी कुछ घटनाओं ने भी जासूसी ढंग के लेखन की ओर उन्हें ढकेला। इस तरह 1899 में ही वे घर आकर जासूस निकालना चाहते थे, किंतु बालमुकुंद गुप्त के पुत्र की शादी होनी थी और वे 'भारत मित्र' के संपादन का भार गहमरी जी को देकर अपने गांव गुरयानी चले गए। कुछ दिनों तक गहमरी जी ने 'भारत मित्र' का कुशलता पूर्वक संपादन किया। इसकी वजह से 'जासूस' का प्रकाशन थोड़े समय के लिए स्थगित हो गया। उनकी इच्छा थी कि 'सरस्वती' के साथ ही 'जासूस' का भी प्रकाशन हो, लेकिन यह इच्छा उनके मन में ही रह गई। इस तरह जासूस का प्रकाशन जनवरी, 1900 में 'सरस्वती' के साथ न होकर चार महीने बाद यानी मई 1900 में हुआ।
गहमरी जी ने 'भारत मित्र' के संपादन के दौरान जासूस के निकलने की सूचना दे दी थी। इसका लाभ यह हुआ कि सैकड़ों पाठकों ने प्रकाशित होने से पहले ही पत्रिका की ग्राहकी ले ली। एक और उल्लेखनीय बात यह है कि हिंदी में 'जासूस' शब्द के प्रचलन का श्रेय गहमरी जी को ही जाता है। उन्होंने लिखा है कि '1892 से पहले किसी पुस्तक में जासूस शब्द नहीं दिख पड़ा था।' उन्होंने अपनी पत्रिका का नामकरण ऐसे किया जिससे आम पाठक आसानी से उसकी विषय वस्तु को समझ सके। 'जासूस' शब्द से हालांकि यह बोध होता है कि इसमें जासूसी ढंग की कहानियां ही प्रकाशित होती होंगी, लेकिन ऐसी बात नहीं थी। उसके हर अंक में एक जासूसी कहानी के अलावा समाचार, विचार और पुस्तकों की समीक्षाएं भी नियमित रूप से छपती थीं। जासूस निकालने के लिए उन्हें कुछ धन की आवश्यकता थी, इसकी पूर्ति उन्होंने 'मनोरमा' और 'मायाविनी' लिखकर कर ली। 'जासूस' का पहला अंक बाबू अमीर सिंह के हरिप्रकाश प्रेस से छपकर आया और पहले ही महीने में वीपीपी से पौने दो सौ रुपए की प्राप्ति हुई। इसने अपने प्रवेशांक से ही लोकप्रियता की सारी हदों को पार करते हुए शिखर को छू लिया था। इसकी अपार लोकप्रियता को देखकर गोपालराम गहमरी जब जासूसी ढंग की कहानियों और उपन्यासों के लेखन की ओर प्रवृत्त हो हुए तो फिर पीछे मुड़कर नहीं देखा और न इसकी परवाह की कि साहित्य के तथाकथित अध्येता उनके बारे में क्या राय रखते हैं। अपने प्रवेशांक में जासूस की परिचय कुछ इस अंदाज में पेश किया-
'डरिये मत, यह कोई भकौआ नहीं है, धोती सरियाकर भागिए मत, यह कोई सरकारी सीआईडी नहीं है। है क्या? क्या है? है यह पचास पन्ने की सुंदर सजी-सजायी मासिक पुस्तक, माहवारी किताब जो हर पहले सप्ताह सब ग्राहकों के पास पहुंचती है। हर एक में बड़े चुटीले, बड़े चटकीले, बड़े रसीले, बड़े गरबीले, बड़े नशीले मामले छपते हैं। हर महीने बड़ी पेचीली, बड़ी चक्करदार, बड़ी दिलचस्प घटनाओं से बड़े फड़कते हुए, अच्छी शिक्षा और उपदेश देने वाले उपन्यास निकलते हैं।..कहानी की नदी ऐसी हहराती है, किस्से का झरना ऐसे झरझराता है कि पढऩे वाले आनंद के भंवर में डूबने-उतराने लगते हैं।'
इस तरह यह पत्रिका अपनी पाठकों की बदौलत और उनके अपार स्नेह के कारण एक दो वर्ष नहीं, पूरे 38 वर्ष तक गहमर जैसे गांव से निकलती रही। जिस तरह बाल कृष्ण भट्ट ने भूख से जूझते हुए 33 वर्षों तक 'हिंदी प्रदीप' को प्रदीप्त रखा, वैसे ही गोपाल राम गहमरी ने येनकेनप्रकारेण 38 साल तक इसे जीवित रखा।
इस बीच उन्हें एक बार फिर बंबई जाने का अवसर मिला। वेंकटेश्वर समाचार पत्र निकल रहा था। उन्हें संपादक की जरूरत थी। यद्यपि उस समय उस पत्र के संपादक यशस्वी लेखक लज्जाराम मेहता जी थे। उन्हें अपने घर बूंदी जाना था। इसलिए पत्र को एक संपादक की जरूरत थी। गहमरी जी उनके बुलावे पर गए और कार्यभारा संभाला, लेकिन 'जासूस' बंद नहीं हुई। वह लगातार निकल रही थी। इस बीच गहमरी जी के समक्ष सेठ रंगनाथ ने प्रस्ताव रखा कि जासूस उनको दे दिया जाए और आजन्म रु 50 बतौर गुजारा लेते रहें। सेठ जी ने उनके समक्ष यह भी प्रस्ताव रखा कि बंबई में रहने की इच्छा न हो जो गहमर से ही लिखकर भेज दिया करें, प्रकाशित करता रहूंगा। लेकिन, गहमरी जी ने इस प्रस्ताव को अस्वीकार कर दिया और अपने गांव लौट आए।
इस दौरान गहमरी जी ने जासूसी विधा से हटकर आध्यात्मिक विषयक दो पुस्तकें लिखीं। 'इच्छाशक्ति' उनकी बंगला से अनुवादित रचना थी और 'मोहिनी विद्या', मैस्मेरिज्म पर अनूठी और हिंदी में संभवत: पहली रचना थी। ये दोनों पुस्तकें हिंदी पाठकों द्वारा काफी पसंद की गईं। बाद के दिनों में जासूसी लेखन से उनकी विरक्ति भी हो गई थी और वे धर्म-अध्यात्म की ओर मुड़ गए थे।
गहमरी जी का कहना था कि 'जिसका उपन्यास पढ़कर पाठक ने समझ लिया कि सब सोलहो आने सच है, उसकी लेखनी सफल परिश्रम समझनी चाहिए।' गहमरी जी अपनी रचनाओं में पाठकों की रुचि का विशेष ध्यान रखते थे कि वे किस तरह की सामग्री पसंद करते हैं। साहित्य के संदर्भ में उनके विचार भी उच्च कोटि के थे। वे साहित्य को भी इतिहास मानते थे। उनका मानना था कि साहित्य जिस युग में रचा जाता है, उसके साथ उसका गहरा संबंध होता है। वे उपन्यास को अपने समय का इतिहास मानते थे। गुप्तचर, बेकसूर की फांसी, केतकी की शादी, हम हवालात में, तीन जासूस, चक्करदार खून, ठन ठन गोपाल, गेरुआ बाबा, 'मरे हुए की मौत' आदि रचनाओं में केवल रहस्य रोमांच ही नहीं हैं, बल्कि युग की संगतियां और विसंगतियां भी मौजूद हैं। समाज की दशा और दिशा का आकलन भी है। यह कहकर कि वे जासूसी और केवल मनोरंजक रचनाएं हैं, उनकी रचनाओं को खारिज नहीं किया जा सकता है, न उनके अवदानों से मुंह मोड़ा जा सकता है। गहमरी जी की बाद की पीढ़ी को जो लोकप्रियता मिली, उसका बहुत कुछ श्रेय देवकीनंदन खत्री और गहमरी जी को ही जाता है। इन्होंने अपने लेखन से वह स्थितियां बना दी थी कि लोगों का पढऩे की ओर रुझान बढ़ गया था। गहमरी जी ने अकेले सैकड़ों कहानियों, उपन्यासों क अनुवाद किए।
आचार्य रामचंद्र शुक्ल ने तो अपने साहित्य के इतिहास में गोपालराम गहमरी के कृतित्व को सराहा, लेकिन बाद के आलोचकों ने उन्हें बिसरा दिया। गौतम सान्याल ने हंस के एक विशेषांक में लिखा कि, 'प्रेमचंद के जिस उपन्यास को पठनीयता की दृष्टि से सर्वोच्च स्थान प्राप्त है, उस 'गबन' की अनेक कथा स्थितियां एक विदेशी क्राइम थ्रिलर से मिलती-जुलती हैं और जिसका अनुवाद गोपालराम गहमरी ने सन् 1906 में जासूस पत्रिका में कर चुके थे।' इस उद्धरण से गोपालराम गहमरी के बारे में कुछ और कहने की जरूरत नहीं है।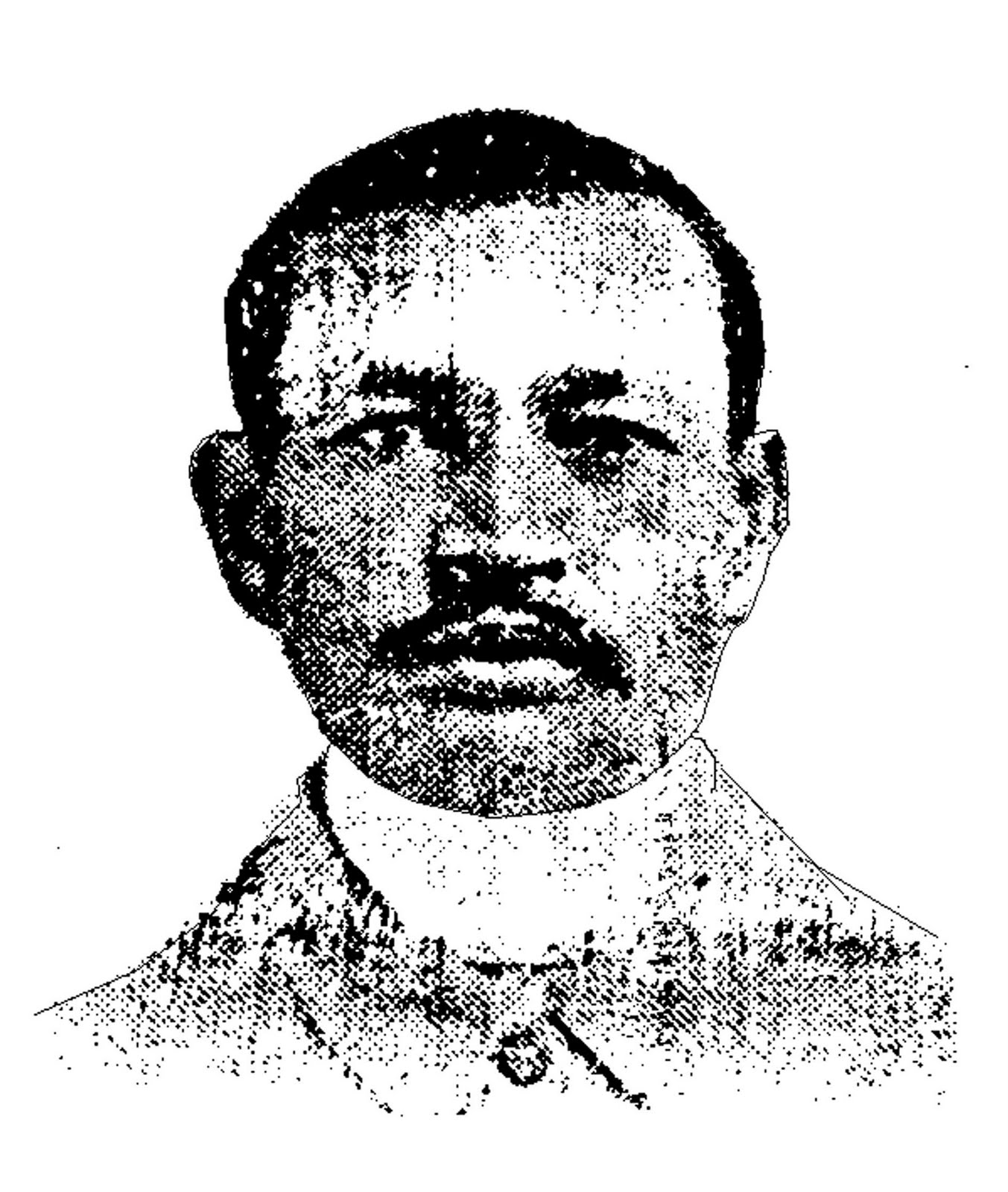 जन्म : 1866, गहमर, गाजीपुर (उत्तर प्रदेश) भाषा : हिंदी
विधाएँ : उपन्यास, कहानी, कविता, नाटक, निबंध
मुख्य कृतियाँ
उपन्यास : अद्भुत लाश, बेकसूर की फाँसी, सरकती लाश, डबल जासूस, भयंकर चोरी, खूनी की खोज, गुप्त भेद आदि लगभग दो सौ उपन्यास
निधन 1946 , 20 June.
गोपालराम गहमरी का ऐतिहासिक लेख 'हिंदी की चिंदी'
Prabhat Ranjan
जोशीले पत्रकार संजय कृष्ण की सम्पादित पुस्तक आई है 'गोपालराम गहमरी के संस्मरण', जिसका प्रकाशन दिल्ली के विकल्प प्रकाशन द्वारा किया गया है. उस पुस्तक पर बाद में विस्तार से लिखूंगा. लेकिन हिंदी दिवस के मौके पर उस पुस्तक में संकलित उनके इस लेख की याद आई जो भाषा की अशुद्धियों और भाषा प्रयोग की अराजकता को लेकर है. 70-75 साल पहले लिखा गया यह लेख आज भी कितना प्रासंगिक लगता है- मॉडरेटर
==========================================
इन दिनों जब हमारी माननीय मातृभाषा हिन्दी सब तरह से राष्ट्रभाषा के सिंहासन पर विराजने के लिए अग्रसर होकर उस मर्यादा पर अधिष्ठित हो रही है, हिन्दी लेखकों में बेमाथे की दंवरी देखकर दुःख होता है। आजकल के नव शिक्षित युवक लेखकों में एक बड़ा रोग देखने में यह आता है कि वे अंगरेजी के नियम और कानून से हिन्दी को जकड़ देना चाहते हैं। इस प्रयास में वे अपने समान ही हिन्दी के अनभिज्ञ सहयोगियों से समर्थन से लाभ उठाकर सफल परिश्रम भी होते जा रहे हैं। दूसरी ओर हिन्दी अनमेल वाक्य रचना, अशुद्ध प्रयोग और भद्दे मुहावरों की भरमार होती जा रही है।
हिन्दी में अब अशुद्धियों की नांव दिनों-दिन बोझिल होती जा रही है। ऐसे अवसर पर हिन्दी के मर्मज्ञ सुलेखकों की चुप्पी और आफत ढा रही है। यह बड़े दुःख की बात है कि हिन्दी के वर्तमान महारथी नए हिन्दी लेखकों के अनर्थ चुपचाप देख रहे हैं। समझ में नहीं आता कि इस अवसर पर माननीय सर्वश्री अम्बिका प्रसाद बाजपेयी, सकल नरायण शर्मा तीर्थत्रय, कामता प्रसाद गुरु, जगन्नाथ प्रसाद 'भानु', माखनलाल चतुर्वेदी, ज्वालादत्त शर्मा,राय नरायण मिश्र, रामनरेश त्रिपाठी, झाबरमल शर्मा,मूलचन्द्र अग्रवाल, डाॅक्टर श्यामसुन्दर दास, रामकृष्ण दास आदि महोदय हिन्दी में यह मनमानों पर जाने क्यों और कैसे देख रहे हैं।
इस अवसर पर यह दोहा याद आ रहा हैः-
सरस कविन के मम्म कौ, वेधत द्वै मो कौन।
असमझवार सराहिबौ, समझवार को मौन।
यहाँ किसी का नाम नहीं लेकर या कि

सी की अशुद्धियों का उदाहरण देकर किसी के वाक्य युद्ध करना अभीष्ट नहीं है। हिन्दी की चिन्दी करने वाले भाइयों के कार्य से मर्माहत होकर अपने आदरणीय उपर्युक्त महारथियों से मेरी विनती है कि आप लोग अपना मौन भंगकर इस ओर ध्यान देने का अनुग्रह करें।
हिन्दी संसार में अब सर्वमान्य सर्वश्री अम्बिकादत्त व्यास, दुर्गा प्रसाद शर्मा, राय देवी प्रसाद पूर्ण, बालमुकुन्द गुप्त, रामचन्द्र शुक्ल,महावीर प्रसाद द्विवेद्वी, पद्मसिंह शर्मा, जगन्नाथ प्रसाद, सखाराम चतुर्वेदी, शिवनाथ शर्मा,मेहता लज्जाराम, गणेश देवत्कर, चन्द्रधर शर्मा गुलेरी, अमृत लाल चकवर्ती आदि तो हैं नहीं,जिनके समय में लेखकों को हिन्दी की चिन्दी करने का भी अवसर नहीं मिलता था। जरा-जरा सी भूल पर मर्मज्ञ आलोचकों को समयानुसार कनेठियां और चाबुक की फटकार मिलती थी। 'अनस्थिरता और शेष' शब्द पर कैसी तीखी मर्मभेदिनी आलोचनाओं का समाचार पत्रों में सर्वोपयोगी वाक्युद्ध चला था।
इस अवसर पर मेरे मित्रा माननीय रामचन्द्र वर्मा की 'अच्छी हिन्दी'मुझे मिली, जिसको पढ़ते ही दिल की कली खिल उठी। वर्मा ने भी इस पुस्तक में बहुत सी बातें लिख दी हैं, जिसको मैं समय पर लिखना चाहता था, किन्तु लिख नहीं सका।
'अच्छी हिन्दी'में वर्मा जी ने नवयुवक हिन्दी लेखकों के लिए ही नहीं सबके लिए अच्छी रहनुमायी की है। आशा है, इससे सब हिन्दी लेखकों का उपकार होगा। मैं आदरणीय वर्मा जी से यह कहने के लिए क्षमा चाहता हूँ कि आपने ऐसी भी भूलों का विवरण दिया है जो अब गमतुल क्षाम फसीहती आम हो गई, जैसे खिदमतगार आदि कुछ भूलें न जाने आपने क्यों छोड़ भी दी है, जिनका उल्लेख इस पुस्तक में अवश्य होना चाहिए था। जल्दी में या भूलों की अधिकता से ऐसा हुआ होगा।
आज कल लिखा जाता है 'अमृत धारा आपकी मित्र है'। 'अमुक स्त्री उसकी मालिक है', भाषा राष्ट्र की प्राण है', मिहनत करनी पड़ती है।
वर्मा जी की यह बात मुझे बहुत पसन्द आई आपने उदाहरण बहुत दिए हैं लेकिन उनके लेखकों का नाम कहीं नहीं दिया है। इससे कटुता और वाद विवाद पढ़ने के सिवाय और कुछ लाभ नहीं होता।
मेरी राय है कि इस तरह लिखा पढ़ी से यह उद्यम होगा कि सब माननीय महारथी एक राय होकर एक स्थान पर एकत्र हो इन त्रुटियों से हिन्दी को निर्मल कर देने का सुगम उपाय निर्धारित करके भाषा का इन संकटों से उद्धार करें। इस तरह शीघ्र और सुगमता से हिन्दी की चिन्दी से रक्षा हो जाएगी और अधिक विलम्ब अथवा अनेक कठिनाइयों का सामना नहीं करना पड़ेगा। इसके लिए समुचित स्थान नागरी प्रचारिणी सभा है, जहाँ अखिल भारतीय हिन्दी साहित्य सम्मेलन का जन्म हुआ था। उसके जन्मदाता माननीय महामना पण्डित मदन मोहन मालवीय हैं।
Gopal Ram Gahmari
Wikipedia
Gopal Ram Gahmari (1866–1946) was a great Hindi servant, novelist and journalist . He continued to run a magazine called 'Detective' for 38 years without any cooperation, wrote more than 200 novels , translated hundreds of stories, even the 'Chitraganda' poetry of Rabindranath Thakur (first translated by Ghamriji) Translated. He was a writer who rendered Hindi Ahnish service, encouraged people to read Hindi, created such works that people learned Hindi. If non- Hindi speakers learned Hindi to read the works of another writer after Devkinandan Khatri , then he was Gopalram Gahmari.
Gahmari initially translated plays, then started translating novels. His translation from Bangla to Hindi was then considered very authentic. Rich in versatility, Gopalaram Gahmari wrote in a variety of genres of poems, plays, novels, stories, essays and literature, but gained prominence in the field of detective novels. Launched a monthly magazine called 'Detective'. For this, he often had to write a novel every month. Ghamriji wrote over 200 detective novels. 'Awesome Corpse', 'Innocent hanging', 'Sarkati corpse', 'Double detective', 'Fierce theft', 'Killer hunt' and 'Guptabhed' are his major novels. The tradition of espionage novel writing, which Ghamri gave birth, could not develop in Hindi.
Introduction
Gopal Ram Ghmri born POUSH Krishna 8 Thursday Samvat 1923 (circa 1866 AD) Uttar Pradesh 's Ghazipur district was in Gahmar of. His great-grandfather, Mr. Jagannath Sahu, was a merchant of French Chintz. He had two sons - Raghunandan and Brijmohan. Raghunandanji had three sons, Ram Narayan, Kalicharan and Ramdas. Gopalram Gahmari was the son of Ramnarayanji. Kalicharan was a childless and Mahavir Prasad Gahmari had only one son of Ramdas. Gopalram Gahmari also had one son, Iqbal Narayan. Mahavir Prasad Gahmari had two sons, Deity Prasad Ghamri and Durga Prasad Ghamri. Devta Prasad Gahmari was associated with the daily 'Aaj' and 'Sanmarga' published from Kashi for a long time .
When Gopal Ram Gahmari was six months old, his father died and his mother moved to his Mache Gahmar . Gopal Ram was brou
ght up in Gahmar itself. Early education and rites were concluded here. Due to his extra attachment to Gahmar, he added this nanihal with his name and started to be called Gopalaram Gahmari.
He had his early education in Gahmar. Educated at Vernacular Middle from there. Passed middle in 1879. Then at the Gahmar School, he continued to teach students for four years and also continued to practice Urdu and English . After this, Patna was admitted to the Normal School, where admission was made on the condition that upon passing, the middle pass students would have to teach for three years. Accepted this condition due to poor economic condition. But leaving middle school, Gahmari ji went to work at Betia Maharaja School instead of Head Pandit. In the year 1888, he discharged himself from all work and passed the examination of normal in the High First Grade. Soon after in 1889, RohtasgarhI was appointed headmaster. However, he could not survive here and moved to Bombay in 1891 at the invitation of Seth Gangavishnu Khemraj, the famous publisher of Bombay.
When Gahmari ji was in Rohtasgarh, he used to send his compositions to newspapers and magazines. When he started living in Bombay, his pen was also moving there. It is another matter that they could not stay there for long. Since Khemraj's business was the publication of books, there was no special place for creativity for him. Papers and magazines were not published from there. Therefore, not seeing his favorable opportunities here, resigned from there and went to Kalakankar. Gahmari ji was a regular writer of the daily ' Hindosthan ' originating from Kalankarkar ( Pratapgarh , Uttar Pradesh). Along with this, the best newspapers and magazines of that time used to write regularly in 'Bihar Bandhu', 'Bharat Jeevan', 'Saar Sudhanidhi'.
When Gahmari came to Kalakankar at the invitation of Raja Rampal Singh in 1892, he became associated with the editorial department here and stayed for a year. While working here, she learned Bangla and also tried to enrich literature through translation.
Gahmari ji did not last long in one place. Once again in 1893, he turned to Bombay and started editing the letter 'Bombay Business Sindhu' emanating from here. This letter was carried out by a fearless and infinitely courageous postman there. But say the misfortune of this letter or that of Ghamri ji that this letter stopped after six months, but Ghamri ji did not go in vain. At the same time, a Hindi lover SS Mishra called Ghamri ji and gave him the responsibility of editing 'Bhasha Bhushan'. This letter was monthly. But this letter also stopped. But there were no economic reasons behind this shutdown nor any other type of optical problems. Rather this letter had to be closed due to a riot.
After the closure of 'Bhasha Bhushan', they started searching for a new place. There was no dearth of those who loved them and loved them. Among them were Pt. Balmunkud Purohit. By the grace of him, Gahmari Ji MandlaTurned to But could not stay here for long. The publication of the monthly 'Guptakatha' started from here, but due to lack of meaning, this paper had to be stopped untimely. Gahramiji once again came to the crossroads. But this intersection led to a road leading to Bombay. Khemraj ji started publishing the letter named 'Sri Venkateswara Samachar'. This paper became popular in a short time in the efficient editing of Gahmari ji. Meanwhile, in the 'Pradeep' (Bangla language) originating from Prayag, a detective story 'Hirar Price' was published by the tribune's editor Nagendranath Gupta. Gahamariji translated this story into Hindi and published it in several installments in Sri Venkateswara Samachar. This detective story found the readers so interesting that many readers subscribed to this letter.
At that time, there was a keen interest of readers in detective stories. It would have confounded such a tale of interestingness and mystery that aroused a kind of jugupas within the readers and forced them to read. Gahmari ji understood the minds and minds of the readers. He had become aware of the popularity of the translation of 'Hire Ka Mole' and the reactions of readers by writing 'Jodi Detective'. Due to this popularity, he started making many schemes. He had also understood that a vast section of readers could be created only through detective stories. Gahmari ji tended towards spying writing with complete preparation. It is also worth mentioning that some incidents that happened to him also pushed him towards espionage writing. In this way, in 1899, he wanted to come home and find the detective, but Balmukund GuptaK's son was to be married and went to his village Gurayani, giving the burden of editing 'Bharat Mitra' to Ghamri ji. For a few days, Ghamri ji edited 'Bharat Mitra' efficiently. Because of this, the publication of 'Detective' was postponed for a short time. He wished that along with ' Saraswati ', 'Detective' should also be published, but this desire remained in his mind. In this way, the spy was not published with 'Saraswati' in January 1900, but four months later i.e. in May 1900.
During the editing of 'Bharat Mitra', Ghamri ji had informed about the exit of the detective. The advantage was that hundreds of readers subscribed to the magazine before it was published. Another notable thing is that the credit of the word 'detective' in Hindi goes to Ghamri ji. He wrote that 'before 1892 no word spies appeared in any book'. He named his journal in such a way that the general reader could easily understand its subject matter. Though the word 'detective' suggests that it would have published detective stories, but this was not the case. In addition to a detective story in every issue, news, views and reviews of books were also published regularly. He needed some money to get the detective, which he completed by writing 'Manorama' and 'Mayavini'. 'Spy'
Hariprakash came out from the press and in the first month he received a quarter to two hundred rupees from the VPP. It had touched the summit, crossing all the limits of popularity with its inception. Seeing its immense popularity, Gopalaram Gahmari did not look back when he turned to writing espionage stories and novels and did not care what the so-called scholars of literature thought of him. In his entry, the detective introduced something like this -
'Don't be afraid, this is not a travesty, don't run away, dhoti sariyakar, this is not a government CID. What is What is it? This is a fifty-page beautifully decorated monthly book, menstrual book that reaches every customer every first week. Each one has big, big, spicy, big juicy, very hot, big intoxicating cases. Every month a lot of interesting, big circling, big interesting happenings burst forth, good education and preaching novels come out ... The river of the story is such that the water falls, the waterfall of this river is such that the drowning of the joy of reading - Starts landing.
In this way, due to its readership and due to their immense affection, this magazine kept on coming out of a village like Gahmar for a full 38 years, not for two years. Just as Bal Krishna Bhatt kept 'Hindi Pradeep' illuminated for 33 years while battling hunger, similarly Gopal Ram Gahmari kept it alive for 38 years.
Meanwhile, he again got an opportunity to go to Bombay. Venkateswara newspaper was coming out. He needed an editor. Although at that time the editor of that paper was the famous writer Lajjaram Mehta ji. They were to go to Bundi at their home . Therefore the letter needed an editor. Gahmari ji went to his invitation and took charge, but the 'spy' did not stop. She was constantly leaving. Meanwhile, Seth Ranganath proposed to Gahmari ji that the detective be given to him and he should continue to live for Rs 50 as his life. Seth ji also proposed to him that there is no desire to stay in Bombay, who should send and write from Gahmar itself, I will keep publishing. However, Gahmari ji declined the offer and returned to his village.
During this period, Gahmari ji moved from espionage to writing two books on spiritual matters. 'Shakti Shakti' was a translation from his Bengali and 'Mohini Vidya', a unique work on Mascarism and possibly the first in Hindi. Both these books were well liked by Hindi readers. In later days, he was also disgusted by espionage writing and he turned to religion and spirituality.
Contribution
Gahmari ji said that 'whose reader has read the novel and understood that all sixteen is true, his writing should be considered successful.' Gahmari ji took special care of the readers' interest in his creations as to what kind of material he liked. In terms of literature, his views were also of high order. He also considered literature as history. He believed that literature has a deep connection with the era in which it is composed. He considered the novel as the history of his time. Detectives, execution of innocents, marriage of Ketaki, Hum hawala, three spies, whirling blood, Than Than Gopal, Gerua Baba, 'Death of the Dead', etc. are not only mystery adventures, but also the accompaniments and inconsistencies of the era Are present. The condition and direction of the society is also assessed. Saying that they are espionage and only amusing compositions cannot be dismissed, Neither their contributions can be turned away. Much credit goes to the popularity of Gahmari ji to the later generations.
The
same goes to Devkinandan Khatri and Ghamri ji. In his writings, he created conditions that people had moved towards studying. Gahmari ji alone translated hundreds of stories, novels.
Acharya Ramchandra Shukla praised Gopalram Gahmari's work in the history of his literature, but later critics ignored it. Gautam Sanyal wrote in a special episode of
Hans
that, 'Premchand's novel which has the highest position in terms of readability, many of the situations of' embezzlement 'are similar to a foreign crime thriller and translated by Gopalram Ghamri In 1906, the detective had done it in the magazine. There is no need to sa
y more about Gopalram Gahmari from this quote.
Poverty does not deter you from self-respect
About 70 years ago, when I had passed the Secondary Examination, the novel writer used to read novels by Mr. Gopalram Gahmari. At that time, novels like "Chandrakanta," Chandrakanta-Santati "and" Bhootnath "were very well read, etc. Although these novels have played an important role in the propagation of Hindi, but we have grown old in our homes We used to refuse to read novels. But many of Gahmari ji's novels were available to us in those days to read from the local library and we got Pandit Sundarlal's writing "In India English Raj ", which was confiscated by the then British Government." Gahmar "- the name of the birth place of Gahmari ji, where he studied in the 5th grade in the" Madrasa ". The name" School "was not much in vogue - Urdu. The word Madrasa was understood by everyone. It is about 1873. "Gahmar" K had three teachers in that seminary. Babu Ramnarayan Singh was the Principal. The second one was Munshi ji, Yogeshwar Prasad and the third was Munshi Kali Prasad Srivastava. The boys used to call the teachers "Badaka Munshi ji" and "Chhotka Munshi ji". Students from the age of 5 to the age of 12 studied in the madrasa. Here Ghamari ji also used to study.
The remarkable thing was that Munshi Kali Prasad, the third teacher, did not get any salary at the end of the month. While Munshiji used to take the boys to madrasas everyday, then they used to leave them at their homes during the holiday. He was teaching very kindly. It seemed as if all those students were his children. The boys were very happy to see such behavior. The salary was Munshi ji's chana, Chabena which the boys of Madrasa used to bring with him for breakfast, from that same breakfast, the boys put some portion in Munshi ji's bag - every month also gave some money to the Munshi ji. Every day, the gram and chabana they got from those boys filled their big bag. Munshiji was satisfied with this - it was his salary for a month's teaching work. But if we think according to today's inflation, then we have to pay about six and a quarter thousand rupees to buy 11 and a quarter of the whole month. What is 1 rupee then? A penny of copper was also worth a lot. Once when Gahmari ji studied in the sixth grade, the then writer Raja Shiva Prasad "Stars Hind" came to that madrasa. Seeing the beautiful letter, script of Gahmari ji, King Shiva Prasad gave Ghamri in 1 rupee prize which was considered a big reward for a child at that time. Gahmari ji was studying in poverty. One day got to eat betel leaf from somewhere. After eating a paan, they came to the madrassa with red lips. Munshi Kali Prasad caught him and beat him a lot. By the way, he never beat the stick of a flower. Gahmari ji writes- "Guruji's death became a mantra for me because of eating betel leaf and that's why I was protected from tobacco-bidi-cigarette-Surti." Father left them for 6 months and passed away. Mother used to feed them bunnery of rice-salt-flour, but she also left them in her childhood and died. While dying, she had told the boy Gahamri that son! Stay hungry but don't borrow from anyone. "Gahmari ji learned this by tying the knot for a lifetime. In poverty, he read the government books of the madrasa. When he was hungry, he ate the breakfast of Munshi Yogeshwar Prasad, which Ghamri ji gave in gratitude. Wrote Juthan. Passed the upper primary examination at the age of 13. In 1879 Gahmari ji's fame spread that "he passed middle". Ghamri ji also became a writer by reading. Trust written and considered the author of the first line of his age. His life story, it inspires that poverty can not stop the way of a move. Which Gahmari ji wrote with gratitude. Passed the upper primary examination at the age of 13. In 1879, Gahmari ji's fame spread that he had "passed the middle". By reading and writing, Ghamri ji also became a writer. Wrote several novels and was considered the first-line author of his era. His life story gives inspiration that poverty cannot stop anyone from moving forward. Which Gahmari ji wrote with gratitude. Passed the upper primary examination at the age of 13. In 1879, Gahmari ji's fame spread that he had "passed the middle". By reading and writing, Ghamri ji also became a writer. Wrote several novels and was considered the first-line author of his era. His life story gives inspiration that poverty cannot stop anyone from moving forward.
By Vachnesh Tripathi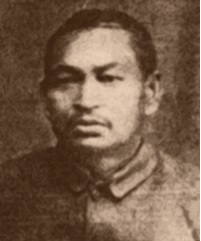 Birth: Paush Krishna, Eight, Thursday, Samvat 1923, (1866), Gahmar, District Ghazipur, Uttar Pradesh.
Education: Normal examination, first class.
Editing: Bharat Bhushan (Bombay Weekly, 1893), Co-operative Editor: Sahitya Saroj (Meerut, Fortnightly, 01 December 1895), Guptakha (first Hindi detective monthly paper, Meerut), Bihar Bandhu (Patna, 1907 to 1909), substitute editor : In Bharatamitra (Calcutta, Weekly) for a few months in 1899. Co-operative Editor: Venkateswara Newspaper (Bombay 1897 to 1899), Dainik Hindosthan (Kalakankar, 1889 to 1890), Business Indus (Monthly Bombay). Went to Bombay again in 1892 and edited the letter for only one month. Detective: Monthly Papers, published from his village Gahmar from 1900 to 1939. Father of detective novels in Hindi.
Compositions: Creating over two hundred original espionage, social novels. Translation from Bangla. A translation of the story 'Hirale Ke Mol' from Bangla for the first time. The earliest translation of Rabindranath Tagore's work 'Chitrangada' in Hindi. Desh Dasha, Janmabhoomi, Babhruvahana and Vanveer (drama). Gold century and spring development (poetry). Statement of plague and talk of color (satirical humor).
Language knowledge: Hindi, Urdu, Persian, Sanskrit, Bangla, English.
Souvenirs: 20 June 1946, Benaras.
Gopal Ram Gahmari: A detective writer who learned Hindi to read
Gopal Ram Gahmari created a large section of Hindi readers. The tradition of espionage writing that he started later had many big names like Ibne Safi
(Death: 20 June 1946)
'Don't be afraid, this is not a travesty, do not run away, dhoti sariyakar, this is not a government CID. What is What is it? This is a fifty-page beautifully decorated monthly book, menstrual book that reaches every customer every first week. Each one has big, big, big, lush, big juicy, big drug cases. Every month there are big punches, big circles, big interesting events, big teachings, good education and preaching novels come out ... The river of Kahani is such a tremor, the waterfall of this story is such that the reading bliss is drowning Looks like.
This was an advertisement for Gopal Ram Gahmari's monthly magazine 'Detective' which came in his own editing newspaper 'Bharat Mitra' and which created a stir in the market at that time. The result was that hundreds of readers had already subscribed to it yearly before it was published. This was probably the first time in the history of a magazine. It is a matter of 1900. Even in that era, the amount received from this pre booking was Rs 175.
He was the only journalist who recorded the entire trial of Bal Gangadhar Tilak in his own words. Not only this, he also did the first official translation of Rabindra Nath Tagore's 'Chitrangada'.
Gopal Ram Gahmari was a journalist by profession. He was the only journalist who recorded the entire trial of Bal Gangadhar Tilak in his own words. Not only this, he also did the first official translation of Rabindra Nath Tagore's 'Chitrangada'. There is a long series of journals and magazines to be published in his edits. These include names ranging from Hindusthan Daily published from Kalakankar of Pratapgarh to Bombay Business Indus, Guptagatha, Sri Venkateswara Samachar and Bharat Mitra.
Although they did not last anywhere very much. One reason for this was the closure of many magazines under economic pressure. The second and important reason was that on the one hand there was an uneasiness to do something different and elaborate for the Hindi language and on the other hand, there was also a framework of 'spy' that thrives within them. However, spying out and doing something new in the service of Hindi language were not two separate issues. They wanted to do something new for this language only by taking out spies.
देवकी नंदन खत्री के बाद गोपाल राम गहमरी ही वे अकेला नाम हैं जिन्हें पढ़ने की खातिर कितने ही अहिंदी भाषा भाषियों ने हिंदी भाषा सीखी. जिसे हम हेय भाव के साथ लुगदी साहित्य कहते हैं हिंदी में खत्री जी के साथ गोपालराम गहमरी ही उसके प्रणेता रहे हैं. लुगदी साहित्य का स्वर्णकाल इन्हीं दोनों के नाम से जुड़ा हुआ है और जो भी मान सम्मान इस साहित्य का रहा वह भी इन दोनों तक ही रहा. बाद में अकादमिक और साहित्यिक भेदभाव ने इस विधा को अछूतों की श्रेणी में रख दिया. बिना यह सोचे कि आधुनिक हिंदी की यात्रा इसी से शुरू होती और फैलती है. उनके इस योगदान के लिए पंडित रामचंद्र शुक्ल ने भले ही अपने हिंदी साहित्य के इतिहास में इनकी सराहना की पर अधिकांशतः आलोचकों और साहित्य इतिहासकारों ने इन पर उपेक्षा भरी दृष्टि डालने से भी इनकार कर दिया.
हालांकि इन दोनों लेखकों की बची-खुची साख ही थी कि इन दोनों द्वारा शुरू 'जासूसी लेखन' की परंपरा साहित्यिक पंडितों की उपेक्षा और तिरस्कार के बावजूद लंबे समय तक चलती रही. इस परंपरा से इस विधा को न जाने कितने नए लेखक मिले. इब्ने सफी, कुशवाहा कान्त, रानू, गुलशन नंदा, कर्नल रंजीत, ओमप्रकाश शर्मा, सुरेन्द्र मोहन पाठक, वेद प्रकाश शर्मा जैसे नाम इसी परम्परा को आगे बढ़ाते हुए सामने आये.
इन दोनों लेखकों की बची-खुची साख ही थी कि इन दोनों द्वारा शुरू 'जासूसी लेखन' की परंपरा साहित्यिक पंडितों की उपेक्षा और ति
रस्कार के बावजूद लंबे समय तक चलती रही
Gahmari ji's vision of writing was very clear and settled.
He used to condemn such a language which had to be raised to understand it. The standard for a story and novel to be good was for him 'to be true to the fact that sixteen people are coming, despite the fact that the story is completely fictitious'. Even he gave the name 'espionage' to the compositions of this genre first. Gopal Ram Ghamri understood the minds and minds of the readers very well. They had understood that a vast section of Hindi readers could be prepared only through detective stories. He came to detective writing with complete preparation and a detailed thinking. There was not only mystery and thrill in his works. There were also compatibilities and inconsistencies of the time. Even contrary to our original belief, that magazine called 'Detective' contained news, views and reviews related to contemporary times.
Actually, we express our time in fantasy by not expressing it directly. So 'espionage story' was the chosen fantasy of Gahmari ji in which he kept saying his point. It was not an ordinary thing that the village of his maternal grandfather, Gahmar, in which he was born, where he grew up after the death of his father, whom he loved and respected so much that he had added his name to him; From the same campaign, he continued to run Detective magazine for 38 years without any major and external support. In the past, his intentions for the magazine can only be compared to keeping 'Pradeep' illuminated while in Balakrishna Sharma's failure, or Rajendra Yadav's swan in recent times.
The example is enough to know his love and love for Hindi language and detective. When Lajjaram Mehta, the then editor of 'Venkateswara Patrika', who had been the editor, asked him to rejoin the magazine for a short period of time and stay in Bombay for some reason for some reason. Had taken The detectives continued to leave during that time and they also kept watching the editing load of that magazine. Meanwhile, Seth Ramdas once asked him to give the 'spies' to him and continue to practice his personal literature by taking 50 rupees a month as a pension from him throughout his life. Seth Ramdas also offered this to Gopalaram Gahmari, if he wants, he can also handle the detective as editor, if he is in Bombay or not while living in Gahmar. But despite his trouble Gopalram Gahmari refused to do so.
The number of original detective novels of Gopalram Gahmari is 64. Even if we translate the translated novels, then it reaches close to 200.
The number of original detective novels of Gopalram Gahmari is 64. Even if we translate the translated novels, then it reaches close to 200. His major creations are sliding corpse, marvelous corpse, hanging innocent, double spies, horrific theft, secret secrets, etc. One reason for writing in this abundance was also the pressure that a detective novel had to go to the detective every month. The impact of his writings can also be judged that in an early issue of 'Hans' magazine, Gautam Sanyal even wrote that' many situations of Premchand's novel embezzlement which is supreme in terms of readability, a foreign crime thriller. Which was translated and published by Gopal Ram Gahmari in his spy magazine in 1906. This also indicates that very big names have been included in the readers of Gopal Ram Gahmari.
Sahaj, Sugam, Sunder and Subodh Hindi-Prachar was the main objective of Gahmari Ji's Sahitya Seva. Just before Chhayavad, when the dialect of Khadi Boli Hindi and Brajbhasha was at its Uruj, the supporters of Ghamri ji Khadi Boli came not only in support of Sridhar Pathak, but also against the opposition of Hindi and pro-Brajbhasha, Pandit Pratap Narayan Mishra (who of Bharatendula period He was a strong creator and journalist) and he also did the risky task of bringing and standing in favor of Hindi on his own. We remember him with reverence for his unforgettable contribution to the Hindi language on his death anniversary.
Secret story
Gopalram Gahmari
First tableau
Detective life identity is also a unique way. Hyder was the son of Chirag Ali, a wealthy Muslim merchant. He had a deep explanation for the detective. Hyder would be four to five years younger than the detective in Omar, but both of the same Omar were seen from the body. Despite being a Muslim, Haidar did not live like that and Muslims go away from Hindus. When at work, Hyder would stay with the detective for eighteen days and the detective would sometimes go to Hyder's house to meet his father Chirag, sit and talk with him. Chirag Ali also lived in such a manner that the detective knew him like his elders.
In those days Chirag Ali had risen from the seventies. On seeing the bright white beard mustache on the body, all the body full of form, everyone can have devotion in Chirag Ali. Even in this old age, it seems that Chirag Ali must have been a beautiful young man in his ascending age.
Chirag Ali has never seen anyone speaking to anyone. Even if someone insults him, Chirag would bear him and would laugh and speak to him. No beggar left the lamp door empty handed.
It is heard that Chirag Ali started the work of the boat first and by the same work he became a famous rich man by the time. Chirag, with his muscle power, built a palace-like residence building and deposited a lot of money in the treasury.
There was always a crowd of men in Chirag Ali's palace. In his family, there was no one except Chirag for his wife, son, son's wife and some small children, but the wealth also increases in the world due to the wealth, that is why Chirag's house was filled with packed people. . Among them, there was a confluence of the maid of the father and the servant of the women and many such male women who came into the shadow of Chirag Ali due to their wealth. Chirag Ali did not nurture the poor who came to his house, but also used to feed the unhappy poor people outside. Instead of saying all these things, it would be so much better that Chirag Ali was a serious sociable and sweetest speaker, so was Dani too. His heart was full of mercy.
Hyder was not as sweet-spoken and a donor as the father, yet he was not a man of bad nature. Those who saw Haider's behavior and his equanimity on the afflicted, used to say in his mind that he too would become a kind and deenbandhu like the father.
Whatever we have said about the father son's movement here, there is no work to say anymore. We complete the chapter of his attribution by saying that Chirag Ali was like the lamp of his city. And his dignity was the same among all the people, he was equally magnified in his community. Wherever the caste gathering took place, Chirag Ali had to be the Chairman Editor. Wherever there was some kind of panchayati case, there was no response to Chirag Ali without his opinion. This means that Chirag Ali was the leader in all kinds of work.
Second tableau
Two or three months later, when the detective reached Calcutta after working outside, Hyder came to him as soon as the morning broke. Today, he did not meet like he used to get a detective. Seeing the face of Hyder, the detective took a note that today there is black in some lentils. Hyder talks to the mouth but is smitten inside. Looks with eyes, but they do not have the first light.
Seeing him, the detective asked - 'Why Hyder! Why is your face like this today? Is everyone efficient at home? Father is good, isn't it?
Hyder said - 'It is okay for you to understand. I am really sad. And I have come to say that sadness, my father has reached the stage of death. Now it should be known that then, this is the only thing happening, Dr. Vaidya does medicine, even for service, the servants have been handcuffed to him, but somehow his illness does not get interrupted. If you ask them any situation, they do not tell anything. Suffice it to say that no matter how much medicine is to be taken this time. Now the day has come for me to die. Now say what to do? My wisdom doesn't work. Just now I heard that you came from outside yesterday. I have run from this, that after listening to them, you will tell me something. '
The detective asked - 'Good! Tell me what has happened to them, then I will tell my opinion back. '
'Well, listen, I say all their condition.' Saying this, Hyder started saying -
'Tis three months. One day I was sitting in the verandah with my father on the evening. In this way, an old Muslim came to meet my father, as he came and sat on one of the many chairs lying next to us, as he said to the father - 'Why? You do not recognize me? '
The father said - 'We remember your face but do not remember where I met you.'
In response, the old man said - 'I will tell you one thing and you will remember that. I met you in a village in the state of Bombay. You will remember Ali Bhai's name there, I live there too. My name is Ibrahim Bhai. '
On hearing this, father's face changed. They said to me - 'Son! You will move away from here and I will talk to them.
After listening to my father, I left. Then I do not know what happened in those people. His age was higher than his father. He always used to live near his father, from this I could not even know anything about him, since then he started staying at my house. The father set up a cell to let them live, two servants were also given their rest.
When someone else came to ask his father's address, he used to say that he is the companion of boyhood.
Hearing from the very first day, I understood that his name is Ibrahim Bhai and is from one of the villages towards Bombay. Apart from this, I do not know anything else till date.
At first, he appeared to be very simple but when he got old, he gave a big boost. We started suppressing people. The servants started issuing unaccountable orders on the chakras. Those who did not obey their orders and delayed in obeying them, started beating them up in addition to calling them high in front of the father. Father did not speak anything after seeing his behavior. Because of this, the servants all started to suffer. Those who were not supported started leaving the job. Even, many old servants quit their jobs. We were deeply saddened by his departure. We did not know the reason why father had pity on that old man like this.
The servant who was in the hands of all the business, one day, the old man said very lowly and tortured him so badly that he was not endured. He told all his grief to Dad. At that time the old man was also sitting near Dad. In front of father too, the old man hit him with many things. When the father did not say anything there, the old believer left the job and went on saying that it was no longer a day to work in this court. The respect of good men is no longer here.
After he left all his work hit my head. I used to do everything that was made for me. One day the old man came to me and said, 'Haider! Fill up a small tobacco. '
After listening to him, I asked a servant to bring him a filling of tobacco.
On hearing this, the old fire broke out. He shouted - 'Why Hyder! Your heart is so much! Do not obey me? Instead of doing what I ordered to do, I ordered another servant to do it? What work did your father not do till today?
We already had a lot of pomp on that Ibrahim Bhai, but we could
not say anything to him because of my father. But, that day I did not get it right and I got up with a shoe and said, OK, I will tell you to do it with my own hand. And near by, he deposited many on his head.
The old man woke up to a brinjal of burning oil, and left me very eggless. I did not even look at him again.
In this way, seeing how he was beaten by my hand and how happy everyone was in his mind, I cannot say.
Some time after this incident, father sent me to call. When I went in front of them, I saw the old man sitting there too. By showing him the father said -
'Why son! Have you hit them with shoes? '
I said - 'Yes Dad! I had to do this when the anger was no longer out of anger. Having said this, he told me everything that he had asked me to fill with tobacco and he told the father as far as he remembered what he had done to other servants. After listening to me, Dad kept quiet for a while and then said -
Oh! You have done a very bad job. See, if you were happy just by filling one of your tobacco, then it would have erased all the trouble. You have done a very bad thing by not doing like that.
Hearing the father's anger, my body trembled. I never said such a thing in front of the father. I was spoiled by what he said -
'Father! You never taught me how to fill tobacco, nor ordered me to fill tobacco, that I would have learned that work. Then, to do such a thing which I have never done, call me a man who feeds on food after eating food. Whether you are happy or not, I cannot do such a thing by saying that. Hearing this, Dad said -
'Hey, you have done such a bad thing that no one will do. To whom I respect you so much, you will apologize for your bad work and failure on those shoes, so what will you answer? You should understand that the shoes you killed are not lying on their heads. You have not killed them, I have killed them. Now you need to apologize to them in some way or else, it is not good in your right. ' I listened to them and said -
'Whether it is good or not in my favor, but I cannot say that in this matter. You are giving us absolutely unfair orders. I am unable to understand why you have been hurt by this. This is a lowly man, like an ordinary Pahune coming into the house, now he considers himself a master of the house and counts us all as servants. He does not remember his first condition. I have not yet given it the full results of its action. Let me say in front of you, if it does this again with us in this way, then I will color it before you. And I will hold it out on my own. ' Dad said after listening to me -
'Look Hyder! I understood that you are our child. In all things Daya Maya, people will look at you with respect like me. But now I see, I find you completely the opposite. It is also a sin to see the face of the son who avoids the father's talk. Get away from me right now. Old people have been saying that the son who disobeys the father is not the son. Now I listened to my father and said -
'Father, you are a rage on me. If punished then give both. And if not, you are our birth father, I have to obey your command with sheer eyes. I go away from here after obeying you, but this old person is taught to me every time.
Having said this, I took the shoe out of my foot and gave that Ibrahim brother a lot of market value. Father wanted to save them a lot, but due to old age the body is weak due to 'Arere! Hey Cad! Be far away! ' Could not say anything except to say so much. The father shouted and called the servants, but no one came there, then I went on arbitrary worshiping him with Jutan Das, saying that now even if you stay here, know that your hands are your time. '
Dad was so angry at me that he could not speak again from his mouth, he kept trembling while sitting there.
Moved away from there but left home. Hiding in a nearby room, he started listening to what happens there. I saw with a crack that the old man got up from there and said to Dad -
Look, Sir! I go but take revenge, then my name is Ibrahim, if not brother. The old man left from there. The father stopped him a lot but he did not accept anything. He disobeyed and went away from there.
Third tableau
The day the old man left my house, the color of his father changed. Kalimasi fell on his face. He always started living quietly in some worry. Along with the worry, his diet also decreased, now he could not eat even a tenth of what was his diet.
The day the old man came in front of his father with his shoes, I did no he lived, how his day passed, all the conditions of his servants. Used to take from Seeing this condition of my father, I too was afraid of what would happen. Has the father really considered his insult with the insult of Ibrahim Bhai or what? I was very worried about why Dad is so sad and why he is in such a situation. I started searching for this day by day but could not find out wh
t go in front of the father again the same day, but always kept an eye on what the father did, how
at was the matter? One day, Dad was sitting in his meeting, seeing that it seemed that he was thinking something in his mind with some deep concern. In the meantime, the dakpian came and gave a letter in his hand. I was very upset to see him coming to the meeting and giving his hand to the father, Because until now he was always the gatekeeper and gave letters to the servants. I had never seen any dakpian before coming inside the meeting and giving my father a letter with my hand.
But when that letter came in my hand at the back, I saw that it was written on it, but do not give it in the hands of anyone except the one who has the letter.
After the dakpian left, Dad opened the letter and read it. Not once or not twice, after reading it with great enthusiasm, kept the letter in his pocket.
Dad's face changed after reading the letter. A bright line of laughter appeared on his somber body. The happiness of many days which had been removed from his body in a way, again came in my sight that day.
I was also very happy to see my father happy after reading the letter. I understood that the father has found some good news in the letter, which has removed his worries. But when I looked back that he was happy for a while, then he got very scared in his mind. I came to know that an extinguished lamp shines once in the end. Once upon a time like a human being gets rid of all diseases, father's happiness was exactly the same.
The father got happy after reading that letter and called a servant and ordered that my sick bath was not suitable for many eighteen days due to sickness, today to arrange bath food properly. My body is well today. The servant did the same after getting the order. Father happily ate his diet well that day. He had the practice of lying down for some time behind the diet, but I got very worried after seeing it upside down that day.
Father came to the meeting behind the diet and started writing the letter. This worried me more. Father always gave the task of writing letters to the servants. That day, writing my letter to Dad with my hand, I first saw the initiative. Father started writing the letter only after having food, but I do not know when he finished. Until two o'clock in the night, when I saw that his letter had not finished writing, I fell asleep then I did not know when his letter was completed.
The next day when I got up from the bed, I saw that my father was sleeping. Always a servant tried to wake him up when he did not get up even two or three hours later when he got up from the bed. Father told him that -
'My body is not good. Neither do I have the strength to get up from the SEZ.
'I could no longer listen to such a thing from the servant's mouth. I did not go in front of my father the day Ibrahim bhai used to put shoes on me, but when he heard his father's illness, he could not. Immediately he went to his room and sat in a corner on the SEZ. Turning his hand over his body, the entire body was on fire. I asked Dad what happened to you? How is the body
After listening to me, Dad said - 'Son! I myself cannot know what has happened and what I will tell you. But it seems so much that I have febrile fever and I will not be able to escape from this fever anymore. This is my age. After listening to them I said -
'Father! Fever happens to many people. Why are you so afraid of it? Then there is also no shortage of doctor practitioners in Calcutta. You will be cured with their medicine. ' Dad said after listening to me -
'When I am well aware that this time it is not written to be my rest, then what will be the benefit of throwing unaccounted money?' I said in his reply - 'For whom is the money. Whose wealth is it all? You have accumulated this money by earning a lifetime,
then if this money is not spent for you, what will happen with this money? In which work will it be used? Whether you believe it or not, I will not delay it now. I will invest as much money as you can to improve your body and bless you. I will not accept your refusal in this. I just go and remedy it. ' Having said this, he left. And for his service help, he hired more maids than the slaves who were maids. After consulting with his old and trusted staff, the clever veteran of Calcutta called the doctor Vaidya and applied him to the father's treatment. But in spite of everything, Father's disease started increasing day by day. As much as the medicine was carefully done by the Vaidya and the doctors, the disease increased. There was no benefit from any medicine. Everyone showed upside down. There are no more famous doctors in this city who have not seen Dad once. His condition is very bad at this time. Now they have no faith in living. If you see them walking and dying too, then it is good. Better if you go with me now Do not trust. If you see them walking and dying too, then it is good. Better if you go with me now Do not trust. If you see them walking and dying too, then it is good. Better if you go with me now
Fourth tableau
The detective listened to Hyder's story. The detective believed Chirag Ali a lot, as soon as he heard Hyder, he got up from there and sat in Hyder's car to meet his father. But on the way, the detective began to get various types of anxiety. Ibrahim brother's arrival in Chirag Ali's house, Chirag Ali's treatment of him like a god, Hyder's putting on his shoes, Ibrahim's departure from anger, all these things have something to do with Chirag Ali's illness. Whether or not this idea came to the mind of the detective. Where did Chirag Ali get that letter, what was written in it? Why was the color changed after reading that letter? Then Chirag Ali sat for more than two nights and wrote with his hand, what was that? What was the answer to the letter they received or what? If the answer was the same, then how did they send it to him? Mindfully, the detective asked Haider -
'The letter that your father had received;
Haider - 'I had a desire to know what was written in that letter, where it came from, who had sent it. Even that letter came to me. We still have it with us, but I do not understand what is written in it. The person writing on it is also not right. You see, maybe you can understand.
Having said this, Hyder gave a letter to the detective. The detective read the letter several times, but nothing was understood. Which was written in the letter.
'Ali! Everything is done Now it is not too late. Get ready
City of Bombay. '
The detective read it and handed it to Hyder and said - 'Take it. Nothing can be understood from this letter. It is known that the writer of this letter asked your father to do something. He has written it to your father after completing that work, but there is no way to know as long as you do not tell him what work your father told you for. The reason that your father was happy after receiving this letter is that he showed happiness only after hearing the success in his work. Nothing written about this letter shows any attachment to his illness. Do you know anything about the long letter he wrote?
Haider - 'I did a lot to know, but could not know anything.'
Detective - 'Well, did you also know that for which that letter was sent to him or not?'
Haider - 'As far as I know, the night that it was completed, it did not leave that night, because till two o'clock in the night I kept myself awake and asked the servants later, they did not say any such thing, so that It would seem to leave.
Detective - 'So I understand what he wrote was not a letter. He would have written a will to manage his property behind his dead, presuming to have died of his illness and not even sent it out somewhere, lying somewhere in his house.
Hyder - 'I searched a lot but didn't find him anywhere in the house.' Similar things were happening in both of them that they came in front of Hyder's house.
Fifth tableau
Both Hyder and the detective get into the car and go inside to hear the cry from the Janankhana. It was known that Chirag Ali's body was left before we reached there.
Chirag wanted to return to the detective knowing Ali was dead, but in this case, leaving Hyder, did not make him return from the spy. The detective, who was in tears, went to Kuharampuri with Hyder but upon going there it was found that there was no way to go to Chirag Ali's room. Women who had never stepped outside from the inner palace, have also come to Chirag Ali's meeting and started screaming and tearing the sky. The servants are all wiping their tears standing apart. There is no one in the palace who does not have tears in his eyes.
Hyder went in with the detective, but after seeing the situation there was no longer with him, became impatient and wept like a boy. Now it is not an easy task to silence Hyder, considering that the detective called the two four old believing servants separately and told them to tell the women to go to the womb. After hearing the news of Chirag Ali's death, so many people of the city will come here in a while that there will be no place to keep mole. It is better to go inside immediately and do all their work as it happens in you.
Those servants did the same. Sent all women inside. When the meeting was empty of women, Chirag Ali's body was brought out. According to Muslim religion, many people took them to burial by placing them on the bed. Hyder also went along.
The only detective left in the meeting. Many good friends of Chirag Ali came there after leaving the dead body, but all went away. Two or three of them sat there with the detective.
After getting home, the detective started doing his work. At first, he slowly reached the house in which Chirag Ali fell ill. I saw that the bed on which Hyder's father was lying there was nothing in that house except two tables, chairs and tripods. Seeing the detective going into that house, a servant of Chirag Ali reached there. The detective saw him several times with Chirag Ali. They considered him an old and trusted servant of Chirag Ali. Seeing him, the detective asked him - 'Why! Is this Chirag Ali's bedroom? '
Servant - 'Yes sir, I slept in it for a few days. Except him, no one was ordered to sleep here. '
Detective - 'How long did he sleep in this house?'
Servant - 'We saw them sleeping in this house for five-seven years?'
Detective - 'In which house does his coffer live?'
Servant - 'I have never seen him keeping anything with his hand. When he needed what he needed, he would ask Hyder Ali Saheb or ask a servant.
Detective - 'Where did he keep his necessary paper sheets?'
Servant - 'We did not see him holding any paper with his hand.'
Detective - 'And money money?'
Servant - 'We never saw him touching his hand even with money. When needed, he used to fulfill the orders by ordering the servants.
Detective - 'Chirag Ali wrote a big paper in his hand before he saw you?'
Servant - 'Yes. One day, he wrote a lot, sitting day and night.
Detective - 'You know, where did they put it?'
Servant - 'I don't know what they did to him?'
Detective - 'Did he give it to anyone?'
Servant - 'Didn't even see anyone. It seems that he has not given it to anyone. We would have known if given.
Detective - 'Then what did he do?'
Servant - 'I understand you have been placed somewhere.'
Detective - 'Where can you be kept, you can know?'
Servant - 'I don't know any place to keep it. If it is kept then it will definitely be somewhere in this house. Could not keep out of it.
Detective - 'Well let us find you together and see if you can get the paper out of this house?'
Now both of them started looking for the long paper written by the same Chirag Ali in that house. There was not much stuff in that house. Except the bed, it did not take even five minutes to search the house.
Began to find a bed behind it. Even after looking at the five six pillows above, both of them did not find any paper. Then two sheets were laid, picked them up and threw them. Below were two tricks. He was also picked up, but nowhere was the paper detected. Three cushions were placed under Tosak. Even if I removed the cushion, nothing came.
When the detective hurried the second throne, what is seen is that there is a big envelope between the second and third padding. When the detective picked it up and saw it, it was written on it - 'If someone wins this envelope, return it to me without opening it.' Just below it is Chirag Ali's right. As soon as he read it, the detective understood that the paper which Chirag Ali had written by awakening day and night before he died, is within this envelope, the detective was excited to open the envelope and read it, but then after thinking something in his mind, that is exactly it Did not open or read until Hyder Ali returned from the cemetery.
Sixth tableau
When Hyder returned home with all the people burying his father, the detective gave him a large envelope found under the same pad in his hand and narrated everything as he had found it.
Hyder first read the above written on it, then immediately torn the envelope and took out a long letter from within, it was written in the same manner as the letter but it was very long. Seeing his handwriting, Hyder said - 'This paper is written by our Baba's own hand'.
Having said this, Hyder gave the long letter to the detective and said - 'I am very tired, you read it and see what is written?'
The detective started reading with a letter from Hyder. In it it was written:
'Son Hyder! You are my boy The owner has also given you a boy. By this you can understand very well how you are our love. I remember the day when I was unhappy on you and drove you away from the front? A man of an ordinary lifeless identity was killed. I insulted you for that, but who was that Ibrahim brother, so I did not tell you. Why did I believe in him so much, why did I forgive him many great mistakes, why did I respect so much like his man, that day was not an opportunity to tell it, today the opportunity has come to tell all those things.
'I know that he used to persecute you a lot, persecute our very old and faithful servants too, many times I have seen him brutally assaulting slaves, many deserving men have left our house from their oppression. . Even after those servants had gone away, you were very sad, even though I could not tell you their condition in those days, the opportunity has come now to say all that.
'Who were they and why do I bear such a crime of theirs, if you could know all those days, then you also do not pay any attention to their crimes, all the things that you would do, you would keep watching silently. But by not doing so, you are not guilty of anything in it. You don't have even a single fault in it. I now tell my own story before I tell them all, with that you will understand all.
'look son! My real name is not Chirag Ali nor am I born in Calcutta. My real name is Ali Bhai. The Madanpur village of Bombay Hatay is my birthplace. I am also born where Ibrahim's brother lives. My Baba was not very popular or even an ordinary man. Even when I am not born in the house of a very rich person, as the rich and the virgin people get involved in boyhood, the movement gets spoiled in the same way. son! I am ashamed to tell you all this and I understand that you will understand this. But what should I do if I do not tell you all these secret things, then you will be in doubt throughout your life. This is what I tell the father to the son that is outside the ethos, that is what I say today.
'There was a rich landowner in the village where I lived. He died leaving a boy equal to me. In those days I will be sixteen or seventeen years old. I had the friend of that rich son. It is often the same as that of Dhani's boys. Then, by staying with him forever, my behavior will deteriorate, what was the doubt. After owning a lot of money on his father's death, he made his move worse. Apart from me, there were two and four Kumaragi, all of them got together with their wealth and started committing so much misdeeds that it became difficult for good men in that village to live with a female son. The householder's daughter, whose daughter and sister had their eyes on us, could not be spoiled in any way, whether by force or by money. The messengers of our people were such that they used to fulfill the promise that they said immediately,
'In the village where I lived, there was a very rich man of our caste in another village. He had a beautiful young girl. Our beautiful friend caught her eye on that beauty. We took a lot of effort to bring it in hand, when it did not make sense in any way, then we started to post. One day the father of that beauty went out for some work, He was accompanied by several other servants of his household. We were spies. The same night we received this news, we prepared to fulfill our meaning. And right at midnight, we along with our colleagues entered her house and brought that beautiful girl. There was a huge breakup after this work was done. His father returned from outside after receiving the news. He came to the police station as soon as he came home. The police set out to search for the girl. He exhausted after searching a lot and reported that the robbery had been lost, it was a false thing that the robber's house was not robbed because not a speck went to his house. It seems that the rich widow Sundari has gone out. He insulted it in the same way by using it as an excuse for robbery. What he means is that the police will search for the bandits and if that girl is found in it, then her job will be done. Did not go to his house. It seems that the rich widow Sundari has gone out. He insulted it in the same way by using it as an excuse for robbery. What he means is that the police will search for the bandits and if that girl is found in it, then her job will be done. Did not go to his house. It seems that the rich widow Sundari has gone out. He insulted it in the same way by using it as an excuse for robbery. What he means is that the police will search for the bandits and if that girl is found in it, then her job will be done.
Here, our rich mite spent a few days with that young widow. So someone told them about another beautiful girl, then they gave their mind to that. And after spending a lot of money, she did that beauty in hand. When this second beauty came, she lost her love for that first widow. But I took them away from there and started raising them like a woman. I was not married in those days, so my love for him grew by the day. As I grew up, I started to know her as my marriage house and her actions also made me feel that she considered me like her master. Similarly, one year passed by both of us, even though his father could not find out anything about his girl. That girl also did not want to give her address to the father.
'Similarly, after a few more days, I got something wrong in his movement. Gradually I came to see such works from which I understood that my suspicion is not of unmatched feet. Yasin, the younger brother of this Ibrahim brother lived there where I had kept him. I know that Yasin has met that Papin. Now I was very upset with my unfortunate heart and when I would get both, I started spending days worrying about this. One day I went out with that Papini saying that I would go to another village with my friend, I would come back three to four days. Just walking from home, I stayed at my friend's house overnight. Stayed there the next day too. When my friend was asleep after having dinner, I took a big arm and left. Where the sinner was kept, but did not go inside and stood hidden like a theft at the door.
There was silence everywhere, then the beautiful snake came out of the house and stood at the door. Shortly afterwards Yasin also came from his home. The two then barged into the house together. Locked the door. I went inside by dripping back wall. I reach the hallway from the courtyard that Yasin was found in front. With the arm of my hand I hit him so hard that he fell there. Papin shouted seeing Yasin falling. I cut it all off and did all his work. And when the corpse of both of them came out, I see that many men of the locality are standing at the door. When I got out, they all ran to catch me, but nobody came near seeing the knife in their hands. I ran quickly after saving my life, but someone from behind came with a stick on my hand that the arm fell on the ground. Then I was caught empty handed and caught by several other runners. Getting the police got the news. And by handcuffing me, he locked me in lockup
'I had left both of them dead in my understanding, but when I went to lockup, I started hearing that both Yasin and that Papini won. After some time someone came and said that both of them died now.
'I was sued because of two bloodshed. At the same time, the father of that Kukarmini also received news that he also filed a petition in the government. Now I felt guilty that I had stolen the girl by robbing her in her house and now I have murdered her. His father just stood in the court and started trying to prove his case against me with his wealth. On the other hand, because of Yasin's blood, his brother was the same Ibrahim who pleaded to avenge his brother. I started rotting in the air.
'Prosecution took place after many days of increasing muscle on muscle. My father spent a lot of money to save me and raised a very famous lawyer barrister. That rich friend of mine also did not draw his hands for the expenses. He too was a great help to save me but nothing happened to anyone. On being proven guilty, the judge ordered me to be hanged. I did not think the judge was visiting in the district. I also thought in a village. When I got the idea, I started to be brought to the district, due to the night, I was kept in a police station. Two soldiers were guarded on the guard of the police station. When the night was too late Who knew the fate of the cold wind, both the guards slept there. When I saw him in his sleep from within the guard, he pulled his handcuffs out loud. My hand leather was very cut in it. Handcuffs left the same yard and started worrying about coming out, But after seeing it very well, it was found that there is no way to get out of the guard, which is closed. There are no iron rods in the gates, and both the guards are sleeping outside.
'I grabbed one of those sticks and started moving. It was found that the frame in which he is rooted is rotten. I pulled a rod vigorously, and it was separated from the wood from Satak. With the release of a single rod, my nickel escaped. I ran out of guard.
'Ran out, but one of the guard soldiers woke up. Both ran after me shouting 'Asami Bhaga'. I ran away as loud as I could. I do not care how the thorns fall under the feet. What greed for the person who has prepared to hang himself? I ran so dark that the pursuers could not find my address. I entered a jungle running, and after running for a while, that forest also ended. I then ran on the field and ran the same way all night.
'When I got up early in the morning, I found a dense forest and entered it. I did not know how much I went through the night. When the day came, he stayed in the same forest all day. Then I was out when the sun set. And went on the same night as the first night. After walking for two nights, I now believed that I had come too far, I did not go to the forest again when dawn. At daybreak, I found a colony. I went to the door of a householder, he respected me like a Pahun. After several days I rested after eating the grain of that householder. On inquiring, it was found that I have come forty kos away from my place. After resting for the whole day, he left again and stayed up in the morning.
'Now I have destroyed my fakery. Begging for a hand with a coconut in hand, he started begging. Wherever Sadvartta or Dharamshala would be found, there was a meal in the stomach and would spend the morning in the morning. After six months of running like this, I reached Calcutta. When I came to Calcutta when there were twenty five rupees left from me by begging.
'Calcutta was a city of lifeless identity for me in those days. I wandered throughout the day and roamed all night, but could not find a place to stay, there was no man of any identity. Many Muslims from Bombay came here to see, but I did not go to them for fear of getting caught.
'Walking in a myriad form, I understood that if I get a place for rent in the thatched houses outside the rich colony, then I can be able to spend two to three months to sit.
'On the fourth day I went to a Muslim house and found a closet near the outside door for a quarter and a quarter. When I started living at home, I left my fakery form and became an ordinary Muslim, but did not wear my previous style.
'I lived there in disguise of the ordinary Muslims of Calcutta. Now there was a worry in the mind that how the days will be cut. Who should work so that the stomach is full Ten-fifteen days passed while caring for it. He spent twenty-five rupees in the expenses of bedware, utensils and simple clothes and rice dal, but did not do any way to spend the day happily.
'One day I was sitting on the banks of Gangaji in the morning. It would have been good if I could have got some work on the ship, I used to think in my mind that an old Muslim came and asked me - 'Why is sitting here? I said in response - 'I am sitting on the job of filling my stomach.'
Hearing me, he said - 'Well, for one day I give you work. My man who used to work on a ship to look after them has not come to work today. If you can do that work then come with me, I will keep you for that work for today. '
'I obeyed the old man and went with him. He must have been working on a ship, above a hundred porter or a hundred. The old man walked away from there keeping me there for his care. The old man said that I will come before the time of vacation.
'The old man returned at the right time. Very happy to see my work. For that day and days, that old man had a double job. The old man gave fare to all porters and gave me one rupee and hired a servant for twenty rupees a month on the same work. He became happier with my work day by day. Even for five years I kept doing the same thing. In the fifth year he paid me fifty rupees salary. He died the same year. His work also stopped after he died. From the money I had accumulated, I bought a boat and started to hire it. I benefitted greatly from that. I bought ten boats even after one and I got so much income from them that I became rich. I started being counted among the eminent priests. I left the house of thatch and opened a six-storey house in it, I married myself in those days. My day turned around so that you were also born with the benefit of money. Now my business has grown a lot. I changed my name as soon as I came to Calcutta. Everyone here knows the same name. I am a hangman. I have escaped by breaking handcuffs from the guard, so no one here knows.
I wrote to my father and mother from here that I have not run away. Am well here I will not come there, I will not meet you, but I will send money to you, I will not write a letter either. After that, I did not write to him again nor did I meet him. He used to send so much money every year that he did not have any problem. I did not send money from Calcutta, sometimes I went to Madras, sometimes Rangoon, sometimes I went to some far away city and sent money from there and then went here.
'For so many days, no one was cut off from happiness here, but did not know how Ibrahim brother came here after getting my news. You must now understand why I believed him and tolerated him so much. Now he has deteriorated from here to Bombay and has written a letter to the police there telling me all the situation.
'The police will now immediately come here and take me to Bombay. I am ready to hang here. Son haider This is our secret.
'When the police come here, then they will quietly return in vain. Because I will not live here. Because of this there will be some breakup in your dignity. I will not live here. Now it's time for me to die. I leave the world happily. son! Say goodbye to me I have done everything I want for you. Don't get caught in any misdeeds like I do.
Everyone was amazed after reading the entire letter. The detective said in mind. Oops! What a terrible Leela. This old man was also an amazing man.
Fifteen days later, policemen arrived from Bombay. When he heard that Ali Bhai alias Chirag Ali is no longer in the world, everyone returned unhappy.
Gopalram Ghamri's compositions in Hindi time
Stories
Gangadhar Pantawane


From Wikipedia, the free encyclopedia



Gangadhar Pantawane
Born 28 June 1937
Nagpur, British India
(now in Maharashtra, India)
Died March 27, 2018 (aged 80)
Aurangabad, Maharashtra, India
Occupation Writer, social activist
Language Marathi
Nationality Indian
Education D.C. Mission School, Nagpur
Rashtrasant Tukadoji Maharaj Nagpur University,
Dr. Babasaheb Ambedkar Marathwada University
Genre Ambedkarite movement
Notable works Dhammacharcha (1963)
Mulyavedha (1972)
Mooknayak (1978)
Leni (1997)
Children 2 daughters: Nandita and Nivedita

Gangadhar Vithoba Pantawane (28 June 1937 – 27 March 2018) was an Indian Marathi language writer, reviewer and Ambedkarite thinker from the state of Maharashtra. He was the follower of B. R. Ambedkar, polymath and the father of the Indian Constitution. He is one of the pioneers of the dalit literary movement" in Maharashtra. In 2008, he was elected president of the first Marathi Vishwa Sahitya Sammelan that was held in the United States. His pioneering journal, Asmitadarsh, galvanised generations of Dalit writers and thinkers. In 2018, he was honored with the Padma Shri by the Government of India.

Life and career

Gangadhar Pantawane was born on 28 June 1937 in a dalit family in the Pachpawali area of Nagpur city. His father Vithoba Pantawane was not well-educated but he was linked to Babasaheb Ambedkar's egalitarian movement. Their lives have been spent in poverty. Gangadhar completed his elementary education from D.C. Mission school and secondary education from Navyug Vidyalaya and Patwardhan High School, Nagpur. When Babasaheb Ambedkar had come to Nagpur in 1946, when he was 9 years old, he was very impressed by seeing them. For the second time when Babasaheb came to Nagpur, he got a chance to meet and talk to him. After matriculation examination in 1956, Gagangadhar Pantawane got BA and MA degree from Nagpur College. in 1987, he got PhD from Marathwada University (now Dr. Babasaheb Ambedkar Marathwada University. His PhD's thesis research is about on journalism of Ambedkar named "Patrakar Dr. Babasaheb Ambedkar" (English: Journalist Dr. Babasaheb Ambedkar). Before moving to Aurangabad in the early 1960s as a professor in Milind College, Aurangabad where he spent 15 years of service and than worked as a professor of Marathi at Dr. Babasaheb Ambedkar Marathwada University, Aurangabad for 20 years. He used to write articles and plays with studies, teachers and editorials. "Mrutyu Shala" (School of Death) is a drama written by him. He also organized the Asmitadarsh Sahitya Sammelan every year.

Death

Pantawane died on 27 March 2018 in city of Aurangabad due to illness.

Writings

Pantawane, had written 16 books and edited 10 books in Marathi language. He was also a founder of journal called 'Asmitadarsh'.

Marathi books

Ambedkari Janivanchi Aatmapratyayi Kavita (Goda publication)
Sanity: Shod ani Samvadh (2002)
Sahitya Nirmiti: Charcha ani Chikitsa
Sahitya: Prakruti ani Pravruti (1999)
Arth ani Anvayarth
Chaitya Dalit Vaicharik Wangmay
Dusrya Pidhiche Manogat
Kille Panhala te Kille Vishalgad
Dhamma Charchha
Patrakar Dr. Babasaheb Ambedkar (1987)
Mulyavedhleni (1972)
Lokrang
Wadlache Vanshaj
Vidrohache Pani Petale Aahe (1976)
Smrutishesh (Suvidya publication)
Dalitanche Prabodhan (1978)
Prabodhanachya Disha (1984)
Editing

Dr. Babasaheb Ambedkar Yanche Nivdak Lekh
Asmitadarsh
Dalit-Gramin Marathi Shabdkosh
Dalit Atmakatha
Dalit Sahitya
Charcha ani Chintan
Lokrang
Shtri Atmakatha
Maharancha Sanskrutik Itihas

Honors & awards

List of awards and honours won by Gangadhar Pantawane.
Padma Shri, 2018
Dr. Babasaheb Ambedkar Jivan Gaurav Award, 2016
Maharshi Vittal Ramaji Shinde Award, 2006, Wai, Satara
Phadakule Pursakar, 2018
Aurangabad Bhushan Award, 2014, Rotary club of Aurangabad
Ganpatrao Jadhav

From Wikipedia

Ganpatrao Jadhav
Born 5 May 1908
Gaganbavada
Kolhapur district
India
Died 20 May 1987
Other names Ganpatrao Govindrao Jadhav
Occupation Journalist
Writer
Years active 1930-1987
Known for Pudhari
Spouse(s) Indira Devi
Children Pratapsinh Jadhav and six daughters
Awards Padma Shri
Kakasaheb Limye Award
Acharya Atre Award


Ganpatrao Govindrao Jadhav was an Indian freedom activist, journalist and writer. He was the founder of Pudhari, a Marathi daily started publishing in 1937. The Government of India awarded him the fourth highest Indian civilian honour of Padma Shri in 1984 and issued a commemorative postage stamp depicting his image on 12 November 2009.
Biography

Ganpatrao Jhadav was born on 5 May 1908 at Gaganbavada, a small hamlet in the Kolhapur district of the western Indian state of Maharashtra. His education at the local school did not go beyond the primary levels due to financial constraints but Jhadav taught himself by reading books. He started his career as a journalist at Tej, a weekly published from Mumbai and later worked at other local publications.

During this period, he was involved with Satyashodhak Samaj, a social organization founded in 1873 by Jyotirao Phule, in their reformist activities and this gave him the opportunity to interact with several known Marathi personalities such as Keshavrao Jedhe, Dinkarrao Jawalkar, Achyutrao Kolhatkar, Bhaskarrao Jadhav, Bhargavaram Viththal Varerkar and M. G. Ranganekar. Soon, he launched a daily, Daily Kaiwari, with the assistance from Bhaskarrao Jadhav and became its editor. His association with Jyotirao Phule and Satyashodhak Samaj influenced him to participate in the Dandi March in March 1930 and he established the Kolhapur district chapter of the Satyashodhak Samaj.During the Indian civil disobedience movement of 1930, he oversaw the information flow between the Indian National Congress leadership and the frontline and underground activists. When Dinkarrao Jawalkar, one of the leaders of the movement in Maharashtra was arrested by the British government, Jhadav stayed underground and organized the picketing movements at Wadi Bunder and Carnak Bunder. He continued clandestine activities till the Gandhi-Irwin Pact was signed on 5 March 1931, granting dominion status to India. During this period, he was also associated with B. R. Ambedkar for the upliftment of the dalit communities and was involved in the temple entry protest at the Kalaram Temple in March 1930.

The latter half of 1930s saw Jhadav getting involved with journalism with renewed vigour and started a weekly by name, Sevak, which was renamed Pudhari on 13 May 1937. The publication is reported to have gained popularity and from the New Year's Day of 1939, it turned a daily to become the largest circulated daily in the western Maharashtra and north Karnataka, with an online edition. Around this time, he founded the Journalists' Association of Kolhapur (Kolhapur Patrakar Sangha) and became its founder president. He also served as the president of the Satyashodhak Samaj and was involved with the Samyukta Maharashtra Movement of 1956. His involvement with the farmers led to the establishment of Kolhapur District Agriculturist Co-operative Society of which he was a founder member. His contributions are also reported in the establishment of educational institutions such as Shivaji University, Tararani Vidyapeeth and Mouni Vidyapeeth.
Awards and honours

Jhadav was awarded the Kakasaheb Limye Award by the Pune Press Club in 1983. The Government of India awarded him the civilian honour of Padma Shri in 1984.He received the Acharya Atre Award of the Mumbai Marathi Patrakar Sangh in 1985 and the next year, the Shivaji University selected him for the DLitt degree (honoris causa). On 12 November 2009, the government issued a commemorative postage stamp with his image on it.

Personal life

Jhadav was married to Indira Devi and the couple had a son and six daughters. He died on 20 May 1987 at the age of 79. His son, Pratapsinh Jadhav, is the incumbent head of Pudhari and is a recipient of Padma Shri in 2003.

G. Sankara Kurup


Widely regarded as a harbinger of new line of thought after the towering literary legacy of the triumvirate poets, G. Sankara Kurup with his large volume of work, phenomenal ideas and inimitable style has left an indelible imprint on Malayalam literature. G. Sankara Kurup entered into the arena of literature at a time when literature was flaring up with romanticism and Marxian ideology.

Known throughout his life as 'G', the great poet was born on June 3, 1901 at Nayathodu near Kalady, as the son of Nellikkappilli Varieth Shankara Warrier and Vadakkini Veetl Lakshmikuttyamma. When the poet was five years old, his father passed away and it was his mother's resilience and hard work that helped tide over the crisis.

G was raised under the strict discipline of his uncle Govinda Kurup, a Sanskrit Pandit as well as an astrologer, who forbade the poet from playing games or making friends. The loneliness thus induced helped the poet forge an irrevocable bond with nature and that has significantly influenced and moulded the poet. It is this influence which is reflected immensely in his works and earned him the name as a mystic poet. G was taken into the world of knowledge by this uncle who taught him lessons from Sanskrit and also verses from Raghuvamsha.

G completed his schooling till fourth standard from a primary school in Nayanthode village and continued his studies till seventh standard from a school at Perumbavoor. In those times, completing seventh standard qualified one to teach in primary classes. However G joined a school in Muvattupuzha to prepare for Vernacular Higher Exam. After successfully passing the Vernacular Higher Exam, he prepared for the Malayalam Pandits' examination and passed it in flying colours. However his thirst for knowledge never subsided and he passed the Vidwan examination as well.

He started his official career as soon as he passed the Vernacular Higher Exam. G was just 16 when he joined as the head master of Kottamathu Convent School and in the later years he served in many schools. He served as the Malayalam Pandit at Thiruvilluamala High School in 1921. In 1927 he served as a teacher at Thrissur training school and then in 1931 he served as a lecturer at Ernakulam Maharajas College and later retired as a professor in 1956.


G's first anthology 'Sahitya Kouthukam' was published in the year 1923 which includes his poems from 1917 to 1922. The second part of this collection was published in 1925, the third in 1927, while the fourth was published in 1930. One of his works titled 'Suryakanthi' published in 1946 with a preface by famous playwright Kainikkara Kumara Pillai is widely regarded as a noted work. 'Poojapushpam', 'Nimisham', 'Navathidhi', 'Ithalukal', 'Pathikante Paattu', 'Muthukal', 'Anthardaham', 'Chenkathirukal', 'Odakkuzhal', 'Vishwadarshanam', 'Madhuram Soumyam Deeptham', and 'Sandhya Ragam' figure among the important works of the poet.
Of these, Odakkuzhal earned him the renowned Jnanpith award in 1965 and was translated and published in Hindi as 'Bansuri'. Kendra Sahitya Academy has published G's important works in English under the title "Selected Poems". Many of his poems have been translated to Russian as well.
One of G's works titled 'Meghachaya' is a translation of the Sanskrit poem 'Meghasandesham' of Kalidas while 'Vilasalahari' is a translation of the Persian poem Rubáiyát by Omar Khayyám. He has also translated the collection of poems 'Gitanjali' by renowned poet Rabindhranath Tagore into Malayalam.
Gadhyopaharam, Lekhanamala, Rakkuyilukal are some of the major articles penned by G. He has also contributed immensely in the field of children's literature. He also served as an editor of a journal of Sahitya Parishad and the later years also saw him publish a periodical titled 'Thilakam'. 'Anthivenmukil', which was published in the magazine Manorajyam was the last poem penned by G.
Gurdas Alam
(29.10.1912-1989)
First SC Punjabi Language Poet
Gurdas Ram Alam was born in Bundla village, Jalandhar, Punjab. His mother's name was Gionee and father's name was Shri Ram. They lived in a small mud house in the village. He did not go to school, learned to read and write Gurmukhi from his friends. Being a labor family, he started working as a bhatta laborer at a very young age, and started writing poems from his childhood. His first source of inspiration to get into writing was the oppression of the poor people by the rich which he experienced while working as child labor (child laborers). Despite being illiterate, he emerged as a popular name in Punjabi folk poetry before the partition of India. Alam ji is recognized as an SC activist poet and voice of the underprivileged, exploited castes and communities.
Writing
Alam ji was a progressive poet and an active poet of SC standing at the margins of society. He was the poet of the literary movement Progressive Poetry. His notable writing work is Alam Kava (1965). His writing subjects were inequality, revolution, social change.
As a poet of SC-consciousness, he was also inspired by the thoughts and philosophy of Dr. Ambedkar. He wrote a poem "Bada Shor Dardada Gariaban de Vahan" which was recited in 1956 in the presence of Dr. Ambedkar during a public meeting at Buta Mandi Jalandhar, Punjab.
Portrait of Gurram Jashuva
Died July 24, 1971 (aged 75)
Guntur, Andhra Pradesh, India
Occupation Poet
Spouse(s) Mariyamma
Gurram Jashuva (or G Joshua) (September 28, 1895 – July 24, 1971) was a Telugu poet. His real name was Anil Kumar.
Early life
Jashuva was born to Virayya and Lingamma in Vinukonda, Guntur, Andhra Pradesh, India to a community of leather workers. His father belonged to the Yadav caste and his mother belonged to the Madiga caste. Due to poverty and the intercaste marriage of his parents, his childhood was difficult in a society in which some castes were considered "untouchable." Jashuva and his brother were raised by his parents as Christians. In order to fulfill the requirements of higher education, Jashuva obtained the diploma Ubhaya Bhasha Praveena as a scholar of Telugu and Sanskrit languages later in his life.
Career
Protests against "untouchability," Dalit rights, and segregation have been common themes in all of Jashuva's works. Some of the more notable entries into his literary canon include Gabbilam (A Bat), Firadausi (A Rebel) and Kandiseekudu (A Refugee). A number of verses from Jashuva's work have been incorporated into the popular mythological play, Harischandra, most notably during a scene set in the midst of a cremation ground.
Dalit communities in Andhra Pradesh consider Jashuva to be the first modern Telugu Dalit poet, and actively protest his erasure from Telugu and Indian literary history. In 1995, Dalit communities in Andhra Pradesh began to organize various centennial celebrations for Jashuva's birth, and have recently begun efforts to revive the remembrance of his literary contributions.
Literary works
Gabbilam (1941) is Jashuva's best known work, fashioned after Kālidāsa's Meghadūta (The Cloud Messenger), in which an exiled lover attempts to communicate his affections to his beloved wife.
In one stanza, Jashuva writes, "To this friendly bat he began telling his life-story with a heart scorched by sorrow. In this senseless and arrogant world, other than lowly birds and insects, do the poor have any intimates or neighbors, any noble swans to explain his warm tears?"
The man in the poem muses at the irony of his situation, wherein a bat is allowed inside a temple, yet not within a human being, requesting that the bat convey his message to Siva with caution. As the bat travelled to Lord Siva in Kasi, Jashuva utilized the feeling of patriotism, another theme significant to his work, through vivid descriptions of various historical locations throughout India from the perspective of the bat.
Firadausi (1932) is another of his more recognized works. The story details the Persian poet Firdousi under the rule of King Mahmud of Ghazni, who promises compensation for his work in the form of one gold mohur for every word that the poet is commissioned to write. Despite the poet toiling day and night for ten consecutive years compiling the magnum opus of his literary career, King Mahmud, swayed by the influence of jealous courtiers, dishonors his agreement with his subordinate, offering only silver coins, and leading the poet to commit suicide. Jashuva's depiction of the poet's struggles resonated with Indian audiences, leading to Firadausi becoming one of his most widely acclaimed works.(Joshua, Gurram (1996). Piradausi. Jāṣuvā Phauṇḍēṣan.)
Baapoojee (1948) is an expression of Jashuva's personal anguish related to the assassination of Mahatma Gandhi. His enormous love and respect for Gandhiji is poignantly expressed in the collection of poems eulogizing his life and work, as well as lamenting his death as one of India's greatest misfortunes.(Joshua, Gurram (1963). Bāpūjī. Buk Lavars.)
Timeline
Rukmini Kalyanam (1919)
Chidananda Prabhatham and Kushalavopakhyanam (1922)
Kokila (1924)
Dhruva Vijayam, Krishna Nadi and Samsara Saagaram (1925)
Shivaji Prabandham, Veera Bai, Krishna Deva Raayalu, Vemana Yogeendrudu and Bhaarata Maatha (1926)
Bhaarata Veerudu, Suryodayam, Chandrodayam and Gijigaadu (1927)
Ranachyuthi, Aandhrudanu and Thummeda Pendlikoduku (1928)
Sakhi, Buddhudu, Telugu Thalli, Sishuvu and Baashpa Sandesham (1929)
Deergha Nishwasamu, Prabodham, Shilpi, Hechcharika, Saaleedu and Maathru Prema (1930)
Bheeshmudu, Yugandhara Manthri, Sama Dhrushti, Nela Baaludu, Nemali Nelatha, Loka Baandhavudu, Anasuya, Shalya Saaradhyamu and Sandeha Dola (1931)
Swapna Katha, Anaadha, Firdousi, Mumtaj Mahal, Sindhuramu, Budha Mahima, Kreesthu, Gunturu Seema, Vivekananda, Cheetla Peka, Jebunnisa and Paschatthapam (1932)
Ayomayamu, Akhanda Gouthami, Aashwasam, Meghudu and Smashana Vaati (1933)
Aandhra Bhojudu (1934)
Kandiseekudu (1945)
Thera Chaatu (1946)
Chinna Naayakudu, Baapuji and Nethaji (1948)
Swayam Varam (1950)
Kottha Lokam (1957)
Christhu Charithra (1958)
Raashtra Pooja and Musafirulu (1963)
Naagarjuna Saagaram and Naa Katha (1966)
Awards
Jashuva was presented the Sahitya Akademi Award for his work titled Kreesthu Charitra in 1964.
Jashuva was appointed to the Andhra Pradesh Legislative Council as a member in 1964.
Jashuva was awarded the honorary doctorate degree of Kala Prapoorna by Andhra University in 1970.
Critical studies
Endluri Sudhakar researched Gurram Jashua's literature and published a book on his outlook and impact.
Awards instituted in his memory
The Jashuva Sahitya Puraskaram was established by the Jashuva Foundation to distribute an annual prize to poets from varying Indian backgrounds for enriching Indian literature with their contributions. The founder and secretary, Hemalatha Lavanam, is Jashuva's daughter. Nilmani Phukan, an Assamese poet, received the award in 2002.
Padma Bhushan Dr Gurram Jashuva Research Centre of Telugu Akademi distributes three awards to poets and writers for contributions to Telugu literature. These are the "Jashuva Jeevita Saphalya Puraskaram" for male poets aged sixty or above, the "Jashuva Visishta Mahila Purasakaram" for female poets aged fifty or above, and the "Jashuva Sahitya Visishta Puraskaram" for any contributor to Dalita sahityam (Dalit literature). The first of these awards was presented on September 28, 2013, during the one-hundred-and-eighteenth anniversary of Gurram Jashuva's birth. A payment of two-hundred-thousand rupees are included with each award. Dasaradhi Rangacharya was awarded the "Jashuva Jeevita Saphalya Puraskaram" award, Kolakakuli Swaroopa Rani the "Jashuva Visishta Mahila Purasakaram" award, and Kaluva Mallaiah the "Jashuva Sahitya Visishta Puraskaram" award. Damodar Raja Narasimha, Deputy Chief Minister of India, Dokka Manikya Vara Prasad, Minister for Rural Development of India, Kaki Madhava Rao, former Chief Secretary of India, and Medasani Mohan all either hosted or participated in various award-related functions. A commemorative book on the poet was released during one of the functions.
Gurcharan Das
From Wikipedia
Gurcharan Das
Gurcharan Das
Born 3 October 1943
Lyallpur, British India
Occupation Author, Commentator, public speaker, Intellectual.
Gurcharan Das (born 3 October 1943) is an Indian author, commentator and public intellectual. He is the author of The Difficulty of Being Good: On the subtle art of dharma which analyses the epic, Mahabharata. His international best-seller, India Unbound, is a narrative account of India from independence to the "global information age", and has been published in many languages and filmed by BBC.
He is a regular columnist for six Indian newspapers in English, Hindi, Telugu and Marathi. He writes periodic pieces for the New York Times, Wall Street Journal, Financial Times, Foreign Affairs, and Newsweek.
Gurcharan Das graduated with honours from Harvard University in Philosophy. He later attended Harvard Business School (AMP), where he is featured in three case studies. He was CEO of Procter & Gamble India and later managing director, Procter & Gamble Worldwide (Strategic Planning). In 1995, he took early retirement to become a full-time writer.
His other literary works include a novel, A Fine Famil
y, a book of essays, The Elephant Paradigm, and anthology, Three English Plays.
Gurcharan Das was born in Lyallpur, India (now Faisalabad, Pakistan). His mildly autobiographical novel, A Fine Family, sheds light on his early life. After the partition of India, Das's family migrated to India. His father was an engineer with the government and he spent his childhood in Shimla and Delhi. When staying in Delhi he studied in Modern School, he also went to a high school in Washington D.C. when his father was posted there in the mid-1950s. He attended Harvard University and graduated with honours in Philosophy. He wrote his thesis under John Rawls. Later he attended Harvard Business School's Advanced Management Program, where he is featured in three case studies.
Career
Gurcharan Das was the CEO of Procter & Gamble India and Vice-President for Procter & Gamble Far East between 1985 and 1992. He was later Vice-President and managing director, Procter & Gamble Worldwide, responsible for global strategic planning. Prior to P&G, he was chairman and managing director of Richardson Hindustan Limited from 1981 to 1985, the company where he started as a trainee.
At the end of 1994, after a 30-year career in six countries, he took early retirement to become a full-time writer.
He began to write a regular column on Sundays for The Times of India and continued to do so for 15 years. Gradually, he added Dainik Bhaskar, Prabhat Khabar, Eenadu, Sakal, andMathrubhumi. He also wrote occasional guest columns for Time and Newsweek magazines and occasional pieces for The New York Times, The Wall Street Journal, Financial Times,and Foreign Affairs .
Books
Gurcharan Das has published India Grows at Night: A liberal case for a strong state in 2012. He is also general editor for a 15 volume series, The Story of Indian Business (Penguin) of which three volumes such as Arthashastra: The Science of Wealth, Merchants of Tamilakam: Pioneers of International Trade, The East India Company: The World's Most Powerful Corporation have already appeared.
He is now mainly known for his two best-selling books, India Unbound and The Difficulty of Being Good. India Unbound, is a narrative account of India from Independence to the global information age, and has been published in over a dozen languages and filmed by BBC. The Difficulty of Being Good: On the subtle art of dharma (Penguin 2009) examines contemporary moral failures through the lens of the millennia year old epic, the Mahabharata.
India Unbound is mainly about the transformation of India from birth of the writer in (1942) to (1999). The author majorly speaks about the Indian politics and the economy of India. He categorises the complete timeline from 1942 to 1999 in three major sections: 'Spring of Hope (1942–65)', 'the Lost Generation (1966–91)' and 'Rebirth of Dream (1991–99)' and tells various stories (memoirs) and the historical facts of that time.
Gurcharan Das began to write soon after college. He wrote three plays in his twenties, which have been published as an anthology, Three English Plays (Oxford University Press, 2001). It consists of Larins Sahib, a prize-winning play about Sir Henry Lawrence and the British in India, which has been presented by Akademeia Repertory Theatre (ART) and its producer and artistic-director Rumi Palsetia, as the first-ever Indian theatre production in English, in the then 40-year history of the Edinburgh Festival Fringe, in 1991; Mira, which was produced off-Broadway to critical acclaim from New York critics; and 9 Jakhoo Hill which has been performed in major Indian cities. A new edition of the anthology, titled Three Plays, was published by Penguin India in 2011.
He wrote a novel in his thirties, A Fine Family, which follows the stories of several generations of a Punjabi family beginning with the Partition
The Elephant Paradigm is a book of essays which covers subjects such as Panchayati raj, national competitiveness, and the sacred and philosophical concerns of the average Indian consequent to India's entry into what the author calls the "age of liberation."
Personal life
Gurcharan Das is married and lives with his wife in New Delhi, and has two children. He is a Classical Liberal.
Gaddar


From Wikipedia, the free encyclopedia




Gaddar in a meeting in Nizam College Grounds- 2005
Personal details
Born 1949 (age 68–69)
Toopran, Hyderabad State, India
(now in Telangana, India)
Political party Telangana Praja Front
Residence Hyderabad, Telangana, India

Gummadi Vittal Rao, popularly known as Gaddar (born 1949), is a poet, revolutionary Telugu balladeer and local Naxalite activist from what is now the state of Telangana, India. The name Gaddar was adopted as a tribute to the pre-independence Gadar party which opposed British colonial rule in Punjab during the 1910s.

Telangana separatism



Gaddar protests against arrest of Varavara Rao- 2005



With the resurgence of Telangana movement, Gadar expressed his support for the cause of a separate Telangana state and those people who were advocating it with the intention of uplifting the lower castes, particularly dalits and also backward castes. He said he was strongly with those who are for a Telangana of social justice where Scheduled Tribes and Scheduled Castes have political representation on par with the OCs and BCs of the state. He expressed his solidarity with Devendar Gouds NTPP (Nava Telangana Praja Party) in spite of being shot at by the police during Goud's term as AP Home Minister.




Gadar's song "Amma Telanganama Akali kekala gaanama" has been selected as the state song of Telangana.



Gaddar performing in Kolkata in 2010 against the Operation Green Hunt
Awards
Nandi Awards:
2011 - Nandi Award for Best Male Playback Singer for Jai Bolo Telangana
G. N. Devy
From Wikipedia, the free encyclopedia
Ganesh Narayandas Devy
Born 1 August 1950
Occupation Critic, thinker, editor, educator, cultural activist
Nationality Indian
Notable awards
Ganesh N. Devy (born 1 August 1950) is an Indian literary critic and former professor. He is known for the People's Linguistic Survey of India and the Adivasi Academy created by him. He is credited to start the Bhaashaa research and Publication Centre. He writes in three languages—Marathi, Gujarati and English. His first full length book in English After Amnesia (1992). He has written and edited close to ninety books in areas including Literary Criticism, Anthropology, Education, Linguistics and Philosophy.
Biography
G. N. Devy was educated at Shivaji University, Kolhapur and the University of Leeds, UK. Among his many academic assignments, he held fellowships at Leeds University and Yale University and has been THB Symons Fellow (1991–92) and Jawaharlal Nehru Fellow (1994–96). He was a Professor of English at the Maharaja Sayajirao University of Baroda from 1980 to 96. In 1996, he gave up his academic career in order to initiate work with the Denotified and Nomadic Tribes (DNT) and Adivasis. During this work, he created the Bhasha Research and Publication Centre at Baroda, the Adivasis Academy at Tejgadh, the DNT-Rights Action Group and several other initiatives. Later he initiated the largest-ever survey of languages in history, carried out with the help of nearly 3000 volunteers and published in 50 multilingual volumes.
Dakshinayan
In response to the growing intolerance and murders of several intellectuals in India, he launched the Dakshinayan (Southward) movement of artists, writers, and intellectuals. In order to lead this movement and to initiate his work on mapping the world's linguistic diversity, he moved to Dharwad in 2016. Devy returned his Sahitya Akademi Award in October 2015 as a mark of protest and in solidarity with other writers sensing a threat to Indian democracy, secularism and freedom of expression and "growing intolerance towards differences of opinion" under the right-wing government. The Dakshinayan movement follows the ideas of Mahatma Gandhi and Dr. Babasaheb Ambedkar. The movement has spread to several states in India such as Gujarat, Maharashtra, Karnataka, Goa, Telangana, West Bengal, Uttara Khand, Punjab and Delhi.
Awards
G. N. Devy has received several Lifetime Achievement Awards. He was awarded Padma Shri on 26 January 2014 in recognition of his work with denotified and nomadic tribes and endangered languages. He was awarded the Sahitya Akademi Award (1993) for After Amnesia, and the SAARC Writers' Foundation Award (2001) for his work with denotified tribals. He was given the reputed Prince Claus Award (2003) for his work for the conservation of tribal arts and craft. His Marathi book Vanaprasth received eight awards including the Durga Bhagwat Memorial Award and the Maharashtra Foundation Award. Along with Laxman Gaikwad and Mahashweta Devi, he was one of the founders of The Denotified and Nomadic Tribes Rights Action Group (DNT-RAG). He won the 2011 Linguapax Prize for his work for the preservation of linguistic diversity.
Works
Critical Thought (1987)
After Amnesia (1992)
Of Many Heroes (1997)
India Between Tradition and Modernity (co-edited, 1997)
In Another Tongue (2000)
Indian Literary Criticism: Theory & Interpretation (2002).
Painted Words: An Anthology of Tribal Literature (editor, 2002).
A Nomad Called Thief (2006)
Keywords: Truth (contributor, date unknown)
Vaanprastha (in Marathi, date unknown)
Adivasi Jane Che ( Tribal People Knows, in Gujarati, date unknown).
The G. N. Devy Reader (2009)
The Being of Bhasha (2014)
Samvad ( in Gujarati, 2016)
The Crisis Within: On Knowledge and Education in India (2017)
Trijyaa (in Marathi, 2018)
The question of Silence (2019)
Countering Violence (2019)
Gangadhar Meher
From Wikipedia, the free encyclopedia
Swabhaba Kabi
Gangadhara Meher
Swabhaba Kabi Gangadhara Meher
Born 9 August 1862(On the full moon day of Sravana Purnima)
Died 4 April 1924 (aged 61)
Education Std V
Occupation Judicial Moharir (Accountant)
Notable work Tapaswini, Rasa-Ratnakara, Balarama-deba, Pranaya Ballari, Kichaka Badha, Indumati (First Published work), Ayodhya Drusya, Padmini (Last work); genre (Poet)
Spouse(s) Shanta Devi, Champa Devi (After the death of Shanta Devi)
Children Arjuna Meher (died at the age of 12), Bhagaban Meher (Famous as Kabi-Putra), Basumati Meher, Lakhmi Meher
Parents
Chaitanya Meher (father)
Sevati Devi (mother)
Swabhaba kabi Gangadhara Meher (Odia: ସ୍ୱଭାବକବି ଗଙ୍ଗାଧର ମେହେର) was a renowned Odia poet of the 19th century. Though poor in wealth and education, he remained one of the most prolific and original contributor to Odia literature.

Childhood
Gangadhara was born in 1862 on the full moon day of Shravana Purnima at Barpali of present-day Bargarh district of Odisha. Chaitanya Meher was working as a village Vaidya (Ayurvedic doctor) besides his family profession of weaving. But as he could not maintain his family with the income of these works, he opened a village school and began to teach a few children. Gangadhara Meher could read up to the Middle Vernacular Standard hurdling over diverse disadvantages, and his keen eagerness for literature eventually sparked his skills in writing poems.
As a young boy, he heard the Jagamohana Ramayana composed by Balarama Dasa and afterwards he himself read it as well as the Odia Mahabharata by Sarala Dasa. He also read and mastered a great number of Sanskrit books; of which 'Raghuvamsham', deserve mention. Tulasi Ramayana in Awadhi used to be held by him in great respect. He used to read Bengali magazines and newspapers.
Gangadhara got married at the age of 10. As his father's pecuniary condition was not satisfactory, Gangadhar used to go to school in the morning and help his father in weaving in the afternoon. His clear and beautiful hand writing also garnered attention from many people willing to get their transcribed by him. The pecuniary condition of the family improved a bit due to his hard labour when to the misfortune of the family, the ancestral house caught fire.
Career
The then Zamindar of Barpali, Lal Nruparaj Singh offered him the post of an Amin (Patwari). Coming to learn of amicable behaviours and good virtues of Gangadhara, the Zamindar promoted him to the post of a Moharir. He continued to serve in the said post and was transferred to Sambalpur, Bijepur and Padmapur and at last transferred to him own native place Barapali on a salary of Rs.30/- per month.
The poet was very liberal and progressive socially. During the last age of his life, the poet organized an All Odisha Social Conference of Mehers with a view to uplifting the entire weaver society. Nearly three thousand Mehers from different parts of Odisha assembled in the Conference. The poet put up twelve proposals for the reform of the society and all were passed unanimously.
Literary career
Gangadhara started composing poems from a very tender age. His first writings follow the style and technique of the ancient Odia writers. His first kabya (poetic work) was "Rasa-Ratnakara". Then being persuaded by some friends he changed his ways and wrote poems and kabyas in the modern Odia style. Kabibara Radhanatha Ray praised his writing very much. The works produced by Gangadhara Meher are marked by vivid imagination, in beauty and clarity of language, in the novelty of style, in point of forceful character painting and in the lively description of nature from different perspectives. His writings remain as some of greatest creations in Odia literature..His literary career was frequently influenced by the writings of Radhanath Rai, who wrote in western influences. A research was conducted in North orissa University which reveals many similarities between Gangadhar Meher and western romantic poets like P.B Shelley, Lord Byron, John Keats.The treatment of nature is equally same in their poetries.
Institution and award named after Gangadhar Meher
In 1949, Sambalpur College which is in Sambalpur district, opened in 1944 was renamed Gangadhar Meher College in his honour later upgraded to a university, now it is known by Gangadhar Meher University. In 2015, this college was upgraded to a university. Sambalpur University, Burla, instituted the Gangadhar Meher National Award for Poetry which is conferred annually on the foundation day of Sambalpur University. In January 2020 the Gangadhar Meher National award will be conferred to Viswanath Prasad Tiwari.
Geetha Hiranyan
Geetha Hiranyan
20 March 1958
Died 2 January 2002 (aged 43)
Occupation Writer, author
Ottasnappil Othukkanavilla Janmasathyam
Iniyum Veedaatha Hridayathinte Kadam
1994 Kunju Pilla Smaraka Award
2001 G. Sankara Kurup Janmasathabdhi Kavitha Award
Sreedharan Potti (father)
Geetha Hiranyan (20 March 1958 – 2 January 2002) was an Indian writer of Malayalam literature. Known for her short stories, compiled in three books, Ottasnappil Othukkanavilla Janmasathyam, Asangaditha and Iniyum Veedatha Hrudayathinte Kadam, she was a recipient of a number of honours including G. Sankara Kurup Janmasathabdhi Kavitha Award and Kunju Pilla Smaraka Award.
Biography
Geetha Hiranyan, née Geetha Potti, was born on 20 March 1956 at Kottavattom, near Kottarakara in Kollam district of the south Indian state of Kerala to Thottavttath C. Sreedharan Potti and Vasumathy Devi; she was related to the noted writer and social reformer, Lalithambika Antharjanam. After earning master's and MPhil degrees, she started her career as a lecturer at Malabar Christian College, simultaneously continuing her doctoral studies. Later she taught at various government colleges in Malappuram, Kalpetta, Perinthalmanna, Thrissur, Pattambi and Kodungalloor before joining Kerala Sahitya Akademi as the publications officer on deputation. It was at this time, she became ill due to which she could not continue her service.
Geetha was married to K. K. Hiranyan, a writer, critic and an academic, and the couple had a daughter, Uma and a son Ananthakrishnan. She died on 2 January 2002, aged 43, at Thrissur and the body was cremated at Ullannoor Mana, her ancestral house.
Legacy and honours
Geetha participated in a literary competition organized by Mathrubhumi for their Vishu edition in 1979 and her story, Deerghapankan, was selected for the consolation prize. Two decades later, in 1999, she published her first short story anthology, Ottasnappil Othukkanavilla Janmasathyam (It is not Possible to Frame Life's Truth in a Single Shot). Her next two anthologies, Iniyum Veedaattha Hridayathinte Kadam and Asangaditha were published in 2002, shortly after her death. Her last story, Shilpa is Writing a Story, was included in Asangaditha. In 2008, a complete collection was published under the title, Geetha Hiranyante Kathakal (The Stories Of Geetha Hiranyan). Her story was also included in the book, Daughters of Kerala : twenty-five short stories by award-winning authors, which contains the English translations of stories by women writers of Kerala.
Geetha received the Kunju Pilla Smaraka Puraskaram in 1994. She received three awards in 2001, the Ankanam Award, G. Sankara Kurup Centenary Award for Poetry and T. P. Kishore Award. Kerala Sahitya Akademi has instituted an annual award, Geetha Hiranyan Endowment Award, in her honour, for writers below the age of 35, to recognize excellence in Malayalam literature. Kerala Bhasha Institute has published her biography, under the title, Geetha Hiranyan:Jeeva Charithram, written by Sheeba Divakaran.
Bibliography
Sukham, the poem of Geetha Hiranyan in Prathibhavam newspaper.
Stories
Geetha Hiranyan (2002). Asankhatitha. Current Books, Thrissur: Current Books.
Poems
Girija Kumar Mathur
From Wikipedia, the free encyclopedia
Girijakumar Mathur
गिरिजाकुमार माथुर
Born 22 August 1919
Died 10 January 1994 (aged 75)
Occupation Writer, Poet
Nationality Indian
Notable works Nash aur Nirman, Nayi Kavita: Seemae aur Sambhavnae
Children Pawan Mathur, Amitabh Mathur , Ashok Mathur
Girija Kumar Mathur (Hindi: गिरिजाकुमार माथुर) (22 August 1919 - 10 January 1994) was a notable Indian writer of the Hindi language. He is noted for his translation of the popular English song "We Shall Overcome" into Hindi (हम होगें कामयाब). His father, Devicharan Mathur, was a teacher in a local school and greatly admired music as well as literature. His mother name was laxmidevi Girijakumar Mathur is considered one of the most important writers in Hindi due to his efforts to modernise Hindi literature and promote it through many of his works.
Early life
Girijakumar Mathur was born in Ashoknagar which was tehsil of guna before 2003 Madhya Pradesh, on 22 August 1919. He was homeschooled by his father in History, Geography and English. After obtaining his primary education in Jhansi, he was awarded a degree of M.A (English) and L.L.B from Lucknow University. After practicing law for a few years, he started working in All India Radio and later Doordarshan.
Professional and musical career
On obtaining his law degree, Mathur initially worked as a lawyer, but subsequently joined the Delhi office of All India Radio. After a few years there, he moved on to join the then only television broadcasting organization of India, Doordarshan.
Mathur published his first collection of poems, Manjir in 1941.
It was during his service in Doordarshan that mathur translated the popular gospel and civil rights movement song "We shall overcome" into Hindi as "Honge Kaamyab" (होंगे कामयाब). It was sung by a female singer of the Doordarshan orchestra and the music was arranged by Satish Bhatia using Indian musical instruments. This version of the song was subsequently released by TVS Saregama. This Hindi rendition was released in 1970 as a song of social upliftment and was often broadcast by Doordarshan in the 1970s and 1980s. Doordarshan at that time was the only television station of India, and this song was especially played on days of national significance.
Mathur continued to work in Doordarshan, retiring in 1978 as the Deputy Director general.
Works
Girijakumar Mathur started his career in literature in 1934 in the Braj language.Greatly influenced by authors such as Makhanlal Chaturvedi and Balkrishna Sharma 'Navin', he published his first anthology, 'Manjir' in 1941. He was an important contributor to Hindi literature and used his works to spread moral messages through society. His notable works include:
Nash aur Nirman
Dhup ke Dhan
Sheilapankh Chamkile
Bhitri Nadi Ki Yatra (Anthology)
Janm Kaid (Play)
Nayi Kavita:Seemae aur Sambhavnae
Girijakumar Mathur was one of the seven eminent Hindi poets included in Tar Saptak, an anthology edited and published by Agyeya in 1943. Apart from poems, he wrote many plays, songs as well as essays. In 1991, he was awarded the Sahitya Akademi Award for his anthology, "Main Vakt ke Hun Samne" as well as the Vyas Samman[9] in the same year. He is noted for his translation of the popular English song "We Shall Overcome" into Hindi.
Death
Girijakumar Mathur died on 10 January 1994, aged 75 in New Delhi.
हीरा डोम
मुक्त ज्ञानकोश विकिपीडिया से
हीरा डोम (जन्म- 1885 ई॰ के आसपास) उन्नीसवीं सदी के पूर्वार्द्ध में विद्यमान प्रथम दलित कवि के रूप में विख्यात हैं जिनकी एकमात्र उपलब्ध भोजपुरी कविता सुप्रसिद्ध साहित्यिक पत्रिका सरस्वती में छपी थी और जिसमें तत्कालीन सामाजिक, आर्थिक एवं धार्मिक विसंगतियों-विडम्बनाओं की विवेकपूर्ण अभिव्यक्ति मार्मिक रूप में हुई है।
जीवन-परिचय
रचना
इनकी लिखी हुई एकमात्र कविता 'अछूत की शिकायत' उपलब्ध है। यह कविता महावीर प्रसाद द्विवेदी द्वारा संपादित 'सरस्वती' (सितंबर 1914, भाग 15, खंड 2, पृष्ठ संख्या 512-513) में प्रकाशित हुई थी। कवि-समीक्षक मदन कश्यप के अनुसार "हालांकि, सरस्वती में प्रकाशित होना ही इस बात का सुबूत है कि इस कविता को उस समय भी महत्व दिया गया था। फिर भी, समय रहते हिन्दी संसार ने हीरा डोम की खोज खबर नहीं ली अन्यथा उनकी कुछ और रचनाएं, उनके बारे में कुछ और सूचनाएं-- हमारे सामने होतीं।"
अछूत की शिकायत
हीरा डोम तथा उनकी कविता 'अछूत की शिकायत' को प्रकाशन के लम्बे समय बाद व्यापक हिन्दी संसार में चर्चित करने का श्रेय डॉ॰ रामविलास शर्मा को है। "1977 में प्रकाशित अपनी पुस्तक 'महावीर प्रसाद द्विवेदी और हिन्दी नवजागरण' में डॉ॰ रामविलास शर्मा ने इस कविता को उद्धृत किया। उसके बाद ही इसकी ओर लोगों का ध्यान गया।"
डॉ॰ शर्मा ने इस कविता का परिचय देते हुए लिखा था कि "सितम्बर १९१४ की सरस्वती में पटना के हीरा डोम की कविता 'अछूत की शिकायत' प्रकाशित हुई। यह भोजपुरी में है और सम्भवतः उस भाषा में लिखी हुई यह एकमात्र कविता है जो द्विवेदी जी की सरस्वती में प्रकाशित हुई थी। यह कविता उनके पास भेजी गई थी क्योंकि कविता के ऊपर कोष्ठकों में छपा है-- 'प्राप्त'। हिन्दी में इससे पहले (और बाद को भी) किसी डोम-बन्धु की लिखी कविता मेरे देखने में नहीं आई।"
आगे पूरी कविता उद्धृत करने के बाद डॉ॰ शर्मा की टिप्पणी है कि "हीरा डोम ने किसी से सरस्वती का नाम सुना होगा। मैथिलीशरण गुप्त की तरह सरस्वती में कविता प्रकाशित कराके प्रसिद्ध कवि बनने का स्वप्न तो उन्होंने न देखा होगा पर अपनी शिकायत सरस्वती के माध्यम से शिक्षितजनों तक उन्हें जरूर पहुँचानी थी। द्विवेदी जी ने साहसपूर्वक वह कविता अपनी उस पत्रिका में छापी जिसमें बड़े-बड़े लोग रचनाएँ छपाने को तरसते थे।"
यह कविता पहली दलित कविता के रूप में प्रतिष्ठित है। इसमें निहित गहरी वैचारिकता इसका रचनात्मक वैशिष्ट्य है। सुप्रसिद्ध दलित साहित्यकार शरणकुमार लिंबाले के अनुसार "इसे दलित सोच की वर्तमान धारा की पहली रचना कहा जा सकता है चूँकि इसमें केवल दलितों की शिकायत या व्यथा ही दर्ज नहीं की गई बल्कि आक्रोश और विरोध भी जताया गया है।"
महत्त्व
मदन कश्यप के अनुसार "इस कविता को पढ़ने से स्पष्ट हो जाता है कि यह रात-दिन दुख भोगने वाले जन की करुणा नहीं ताकत की अभिव्यक्ति है और इसका शीर्षक 'अछूत की शिकायत' निश्चित रूप से सम्पादक अथवा किसी अन्य व्यक्ति का दिया हुआ है। अन्यथा इसका शीर्षक 'अछूत की हुंकार' होना चाहिए था।"
डॉ॰ रामविलास शर्मा के अनुसार:
"गाँव के सर्वहारा-समुदाय की वर्ग-चेतना यहाँ पहली बार साफ-साफ प्रतिबिम्बित हुई है।... हीरा डोम कि उक्त रचना में जो प्रतिरोध का स्वर है, शोषण-चक्र के भीतरी तंत्र की जो पहचान है, श्रम करने वालों के महत्व का जो ज्ञान है, करुणा और व्यंग्य के साथ आत्म सम्मान की जो भावना है, वह सब हिन्दी कविता में अभी दूसरी जगह व्यक्त नहीं हुआ।"
मदन कश्यप के अनुसार:
"...अपने गुस्से का इजहार करने के साथ-साथ हीरा डोम ने धर्म-परिवर्तन की चालाकी और निरर्थकता को भी रेखांकित कर दिया है। सामन्ती समाज में श्रम को सबसे निचले पायदान पर रखा जाता है। और जिसके कर्म जितने श्रम विरोधी होते हैं, उसे उतना ही श्रेष्ठ समझा जाता है। हीरा डोम ने इस कविता में श्रम की प्रतिष्ठा और अपकर्मों की निन्दा के माध्यम से सामन्ती समाज के एक बड़े विपर्यय को उजागर किया है। ... इसकी दूसरी बड़ी विशेषता यह है कि यह कविता बिना किसी बौद्धिक विमर्श के सिर्फ अपने सहज अनुभव के आधार पर, यह स्थापित करने में सफल होती है कि ईश्वर एक वर्गीय अवधारणा है।..।"
हमनी के राति दिन दुखवा भोगत बानी,
हमनी के सहेब से मिनती सुनाइबि
हमनी के दुख भगवानओं न देखता ते, हमनी के कबले कलेसवा उठाइबि
पदरी सहेब के कचहरी में जाइबिजां, बेधरम होके रंगरेज बानि जाइबिजां
हाय राम! धसरम न छोड़त बनत बा जे, बे-धरम होके कैसे मुंहवा दिखइबि
Prof. Hari Narke
Prof. Hari Narke (मराठीः प्रा. हरी नरके) Born on 1 June 1963 is a Scholar, Author and Orator of International repute. He is serving as professor and Head of Mahatma Phule Chair, in the University of Pune, India.
Early life
Prof. Hari Narke was born on 1 June 1963 in Ramchandra Narke and mother Sonabai Narke a very poor Mali caste family at Talegaon Dhamdhere, Tal. Shirur, Dist. Pune, Maharashtra, India. Prof. Narke's education was mostly in Pune. He has attended. He has completed his education by working in a graveyard
He is married to Sangita. They have a daughter Pramiti. Pramiti is attending her higher education.
List of works
Prof. Hari Narke is one of the prominent author of post globalized period of India. Till date he has penned 35 books on different issues in all three languages that are in Marathi, Hindi & English.
Books
Marathi
Mahatma Phule yanchi Badnaami - Ek Satyashodhan
Jnyanajyoti Savitribai Phule in second edition
OBC chya Bhavitavyavar Kurhad
Dalit Sahityachya Shodhat (Published at the hands of the then President of India K.R.Narayanan)
Mahatma Phule Shodhachya Navya Vata (Fifth edition)
Hindi
Mahatma Phule Sahitya aur Vichaar - Published at the hands of the then President of India, Dr. Shankar Dayal Sharma)
Mahatma Phule Samasta Sahitya - Vols. 1 to 4
English
Editor of Dr. Ambedkar's speeches and writings, Vols. 17 to 22
Collected Works of Mahatma Phule, Vols. 1 to 3
Speeches
Prof. Hari Narke has delivered 6,000 lectures in the last 30 years, lectures at London, Birmingham, Manchester, Bedford, Dubai, Sharjah, Abu Dhabi, Al-ain, Kathmandu, Lumbini were widely acclaimed.
Awards
'Samajbhushan Award' by the Shahu Phule Ambedkar Vichaar Manch, Bhopal, Madhya Pradesh.
'Karandikar Trust's award for researched writing', Dharwad, Karnataka.
Dr. Babasaheb Ambedkar Dalitmitra award' by the Government of Maharashtra.
'Best Orator award' of the Aagya Publication Trust, Kolhapur.
'Dainik Mahanagar Award' for scholarly writing.
'Samata Award' by All India Mahatma Phule Samata Parishad.
'Best Professional Excellence Award' by Rotary Club, Pune.
Special Contribution
Full-time contribution to the publication of Phule, Shahu, Ambedkar's literature. Till date, Ambedkar's literature has been translated and published in 13 languages and Phule's in 9 languages.
Published 400 articles in well-known national newspapers and periodicals in the country. Participated in 70 programmes on television.
Presented research papers and delivered lectures at National Seminars in 40 Universities.
Taken initiative for the building of Mahtama Phule memorial at Pune, Savitribai Phule memorial at Naigaon (Satara) and the erection of Mahatma Phule's statue at the Parliament of India.
Initiated the commemoration of 11 April Phule Jayanti and 14 April Dr.Ambedkar Jayanti jointly as well as commemoration of 3 January Savitribai Phule Jayanti and 12 January Jijau Jayanti jointly. Also initiated the government commemoration of Shahu Jayanti.
Chairperson of the Third All India Satyashodhak Literature Conference, Nagpur and First Satyashodhak Round Table Conference, Pune 2010.
Personal collection of Ten Thousand rare and precious books.
Additional responsibilities
Member-Secretary of Mahatma Phule Source Material Publication Committee, Govt. of Maharashtra, Mantralaya, Mumbai.
Member of MAaharashtra State Commission for backward classes.
Harjeet Atwal
From Wikipedia, the free encyclopedia
Born September 8, 1952 (age 68)
Harjeet Atwal (Punjabi: ਹਾਰਜੀਤ ਅਤਵਾਲ, born 8 August 1952) is a British Punjabi writer and novelist. He has written more than 20 books and he is also the editor of Punjabi magazine 'Shabad'. He is also known as a storyteller and poet. Now he lives in London with his wife and three children. He received runner-up Dhahan Prize for his novel 'Mor Udari' in 2015.
Early life
Harjeet Atwal, a well known Punjabi writer was born on 8 September 1952, in village Pharala, district Jallandhar now district Nawanshahar in Punjab, India. His father's name was Darshan Singh and mother name was Balbir Kaur. He is eldest brother of three sisters and a late brother. He was brought up at his native village Pharala. He got his secondary education from Govt. High School Pharala, and graduation from Sikh National College, Banga. After his degree in law he started his legal practice in Nawanshahar courts but he migrated to U.K. in July, 1977. Since then he is living in U.K. with his family. He has his interest in literature since his childhood and started writing short stories and poems in his school days. He has written more than two dozens books in Punjabi. His work is a part of universities courses. He lives in London since he moves to U.K. He has three grown up children, two daughters and one son.
Writing career
Work
Harjeet Atwal has written more than two dozens of books which includes novels, poetry, short stories, biography, travelogue, essays and articles, literary analytical articles, editing the books, editing the magazines etc. His work is also available in other languages like Hindi, English and other Indian languages. He has been writing columns for few daily newspapers and magazine as well. He, regularly, delivers his lectures on the concerns about modern literature in Indian universities and other educational institutions. He is President of 'Adara Shabad' which is a Punjabi writers association based in London and Chandigarh. Here are main books written by Harjeet Atwal
'Sard Pairan di udik' (A wait with naked feet). a collection of poems.
'Suka Pata Te Hawa', (A dead leaf in wind) a collection of short stories.
'Kala lahu', (Black blood). a collection of short stories.
'Sapan Da Bhar Bartainia', (Britain, full of snakes)[citation needed] a collection of short stories.
'Khuh Wala Ghar', (A house with well). a collection of short stories.
'Ik Sach Mera Vi', (One truth from me). a collection of short stories.
'Nawen Geet Da Mukhra', (First stanza of new song). a collection of short stories.
'Ik Gal Je Dil Lage, (a matter if you feel right) a collection of short stories.
'Das Darvaze', (Ten doors) a collection of short stories.
'Focus', (The focus). a travelogue.
'Pachasi Variyan Da Jashan', (The celebration of 85 years) a biography of his father Mr Darshan Singh.
'Ret', (The sands) a novel.
'Swari', (The passenger) a novel.
'British Born Desi', (Indians born in Britain). a novel.
'Akal Sahai', (God helps) a historical novel
'Aapana' (My own). a historical novel.
'Geet', (The song). a novel.
'Mudri Dot Com', (mundri.com) a novel.
'Mor udari', (A flight of peacock) a novel.
'Kale rang gulaban de', (Black roses), a novel.
'Jetthu', (a name). This novel was advertised as name Shalmai
'A Collection of Diasporas Punjabi Short Stories', an edited book. And he has edited few more books.
He is co-editor of tri-monthly Punjabi magazine named 'Shabad' (The word) He has done lot of translation work as well.
Hira Bansode
"Slave" by Hira Bansode: Study Notes
About the Poet
Hira Bansode. born in 1939 in Maharashtra, is one of the early Dalit women writers. She talked for the working class Dalit women who experienced double marginalisation in their work space as well as domestic space. Her poetry carries themes of alienation, freedom from all kinds of bondage and subjugation, estrangement, search of identity and dignity both as a Dalit and as a woman. She often blended ancient myths of women who underwent discrimination with contemporary situations of the Dalit women.
Summary of the Poem
The poet says that woman is still a slave/ servant (the apt translation of the Marathi word ghulam which is the original title of the poem is servant) in spite of the auspicious ritualistic practices which are based on the stories of Sita and Ahalya who were known for their tests and challenges of their chastity. The poet is angry when she states that to be born as a woman in 'unjust' since she is still a slave to everyone regardless of time period. The identity of a woman fades like flowers and her emotions are taken for granted and called as mere 'dreams'. Her desire is not given due importance and her protests are nipped in the bud. A woman is dried up by tradition where her growth is stunted and forever she has to remain as someone's shadow. When festivals celebrate the stories of lords the stories of women in it are painful.
Re-reading of the Poem
The poem "Slave" weds women of two generation bringing their atrocities as a common platform to discuss what has significantly changed in the world of women even when the term 'modernity' is attached to women these days. For Hira Bansode religion ad tradition have never offered equality to women. They were marginalised and made second class beings in the name of customs and purity. The second reason-purity- has been used and abused in order to portray women often as trouble makers. Women had to take responsibility for the mistakes and insecurities of men and their bodies and minds had to be tested in fire to prove the worth of their husbands. The chastity of a wife was often seen as a protective tool to defend her husband's life in battles and other dangerous expeditions.
According to Bansode, in her attempts to live her life to make the life of men around her fulfilled, woman loses her identity. Her emotions are considered as the temporary and weak reflections of being a woman. Her freedom was cut short and she was leashed to her house and her close relatives. Manu famously said that a woman had to be protected by her father in her adolescence, by her husband in her youth and by her son in her old age. Even when this quotation is discussed in another way where Manu is pictured as the champion of feminism the nature of Manusmriti proves that Manu meant nothing about the security of women for their sake but he was talking about guarding women to maintain the purity of one's caste.
The poem ends with a strong and thought provoking statement where the poet laments that to be born a woman in 'unjust'. The world offers woman an unjust situation from her birth to death. She is chained in the name of religion, tradition and purity. The poem is a dirge for all women regardless of caste.
H. Govindaiah
From Wikipedia, the free encyclopedia

H. Govindaiah (born 1954) is a prominent Dalit poet writing in Kannada. He was associated with Dalit Sangharsha Samiti (DSS) and was the publisher of Panchama, a fortnightly magazine of DSS for ten years until 1985. He has worked as a lecturer at Mysore Universityand the Karnataka Open University and was Deputy Registrar of the latter for two years.




Further reading




Satyanarayana, K & Tharu, Susie (2011) No Alphabet in Sight: New Dalit Writing from South Asia, Dossier 1: Tamil and Malayalam, New Delhi: Penguin Books.
Satyanarayana, K & Tharu

, Susie

(2013) From those Stubs Steel Nibs are Sprouting: New Dalit Writing from South Asia, Dossier 2: Kannada and Telugu, New Delhi: HarperCollins India.



Haldhar NagIndian
Place of Birth: Bargarh, Odisha, India
Profession: writer, poet
Zodiac Sign: Aries
About Haldhar Nag
Dr.
Haldhar Nag (Born: 31 March 1950) is a Sambalpuri poet and writer from Bargarh, Odisha, India.
Popularly known as "Lok kabi Ratna" .
He was awarded Padma Shri, the fourth highest civilian award of India by Government of India in 2016.
He was born in a poor family of Ghens.
He is best known for his work Kavyanjali, an anthology of English translation of Nag's selected poetry which was launched in 2 October 2016.
In 2019 Haldhar Nag get Doctorate Degree by Sambalpur University.Sambalpur University is coming up with a compilation of his writings — Haldhar Granthabali-2 — which will be a part of its syllabus.
Hemendra Singh Panwar
Born 22 March 1937
India
Awards
Padma Bhushan
Hemendra Singh Panwar is an Indian conservationist and civil servant, known for his efforts in the fields of wild life and conservation. He was the first director of the Wildlife Institute of India and was the director of
Project Tiger
. The Government of India honoured him, in 2013, with
Padma Bhushan
, the third-highest civilian award, for his services to the environment and conservation.
Biography
Hemendra Singh Panwar was born on 22 March 1939. He started his career in
Indian Forest Service
, which took off with his posting at
Mandla
. In 1969, he was transferred to South Mandla which covered the forest areas of Kanha which had a sparse head count of 30
tigers
and
Barasinghas
(swamp deer) numbering 66. Panwar's efforts on deear conservation was given a boost when he was put in charge of barasingha conservation as an independent unit.
During his stint at Kanha, Panwar is reported to be successful in converting the park into an efficiently managed unit, and the park won the award for the best managed park in India in 1976. The headcount of tigers grew to 150 and the deer to over 400 and the park management was able to relocate 22 interior villages.
In 1981, Panwar was transferred to Delhi, as the head of Project Tiger, a project conceptualised in 1973, for the protection of tiger population in India. He worked for 4 years on the project, till 1985, during which time, the project brought seven additional reserves under its umbrella. The population of tigers in India rose from 1900 to 3000. He was also invited to present a paper on the subject by the Smithsonian Institution
At this time, the idea of setting up an institute focusing wildlife conservation was being mooted by V. B. Saharia, and as a result of his efforts, the Wildlife Institute of India was established in 1985 with Hemendra Singh Panwar as its first director. Panwar established the institute into a full-fledged learning centre with specialised focus on wildlife biology, management, and extension. Research facilities were also set up in the topics of focus. The Wildlife Institute of India is rated as one of the six best conservation research institutions by the World Conservation Union and has won Rajiv Gandhi Conservation Award. Panwar retired as its director in 1994.
Awards and recognition
Hemendra Singh Panwar has won several awards and honours for his services.
Padma Bhushan
– 2013
The Duke of Edinburgh Conservation Medal –
WWF International
– 2002
Rajiv Gandhi
Wildlife Conservation Award – 1998
Tree of Learning Award –
World Conservation Union
(WCA-IUCN) – 1996
Fred M. Parker International Parks Merit Award – World Conservation Union (WCA-IUCN) – 1996
Prime Minister's Memento in 1992 for Project Tiger
Government of Madhya Pradesh Gold Medal – 1981
Hem Raj Phonsa


Occupation

Consulting
Occupation Executive Engineer (Retd),Chairman J&K Branch of the Institution of Valuers, All India Spokes Person the Bhartiya Dalit Sahitya Akademy Delhi& J&K Jammu
Location Jammu, Jammu & Kashmir, India
Introduction Author of the book - Dr Ambedkar and His Associates.Spokesman of the Bhartiya Dalit Sahitya Akademy Delhi, J&K (Regd) Recipient of Dr Ambedkar National Award 2012 Dr. B.R. Ambedkar State Award ( J&K State) 1994 Dr. B.R. Ambedkar State Award ( J&K State) 1994 Dr. B.R. Ambedkar Distinguished Service Award 2003 Babu Jagjivan Ram centenary state( J&K) Award Dr B.R. Ambedkar Plaque of
Interests Civil Structural Designing and Planning, Registered/Empa

nelled Valuer with I-Tax and many Banking Institutions including Nationalized Banks, Free lance writing on Technical topics, social and religious problems, Reading and writing of History and Biographies of Dalit Political, social and religious personalities. Many essays have been published in Dailies and Magazines country over in English and Hindi. Contributing Technical papers as well with having won many honors. I also give talks, interviews on Radio and TV Channels, Composing Poems in Dogri and Hindi, Striving for establishing universal brotherhood based on equal rights and privileges. Dalit problems have particularly concern and interests.
Favorite Books W&S of Dr. Baba Sahib Ambedkar. Life and Mission of Dr.Ambedkar by D. Keer. Any other book on Dr. Ambedkar, Dalit Saints, social, political personalities
Indira Dangi
From Wikipedia, the free encyclopedia
Born 13 February 1980
Datia, Madhya Pradesh, India
Occupation Novelist, playwright, writer
Notable works Haweli Sanatanpur, Ek Sou Pachas Premikayen, Acharya, Rapatile Rajpath Rai, Rani Kamalapati
Imayam
Imayam (pen name of V. Annamalai) is a school teacher in Viluppuram district of Tamil Nadu, Imayam is the author of five novels and five short story collections. He is known among Tamil readers for his novels "Koveru Kazhudaigal" (The Mules) and "Arumugam". He is the recipient of multiple awards such as the Tamil Nadu Progressive Writers' Association Award, the Agni Akshara Award, and the Autham Adigal Award.
Early Life
Imayam was born in 1964. The family lived in Meladanur, but later shifted to Vriddhachalam. He finished his higher studies in Periyar E.V.R. College, Tiruchirappalli. During his college days, he got books from some Sri Lankan Tamils on the ethnic crisis in their country and also attended the exhibitions and photo displays that they put up. In addition, he bought and read Russian Literature in translation. Imayam's first piece was written for a competition in St Joseph's college in Trichy around 1984-1985. For Imayam, it was S. Albert, a professor from Trichy, who 'opened the door to the world'. He went on to attend a thirty-day writer's workshop organized by the All India Catholic Universities Federation. This set Imayam thinking seriously about his own writing and its themes.
Works




TitleYearPublication

Koveru Kazhudhaigal (Novel) 1994 Cre-A, Chennai – 41

Arumugam (Novel) 1999 Cre-A, Chennai – 41

ManBaram (Short Stories) 2002 Cre-A, Chennai – 41

Sedal (Novel) 2006 Cre-A, Chennai – 41

Video Mariamman (Short Stories) 2008 Cre-A, Chennai – 41

Kolai Cheval (Short Stories 2013 Cre-A, Chennai – 41

Pethavan (Novella) 2013 Bharathi Puthagalayam, Chennai – 18.

Savu Soru(Short stories) 2014 Cre-A, Chennai – 41

En Kathe (Novel) 2015 Cre-A, Chennai – 41

Narumanam 2016 Cre-A, Chennai – 41
Selladha Panam 2018 Cre-A, Chennai – 41



About his works




His first novel Koveru Kazhudhaigal created heated debates on issues like the role of a Dalit writer in the context of oppression seen in Dalit community. This novel is now included in the digitalisation project of the University of Chicago and Columbia University, the first Tamil novel to be made available via the Internet, at least at that address. This novel is considered as one of the classic of modern Tamil literature specially in Dalit writing. It is the realistic chronicle of a family of launderers who wash the clothes of other untouchables, receiving grain and other food in return. The novel is constructed between two journeys: a pilgrimage of hope at the beginning; a routine trip to the washing pool in drudgery and despair in the end. Imayam invents for Arokkyam a particular spoken style, which is not quite formal lament, but is very similar, often depending on a string of related exclamations. He presents an ebullient mix of the past, present and future in his works. About his novel Koveru Kazhudaigal the writer Sundara Ramasamy wrote "There is no novel that equals this one in the last 100 years of Tamil writing." However Dalit intellectuals like Raj Gauthaman have criticized the novel for focusing only on shortcomings of Dalits and being the kind of novel that "upper"-castes praised.. 'Koveru Kazhudhaigal' won many awards including Agni Aksara Award, award from TamilNadu Progressive Writers' Forum (1994), Amudhan Adigal Ilakkiya Award for Literature (1998) and honored with a state award. The English translation of this novel appeared as 'Beasts of Burden' in 2001 and the second one appeared in 2006 and also translated into Malayalam. Imayam's second novel, 'Arumugam', appeared in 1999, and translated into French, won him accolades from doyens of Tamil literature. 'Manbaram', a collection of stories was published in 2002. 'Sedal', another novel, published in 2006, deals with a dalit community whose women are designated as oracles. These women, appointed during droughts, fix the date for village festivals, perform koothu, participate in death rituals, and are not allowed a marital relationship. The novel tracts the life of Sedal, given over to the temple during the 1945-46 drought in Tamilnadu, whose family leaves her behind and migrates to Sri Lanka. This novel is also translated into English. His novella 'Pethavan' was first published in September 2012 in Uyirmai (Tamil literary Magazine). November 2012 saw its appearance as a little book through Oviya Publications TVS, Villupuram, which reprinted it five times in three months. Bharati Publications published the novella in February 2013 and, has since, sold more than 1,00,000 copies, reprinting ten times.




This novella is set against the back of rural Tamil Nadu, and is the story of a father who is faced with the brutal realities of caste and communal prejudice as he is ordered by the panchayat to murder his daughter for being firm in her resolve to marry a Dalit boy. The narrative is an unflinching account of the stress and ugliness that await those who dare to transcend caste borders. When Bhakkiyam falls in love with a Dalit sub-inspector, death is the only punishment that will satisfy her village panchayat. Pazhani, her father, is ordered to kill her. But how can a father murder his own daughter? Imayam's tale eerily preceded an actual event that occurred two months later in the year 2012 in Dharmapuri in Tamil Nadu. The animals in the story stand apart from humans who seem to exist with no humanity. The bullock licks Pazhani's face and calms him down. He allows his face to be licked by the bullock, and slowly, his trembling stops. His dog hovers around, concerned and unwilling to leave him in this trying moment. About 'Pethavan', Ambai wrote "I have cried when the father feeds his daughter, places her head on his chest, and hugs her. His language is abusive and abrasive throughout, but his words, when he bids Bhakkiyam goodbye and tells her to go live with her life, make not only his daughter and his future son in lay, who speaks to him on the mobile, cry, but also the readers. When a story rises above the public image of the writer, it has truly succeeded in having an existence of its own that goes beyond the writer." This novella is translated into Malayalam, Telugu




Awards




Agni Akshara Award (1994)

Amudhan Adigal Literature Award (1998)

Junior Fellowship – Department of Cultural, Govt. of India, New Delhi (2002)

Thamizh Thendral Thiru.V.Ka. Award, Govt. of Tamil Nadu (2010)

Puthiya Thalaimurai (Nambikkai Natchathiram) Award (2015)

Tamil Peravai Award - SRM (2016)

Anantha Vikatan Award (2016)




Award for Contemporary Tamil Literature - The Hindu (Tamil) - (2018)

Anita Bharti






Prof. Inderjeet Parmar

Professor Inderjeet Parmar

Professor of International Politics

School of Arts and Social Sciences Department of International Politics

Contact details
+44 (0)20 7040 4517
inderjeet.parmar.1@city.ac.uk

Address
Professor Inderjeet ParmarD502, Rhind building
City, University of London
Northampton Square
London EC1V 0HB
United Kingdom

Professor Inderjeet Parmar read Sociology at the London School of Economics, and Political Sociology at the University of London. His doctorate, from the University of Manchester, was in the fields of political science and international relations. Prior to appointment at City, University of London in 2012, he taught at the University of Manchester (1991-2012), mainly in its Department of Government which, between 2006-09, he served as Head of Department.

Other professional activities

Professor Inderjeet Parmar is past president, chair and vice chair of the British International Studies Association.

He is currently Visiting Professor at LSE (2019-2022) and a Visiting Research Fellow at the Rothermere American Institute, Oxford.

2013 – 2014 he was Visiting Research Scholar at the Empires Research Community, Princeton University
He held visiting fellowships at Princeton and Oxford (1998, 1999, 2010).


He is co-editor of a book series, Routledge Studies in US Foreign Policy.

He served as Principal Investigator and co-ordinator of the AHRC Research Network on the Presidency of Barack Obama. He is currently working with colleagues to establish the Trump Project: http://ucdclinton.ie/trump-project/

Professor Parmar was a member of the Working Group on Think Tanks of the Social Science Research Council, New York, 2007, and co-convenor of the BISA Working Group on US Foreign Policy, 2005-09.

Media work and appearances

Professor Parmar appears regularly on numerous TV and radio stations, including Al Jazeera, CNN, BBC, RT, TRT; TalkRadio, and Sputnik

He is a columnist for The Wire: https://thewire.in/author/iparmar/
Teaching
Undergraduate

- US Foreign Policy
- Theories of Global Politics
- Foreign Policy Analysis
Postgraduate
- US Foreign Policy
Inderjeet Parmar
Jayant Parmer
From Wikipedia, the free encyclopedia
Jayant Parmar (born 11 October 1954) is an Indian Urdu language poet known for raising Dalit issues in his poetry. Parmar was born in a poor family. At a young age, he began to paint miniature paintings for a frame maker. Parmar realized that the frame maker had a separate pot for him because he was Dalit. This saddened Parmar and he quit.
Parmar taught himself Urdu from a language learning guide at age 30 after he developed an appreciation for Urdu poetry while living in a Muslim-dominated area in the walled city area of Ahmedabad. He has published a number of poetry collections: Aur in 1998, Pencil Aur Doosri Nazmein in 2006, Manind in 2008, Antaral in 2010 and Giacometti ke sapne in 2016. Parmar won the 2008 Sahitya Akademi Award in Urdu for Pencil Aur Doosri Nazmein. His work has been translated into Kashmiri, Punjabi, Hindi, Marathi, Bangla, Kannada, Gujarati, Oriya and Slovenian

Kamala Das, (Kamala Suraiya), Indian author (born March 31, 1934, Thrissur, Kerala, British India—died May 31, 2009, Pune, India), inspired women struggling against domestic and sexual oppression with her honest assessments of sexual desire and marital problems in more than 20 books. Das was part of a generation of English-language Indian writers whose work centred on personal rather than colonial experiences, and her short stories, poetry, memoirs, and essays brought her both respect and notoriety. She grew up primarily in Calcutta (now Kolkata) in a family of artists, where she felt ignored and unloved. As a teenager she married an older relative, and the emotional and sexual problems arising from that unsatisfying relationship and her young motherhood provided material for her first memoir, My Story (1976).
Das wrote in English and, under the pen name Madhavikutty, in the Malayalam language of southern India. An advocate for human rights, especially for women and children, Das reflected her social concerns in such short stories as "Padmavati the Harlot" (1992) and "A Doll for the Child Prostitute" (1977). Her style and content both markedly departed from 19th-century romanticized ideas of love, a choice especially striking for an Indian Hindu woman. Das also broke with conventions in her personal life: she had extramarital affairs with men and women, refused to identify herself as a feminist, and briefly founded her own political party. In 1999 she converted to Islam, renaming herself Kamala Suraiya.
कोदूराम दलित का जन्म 5 March 1910 में जिला दुर्ग के टिकरी गांव में हुआ था। गांधीवादी कोदूराम प्राइमरी स्कूल के मास्टर थे उनकी रचनायें करीब 800 (आठ सौ) है पर ज्यादातर अप्रकाशित हैं। कवि सम्मेलन में कोदूराम जी अपनी हास्य व्यंग्य रचनाएँ सुनाकर सबको बेहद हँसाते थे। उनकी रचनाओं में छत्तीसगढ़ी लोकोक्तियों का प्रयोग बड़े स्वाभाविक और सुन्दर तरीके से हुआ करता था। उनकी रचनायें -
9. छत्तीसगढ़ी शब्द भंडार अउ लोकोक्ति।
उनकी रचनाओं में छत्तीसगढ़ का गांव का जीवन बड़ा सुन्दर झलकता है।
कवि कोदूराम 'दलित' का जन्म ५ मार्च १९१० को ग्राम टिकरी(अर्जुन्दा),जिला दुर्ग में हुआ। आपके पिता श्री राम भरोसा कृषक थे। उनका बचपन ग्रामीण परिवेश में खेतिहर मज़दूरों के बीच बीता। उन्होंने मिडिल स्कूल अर्जुन्दा में प्रारंभिक शिक्षा प्राप्त की। तत्पश्चात नार्मल स्कूल, रायपुर, नार्मल स्कूल, बिलासपुर में शिक्षा ग्रहण की। स्काउटिंग, चित्रकला तथा साहित्य विशारद में वे सदा आगे-आगे रहे। वे १९३१ से १९६७ तक आर्य कन्या गुरुकुल, नगर पालिका परिषद् तथा शिक्षा विभाग, दुर्ग की प्राथमिक शालाओं में अध्यापक और प्रधानाध्यापक के रूप में कार्यरत रहे।
ग्राम अर्जुंदा में आशु कवि श्री पीला लाल चिनोरिया जी से इन्हें काव्य-प्रेरणा मिली। फिर वर्ष १९२६ में इन्होंने कविताएँ लिखनी शुरू कर दीं। इनकी रचनाएँ लगातार छत्तीसगढ़ के समाचार-पत्रों एवं साहित्यिक पत्रिकाओं में प्रकाशित होती रहीं। इनके पहले काव्य-संग्रह का नाम है — 'सियानी गोठ' (१९६७) फिर दूसरा संग्रह है — 'बहुजन हिताय-बहुजन सुखाय' (२०००)। भोपाल ,इंदौर, नागपुर, रायपुर आदि आकाशवाणी-केन्द्रों से इनकी कविताओं तथा लोक-कथाओं का प्रसारण अक्सर होता रहा है। मध्य प्रदेश शासन, सूचना-प्रसारण विभाग, म०प्र०हिंदी साहित्य अधिवेशन, विभिन्न साहित्यिक सम्मलेन, स्कूल-कालेज के स्नेह सम्मलेन, किसान मेला, राष्ट्रीय पर्व तथा गणेशोत्सव में इन्होंने कई बार काव्य-पाठ किया। सिंहस्थ मेला (कुम्भ), उज्जैन में भारत शासन द्वारा आयोजित कवि सम्मलेन में महाकौशल क्षेत्र से कवि के रूप में भी आपको आमंत्रित किया जाता था। राष्ट्रपति और प्रधानमंत्री के नगर आगमन पर भी ये अपना काव्यपाठ करते थे।
आप राष्ट्र भाषा प्रचार समिति वर्धा की दुर्ग इकाई के सक्रिय सदस्य रहे। दुर्ग जिला साहित्य समिति के उपमंत्री, छत्तीसगढ़ साहित्य के उपमंत्री, दुर्ग जिला हरिजन सेवक संघ के मंत्री, भारत सेवक समाज के सदस्य,सहकारी बैंक दुर्ग के एक डायरेक्टर ,म्यु.कर्मचारी सभा नं.४६७, सहकारी बैंक के सरपंच, दुर्ग नगर प्राथमिक शिक्षक संघ के कार्यकारिणी सदस्य, शिक्षक नगर समिति के सदस्य जैसे विभिन्न पदों पर सक्रिय रहते हुए आपने अपने बहु आयामी व्यक्तित्व से राष्ट्र एवं समाज के उत्थान के लिए सदैव कार्य किया है.
आपका हिंदी और छत्तीसगढ़ी साहित्य में गद्य और पद्य दोनों पर सामान अधिकार रहा है. साहित्य की सभी विधाओं यथा कविता, गीत, कहानी ,निबंध, एकांकी, प्रहसन, बाल-पहेली, बाल-गीत, क्रिया-गीत में आपने रचनाएँ की है. आप क्षेत्र विशेष में बंधे नहीं रहे. सारी सृष्टि ही आपकी विषय-वस्तु रही है. आपकी रचनाएँ आज भी प्रासंगिक हैं. आपके काव्य ने उस युग में जन्म लिया जब देश आजादी के लिए संघर्षरत था .आप समय की साँसों की धड़कन को पहचानते थे . अतः आपकी रचनाओं में देश-प्रेम ,त्याग, जन-जागरण, राष्ट्रीयता की भावनाएं युग अनुरूप हैं.आपके साहित्य में नीतिपरकता,समाज सुधार की भावना ,मानवतावादी, समन्वयवादी तथा प्रगतिवादी दृष्टिकोण सहज ही परिलक्षित होता है.
हास्य-व्यंग्य आपके काव्य का मूल स्वर है जो शिष्ट और प्रभावशाली है. आपने रचनाओं में मानव का शोषण करने वाली परम्पराओं का विरोध कर आधुनिक, वैज्ञानिक, समाजवादी और प्रगतिशील दृष्टिकोण से दलित और शोषित वर्ग का प्रतिनिधित्व किया है. आपका नीति-काव्य तथा बाल-साहित्य एक आदर्श ,कर्मठ और सुसंस्कृत पीढ़ी के निर्माण के लिए आज भी प्रासंगिक है.
कवि दलित की दृष्टि में कला का आदर्श 'व्यवहार विदे' न होकर 'लोक-व्यवहार उद्दीपनार्थम' था. हिंदी और छत्तीसगढ़ी दोनों ही रचनाओं में भाषा परिष्कृत, परिमार्जित, साहित्यिक और व्याकरण सम्मत है. आपका शब्द-चयन असाधारण है. आपके प्रकृति-चित्रण में भाषा में चित्रोपमता,ध्वन्यात्मकता के साथ नाद-सौन्दर्य के दर्शन होते हैं. इनमें शब्दमय चित्रों का विलक्षण प्रयोग हुआ है. आपने नए युग में भी तुकांत और गेय छंदों को अपनाया है. भाषा और उच्चारण पर आपका अद्भुत अधिकार रहा है.कवि श्री कोदूराम "दलित" का निधन २८ सितम्बर १९६७ को हुआ। —अरुण कुमार निगम
(५ मार्च १९१० को जन्मे कवि कोदूराम "दलित" की स्मृति में हरि ठाकुर द्वारा पूर्व में लिखा गया लेख)
छत्तीसगढ़ की उर्वरा माटी ने सैकड़ो कवियों,कलाकारों और महापुरुषों को जन्म दिया है. हमारा दुर्भाग्य है कि हमने उन